Add your time slots according to your need and allow your customers to choose one of them for their order delivery.
There are four types of time format available in the app settings:
01) Default
In this time format, you can enable the predefined time slots without any time interval. Take a look at the below screenshot for a view of the Default timeslot layout.
---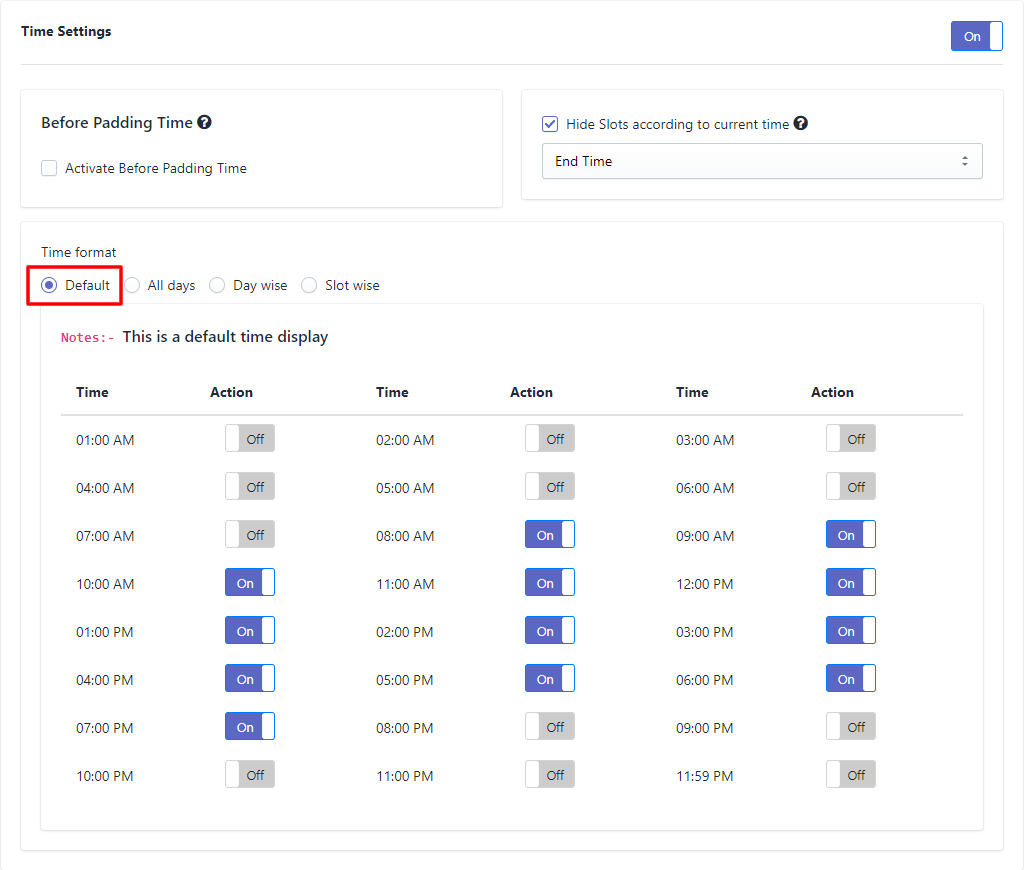 ---
02) All Days
In this time format, you can set common time slots for each and every weekdays. So time slots have been added in this option will show the same in all weekdays selected from the delivery date calendar.
---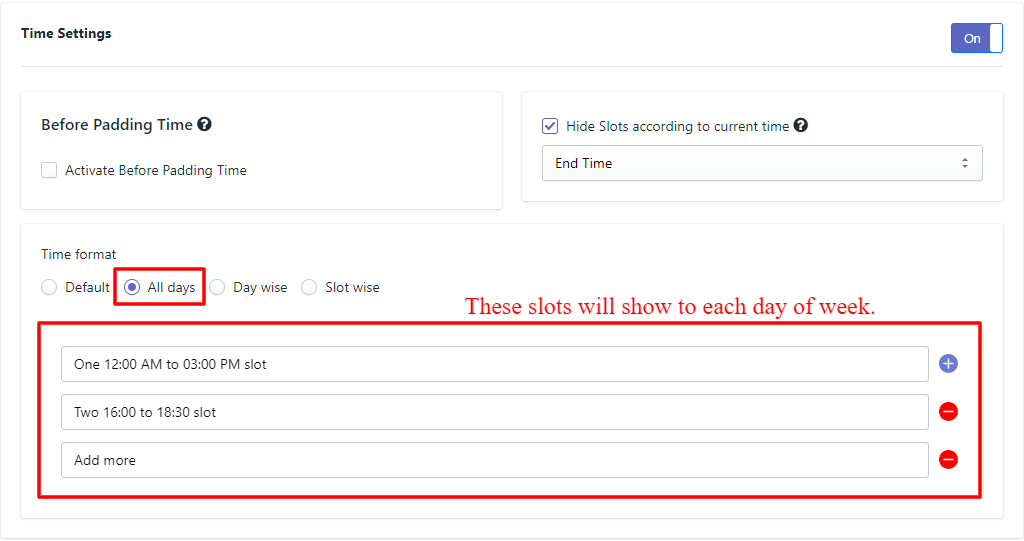 ---
03) Slot wise
In this time format, you can add your own time slot wise corresponding to each and every weekday. So each weekday has its own delivery slots added by you.
---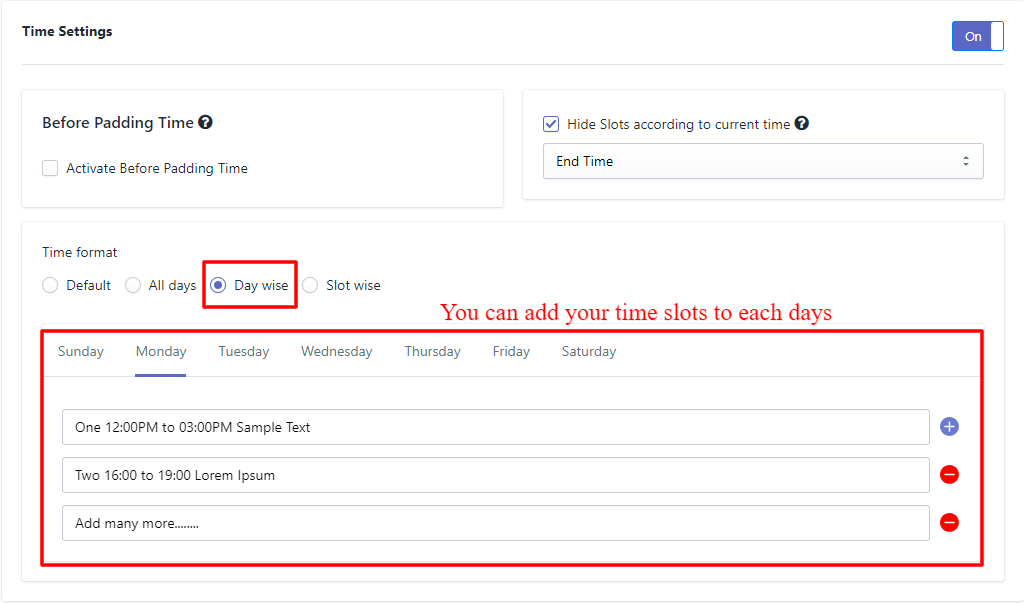 04) Slot wise
In that time format, you will have a start time and end time of each time interval and can add many as you want slots for a day. There are Day, Pre message, Start Time, Separator, End Time, and Post Message have their own definitions.
Day: Show a list of all weekdays
Pre Message: This is an input field that allows entering a text that can be shown before the start time.
Start Time: Add start time of the time slot
Separator: Would be a text or special character which can show a difference in between the time. Separators are like From, To, Space ( ), etc. whatever you like to add.
End Time: This would be the end time of the time slot.
Post Message Will be the same as Pre Message
---
Check this screenshot of the Slot Wise time format
---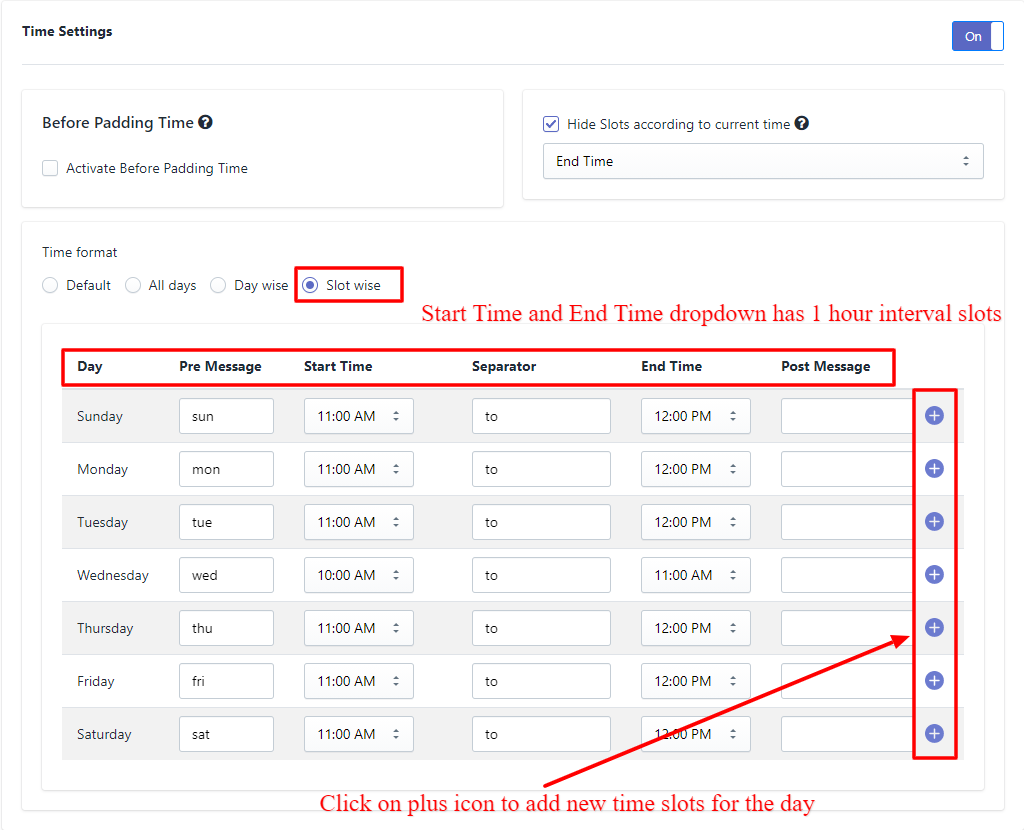 Note: If you don't get 24 hours time format from the slots, I recommend you to use our All days and Day wise slot that can allow you to enter your own time slots and that can be in 24 hours format.
Special Instruction:
– All days and Day wise time slots are not compatible with the Before Padding Time option. Because these time formats allow entering delivery time manually.
– Each time formats were compatible with the Cut-off time option.