So finally you have decided to install the Order Delivery Date app in your store, right? Awesome. You have taken a brilliant decision. Now it's in our hands to guide you from getting started with the app. So here is the complete step-by-step guide for you from installation to customization.
How to install Order Delivery Date in your store?
To install the Order Delivery Date app, follow the below steps:
Step 1: From the Shopify app store browse the app and open the page of the app, now you will see a button called "Add app" as shown in the screenshot below. Click on it.


Step 2: After clicking on the above step if you are not logged in your store then a popup will appear to enter your store URL. After login to your store, you will be redirected to a page as shown below. Read the lines detailing the access you will grant from Order Delivery Date, and click on the "Install app" button.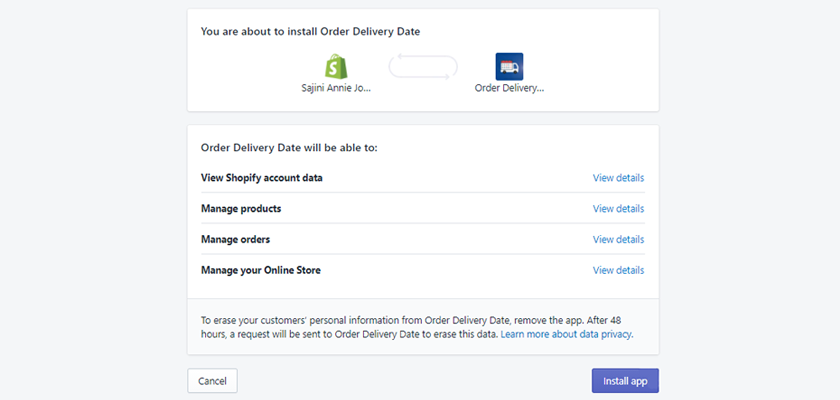 Step 3: After the above step, you can start your free trial by clicking on the "Start free trial" button.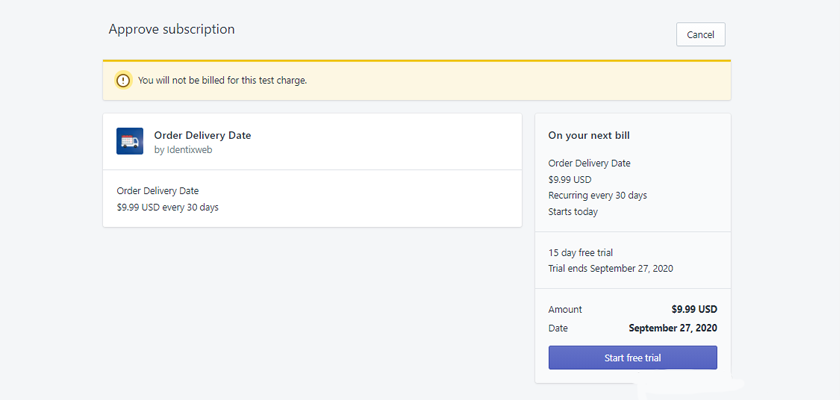 Step 4: Now to make the Order Delivery Date app active on your store click "Enable". Now the app is enabled in your store.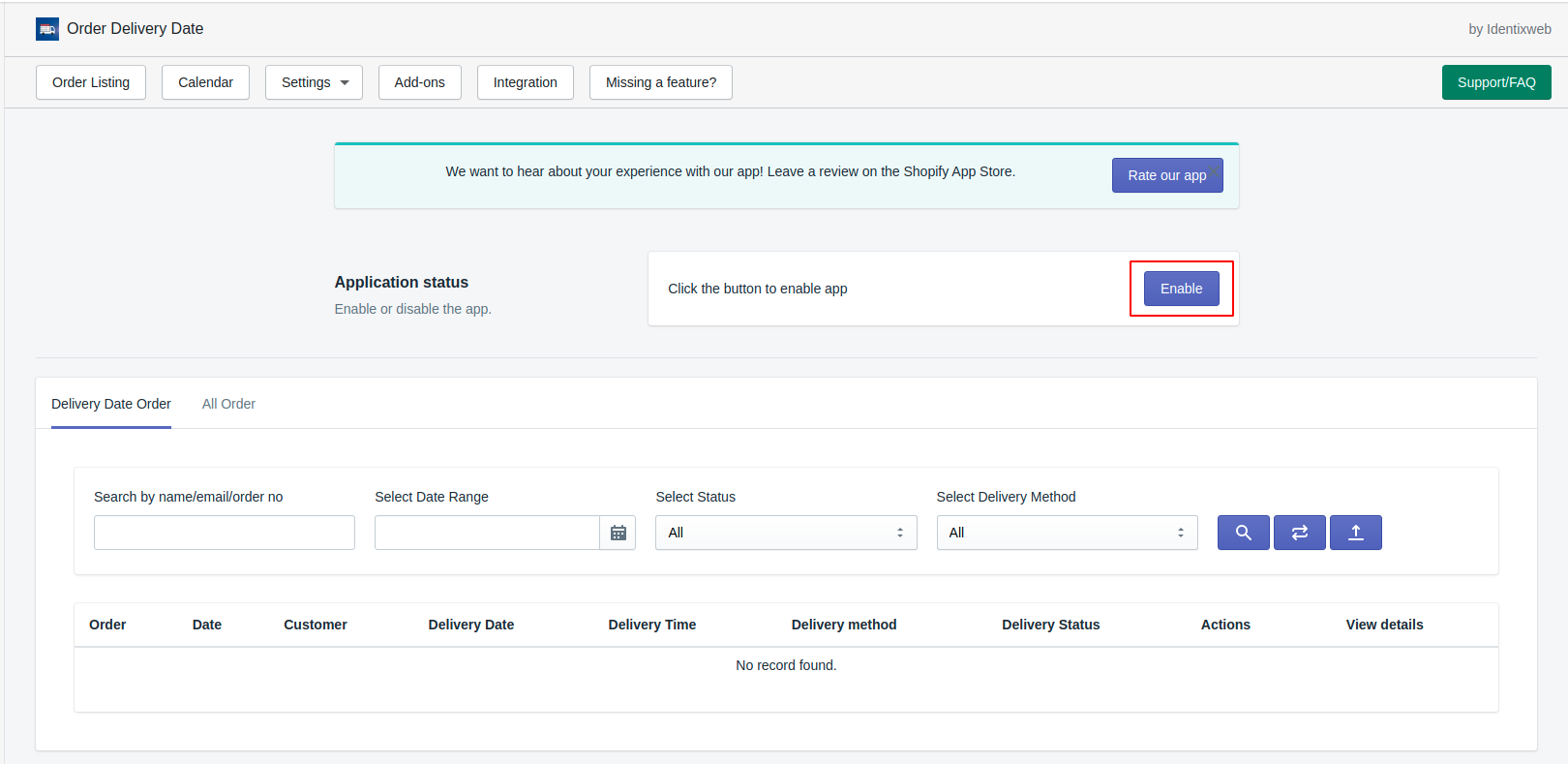 Step 5: So congratulations finally the app is installed in your store now. Now you can customize your store the way you need it to be.
As seen in the screenshot above you will see many options that you can customize like settings, order listing, calendar, add-ons.
Let's see one by one.
1. Settings
Shipping
Under app settings you can customize the below things:


Minimum Delivery Interval Days: Set minimum days required to deliver after the order is placed.
Maximum Delivery Days: Set the maximum days available for delivery.
First day of calendar: Select the first day of the calendar according to your store.
Include holiday in interval: Enable this option if you want to include holidays in the Minimum Delivery Interval Days
Disable Date: This option allows you to choose specific dates on which delivery cannot be made.
Cut-off time settings: You can active cut-off time with the checkbox and set specific delivery dates for delivery that cannot be made.
Time settings: In this option, you can change the time format and set the padding time.
General settings
Under this option you can change the following settings: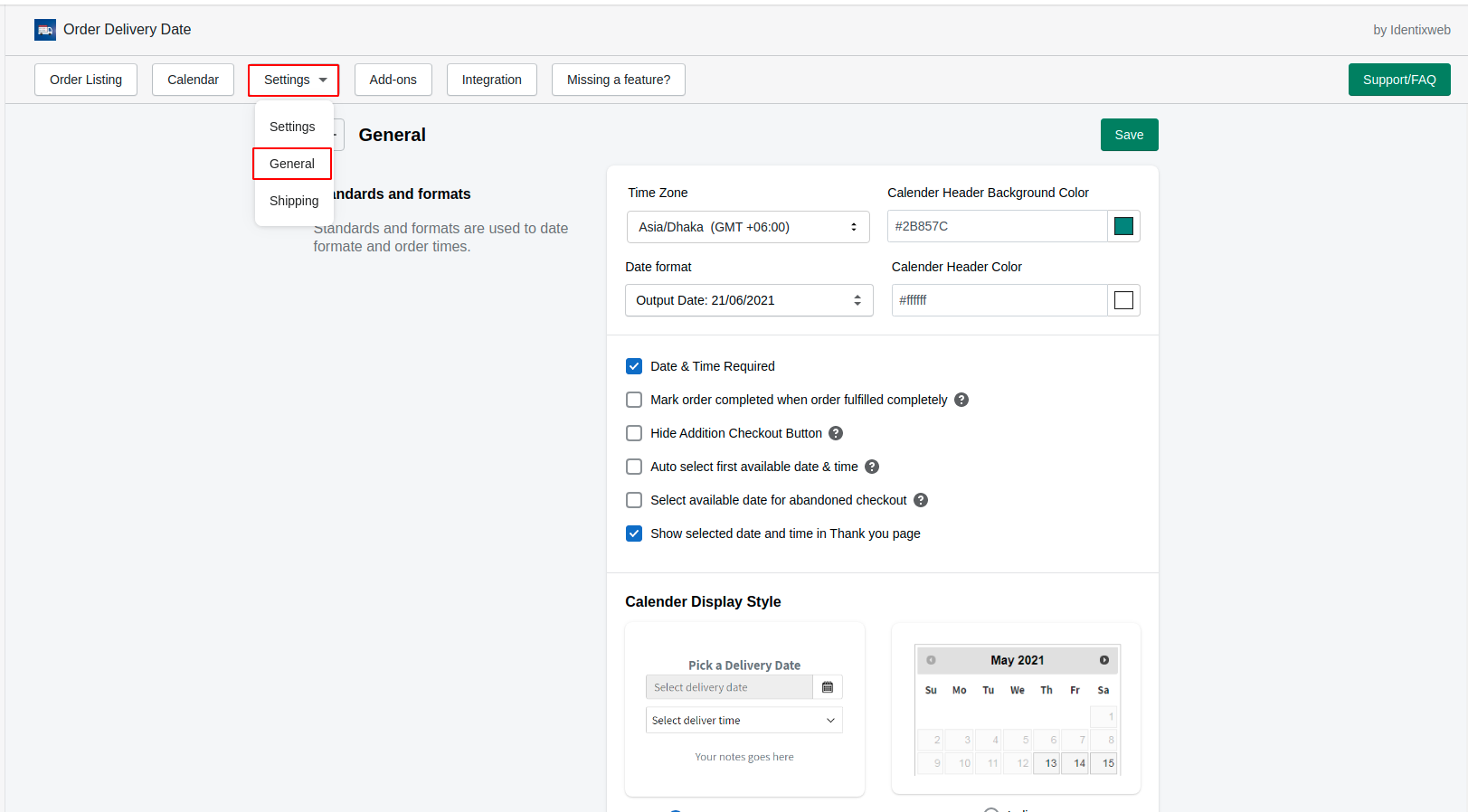 Time zone: You can change the time zone from the dropdown.
Date format: You can choose a different date format that you want to display in your store.
Calendar display style: You can select the display style of the calendar as an input box or in-line.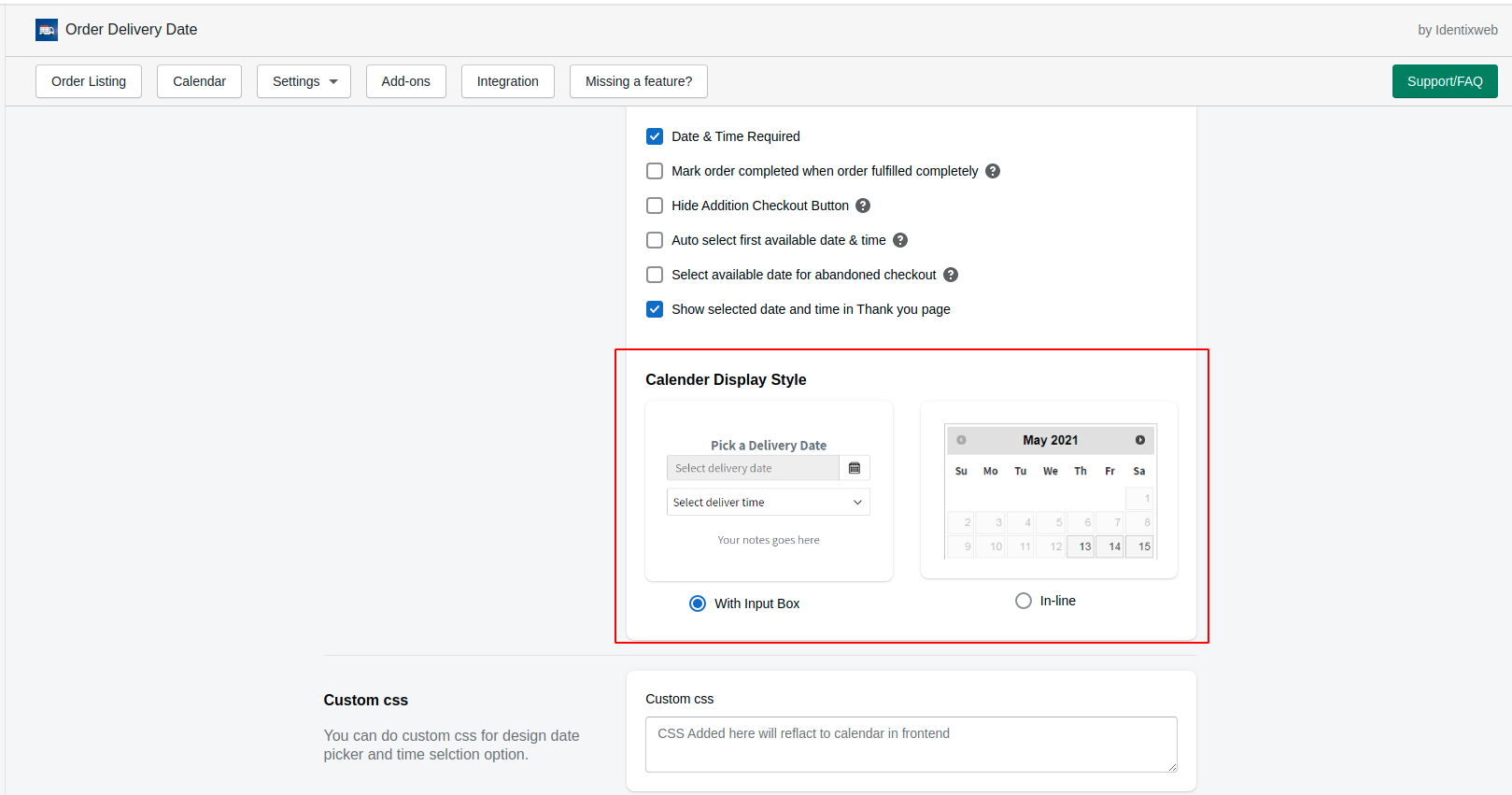 Custom CSS: This option allows you to change the style of the calendar the way you want to look on your store's front end by adding CSS in this field.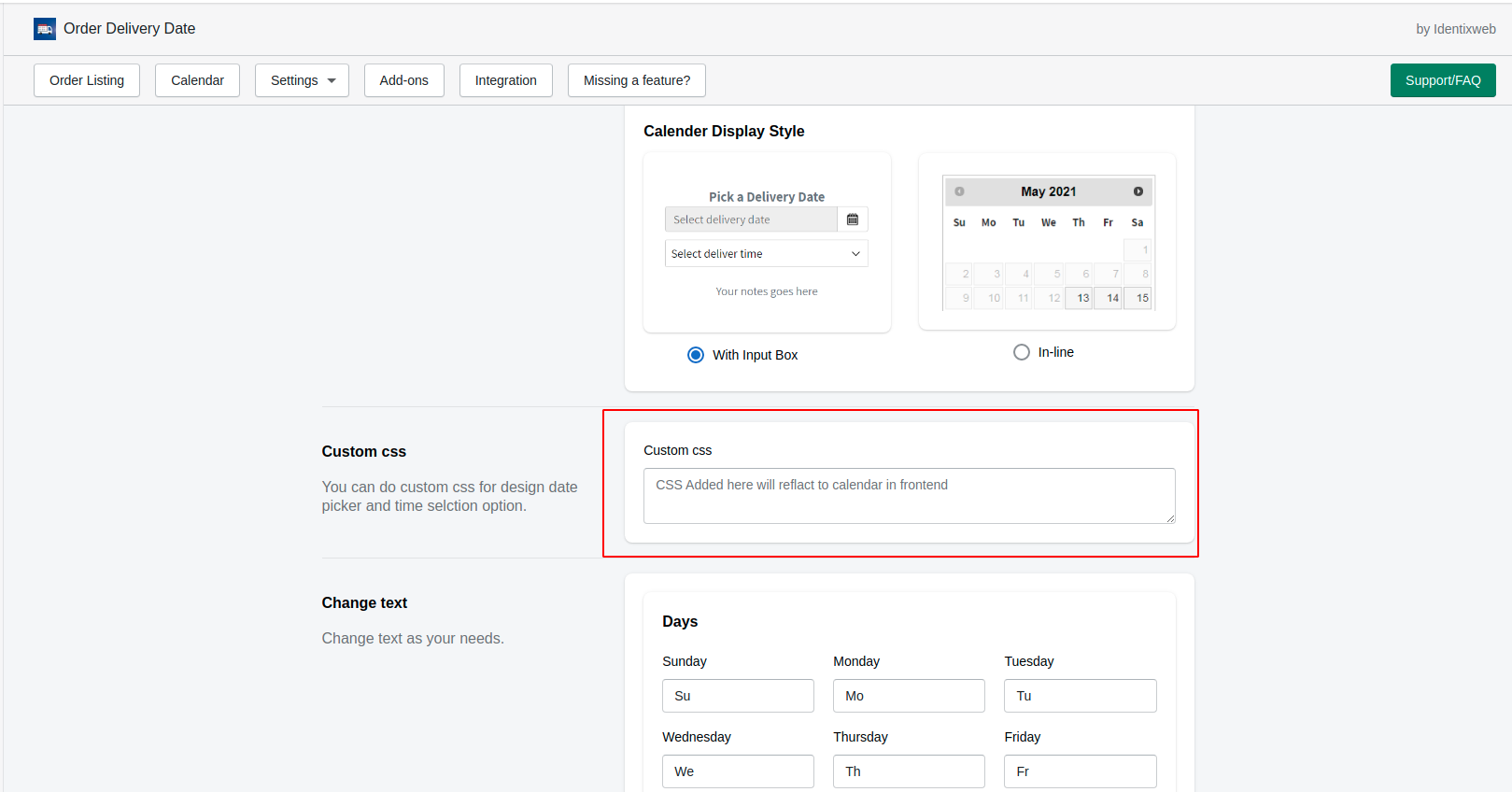 Note: The Delivery tab position (Sorting Delivery Tab, Style delivery tab, and Show delivery method icon options) are only available when you've installed "Store pick-up and Local Delivery" Add-on.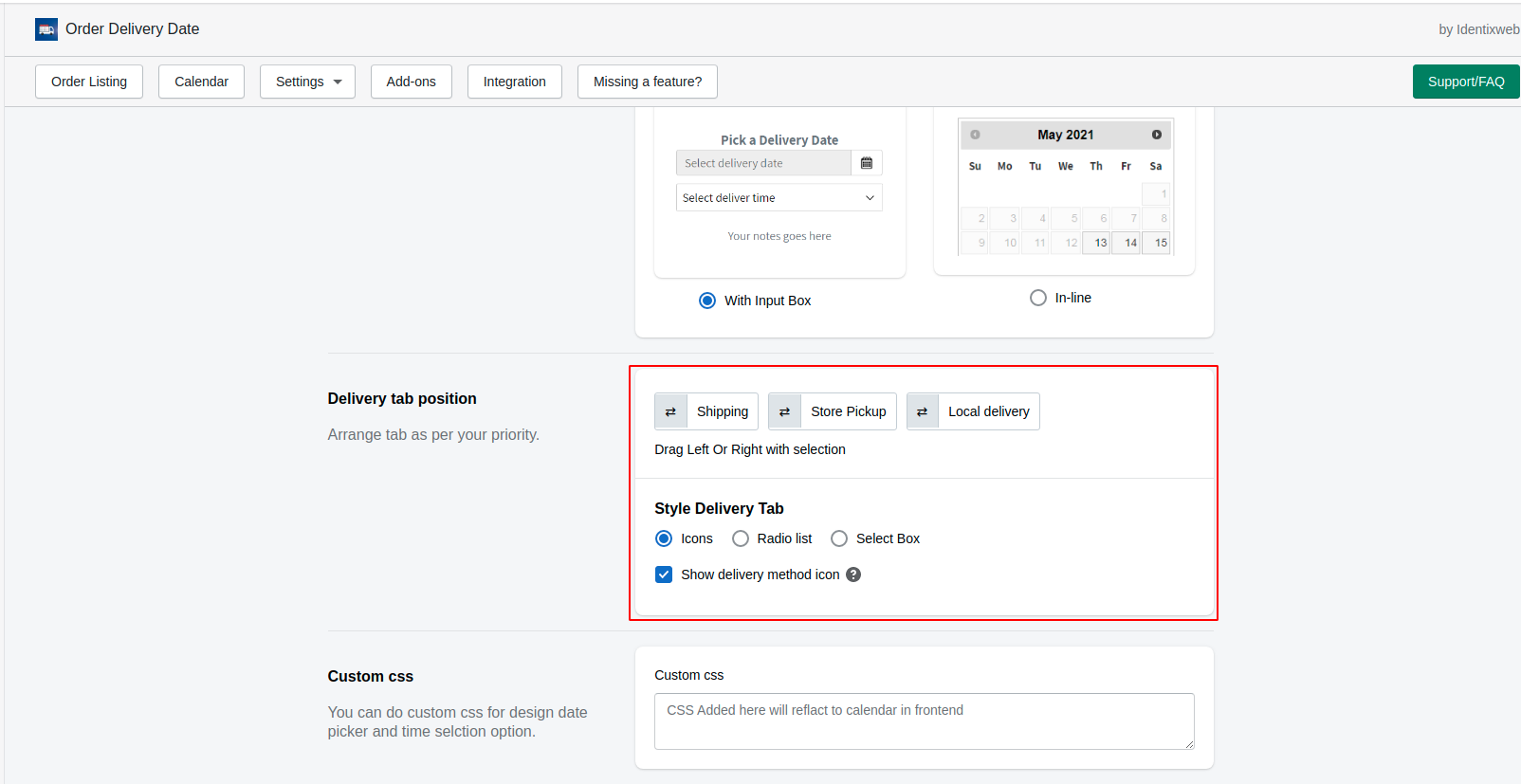 Sorting Delivery Tab: This option will be only displayed to you if you have installed the store pickup & local delivery add-on on your store. This option is used to reorder the delivery tabs. You can move it either left or right.
Style delivery tab: It helps you to change the style (layout) of the delivery tabs. There are 3 layouts available.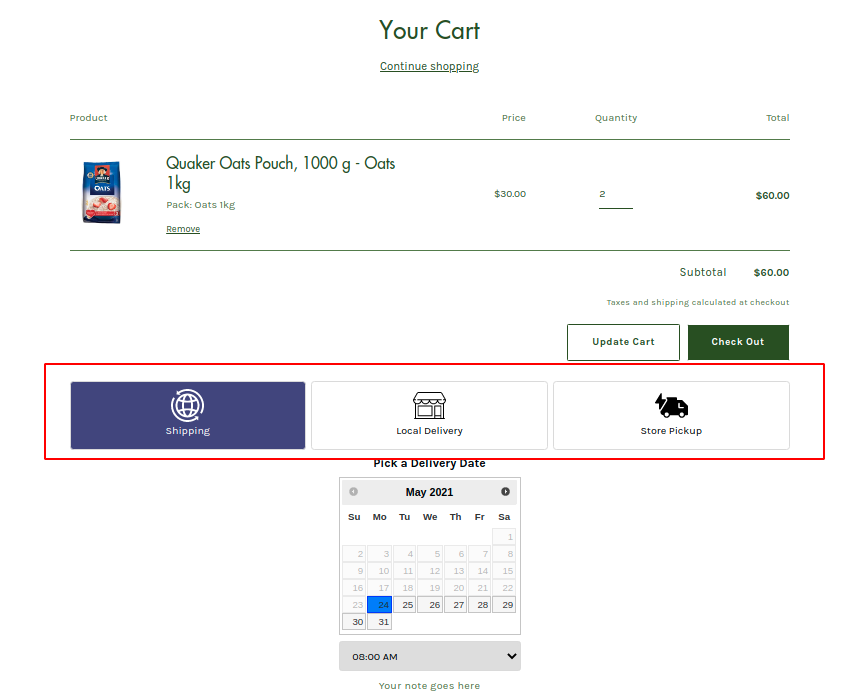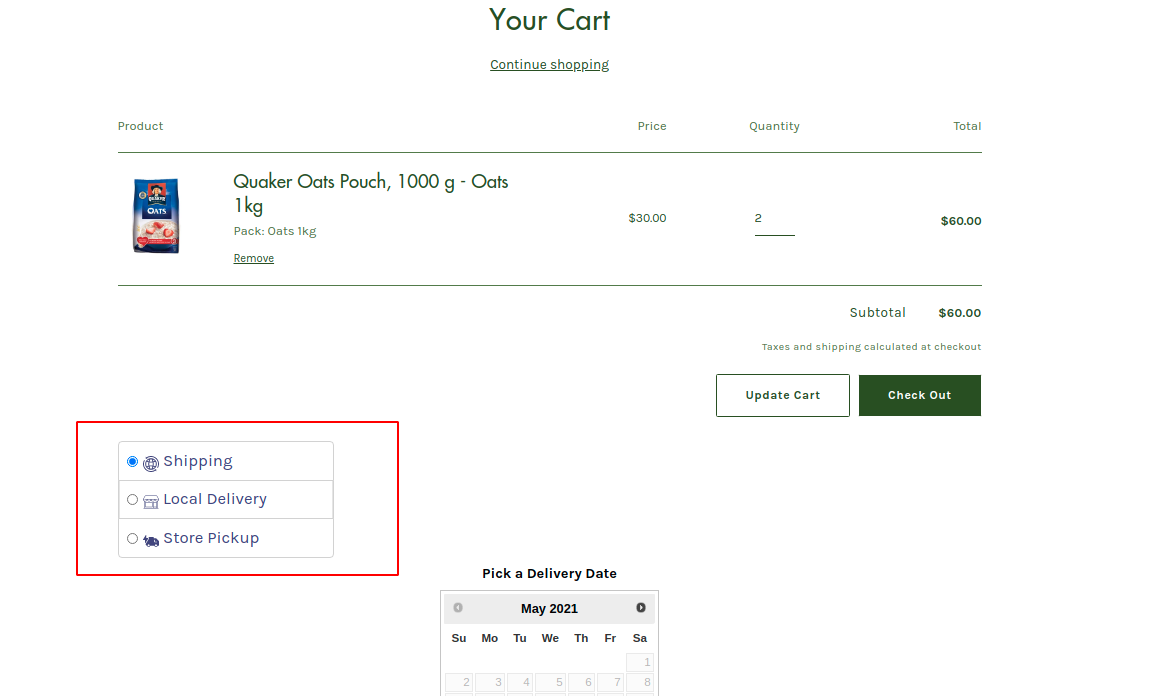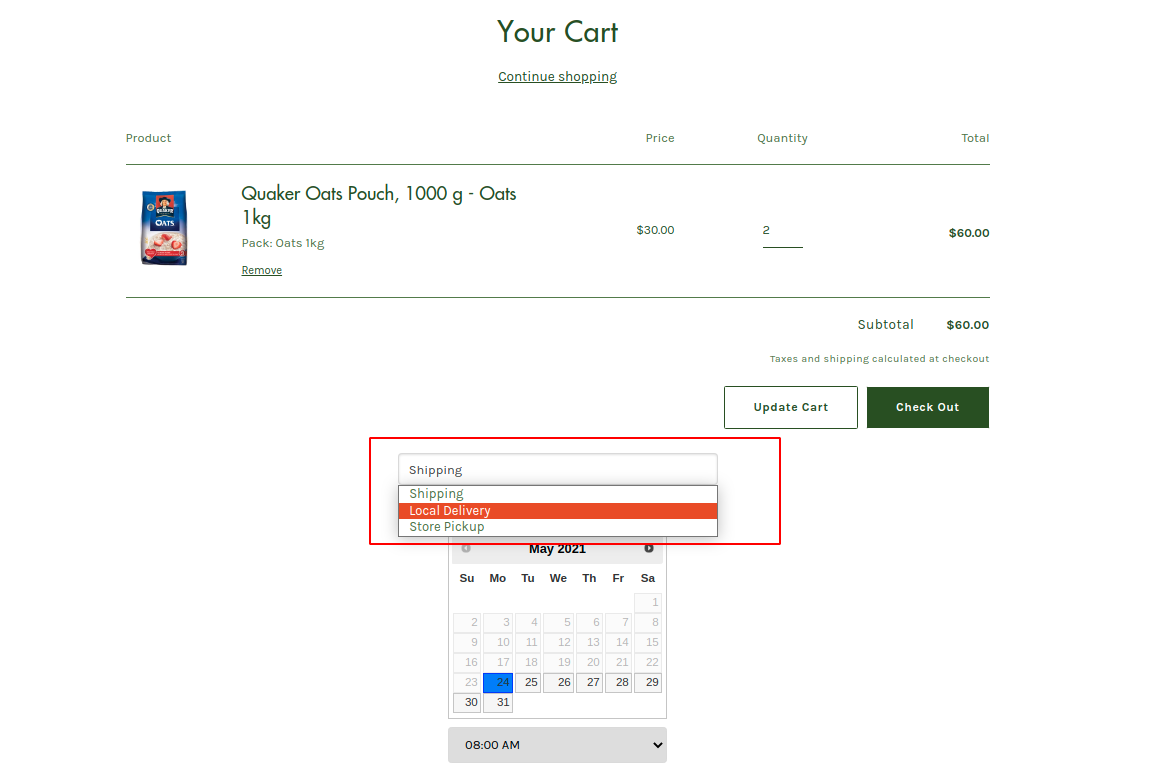 Show delivery method icon: This option will be only displayed to you if you have installed the store pickup & local delivery add-on on your store. When you enable this option, it will show the delivery method icons in the delivery tabs. If you want to hide the icons, simply disable them. See the below image to see the result on the front end.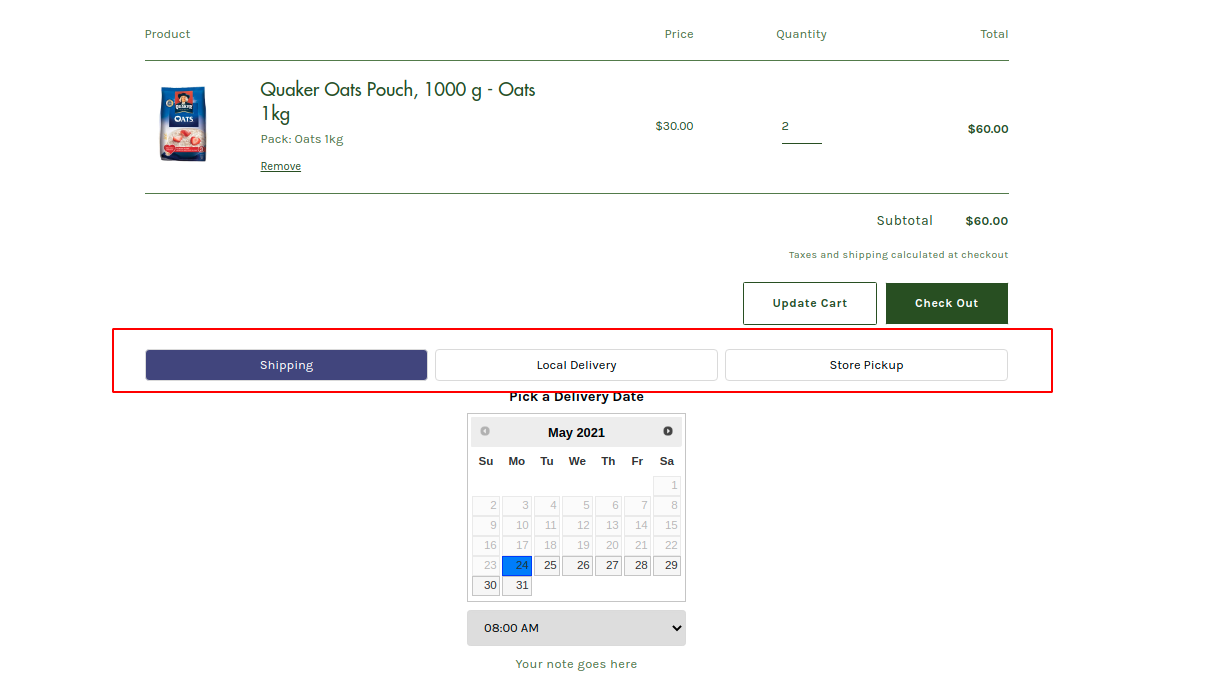 Note: This option will only work if you have used "Icons" in the Style Delivery Tab.
Apart from this you can show/hide the below options:
Date & Time Required
Mark order completed when order fulfilled completely
Hide Addition Checkout Button 
Auto select first available date & time
Select available date for abandoned checkout 
Change Text
Here you can edit the calendar and timer heading, edit the text of the calendar in-line, add required notes in the message text, change the title shown on the thank you page, and translate days, months in your language.
Delivery Days (Weekdays)
Here, you can change the weekday text of the order delivery calendar.
Admin order texts
You can change the text of the order delivery date, day, and time with this option.
Now the next option of order listing. Let's see what this option provides.
2.  Order listing
With this option, the admin can change the order status. If the order is fully completed then the admin can change the action to complete. When the admin changes the order status from unfulfilled to fulfilled then the Order Delivery Date app will also change the order status to fulfillment automatically.
3. Calendar
Here you can view the order details on particular dates. By clicking on them you will get a popup showing the order details.
4. Add-ons
You can use add-ons i.e additional functionality that you need as per your requirement and only pay for the add-ons that you want to use.
Store pickup & local delivery: This add-on allows your customer to place an order online and choose when and where they want to pick up their order.

Order limit: You can limit the number of orders that want to receive per time slot and per day.

Shipping price: With this add-on, you can calculate your shipping rates and set them on your app based on which date you need to increase or decrease your shipping rate.

Multiple cutoffs: You can edit and update multiple cutoffs in your store for engaging more users.

All order: As Shopify allows only access orders of 60 days with this add-on you can get all the orders of your store.

Google Calendar: With this add-on, you will be able to get your order details in your Google calendar as the Order Delivery Date app is synchronized with Google calendar.

Product calendar: With this add-on, once you have created a product calendar then your entire records of products will be displayed on that particular page.

5. Change log
In the change log,  store owners can see the new updates added in the Order Delivery Date app by us.
For further queries or doubts and to know more in detail you can read the FAQ of the app.
Post Tags
app customization
app installation
online store
Order Delivery
Order Delivery Date
order delivery date and time
Shopify App
Shopify store
Want to create something amazing?
The troops of Identixweb has an extensive expertise in creating something which you're looking for.