Here, there are three sections available: (1) Header, (2) Body, and (3) Copyright.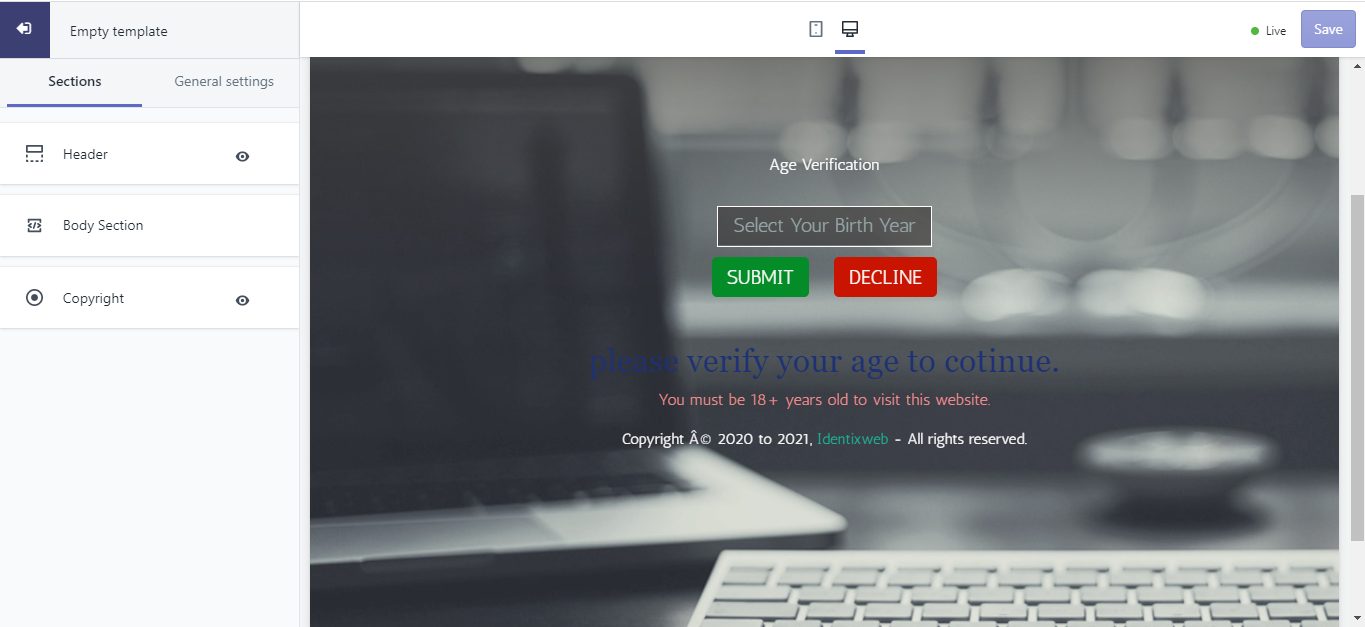 1. Header
This allows you to set the Logo on the top of the page. You can add only one from both the logo image or the logo text.
Logo Image: To add a logo image, click on the select image button and select the image if the image is already in the media list. If it's unavailable, then simply upload the image and select it as your logo.
Logo alignment: This allows you to set the logo alignment to either left or center or right.
Logo Text: If you want to add text in place of the logo image, you can add it here. You can add it here with many formatting options.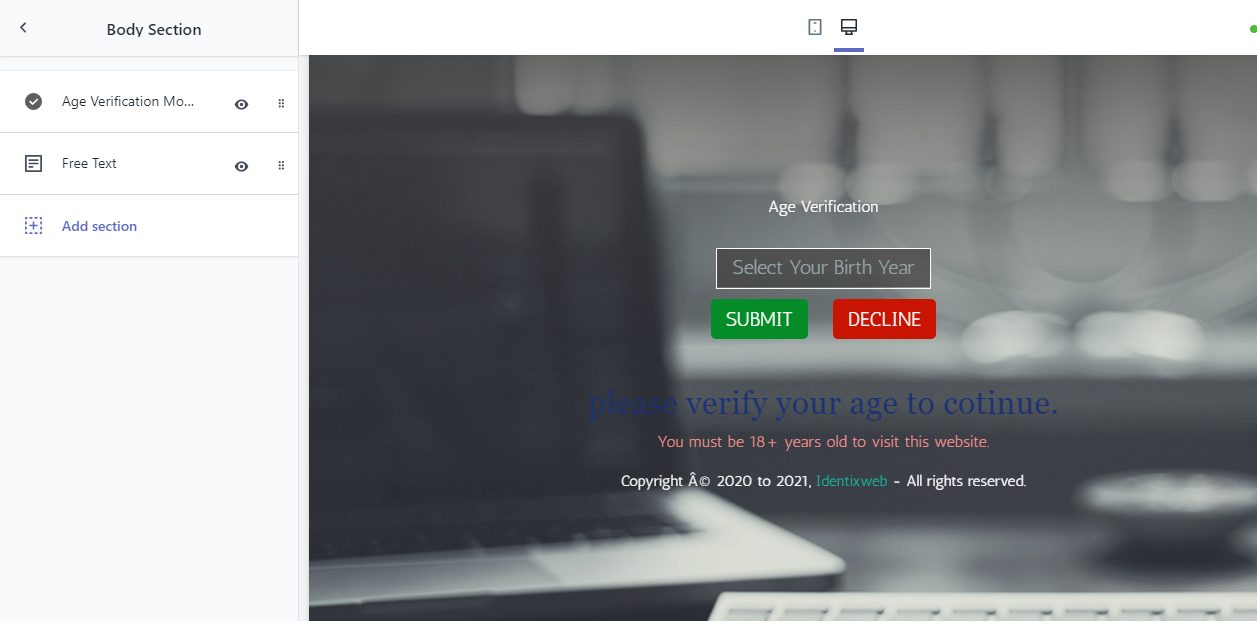 2. Body Section
Once you enter this section, you can see the interface.
Age Verification Mode
Age Limit: Here you can set the age in the number below which the individual cannot be entered in your site.
Verification Mode: You can set the verification mode either Date Of Birth or Self. The date of birth option will allow your visitors to enter their date of birth for age verification.
Date Option: It helps you to specify the format in which you want the user to enter their age. The Month (MM) and Day (DD) are optional. You can disable it for the user by clicking on it.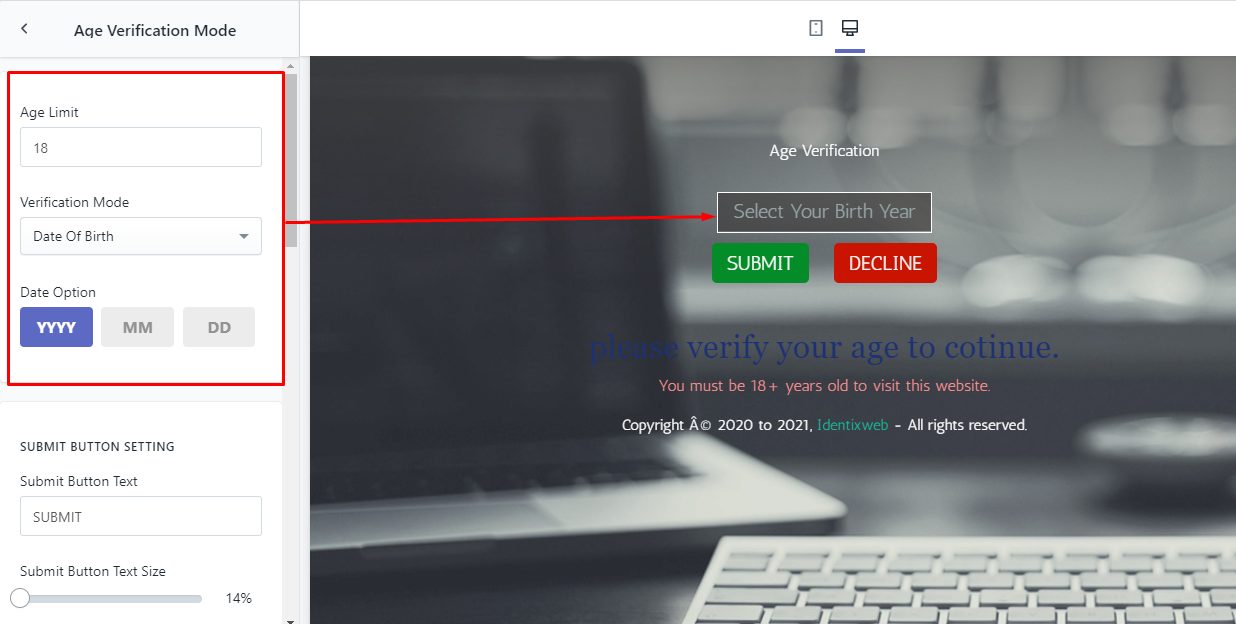 If the entered date is above the age limit you have set, the user will be allowed to visit your website, else he/she will not be able to visit the website.
By selecting the Self option in the verification mode, you can allow the users for self-verification. It will ask the user to confirm or decline if his/her age is above or the below age limit you've set.
Submit Button Setting: Here you can set the Submit Button text and also format the button text size, color, and style. Not only this, but you can also change the button color.
Decline Button Setting: Like the submit button, you can set the Decline Button text and also format the button text size, color, and style. You can change the button color as well.
Email Message Setting: Here you can change the success message and the error message (that are already available) with the formatting options.
Delete section: Simply click the button if you want to remove the age verification mode section from the template.
Free Text
This option allows you to add text to your age verification page.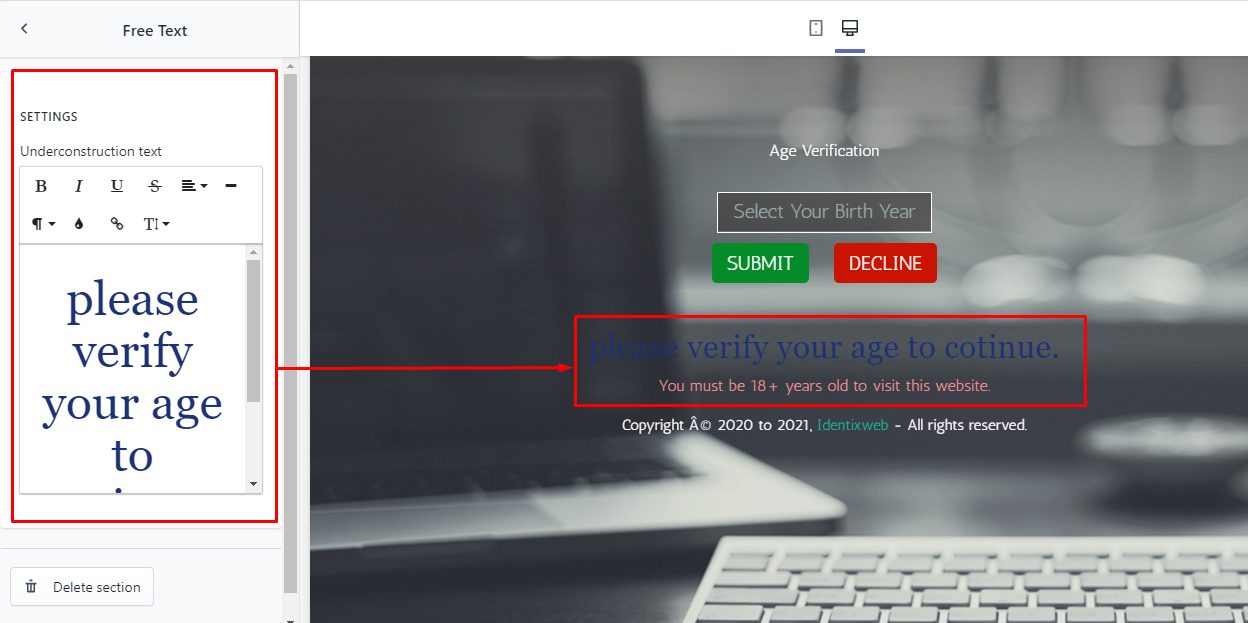 Add section
By clicking on this button, you can add Free text sections to your age verification template.
3. Copyright
You can add the copyright text which will be visible in the footer of the age verification page. As you can see, text formatting is also available in the copyright text box.