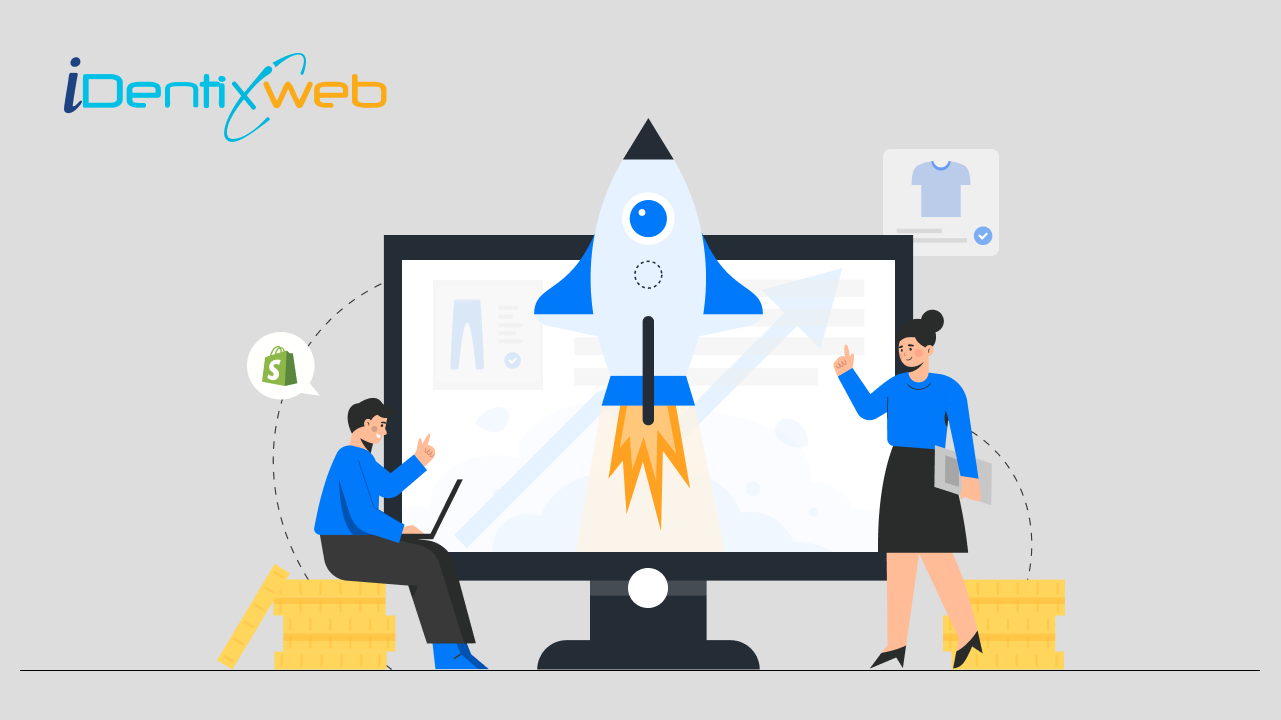 Shopify opens the easiest gateway for online businesses to grow their store. It helps Shopify store owners to set up an online store and customize its design using pre-made templates or by creating their own. The platform allows you to manage products, inventory, and orders, as well as process payments securely through various payment gateways.
Today, Shopify is becoming one of the most preferred platforms and thus there is a huge competition between the stores. Shopify merchants are innovating multiple ways to stay ahead of the competition. But they aren't enough; the store owners need to shortlist some top Shopify apps to boost their store sales.
Let's check out how to choose Shopify apps to grow your store!
How to Choose Best Shopify Apps to Increase Sales?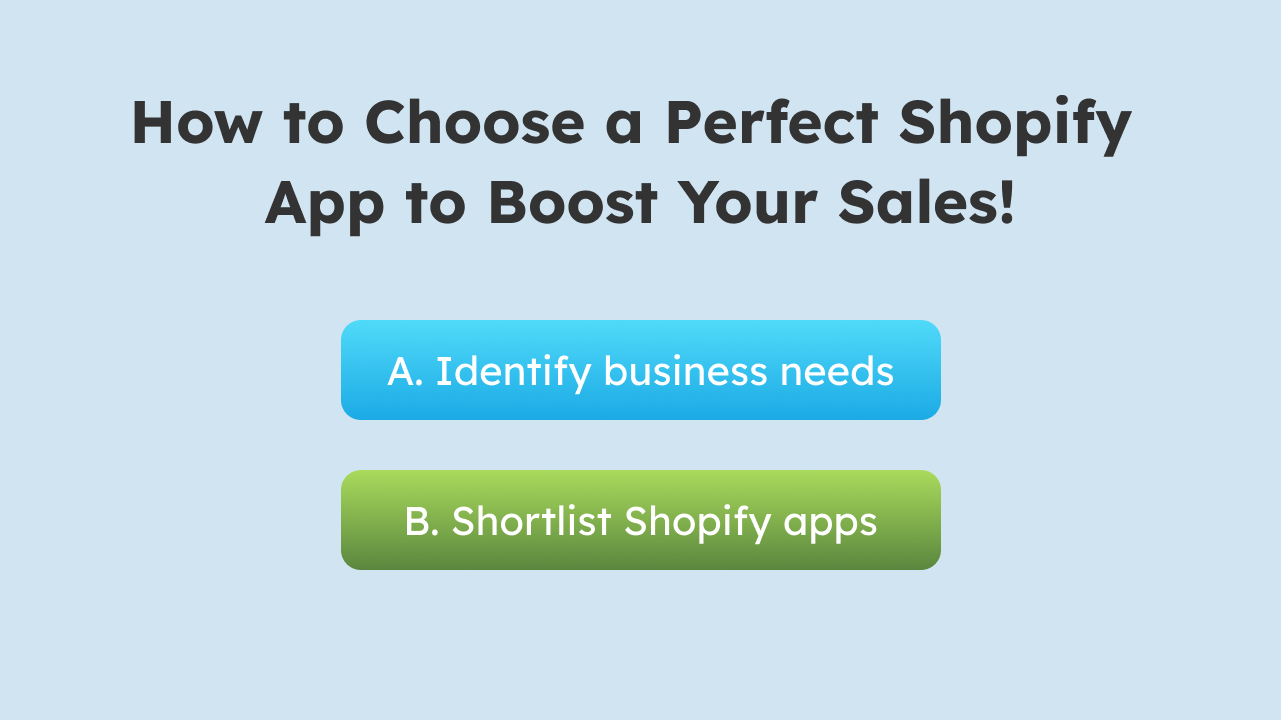 Identify Business Needs
Before you directly move ahead with your hunt for top Shopify apps, it is mandatory to identify your business needs. Check out the objectives and concerns you want the Shopify apps to resolve for you. Some of the business needs cater to creating blog posts, email marketing, and other concerns. Make sure you identify the core problem and then move ahead with your search for the best Shopify apps to increase sales of your Shopify Store.
Shortlist Shopify apps
Shopify has laid a strong foundation for online business with a variety of Shopify apps that boost your store growth. Store owners can leverage top Shopify apps to increase their Shopify sales. Check out the below steps before you get started with Shopify apps.
Keyword Research
The keyword research to find top Shopify apps involves identifying and selecting relevant keywords or phrases that accurately represent the concerns the desired apps can resolve. The goal is to find apps that align with specific search terms or user intents.
Once you have identified the business requirements, generate a list of potential keywords that describe your app requirements. Consider terms related to your niche, industry, or specific functionalities. Evaluate the search volume of each keyword by using a keyword research tool. This keyword research will help to find the must-have Shopify apps for your stores.
Collections
Shopify has a collection of a wide array of apps based on their merchants and features. While looking out for the best Shopify apps to increase sales you need to search best emailing apps, best delivery apps, best upselling apps, etc. This approach saves time and effort from scrolling through irrelevant millions of apps.
Shopify Recommended Apps
To speed up the browsing for Shopify apps, you need to check out the recommended apps. Reliable apps with high ratings and reviews should be given priority. Applications like iCart and ODP, which have helped Shopify merchants to boost sales and encourage customer loyalty, have good ratings.
Check out the reviews and ratings of the apps and then decide which app can help you resolve your business concerns.
Price
When selecting Shopify apps based on pricing, there are a few factors to consider. First, determine your budget and the maximum amount you are willing to spend on apps. Scroll through a range of free must-have Shopify apps that can enhance your store's functionality and boost your Shopify sales. They have limited features but can fit your budget plans. Carry a comparison between the pricing tiers of the apps and go for the one that offers maximum features at a limited price.
Description
While choosing the top Shopify apps for your store, you need to check out the description on priority. The Shopify app store offers descriptions through manuals, videos, slides, and screenshots. These documents are a great illustration of businesses that depict what is the value of customers for them. The app descriptions will help you to make smart decisions.
Features / Functionalities
Choosing a Shopify app based on its features and functionality is a crucial step in optimizing your online store's performance. By selecting the right app, you can enhance your store's capabilities, streamline operations, and provide a better shopping experience for your customers. When evaluating apps based on features and functionality, there are several key points to consider like do these features meet your needs, pain points the app can address, payment gateways, marketing tools, customer support, and other functionalities relevant to your industry niche.
Rating & Reviews
While you plan to install the best Shopify app to increase sales, you need to check the customer ratings and reviews. Shopify offers genuine reviews and ratings which will guide you to decide, which Shopify app can be the best fit for your business. It will also help you understand the pros and cons of installing the application. One and two-star reviews depict that the app has not been much helpful to the customers and thus don't invest much time in exploring the app. Three and four-star ratings are moderate that depict the app as useful but have some cons too. 4.5 to 5 are the ratings that give a complete go-ahead to install the application.
Support
Choosing an app just based on reviews and ratings isn't enough. You need to determine the reliability of the support team to choose the best Shopify apps to increase sales. Check out the developer's FAQs, website, contact details, email address, and privacy statement. The guide to a better understanding of the Shopify application might lie in the comprehensive FAQs, which demonstrate troubleshooting problems and hidden features. This will help you make an informed decision.
App Installation
Once you have finalized the must-have Shopify app, download and install it. Make sure you follow all the required steps for installation and grant the desired access to the Shopify app. For an app that has a subscription fee, it requests for payment gateway. The majority of the applications ask for customer records, theme files, product information, etc.
Monitoring & Evaluation
It might take a little longer to set up the website but, once it is done monitor if it is working and check its performance. Evaluate if the theme is current, the content on the pages is accurate, customer and product records are updated, and the pricing packages are updated.
Wrap Up
Hopefully, the blog has enlightened your knowledge on choosing a Shopify app. If you have any queries shoot in the comment section below.