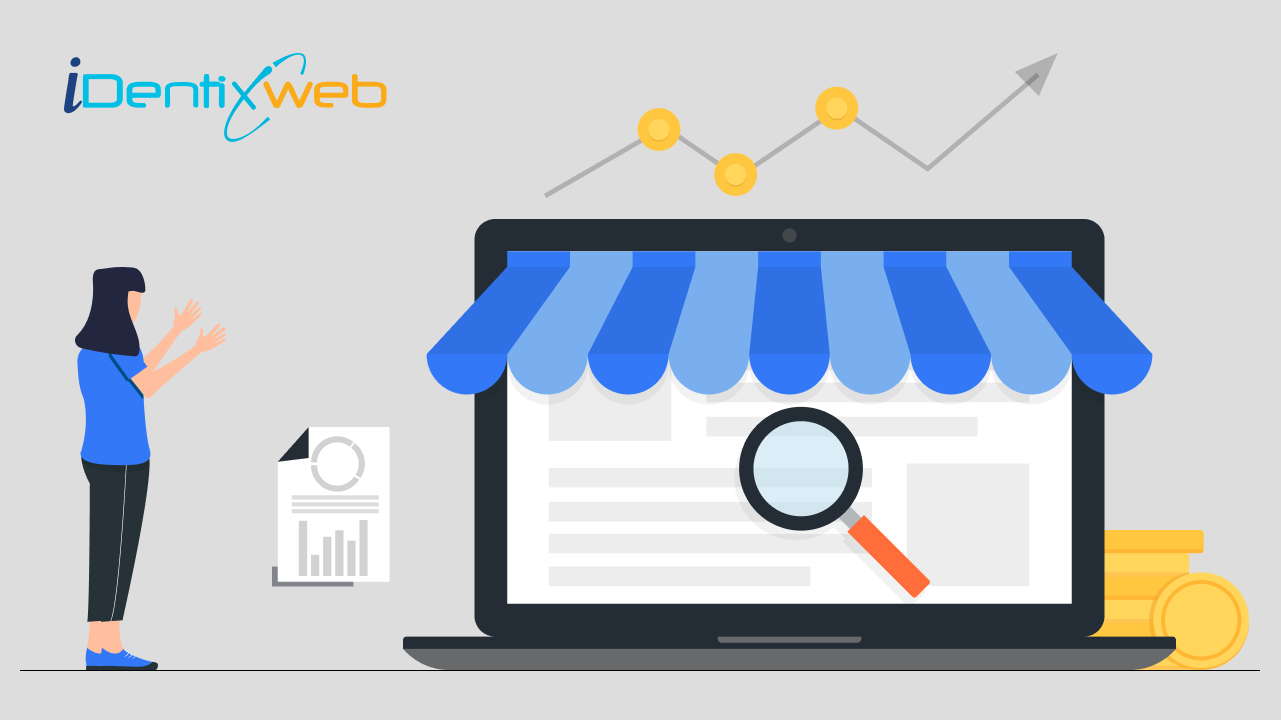 Shopify brings a wide array of tools that help you set up your store and get sales on Shopify. Also, there are third-party Shopify applications that can be leveraged for Shopify Marketing Campaigns to attract customers and upsell your cart.
Let's quickly scroll down to the Shopify marketing campaigns that will boost store sales!
6 Shopify Marketing Campaigns to Boost Your Store Sales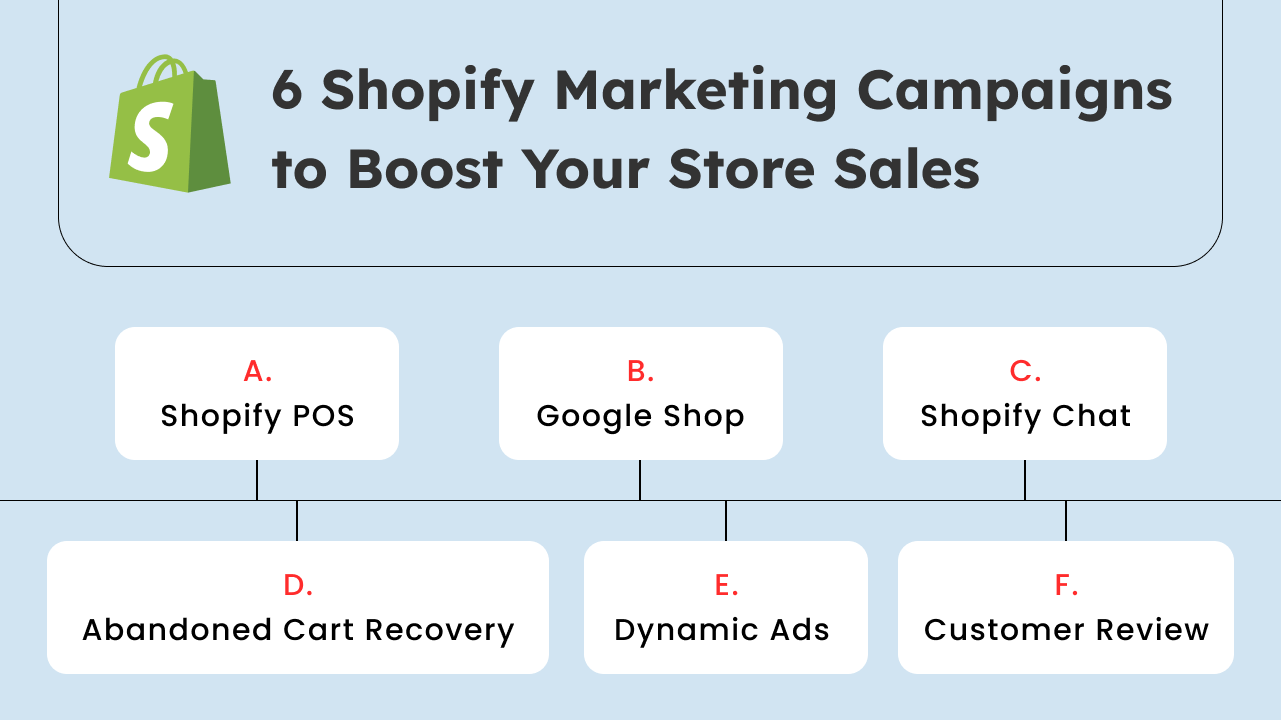 1. Shopify POS
Shopify POS refers to a point-of-sale app that can be leveraged to sell your products in person. It can be used to sell products almost across all stores including brick-and-mortar stores, pop-up shops, and even markets.
Shopify POS synchronizes with Shopify and tracks your inventory and orders across your retail locations. It also helps you to manage your store's orders from the app.
From a Shopify Marketing point of view, Shopify POS offers several features that can help you boost sales on Shopify. It allows the Shopify store owners to reach the customers who prefer shopping in-store, thus helping them to expand their customer base. It also helps to track customer information and behavior, delivering an easier way to create targeted marketing campaigns that are more likely to resonate with customers and drive sales.
2. Google Shop
Shopify's Google Channel is one of the best campaigns to boost sales on Shopify. It automatically syncs all your product details relevant to your Shopify store with the Google Merchant Center. This helps you to directly update your Google product listings from the admin. Also, the stores which are eligible for selling in the United States and are synced to the Google merchant center can directly appear in relevant Google Shopping tab search listings that too for free.
Once your Google Shopping campaign is up and running, your products will appear in Google search results and the Google Shopping tab. When people click on your product listings, they will be directed to your Shopify store to complete the purchase.
3. Shopify Chat
Shopify Chat is a feature provided by Shopify that enables store owners to add a chat function to their online stores. This allows customers to communicate directly with the store owners or support staff in real time, making it easier to ask questions and get immediate assistance.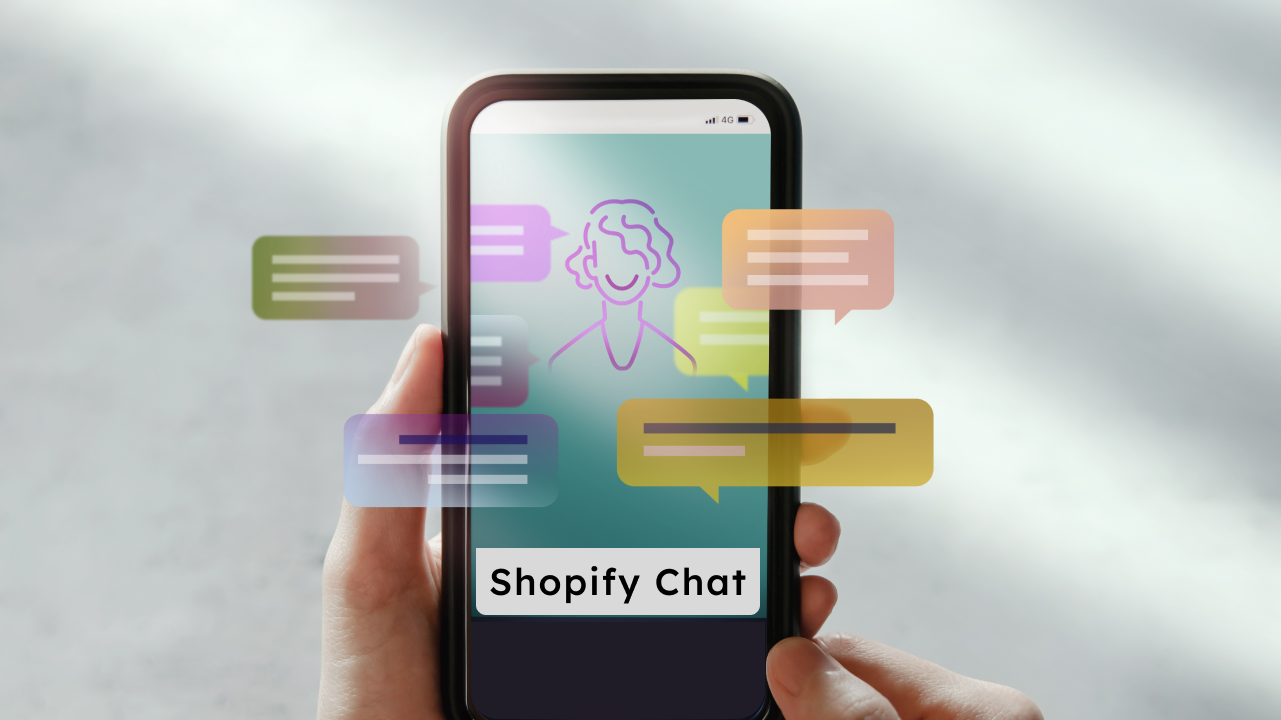 Shopify Chat allows store owners to provide personalized support to customers, which can help to build trust and improve customer satisfaction. It can also be leveraged to suggest products to customers based on their interests and preferences, helping them to get sales on Shopify. It also offers proactive customer engagement by initiating conversations with customers thus delivering enhanced customer experience.
4. Abandoned Cart Recovery
Abandoned cart recovery allows store owners to automatically send emails to customers who have added products to their cart but have not completed the checkout process. This feature is designed to encourage customers to complete their purchases by reminding them of the products they left behind and offering incentives or assistance to complete their transactions.
Abandoned cart recovery emails can be personalized to include the customer's name and the products they left behind. This can help to make the email more relevant and increase the likelihood of response thus generating more sales. This is a great Shopify Marketing Strategy, that allows store owners to send abandoned cart recovery emails to offer incentives or discounts to customers who complete their purchase. This marketing tactic helps businesses boost Sales on Shopify!
5. Dynamic Ads
Shopify offers dynamic ads that allow merchants to create personalized ads based on their customers' behavior and interests. Dynamic ads use data from a merchant's Shopify store to create ads that feature products that are relevant to each customer's browsing and purchase history. This helps them to get sales on Shopify as customers tend to make impulsive decisions.
Dynamic ads are especially effective for retargeting campaigns, which target customers who have already visited the merchant's store or added products to their cart but haven't yet completed their purchase. By displaying personalized ads featuring the products they were interested in, merchants can encourage these customers to return to their stores and complete their purchases. This helps the stores to increase sales on Shopify.
Shopify dynamic ads can be created and managed directly from the Shopify platform using the Facebook Marketing app. Merchants can set up campaigns and ad sets, select target audiences, and choose from a variety of ad formats, including carousel and collection ads.
6. Customer Review
Shopify helps merchants increase Shopify sales and build trust with customers by encouraging them to share their reviews. Product reviews allow customers to share their experiences and opinions about products they have purchased, which can help other customers make informed purchasing decisions. This helps the merchants to boost Shopify sales.
When a customer leaves a product review on a Shopify store, the review is displayed on the product page for other customers to see. Positive reviews can encourage potential customers to make a purchase, while negative reviews can provide valuable feedback for the merchant and help them improve their products.
In addition to providing social proof for potential customers, product reviews can also improve a store's search engine optimization (SEO) by adding user-generated content to the website. This can help the store rank higher in search engine results pages and attract more organic traffic.
Shopify's product review feature is the best way to increase Shopify Sales. It helps merchants to moderate reviews before they are published, ensuring that only legitimate reviews are displayed on their store. Merchants can also send automated review request emails to customers after they have made a purchase, encouraging them to leave a review.
Let's Conclude
Hopefully, the blog took you through the Shopify marketing campaigns that can help you get sales on Shopify.
Shoot your queries in the comment section below and we will surely try to answer them. Also, Shopify has third-party apps that can help you boost sales on Shopify. Hurry up! Explore these eCommerce solutions now!