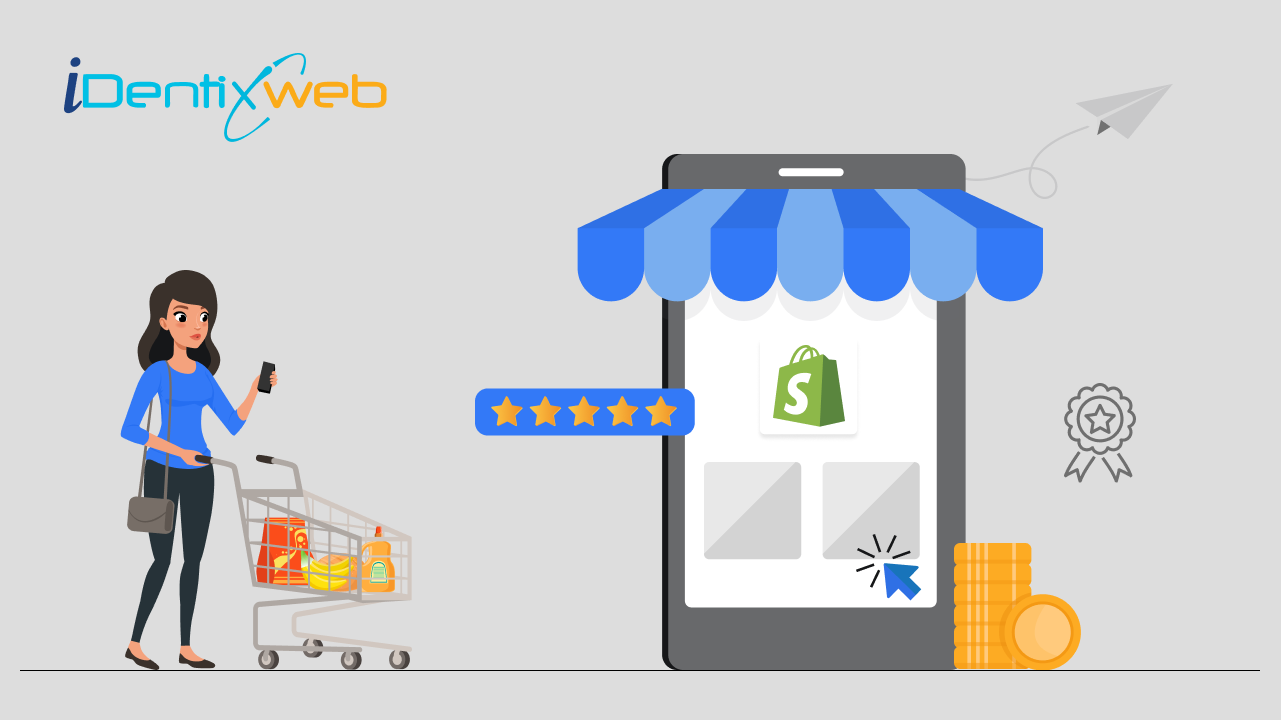 In the world of eCommerce, Shopify has marked its own name. Shopify is becoming a popular platform for businesses looking to create an online store. With its user-friendly interface and powerful features, Shopify has helped countless businesses build successful online stores. Let's see a few metrics about Shopify:
Millions of merchants worldwide
170+ countries represented
10% of total US eCommerce
$444b+USD global economic activity
In this blog, we will discuss the success rate of Shopify stores and explore the benefits of Shopify as an eCommerce platform. By the end of this article, you will better understand whether Shopify is the right choice for your business.
What is Shopify?
Shopify is an e-commerce platform that enables businesses to create and manage their online stores. Shopify provides users with a wide range of tools and features to help them design, launch and manage their online stores. It comes with different themes and tools.
Apart from that, Shopify has a large app store with thousands of third-party apps that can be used to extend the store's functionality.
Shopify's easy to use interface and powerful features make it a powerful choice for both small and large businesses looking to sell products online.
Is Shopify worth it?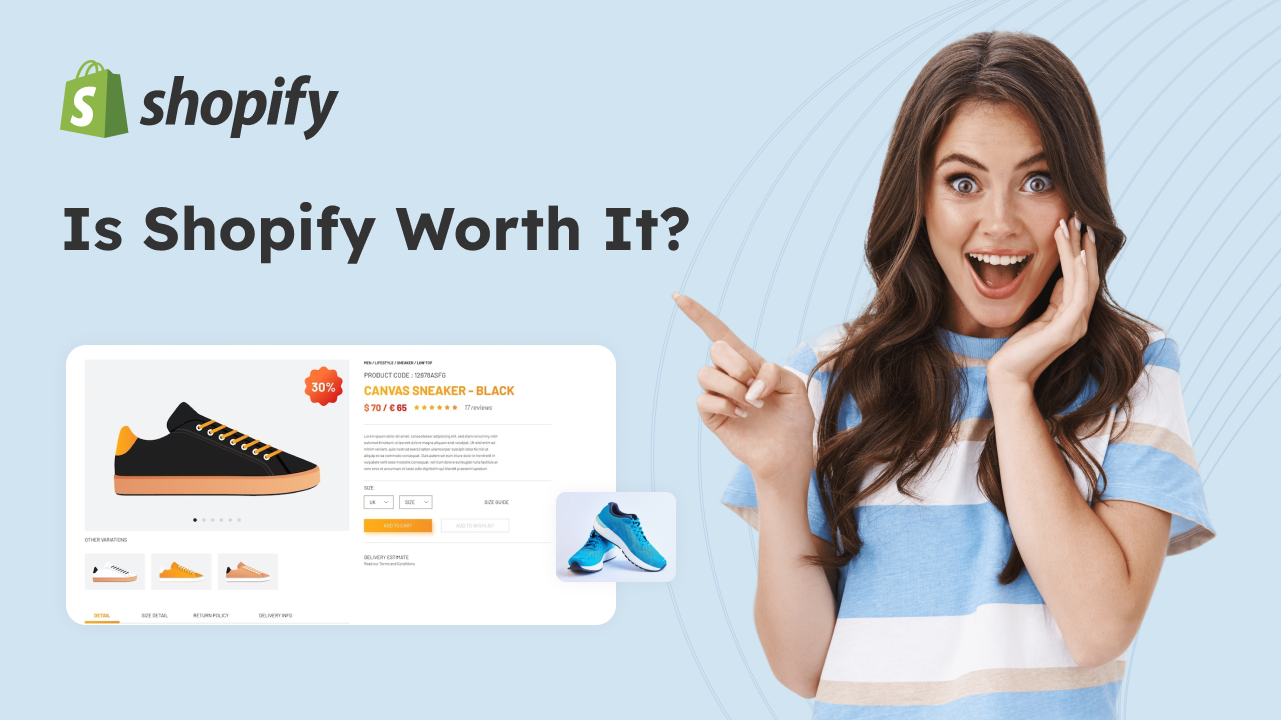 Everyone has a doubt that is Shopify worth it? Whether or not Shopify is worth it depends on your specific business needs and goals. Shopify is a popular e-commerce platform that allows you to easily create and manage an online store. It offers a range of features, including customizable storefront themes, payment processing, shipping options, and inventory management tools.
If you are looking to sell products online and want a user-friendly platform to do so, Shopify can be a great option. However, it does come with a monthly subscription fee, which can vary depending on the plan you choose and the features you need.
Thus, the answer to whether Shopify is worth or not for you depends on factors such as budget, the size of your product catalog, your technical skills, and your overall business goals.
Shopify success rate
It's difficult to provide a precise Shopify success rate as it depends on how success is defined and measured. Most of the stats show an estimation of 5% – 10% of success rate. Check out the reason why most of the Shopify stores fail? Avoid these reasons in your store and make your store successful just like other successful Shopify stores.
Benefits of Shopify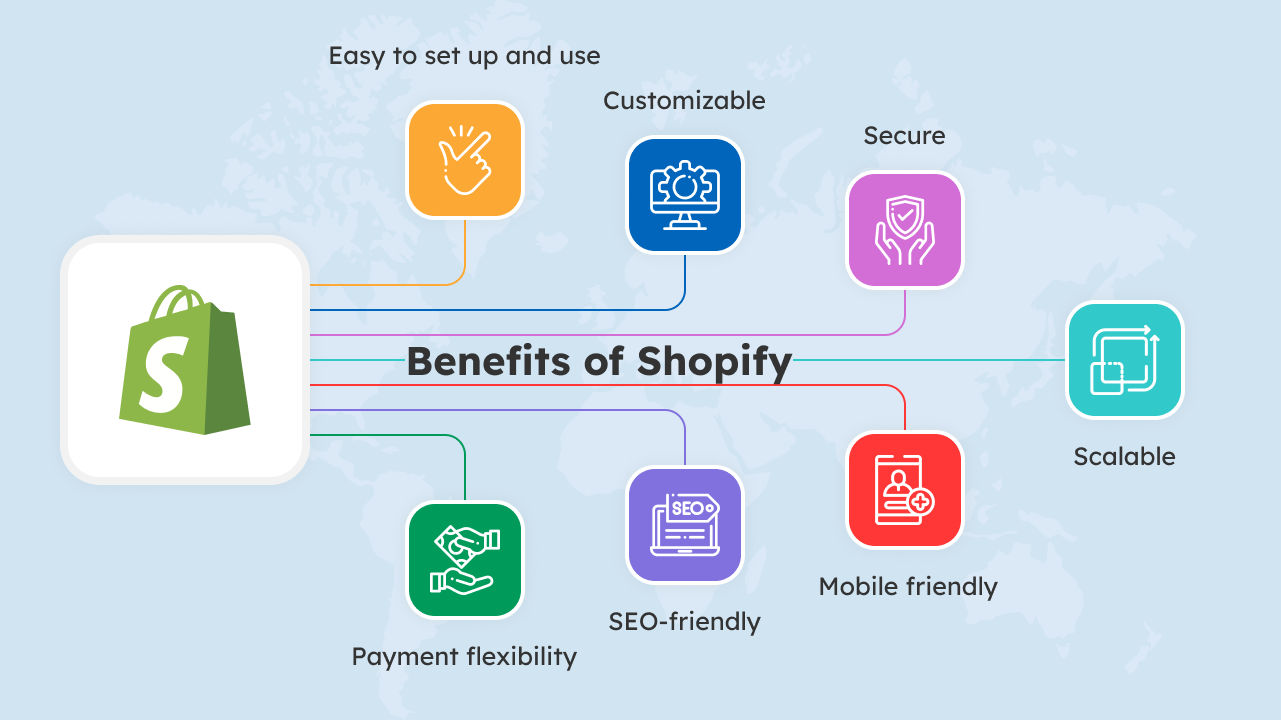 Shopify is becoming more popular globally due to its advantages. Some of the key benefits of using Shopify are as follows:
Easy to set up and use: One of the main Shopify provides an intuitive and user friendly interface, making it easy for anyone to create and launch an online store quickly. With Shopify, you don't need to have any technical expertise or coding skills to get started.
Customizable: Another benefit of using Shopify is how customizable it is. The platform offers a variety of themes and templates, making it easy to customize the look and feel of your store to match your brand. You can also add your own custom logo, and elements to make your store unique.
Secure: Security is a top priority for any online store, and Shopify provides a secure and reliable platform. The platform offers built-in security features such as SSL certification, fraud detection, and automatic updates to ensure your store is always secure.
Scalable: Shopify is a scalable platform that can grow with your business. The platform offers a range of features and add-ons to support your store as it grows and evolves. You can easily add new products, expand your catalog, and optimize your for better performance.
Mobile-friendly: With a growing number of customers shopping on their mobile devices, it's important for your online store to be mobile-friendly. Shopify offers a range of mobile-friendly features, including responsive design and mobile-friendly checkout. This means that your customers can easily shop on your store from their smartphones or tablets.
SEO friendly: SEO stands for Search Engine Optimization. Shopify provides SEO features and tools that help you to make your Shopify store SEO optimized and help to rank in Google search results. These include customizable meta tags, automatic sitemaps, and built-in analytics. Read out our Guide on How to Rank Your Shopify Store on Google.
Having an SEO-boosted store will help you to increase the visibility of your store in other terms grab the attention of users and reach new leads. By optimizing your store for search engines, you can increase your visibility and drive more traffic to your store.
Payment Flexibility: Finally, Shopify offers a range of payment options to make it easy for your customers to pay for their purchases. These include credit card payments, PayPal, and more. By offering multiple payment options, you can improve the checkout experience for your customers and increase your conversions.
Let's wrap up
In conclusion, Shopify is a powerful e-commerce platform that offers a range of benefits for businesses of all sizes. From its easy-to-use interface to its scalable and customizable features, Shopify provides everything you need to create a successful online store. If you are looking for a reliable and secure platform for your e-commerce business, Shopify is definitely worth considering.