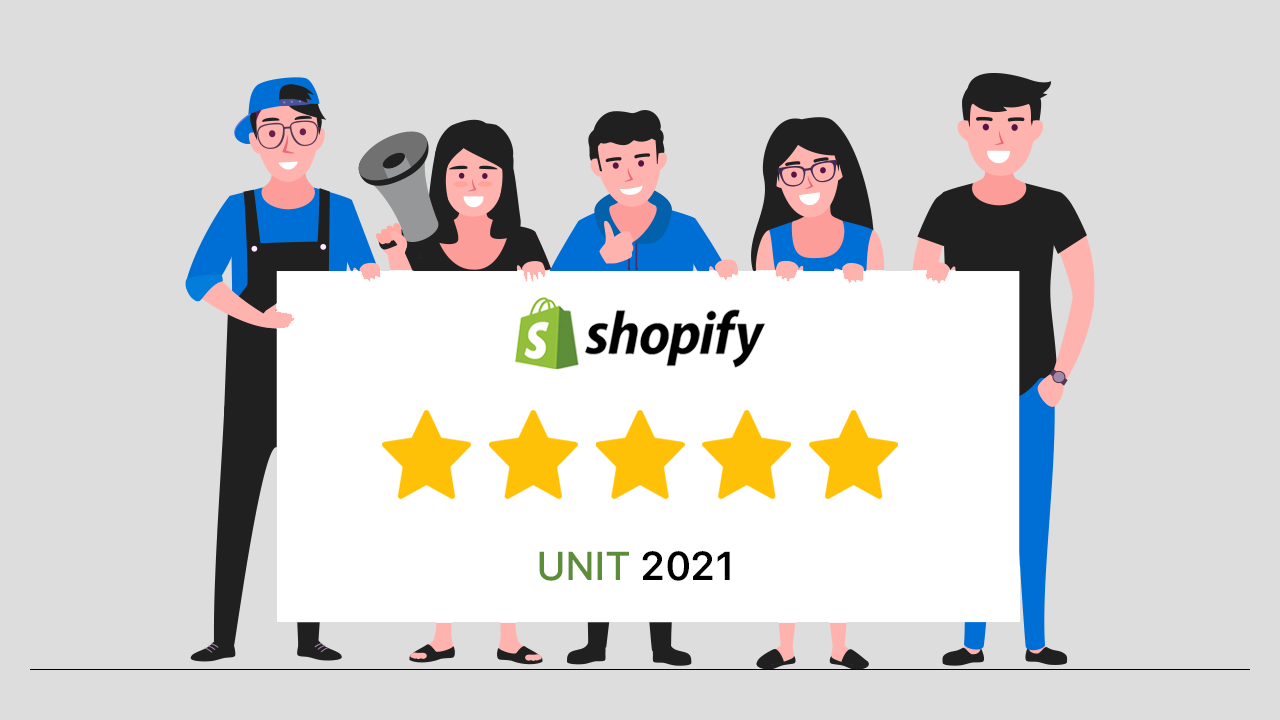 Recently held virtually on June 29, 2021, the Shopify Unite 2021 brought a big smile to everyone's faces. In this event, Shopify has announced something unbelievable for everyone who is associated with Shopify.
Benefits For Shopify Merchants
You can scale up your store for more capabilities.
You don't have to hunt for Shopify apps or plugins for some extra features.
You can fully customize your online store as well as the overall experience of your store visitors.
Benefits For Shopify Partners or Developers
Your 20% revenue sharing will be 0% from August 1, 2021, until you reach a million dollars revenue.
You will have all the tools you need to create a world of possibilities for online stores on Shopify.
You can easily manage the billings and issue refunds to the Shopify merchants directly.
Isn't it awesome? This is just an overview. Let's jump to the next section to understand them all better.
Online Store 2.0
Are you a Shopify store owner? This one's for you! Shopify has announced its biggest investment in the online store platform to offer easier and more flexible customization options for merchants, and new opportunities for developers.
What they mean by Online Store 2.0 is the upgraded theme architecture for the online store.
Sections are everywhere
Earlier you could see the sections on the home page only. Now the Sections are made global for the entire store theme. You can customize the store in any way you want and improve the e-shopping experience of your customers.
Flexible store content using Metafields
You as a store admin can create your own metafields to save special information related to your products, collection, customers, or anything. Later on, metafields may be used to track internal data or to show custom information on your online store.
Want to know more about Metafields? Go ahead and read more in the Shopify Manual.

Flexible App Block
It's like a dream come true for Shopify merchants. There are lots of questions asked in the Shopify Community about the relocation of apps. Shopify has simplified the relocation of apps in the store for the merchants.
It offers an "App Block" feature that allows the store admins to drag and drop the app to move the Shopify app anywhere on the store page. This prevents them from going to the liquid files of the respective page and manually editing the code.
The Faster Shopify Theme "Dawn"
The upcoming Shopify theme: Dawn will be the default theme in the development themes created after June 29, 2021. This theme loads 35% faster than our most popular theme.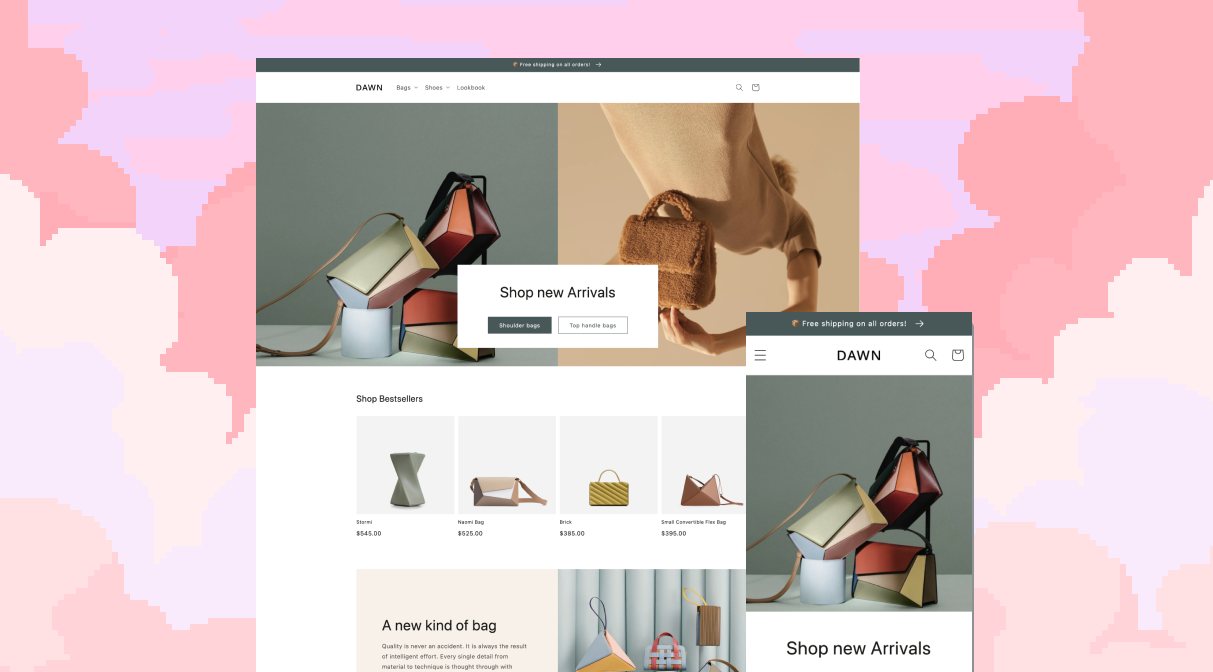 Source: Shopify developer platform
The Dawn theme uses Online Store 2.0 features which means better performance, fully customized design, new cart capabilities, more accessibility, and inclusion of sections and app blocks. Curious to know more about Dawn? Let's go to the Dawn theme tutorial.
One of the biggest announcements out of Shopify Unite is the new revenue share model for App builders. Shopify has announced that from August 1, 2021, they are offering zero percent revenue share on the first million dollars developers make annually on the Shopify App Store.
Yes, you heard it right! When the revenue exceeds $1 million USD, they will pay a 15% revenue share, down from the prior 20% revenue share. Enough to inspire to build more out-of-box solutions for Shopify merchants and make the commerce better for everyone?
Those developers who register or sign-up with Shopify after August 1, will pay a one-time registration fee at the time of the first app review. To know more about the registration, check out the Shopify App revenue share update FAQ.
Same as the updated revenue share model for App builders, Shopify has announced a new revenue share model for Shopify Theme Developers. The Shopify Theme Store will be reopened on July 15, 2021, , and from September, Shopify will eliminate the revenue sharing.
Theme developers can get zero percent revenue share on the first million dollars they make annually on the Shopify Theme Store. When the revenue exceeds $1 million USD, they will pay a 15% revenue share on the incremental earnings.
You might be charged a one-time Submission fee ($99 USD per account) to submit to the Shopify Theme Store and around 2.9% processing fee on all transactions. Still, you have to keep your eyes open for more updates on this.
To be eligible for this new revenue share model you need to follow some guidelines published by Shopify.
Addition in Developer Tools
Shopify will introduce new tools for developers to build outstanding solutions for Shopify merchants. These changes will include checkout app extensions, Shopify scripts, and the Shopify payments platforms.
Checkout App extensions
With Checkout Extensions, you'll have access to Extension APIs, new extension points (different parts of Checkout), component library, etc.
Shopify has already made the post-purchase checkout extension available for beta testing. Developers may use this extension to create post-purchase experiences right within Shopify Checkout.
Shopify Scripts
The scripts have been redesigned by Shopify to make them more reliable, and work faster than before. As scripts are deployed and installed via apps, they can be installed on multiple stores, and the merchants can use them without touching the code.
Shopify Payments Platforms
Shopify has introduced a new payment platform that will help payment developers to create new payment gateways as Shopify apps. The payment gateway will be built on the payments platform, which means the Shopify partners will get access to new checkout and payment features.
App Store Updates
Shopify is about to release a series of improvements and enhancements in Documentations, Developer Console, and Google Cloud Pub/Sub.
New Space for App Ads
When you develop an App, all you want is that merchants can reach it. To increase the visibility of your apps, Shopify is working out something great. Yet in the testing phase, a new space is going to be added to the Shopify App Store homepage for advertising your app.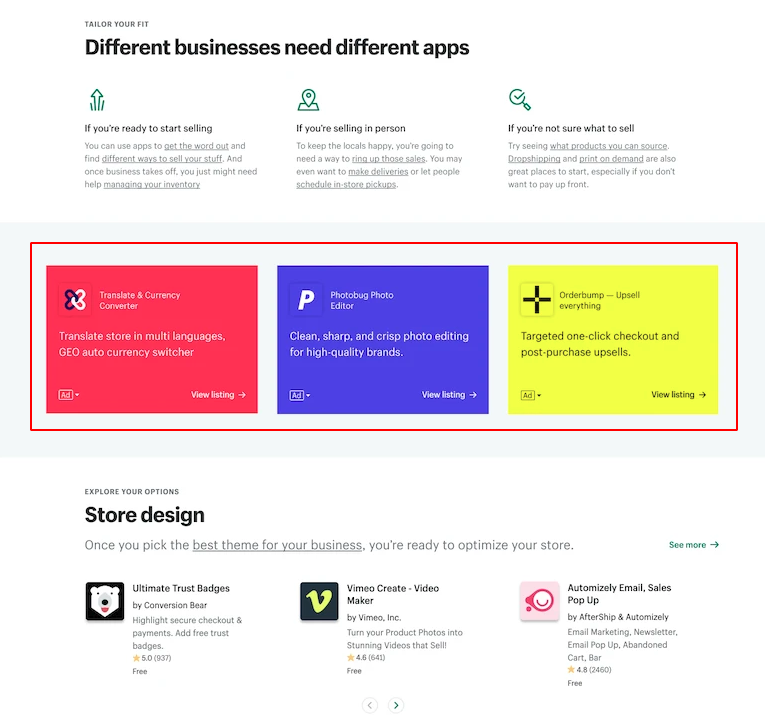 Source: Shopify Unite Announcements 2021 (Shopify Blog)
App Billing Management
The Partner Dashboard will have a new Charge overview page which will make it easier to review the app subscription charges and settle refund claims of the merchants directly.
The new billing management tools in the Partner Dashboard will provide ready information at a glance so you can better support app users.
Source: Shopify Unite Announcements 2021 (Shopify Blog)
Developer Toolkit "Hydrogen"
Hydrogen is a developer toolkit that includes a framework to help to build storefronts with only a few clicks. Hydrogen's quick start platform makes it simple for web developers to create unique storefronts rapidly.
Here, I tried to cover the main announcement highlights, but still, it's just an abstract. To know more technically, visit the Shopify Unite Announcements 2021 blog by Shopify.