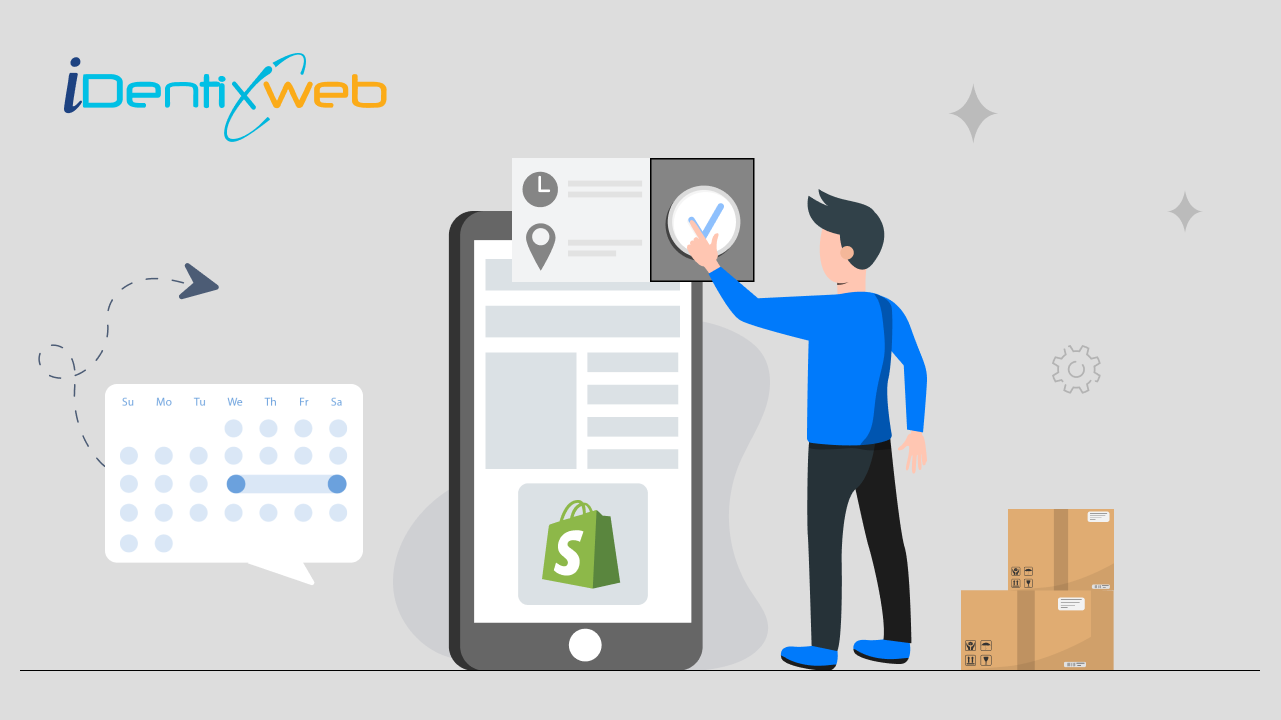 In today's fast-paced world of online shopping, customer expectations are higher than ever. Shoppers not only seek high-quality products and seamless user experiences but also demand greater control and convenience over their deliveries. As an ecommerce store owner running your business on the popular Shopify platform, it's essential to stay ahead of these evolving customer demands.
As the world of ecommerce continues to thrive, online retailers are constantly seeking innovative ways to enhance the customer experience and stay ahead of the competition. One such feature that has proven to be a game changer for many Shopify store owners is the "Delivery Date Picker". By allowing customers to choose their preferred delivery date during the checkout process, this feature provides a level of convenience and personalization that can significantly boost customer satisfaction and ultimately lead to increased sales.
If you are ready to take your customer service to the next level and streamline your order fulfillment process, read on to discover why the date picker is a must-have feature for your e-commerce store. Embrace the future of online shopping and unlock a world of possibilities for your business and your valued customers.
Benefits of Providing Order Delivery Date Picker in Your Shopify Store
Adding an order delivery date picker to your Shopify store can offer numerous benefits for both you as a store owner and your customers. Let's explore some key advantages:
Customer convenience: One of the primary benefits of offering a delivery date picker is that it enhances the overall customer experience. Customers can select their preferred delivery date during the checkout process, providing them with greater control and flexibility over when they will receive their order.
Reduced cart abandonment: By allowing customers to choose their delivery date, you minimize the chances of cart abandonment due to inconvenient or uncertain delivery times. Customers are more likely to complete their purchase when they can schedule the delivery according to their availability.
Improved customer satisfaction: Meeting customer expectations for delivery is crucial for positive reviews and repeat business. Providing a delivery date picker ensures that customers receive their orders at their convenience, leading to higher satisfaction levels.
Better order management: With delivery date information available upfront, you can optimize your order fulfillment process. This allows you to plan and allocate resources more efficiently, reducing the chances of delayed shipments.
Streamlined Inventory Management: Knowing the expected delivery dates enables you to manage your inventory more efficiently. You can prepare your stock based on the scheduledshipping dates, avoiding stockouts.
Reduced customer enquiries: Offering a delivery date picker can also lead to fewer customer enquiries about order status. Customers can simply refer to their chosen delivery date, which means fewer support requests related to delivery timelines.
Local delivery optimization: If you offer local delivery services, a delivery date picker allows customers to choose the most suitable date for them. This optimization leads to better route planning and efficient local deliveries.
Delivery date visibility: Displaying the selected delivery date in the order confirmation email and tracking information keeps customers informed throughout the delivery process, enhancing transparency and communication.
Differentiate from competitors: Providing a delivery date picker sets your store apart from competitors that may not offer such a feature. It adds a personalized touch and demonstrates your commitment to excellent customer service.
How to Add a Delivery Date Picker to Your Shopify Store without Coding
Yes, you have heard right. Without coding you can add date picker to your product page using one excellent Shopify app called Stellar Delivery Date & Pickup. This app allows you to provide your customers the option of selecting their own desired delivery date and time. Yes, customers can choose their convenient day for their order delivery. Let's see how to add it
Key Features of Stellar Delivery Date & Pickup
Add location-wise delivery dates and time for local pickup and local delivery
Show estimated delivery date and time for local delivery on product detail page
Allow re scheduling orders by giving delivery date selector from thank you page
Fraud prevention for local pickup orders using security code
Set day-wise different shipping rates based on the selected order delivery date
Step 1: Install Stellar Delivery Date & Pickup in your Shopify store and enable the app using the Enable button as shown below. Read our Guide on Getting Started with Stellar Delivery Date & Pickup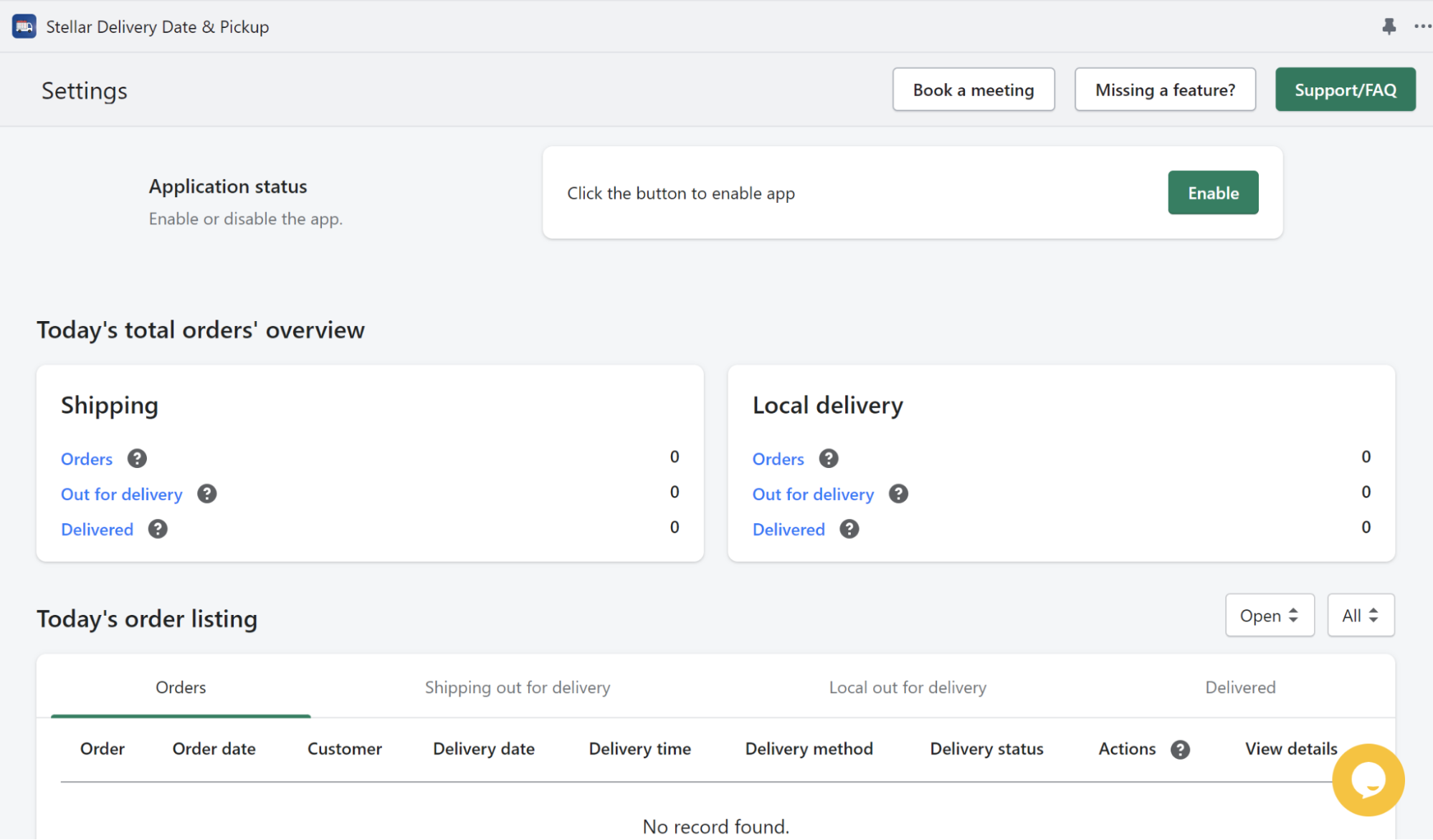 Step 2: Click on add-ons and upgrade Store Pickup & Local Delivery.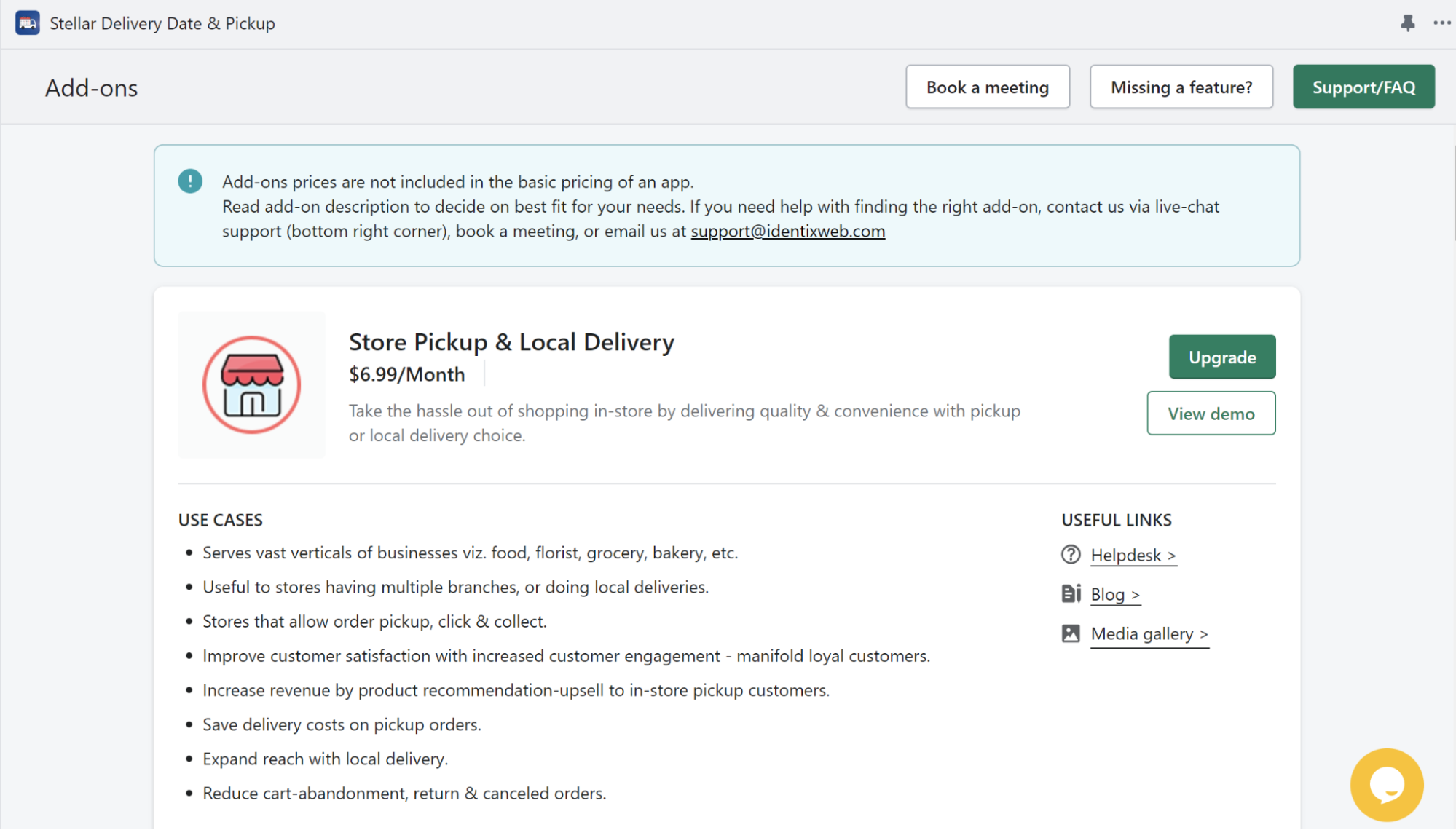 Step 3: Now go to Settings and click on Locations.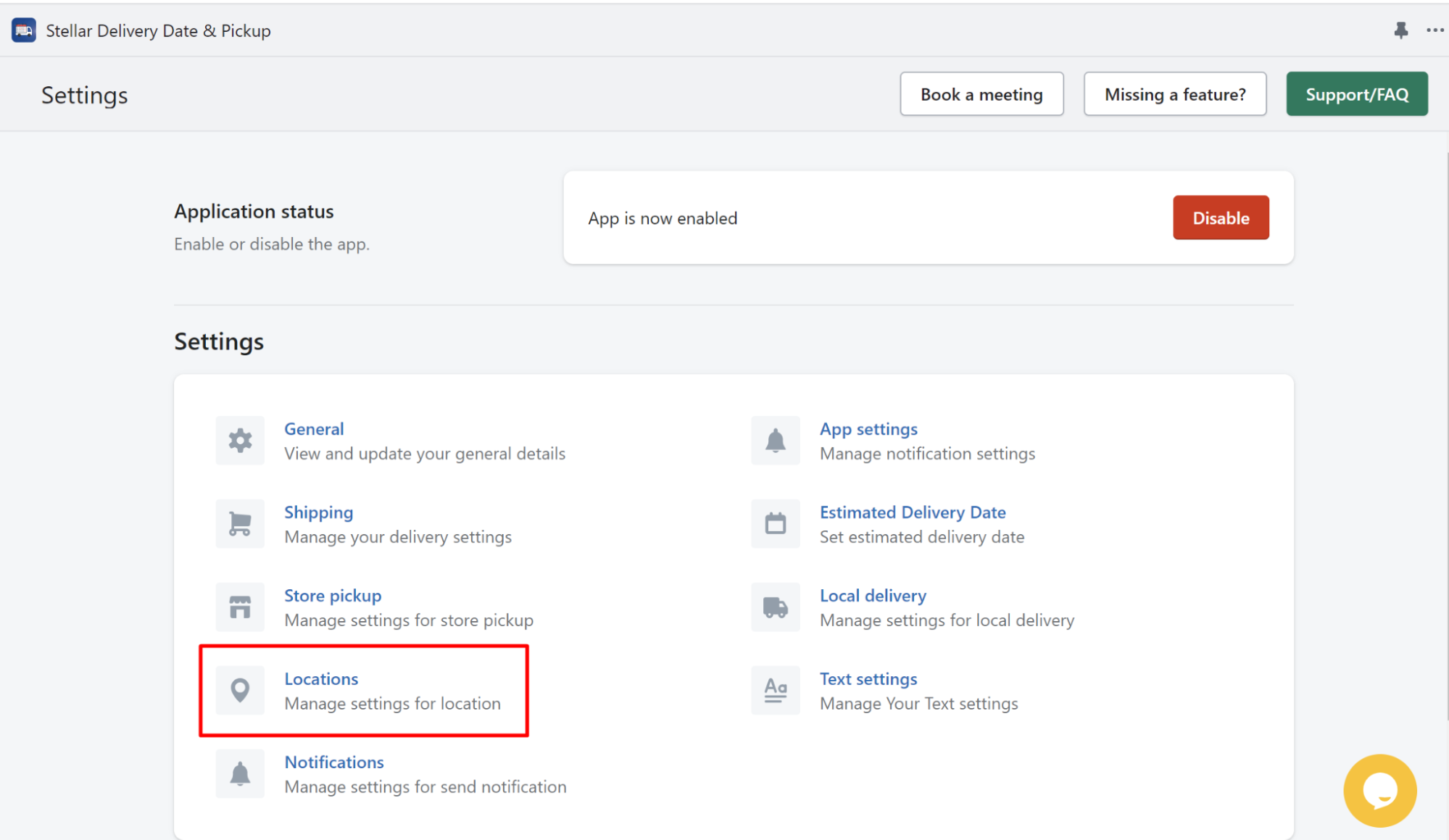 Step 4: Now in this page, by default your store's address will be displayed here. If you want to add other delivery locations, then you can add them by clicking on Add Location button.
Step 5: After adding the location, enable the eye-icon to enable local delivery, and click on the edit icon.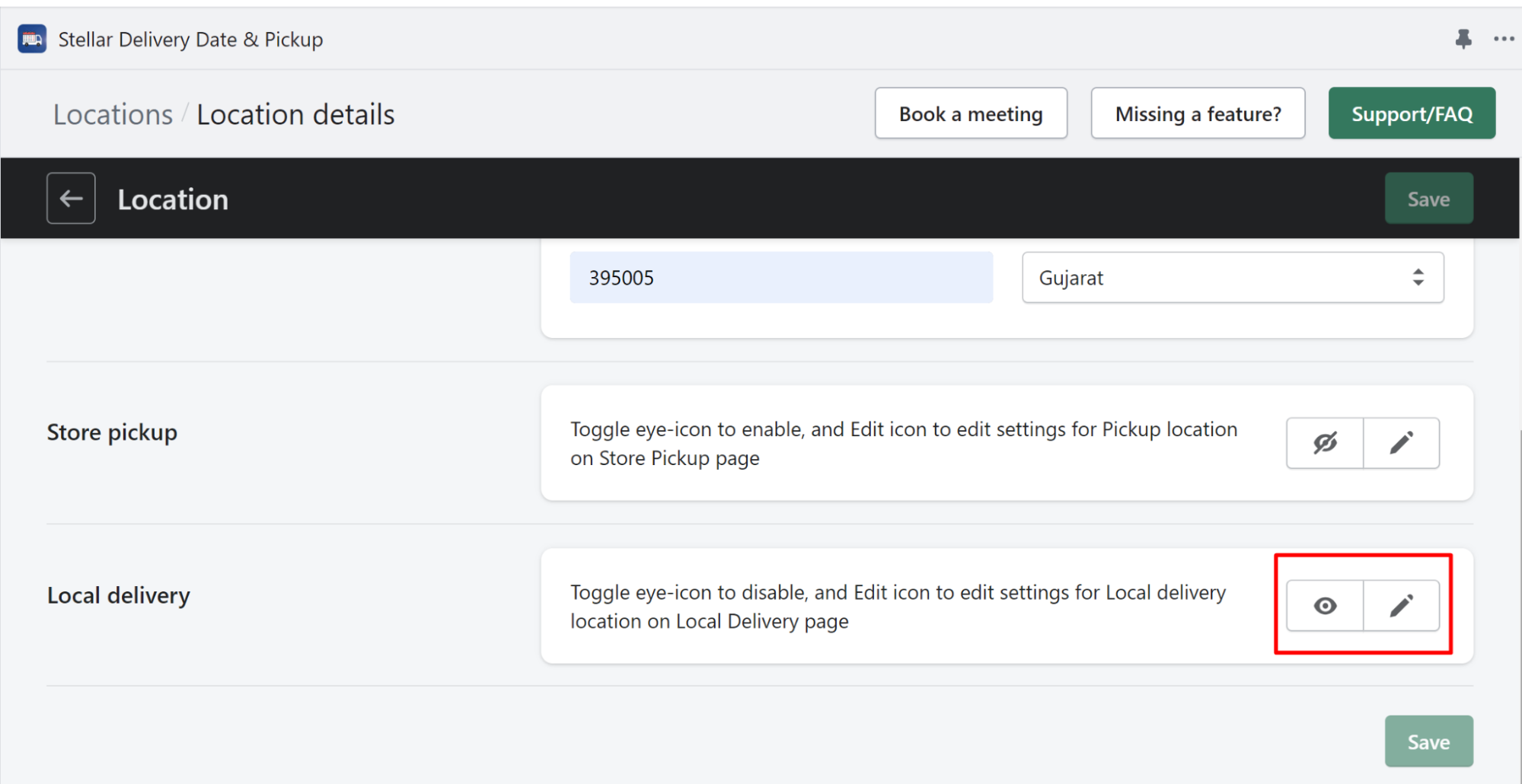 Step 6: Enable the local delivery status and date picker status. If you don't enable this then the date picker for local delivery will not be shown in the frontend of your store.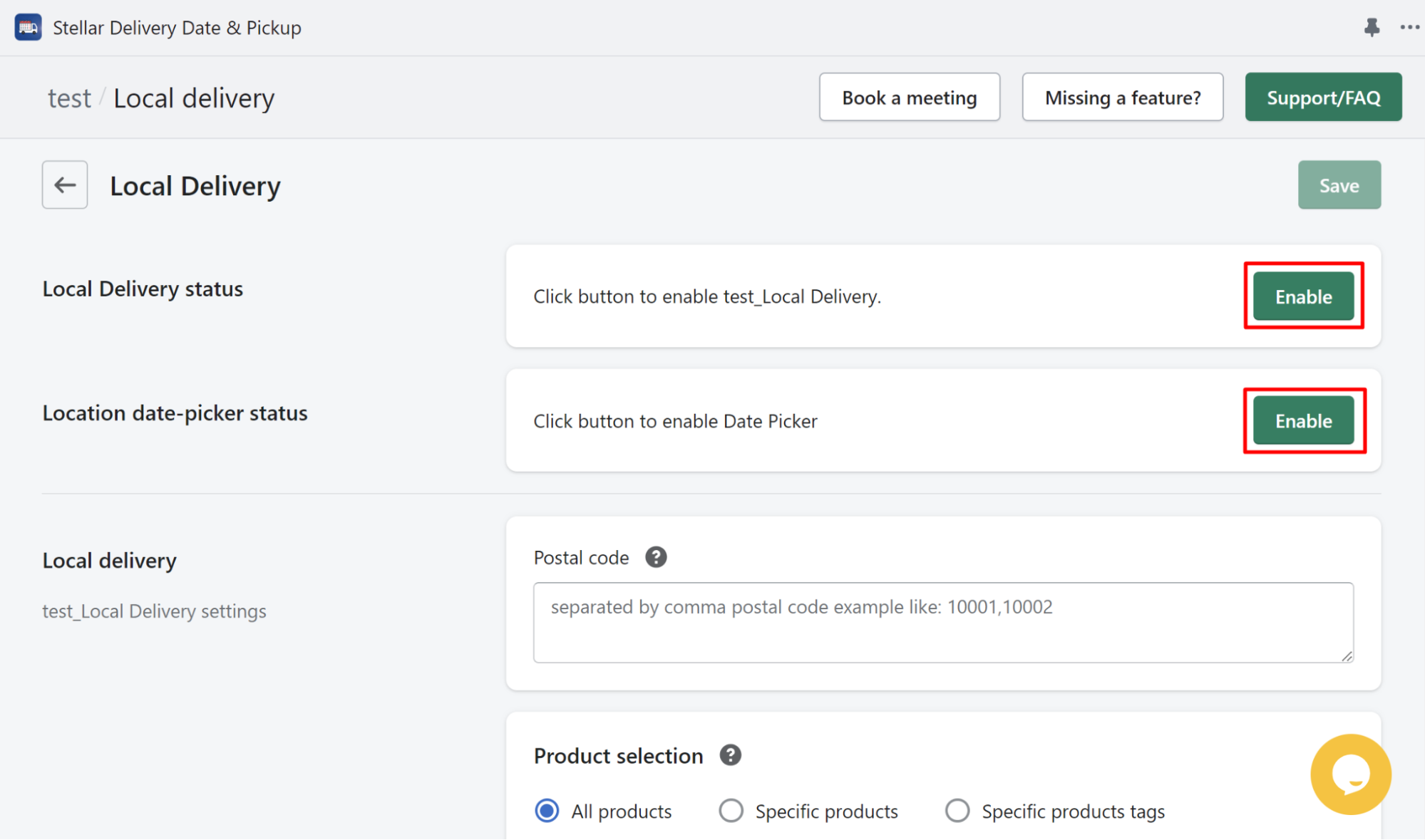 Step 7: Add the postal codes where you want to provide order delivery.
Step 8: You can either provide local delivery for all products or specific products.
Step 9: Then you can add the date and time settings.
Step 10: Click the Save button.
Conclusion
In conclusion, the Shopify Delivery Date Picker is undoubtedly a must-have feature for any thriving ecommerce store. In today's fast-paced digital world, where customer satisfaction is the ultimate key to success, providing a seamless and personalized shopping experience is paramount. With the Delivery Date Picker integrated into your Shopify store, you empower your customers with greater control and convenience over their deliveries, earning their trust and loyalty in return.
So, whether you're a small business just starting or an established enterprise looking to elevate your customer experience, integrating the Shopify Delivery Date Picker is a decision that you won't regret. Embrace this feature, and watch as your ecommerce store thrives with delighted customers, increased sales, and a reputation for excellence in the industry. Happy delivering!
FAQs
1. Is the Delivery Date Picker suitable for all types of ecommerce businesses?
Yes, the Delivery Date Picker is suitable for virtually all types of ecommerce businesses.
2. Will the Shopify Delivery Date Picker help reduce cart abandonment rates?
Absolutely! When customers can select a delivery date that works for them, they are more likely to complete their purchase, leading to a reduction in cart abandonment rates and an increase in completed transactions.
3. Can I customize the available delivery dates in the Shopify Delivery Date Picker?
Yes, you can fully customize the available delivery dates to suit your business needs.