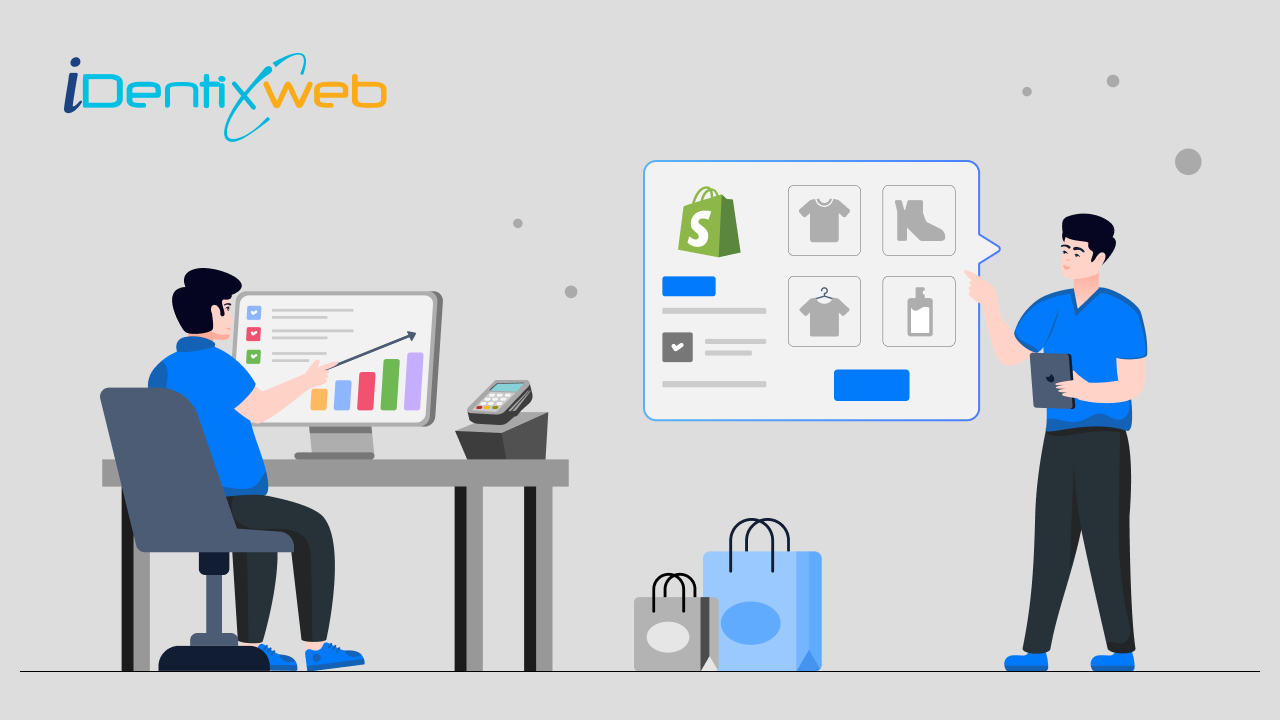 Consumers expecting convenient shopping experiences is a common thing. Having the right tools to manage your in-store operations is essential to give the best. This is where Shopify POS comes into play, offering a robust solution for businesses of all sizes.
We will explore what POS is and how it can transform your store.
What is Shopify POS?
Imagine you are running a small business, maybe a cozy coffee shop or a charming boutique. You have got a bunch of awesome products to sell, and you want to make the process as smooth as possible for your customers. That's where Shopify POS comes into play.
Shopify POS stands for "Point of Sale," and it's like a fancy cash register for the modern age. It is a comprehensive and versatile point of sale system designed for online and brick-and-mortar stores. Also, it provides a unified platform for managing inventory, processing transactions, and analyzing sales data.
Shopify POS Features
It offers a wide range of features that enable retailers to streamline their sales processes. It also helps to enhance the customer experience, and efficiently run their business. Here are some of the key features of Shopify POS:
Multi-Channel Sales: Shopify POS allows businesses to sell products in physical stores, and online through a unified platform. This ensures that inventory and sales data are synchronized across all channels.
Inventory Management: Easily manage in-store and online inventory, track stock levels, and receive low-stock alerts. Product details and availability are updated in real time.
Customizable Checkout: Customize your in-store checkout process by adding products, applying discounts, and processing payments quickly and efficiently.
Payment Processing: Accept various payment methods, including credit cards, cash, and digital wallets. It is designed to handle payments securely.
Hardware Compatibility: Shopify supports a range of compatible hardware, including receipt printers, barcode scanners, cash drawers, and card readers.
Customer Profiles: Create and access customer profiles to track purchase history and preferences. Use this data to personalize interactions and build customer loyalty.
Sales and Discounts: Create discounts, apply promotions, and set up automatic discounts based on criteria you define.
Offline Mode: Continue selling even when you lose internet connectivity. Shopify POS can process transactions offline, syncing the data once you're back online.
Analytics and Reporting: Access sales reports and analytics to monitor performance, track trends, and make data-driven decisions. Gain insights into your business's health.
Gift Cards: Sell and redeem gift cards, encouraging repeat business and attracting new customers.
Staff Management: Assign roles and permissions to your staff members, allowing them to access the necessary functions while maintaining security.
Customizable Receipts: Create and customize receipts that match your brand and include your logo and return policy.
Customer Loyalty Programs: >Set up loyalty programs to reward repeat customers with discounts and special offers.
Multi-Location Management: If you have multiple physical store locations, it lets you manage and monitor inventory, sales, and staff.
Advanced Tax Calculations: Automate complex tax calculations and generate accurate tax reports.
Multi-Currency Support: Sell to customers worldwide and display prices in their preferred currency.
Returns and Exchanges: Easily process returns and exchanges, with the ability to search for past orders.
In-Store Marketing: Use it for in-store marketing by showcasing product images, product details, and promotions.
Shopify POS App
Shopify POS unifies your online and retail stores to strengthen sales conversions everywhere you sell and streamline store management. It helps you build stronger relationships with your customers. Apart from this, many other apps support POS, like Stellar Delivery Date & Pickup. It's upto you which apps you need for your store to sell smoothly with POS.
How To Setup Shopify POS In Your Shopify Store?
Step 1: Create a Shopify account.
Step 2: Install Shopify POS app from the Shopify app store.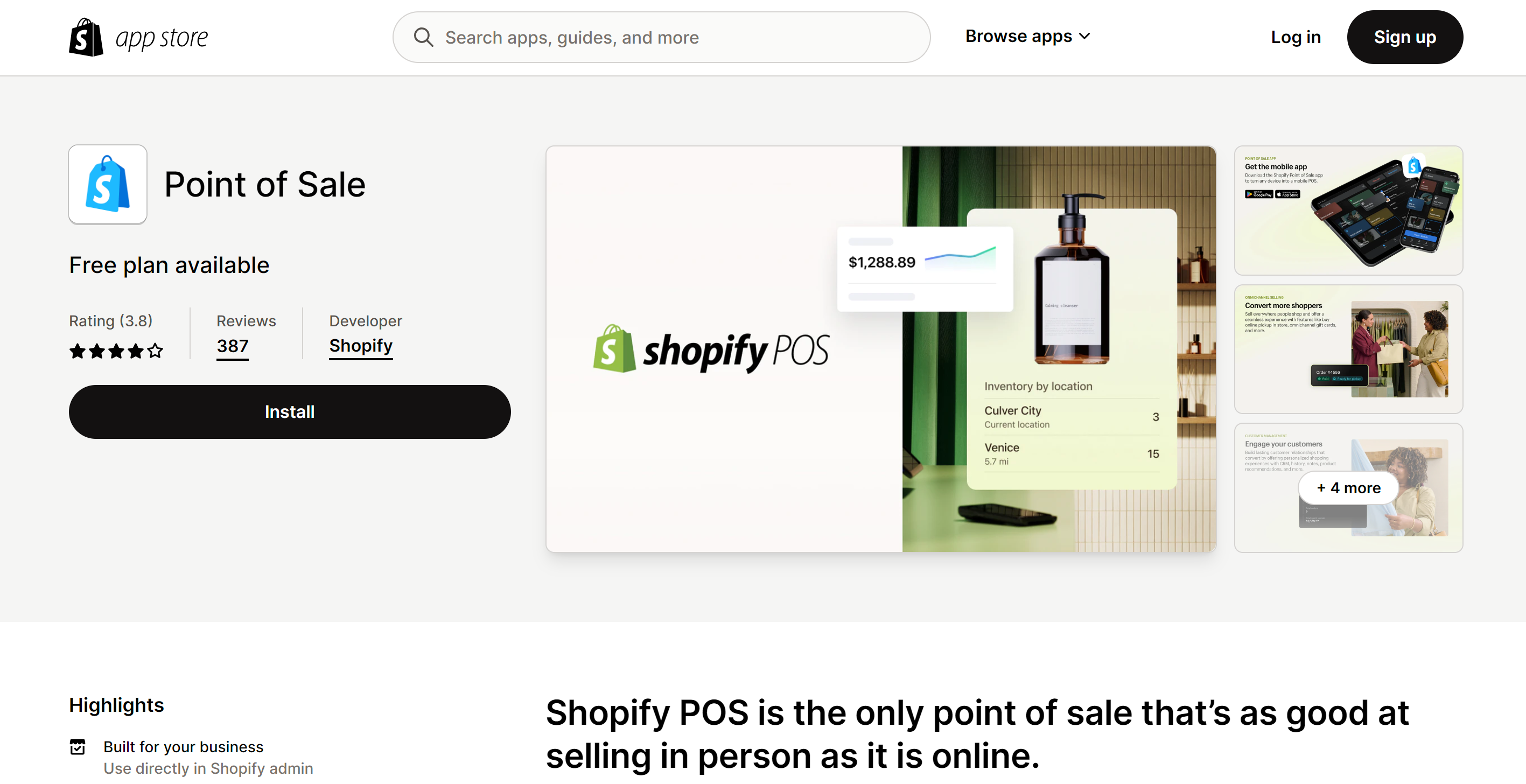 Step 3: Now follow the app screen steps and set up the app.
Step 4: Link the app to your Shopify account.
Benefits of Shopify POS for Customers And Store Owners
From Store Owners
User-friendly
Inventory Management
Seamless Integration
Payment Flexibility
Customer Insights
From Customers
Efficient Checkout
Payment Options
Personalized Service
Inventory Accuracy
Shopify POS Hardware
Here's a list of some commonly used Shopify POS hardware:
Shopify-supported Devices: Shopify offers a range of hardware that is fully integrated with their POS system.
Shopify Tap & Chip Reader: This is a portable card reader that allows you to accept payments via credit and debit cards, as well as digital wallets.
Shopify Retail Stand: This stand turns an iPad into a sleek and secure point-of-sale terminal. It's often used for in-store sales.
Shopify Retail Kit: This kit includes a stand, receipt printer, cash drawer, and card reader, offering a complete hardware solution for your retail store.
Receipt Printers: Compatible receipt printers allow you to print customer sales receipts. Some popular options include the Star Micronics TSP100 and Epson TM-T88V.
Cash Drawers: Cash drawers keep your cash secure and organized. Shopify supports various cash drawer models, such as the Star Micronics and APG Series 4000.
Barcode Scanners: Barcode scanners enable quick and accurate inventory management. Popular models include the Socket Mobile S700 and Zebra DS2278.
Label Printers: If your business requires barcode labels for products, label printers like the DYMO LabelWriter are compatible with Shopify POS.
iPad or Tablet: It is often used on iPads or Android tablets for in-store sales. You can choose the model and specifications that suit your needs.
Router and Network Equipment: A stable and secure network connection is essential for smooth operation. Ensure you have reliable internet access and suitable network hardware.
Mounts and Stands: Various stands and mounts are available for tablets and devices to enhance the point-of-sale experience for customers and staff.
Scales: If you sell products by weight, a compatible scale can integrate with Shopify POS for precise and automated pricing.
Barcode Printers: For businesses that need to generate and print their barcodes, compatible barcode printers are available.
It's important to note that the specific hardware you need will depend on your business's requirements. Shopify offers guidance on compatible hardware. You can also check the Shopify Hardware Store for a list of supported devices and accessories.
Additionally, you should ensure that your chosen hardware integrates seamlessly with the Shopify POS app to make the most of its features.
Conclusion
As you embark on your journey, remember that continuous learning and adaptation are keys to success. We hope this guide has equipped you with the knowledge and insights to make the most of Shopify POS and propel your business forward.
Shopify POS FAQs
1. What is Shopify POS
It is a point-of-sale system designed for both in-store and online retail businesses.
2. What types of businesses can benefit from using Shopify POS?
Shopify POS is suitable for a many businesses, including retail stores, restaurants, etc.
3. What hardware do I need to use Shopify POS?
The specific hardware requirements depend on your business needs, but common components include an iPad or tablet, receipt printer, cash drawer, and barcode scanner.
4. How do I set up Shopify POS?
Setting up Shopify POS is straightforward. Create your Shopify account and install app in your store. Setup it and link the app to your Shopify account. That's it.
5. Can I accept various payment methods with Shopify POS?
Yes, Shopify POS allows you to accept a variety of payment methods.
6. Does Shopify POS handle inventory management?
Absolutely! Shopify POS offers real-time inventory management.