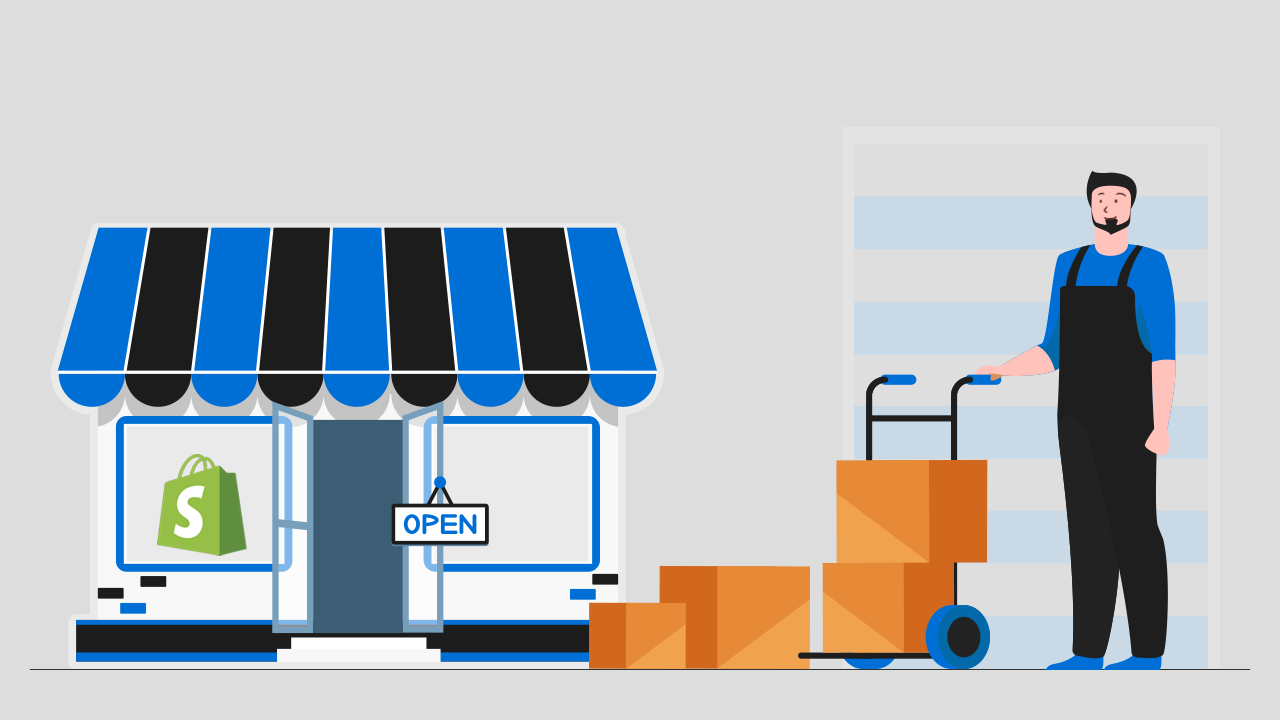 Is your store selling wholesale products for your customers and fed up with managing retail orders and wholesale orders together? So what if you can manage your store's wholesale orders without any difficulties? Yes, that's where Shopify wholesale apps come in to simplify the life of Shopify merchants. With the best Shopify wholesale apps, you can easily track and handle the details of your wholesale orders.
What is Wholesaling?
Wholesaling is basically selling products in bulk to retailers at a lower price who then sells them to their customers. A wholesaler usually sells the products in large quantities but it doesn't mean that they can take orders for small quantities.
Why do wholesale on Shopify?
If you want to expand your customer base then wholesale is best for your business. Because seeing your large customer scale, other retailers may approach you to buy products from your store. Selling your products wholesale is an effective way to boost the sales and revenue of your Shopify store.
How to do wholesale on Shopify?
The first thing you need to do is to finalize whether you want to go with a pure wholesale business or offer a wholesale option on your store for your customers. There are 2 ways to do wholesale on Shopify. You can sell wholesale on the handshake marketplace or you can separately create a storefront that is password protected.
How to sell wholesale on the handshake marketplace?
To sell wholesale on the handshake marketplace you can use the handshake sales channel. Handshake marketplace is a complete wholesale marketplace where only approved Shopify merchants are connected who then sell to the retailers. To sell on the handshake marketplace you need toapply there. Once your application gets approved you can then install the handshake sales channel on your Shopify admin and you can list the products of your store on the handshake marketplace.
How to wholesale by creating a separate password-protected storefront?
To create a separate password-protected storefront you need to add the wholesale sales channel on your Shopify admin. After that from your store's Shopify admin, you can give custom pricing to your wholesale customers.
Best wholesale apps for Shopify
If you're a Shopify B2B merchant or wholesaler looking for a solution to better manage your online store, then this app is definitely for you. This Shopify wholesale app offers powerful B2B functionalities to automate purchasing processes, making it more convenient to operate a B2B portal while maintaining the personal relationships that B2B point-of-sale relies on.
B2B/Wholesale Solution helps B2B merchants and wholesalers start their business on Shopify. With the app, you get those standout features:
Offer wholesale pricing & quantity breaks discount for B2B customers
Set up tier discount based on product quantities in orders (Quantity Break/Volume Discount)
Set up Custom Pricing for specific customer groups/ product groups based on customer/ product tag
Create Customized Registration form for Wholesale customers
Automatically Add Tag(s) for customers with Smart Condition
Display Multiple Currencies for Worldwide customers
EU, GST, ABN Tax Compliance (Tax Exempt, VAT Validation)
Public API for 3rd integration
More other features for B2B/Wholesale Merchants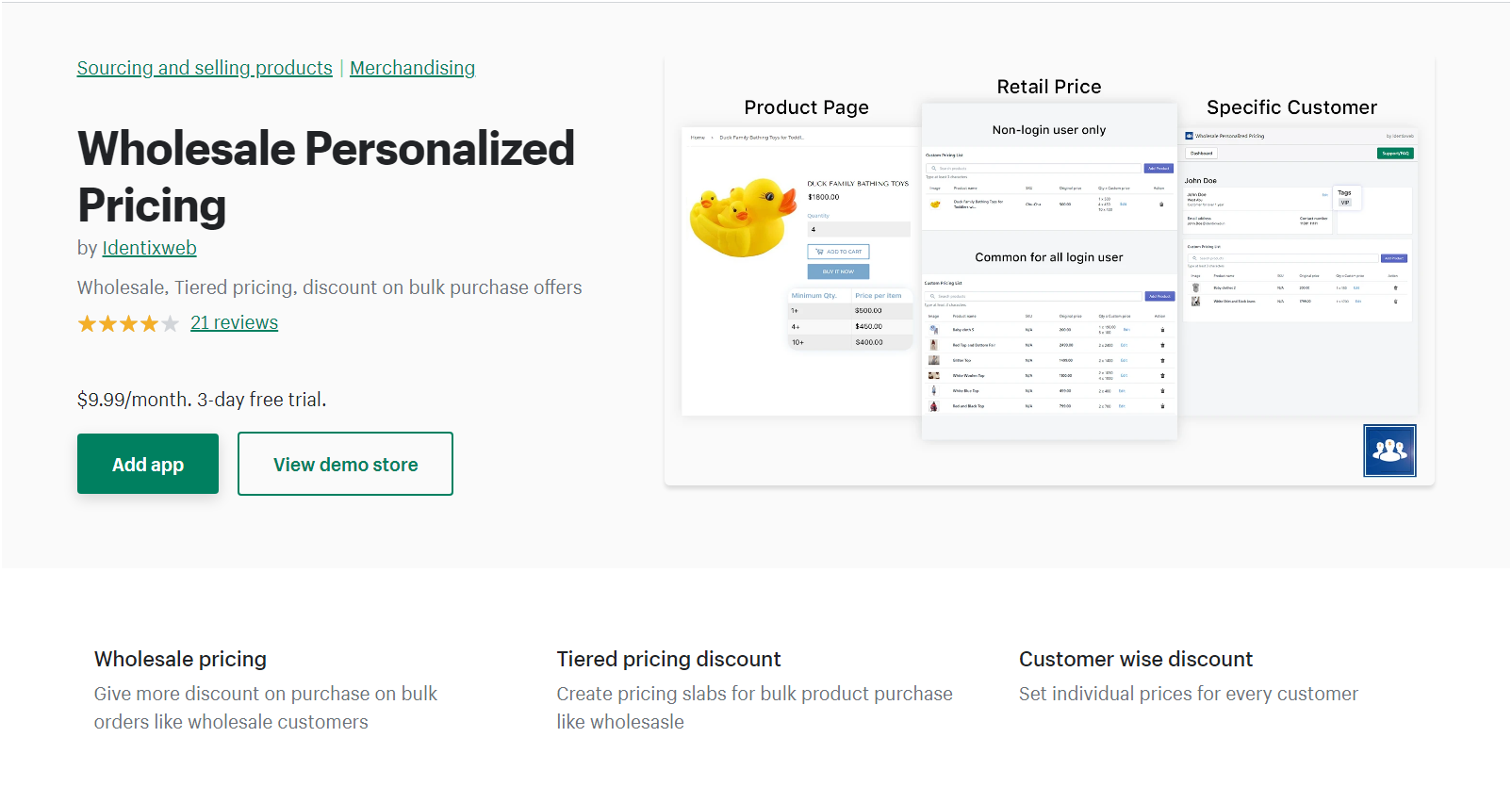 If you want to offer special perks for your regular customers then this app is the right option for you. With the Wholesale Personalized app, you can set a special price or give discounts on your for each of your customers. It not only increases your sales but also helps to make your new customers feel special and turn them into regular customers of your business.
Key features of the app
Set different prices for each customer
Store owners can add unlimited customer price pairs
Multiple pricing tiers for bulk purchases
Default price is shown for those clients if the price is not configured for them
Give a discount to guest customer/visitor
Customers can avail flat rate custom product prices discounts
Works with simple and variant products
Displaying prices only to the logged-in customers
Tier pricing model
Easy to install and user-friendly extension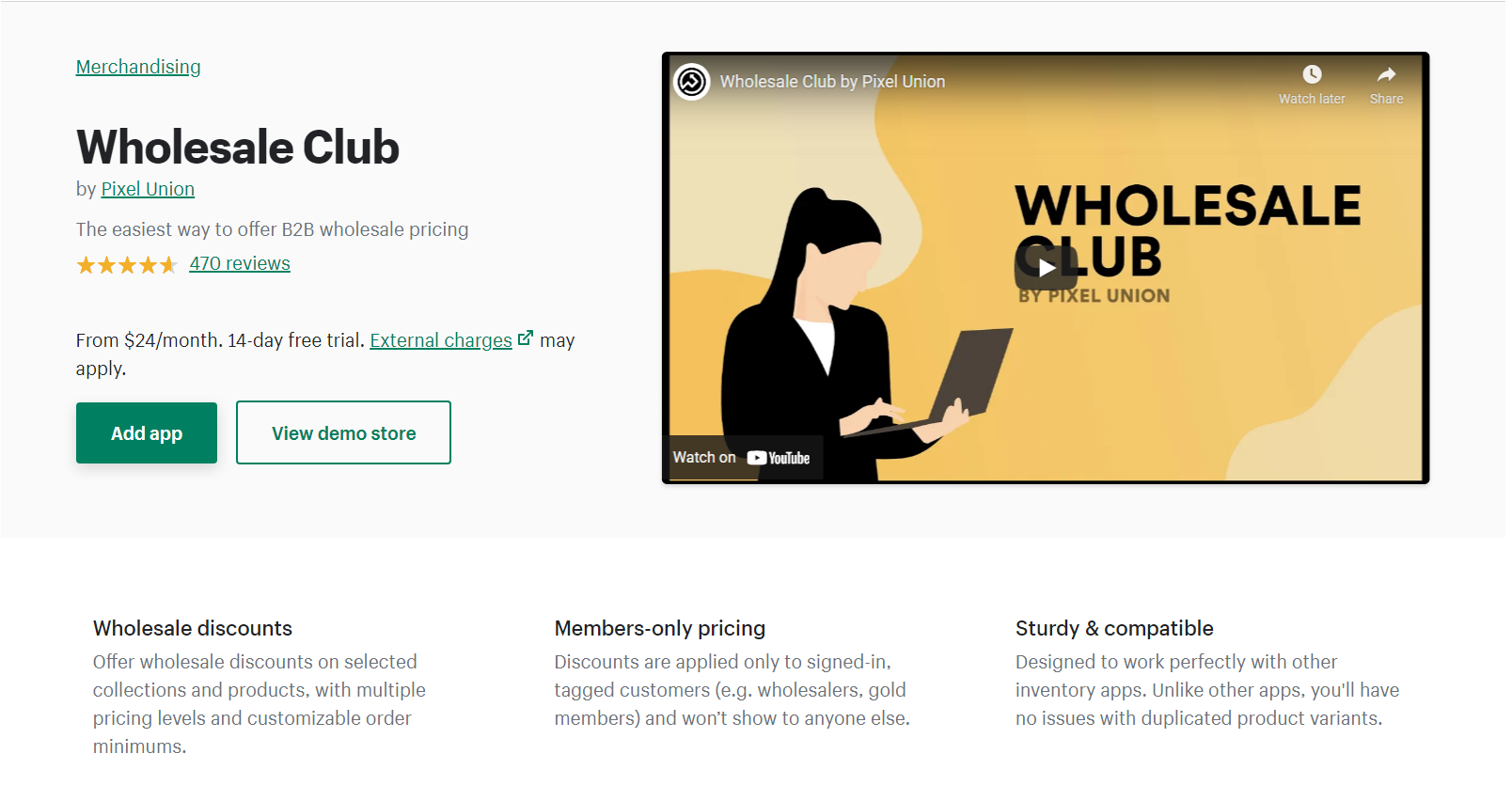 If you are looking for an app to enhance B2B sales then Wholesale Club is the best solution for you. Wholesale Club allows you to reward your B2B loyal customers by giving wholesale discounts on selected products. The best thing about Wholesale Club is that you can create separate discounts for specific customers and products.
Key features of this app:
Multiple pricing and members-only pricing functionality
Easy to set up and compatible with other inventory apps
Customer support for merchants from experts
Net payment option
Encourage VIP customers to spend more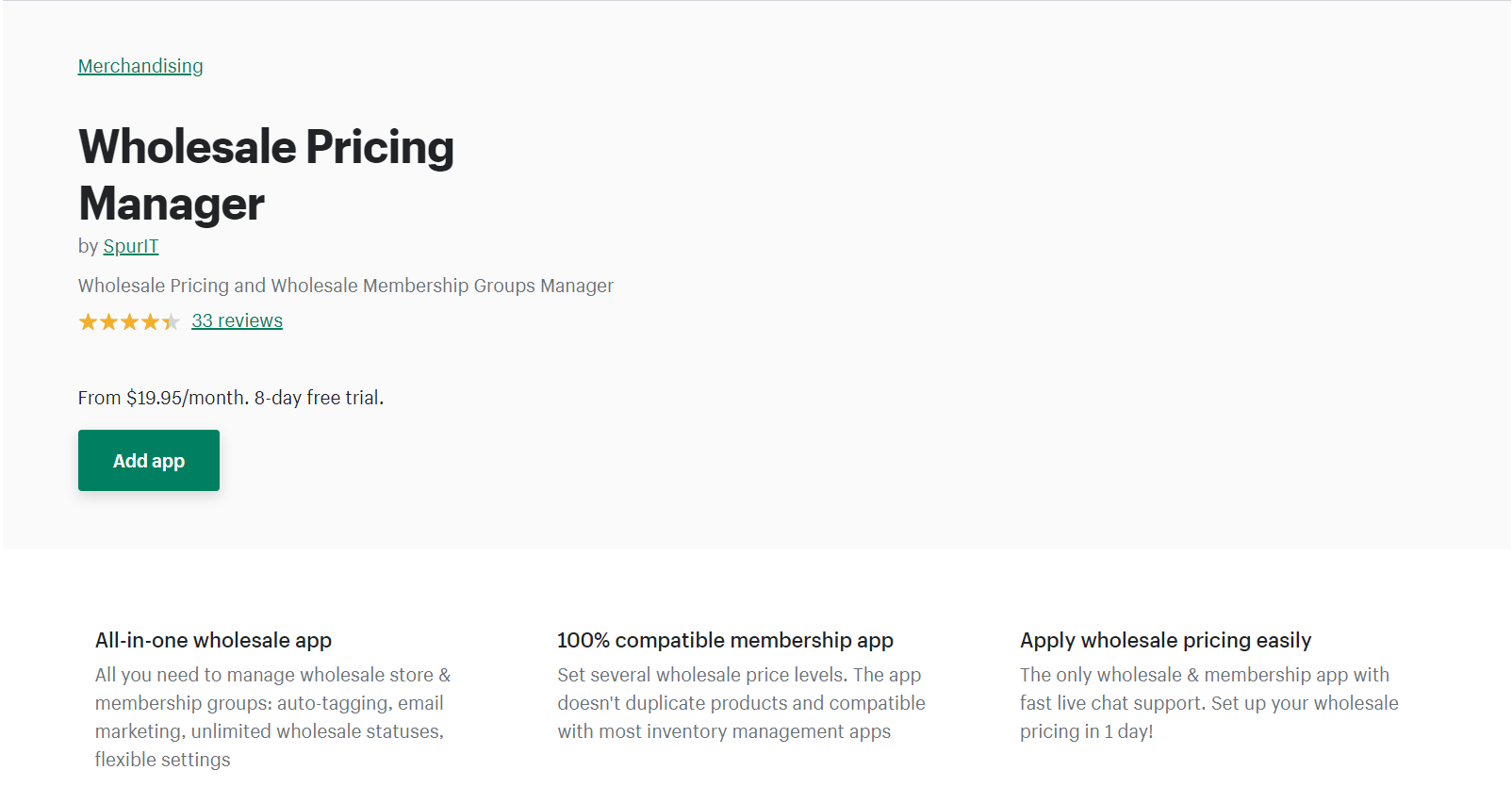 If you want to convert your retail store into a wholesale store then this app is for you. With Wholesale Pricing Manager, you can make your wholesale customers happy by creating different membership groups for them.
Key features of this app:
One-stop solution for wholesale
100% compatible with other inventory apps
Notify wholesale users by creating custom letters
Create wholesale discount rate by % or money equivalent
24/7 customer support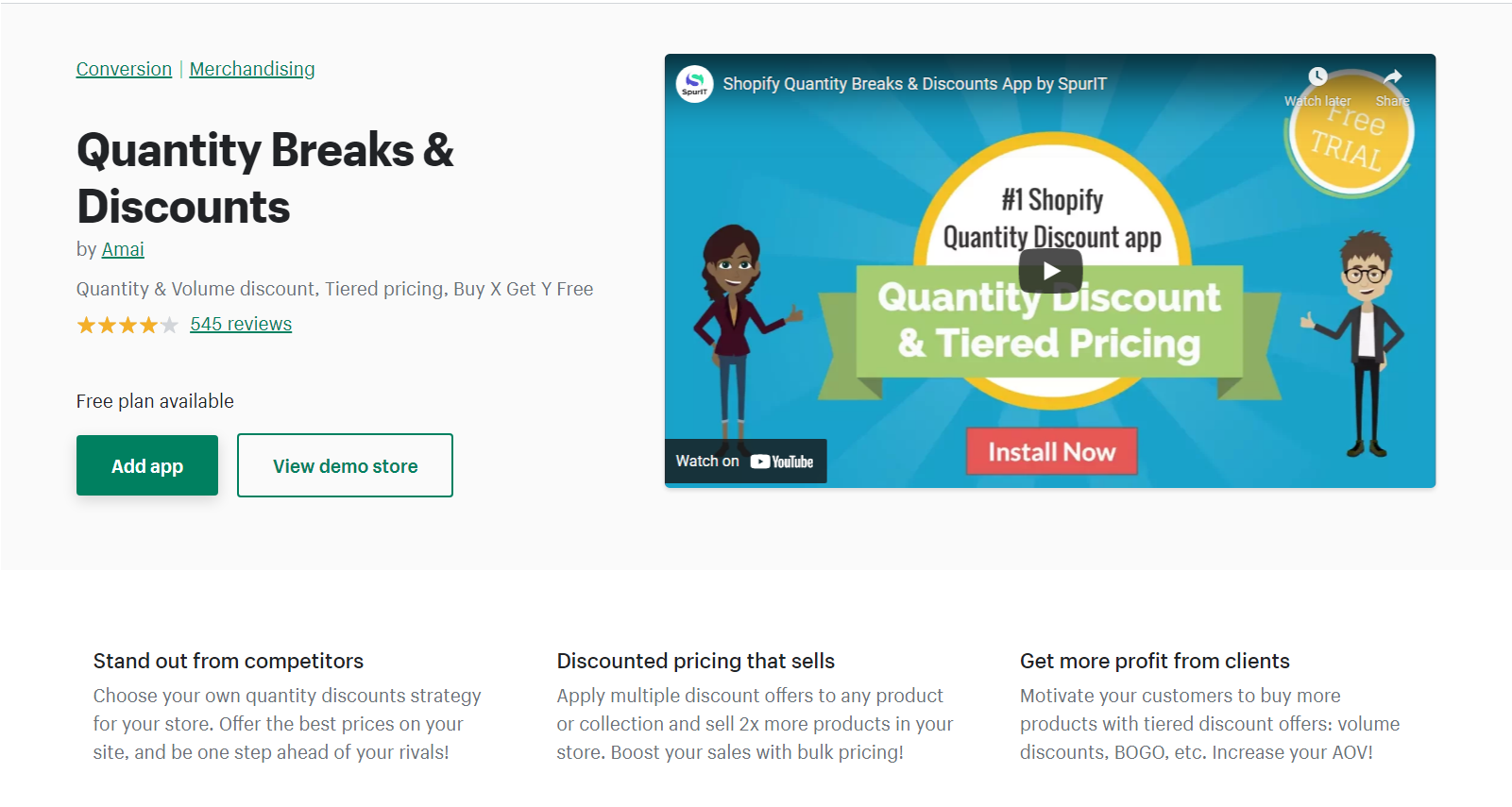 Using this app you can increase your revenue by offering several discounts to specific products based on different conditions. This app is time-saving as you can schedule your discounts.
Key features of this app:
Special discounts on holidays
Offer discounts for multiple product variants
Schedule discounts
Completely customizable design
All-time customer support
Conclusion
I hope these apps might help you! Installing any of these apps will help you to gear up your wholesaling business on Shopify.