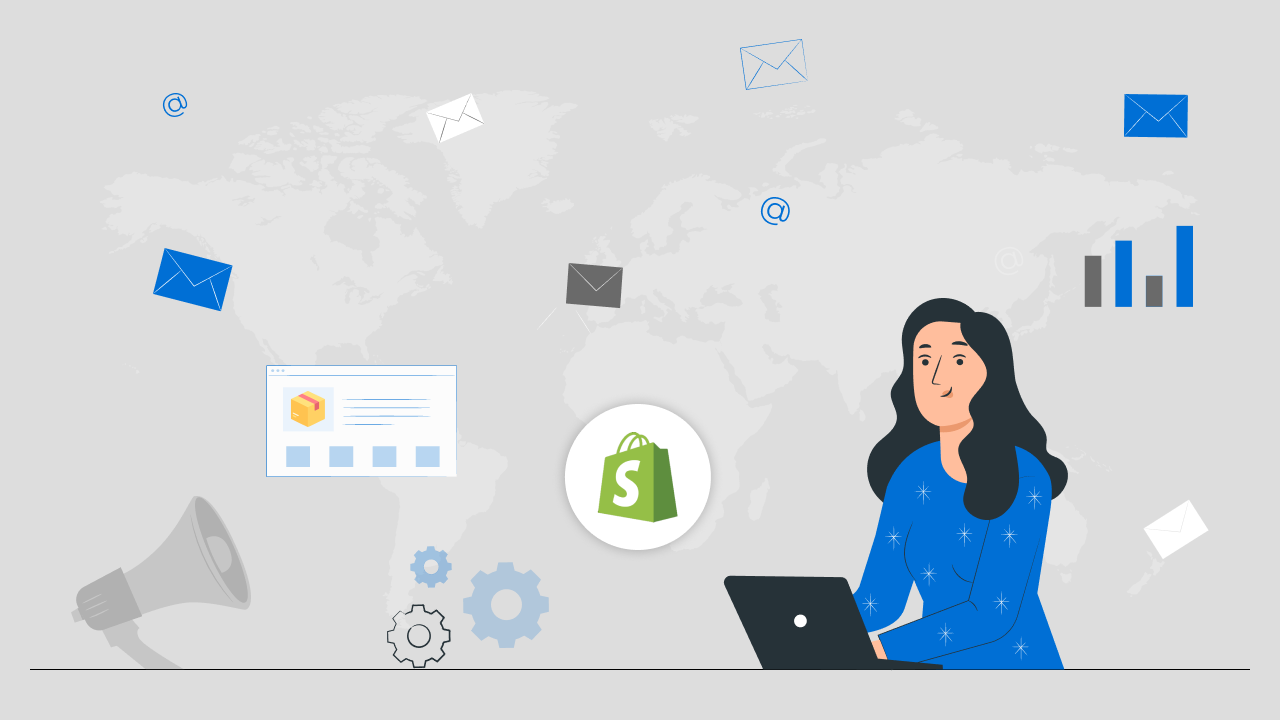 Shopify Email Marketing is the most effective way to drive sales from your Shopify store. It delivers a whopping 36 times ROI, in other words, you get $36 against every expenditure of $1. The cherry on the cake is that it works even better when automated, probably. Most e-commerce store owners are unaware of the Best-Automated Email Campaigns, with the intent to help you steer successful email campaigns we have handpicked best the automated email campaigns. Read on and learn How does Shopify email marketing work!
Best Automated Email Marketing Campaigns For Shopify Store
Following are different email campaigns that you can flag-off for your shopify store:
Welcome Emails
A Welcome email is the first email your subscribers will receive. As they say, 'first impression is the last impression' make sure the design of the email is enticing. Because these are the new subscribers which are yet to be converted. A report concludes that on average welcome email has 45% open compared to 18% of promotional emails.
Following are the different types of welcome emails:
Greet Your Subscribers
Your first email should greet your subscribers and introduce them to your brand. Come up with creative sentences that describe your brand the best. Inform your subscribers what your brand can provide.
This is Fiverr's welcome email. Read the way they have introduced their business and compelled subscribers to click on CTA.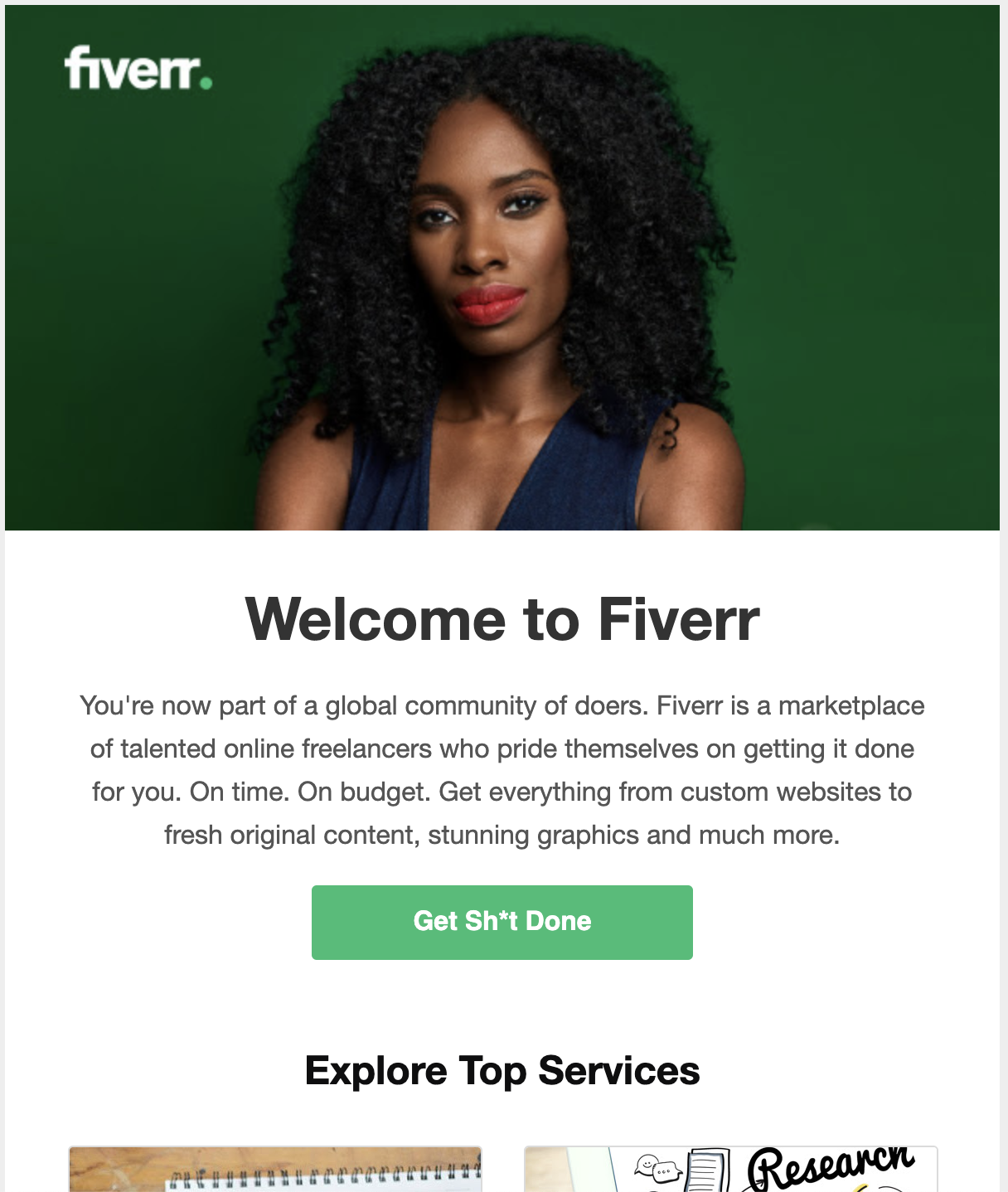 Image Source: Google
Offer An Irresistible Discount/Cashback
As you know that welcome emails have higher open rates than promotional emails so it is best to seize this opportunity and offer a discount. The offer can be some percentage off, a flat dollar amount, freebies, or something else it's up to you. Just make sure that the offer gets successful in compelling people to place an order.
If you are in two minds regarding the offer, run an A/B test to see which approach works the best.
It is recommended to include a product(s) picture and a CTA redirecting to the cart so that customers can place their order effortlessly.
Now, look at Logitech's email, and how simplistically they have pitched a discount offer in a welcome email.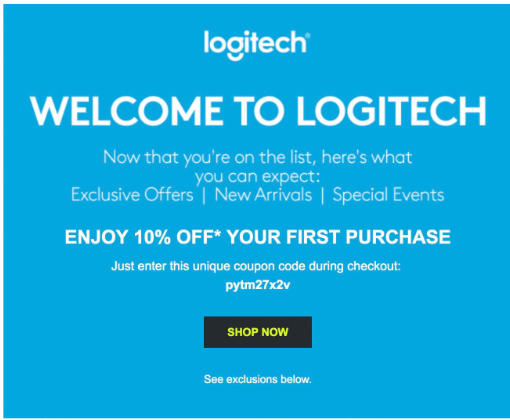 Image Source: Google
It is one of the best practices to link social media profiles with email marketing for Shopify stores. This small move opens a new door to convert subscribers. Rather than relying on emails only, it would be a smart idea to let your subscribers connect with your online business via social media.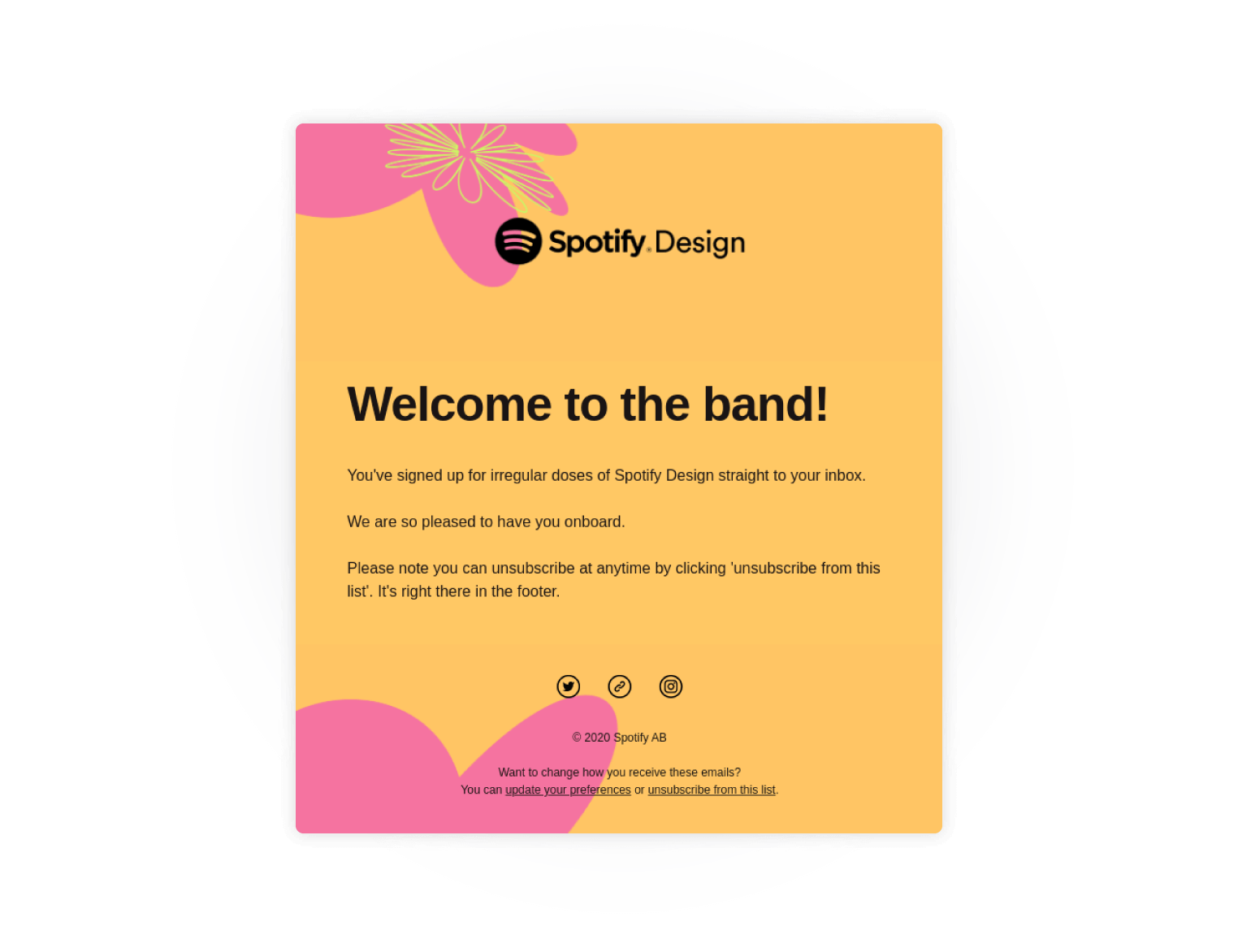 Image Source: Really Good Emails
See this welcome email from Spotify. They have provided social media handles at the bottom of the email.
Email Nurture Series
Customer nurturing is an email marketing strategy where you are supposed to educate the customer with quality information and ultimately persuade them to purchase from your e-commerce website.
Educate your audience
Instead of shooting promotional emails, it is a better option to add value to the lives of your prospects. Create an email content strategy around your product theme, make sure that the content is informative and the subject line of email fires curiosity. Otherwise, subscribers won't engage with it.
Let's say you sell smartwatches, your should be like:
Latest trends in smartwatches
Must-have features of smartwatches
How smartwatches can help in the early detection of ailments
And the list goes on. Come up with your unique idea, develop content and spread it across your subscribers.
Narrate A Story
Do you remember when you were a kid how badly you used to hear a story? No matter how old we are, stories can still draw our attention. Inculcate storytelling in your marketing emails and get ready to witness the magic.
No! It doesn't mean you start sending fairytales. LoL! What we want you to do is 'stick to relevant stories'. Interview your customers, and ask them to share their experience with your products and how their life is enhanced. Based on the interview, craft a story and share the same with your subscribers.
Re-engagement Email Series
You have developed an enticing online e-commerce store, and your social media strategy is getting successful to engage target audiences even though traffic is coming to your website but somewhere you feel you are driving fewer orders. Is it so? This is probably due to an abandoned cart. A study suggests that 69% of online e-commerce are abandoned.
Do you think it's over? Nah! With automated re-engagement emails, you can convert abandoned carts into orders.
Following are the different types of emails that you can send to re-engage with abandoners.
Abandoned Browse
The abandoned product browse workflow sends a re-engagement automation email to those who searched for a particular product through a search bar but did not add it to the cart. Re-engagement emails would intend to make them aware that they have left the product search incomplete.
With the implementation of this Shopify email marketing automation strategy, you will witness a significant improvement in customer retention.
Abandoned Cart
An abandoned cart is a cart that didn't proceed to checkout. It happens when customers drop the idea of purchasing the products due to some or the reasons. In a recent study, it is unearthed that shipping-related issues account for 60% of cart abandonment. So get your shipping fixed first.
It is estimated that almost 69% of online shopping carts are abandoned which leads to a loss of $4 trillion in revenue. Thus, if you aren't taking steps to convert it, you are leaving behind a lot of money.
Besides, you can cross-sell other products relating to recent purchases. If you want to up-sell on the checkout page then you should use iCart — the best Shopify upsell app. It recommends products intelligently ensuring maximum conversion.
Check out this cart abandoned email from GoDaddy.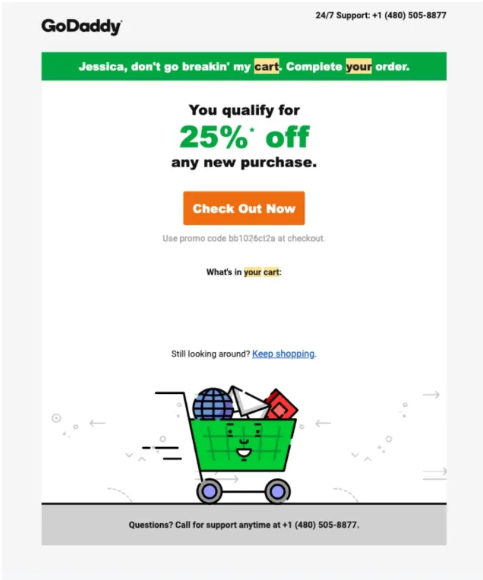 Image Source: Google
Automated abandonment cart email is a proven shopify email marketing strategy that helps you convert abandoned carts into successful purchases. To maximize the profitability of abandoned cart emails consider shooting multiple emails instead of a single reminder email. And yeah, provide sufficient gaps between emails.
Abandoned Checkout
When a customer proceeds to checkout but does not finish checking out process is called abandoned checkout. With Shopify re-engagement emails now you can remind online shoppers to complete their checkout. Instead of reminding only try to convince them to complete the further process. Showing photos of the products (that they have left) will give you miraculous results.
See this simple yet effective abandoned checkout email from Google Store.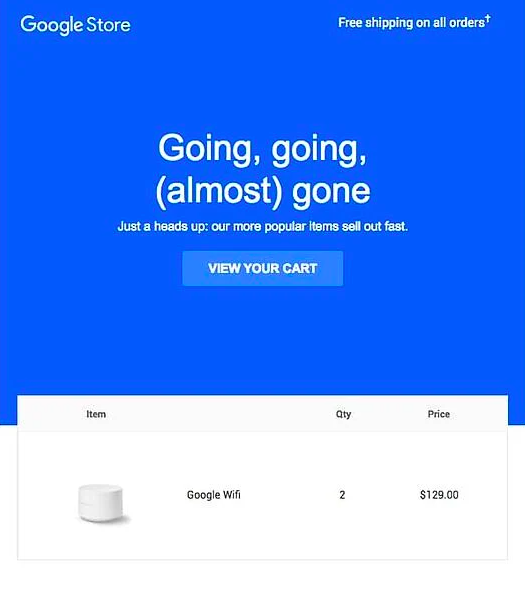 Image Source: Cloudways
Over To You
This was all about the email marketing on shopify. We hope after reading this blog you understood the nitty-gritty of different automated email campaigns for Shopify stores. If you want to boost the profitability of your email campaigns consider installing iCart – Shopify upselling app. It will bring wonderful results and increase the AOV of your store.