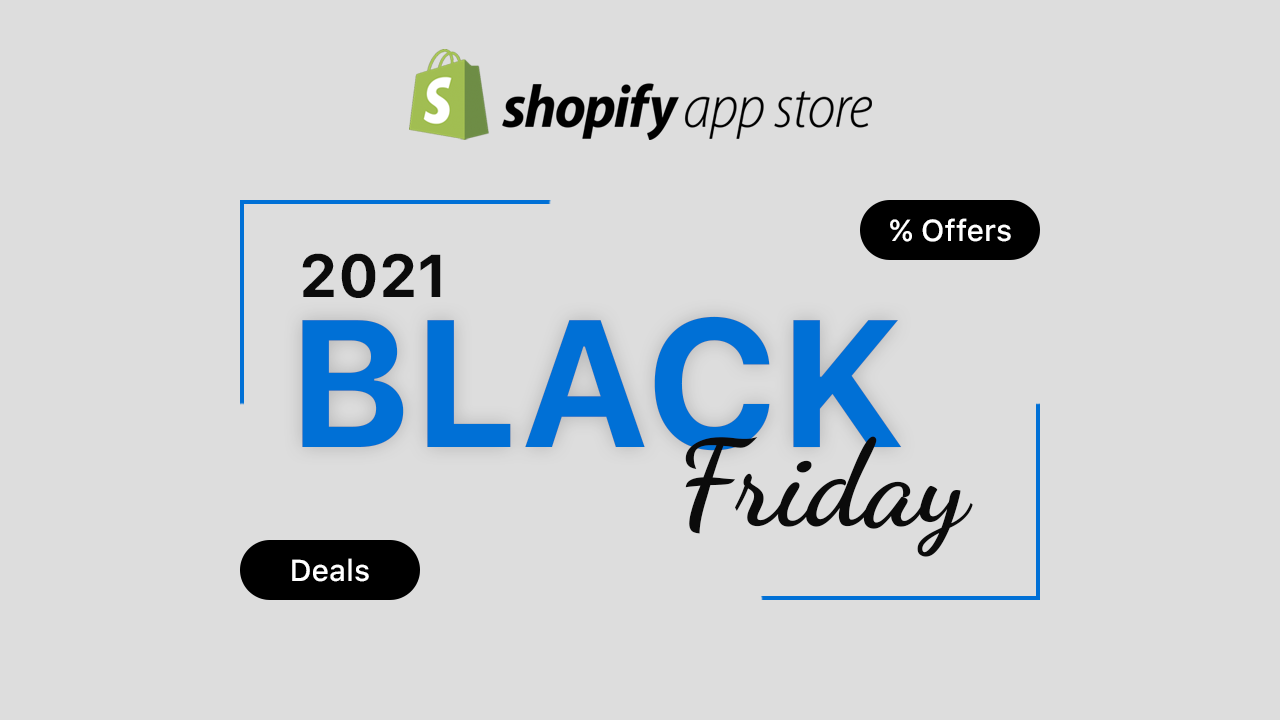 Finally, the countdown for Black Friday 2021 is about to end. It's time to recheck whether your store is fully prepared for the Black Friday Sale. You may have installed some Shopify Apps in your store to acquire a good sale this year. But are you sure about identifying them correctly? If not, then continuing this blog will help you to find some top Shopify Apps with BFCM deals.
Best Shopify App with BFCM Deals
Here we've made a list of the best Shopify apps to help your eCommerce store to get good business in the Black Friday Sale 2021. Again the amazing BFCM offers on these Shopify apps will double up the overall business profit.
Let's see all of them one by one: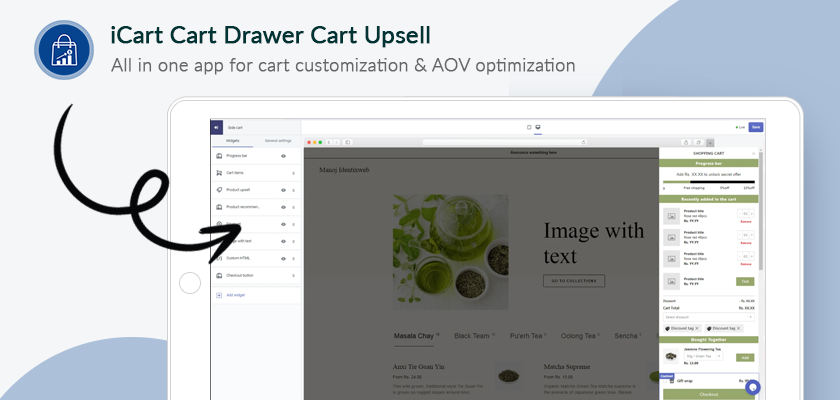 iCart lets your customers add more items to their cart from the options given in the cart. It allows you to show upsells, cross-sells, and time-sensitive offers within the cart drawer to boost the conversion rate.
With iCart, you can increase your sale by creating great Black Friday offers for your customers. You can analyze the performance of iCart, and how this app worked for your store. Using iCart, you can optimize your cart with many options like free shipping, free gift, product upsell, product bundles, gift wrapping, product recommendations, and other discount offers.
Key Features
In cart Upsell (cart page)
Slide cart – cart drawer – mini cart – popup cart
Product upsell
Product recommendations (cross sell)
Product Bundles
Custom HTML
Sticky add to cart & cart bubble – cart drawer
Order addons – Giftwrap (Gift wrap) / warranty/custom product
Cart countdown – urgency timer – persistent cart
Need help in creating Black Friday offers and its promotion? Check out the best sales ideas for Black Friday Sales 2021.
BFCM Offer: 60 Days Free Trial
Link: iCart Cart Drawer Cart Upsell
Discount code: Automatically applied when using the link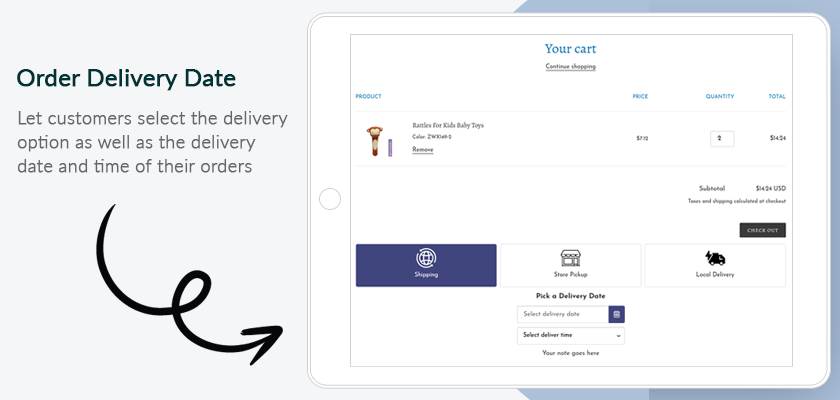 The Order Delivery Date offers various delivery options to match your business needs such as shipping, store pickup, or local delivery. Regardless of which delivery methods you are providing to your customers, this Shopify app allows your customers to choose the delivery date and time for their orders.
Key Features
View order listing with shipping and delivery history
Sort orders calendar history by month, week, and day
View delivery history for a specific time frame in each day
Allow customers to select delivery date along & time on the cart page
Holiday control
Only display future dates
Multi-language support
Set a minimum and maximum package delivery time-frame
Export orders to a CSV file with filters
Edit order delivery time post-purchase
Print packing slip with delivery date and time
Order Delivery Date helps you improve the delivery experience for your customers by letting them schedule the delivery of personalized gifts.
BFCM Offer: 60 Days Free Trial
Link: Order Delivery Date
Discount code: Automatically applied when using the link

With the "ToastiBar – Sales Popup" app, you can build trust with visitors and convert them to become your store's product buyers. You can build trust by displaying real-time sales notifications, cart notifications, online visitors notifications, recent visitors, and product visitors notifications. Notifications provide proof that there are many happy customers who are visiting the website and have already bought products from your store.
Key Features:
Sales Notification/Sales Pop + Cart Notification
Highly customizable messages, positions, display time, delay time, and more.
Desktop and Mobile optimized with different designs to use
Hide sales notification(s) on specific pages
Hide specific product(s) from displaying in sales notification
Hide specific order(s) from displaying in sales notification
Adjust your sales notification popup so it will not overlaps with any other content in your store
Track conversions by including UTM parameters to sales notification by creating it in your Google Analytics(optional)
BFCM Offer: Free / Paid [14-day free trial]
Link: ToastiBar – Sales Popup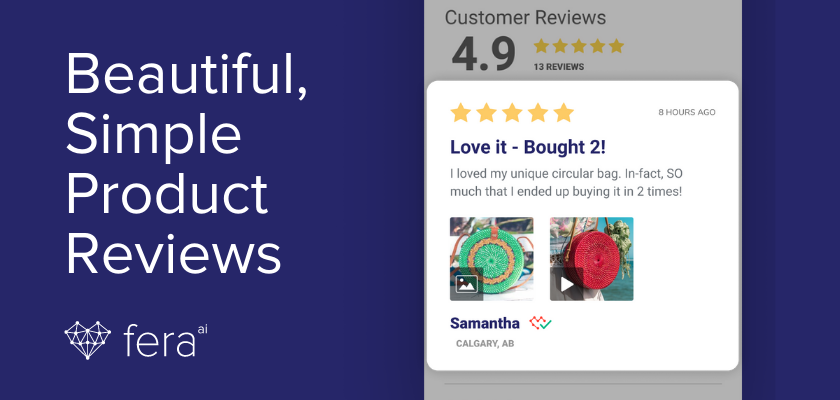 Fera is a reviews app with customizable widgets that look beautiful from the start. Start building trust in your store by showing text, photo, & video reviews!
Customers trust stores with reviews. You can use Fera to import and display reviews from across the internet, including Google and Facebook reviews. You are also able to gather reviews on autopilot with Fera's easy-to-use review request system.
Key Features
Manage Reviews+ Easily

Import existing reviews, photos & videos from Google, Facebook, and more!
Receive & moderate new submissions
Reply to reviews & touch-up content

Show Reviews+ Beautifully

Product reviews & all reviews
Average product & store rating badges
Customer photos & videos

Grow Reviews+ Automatically

Automatically ask for reviews+ from new customers
Request reviews+ from past customers
Offer discounts, loyalty points & cash incentives
BFCM Offer: 3 Month Free Trial on All Plans
Link: Fera Product Reviews
Discount code: Automatically applied when using the link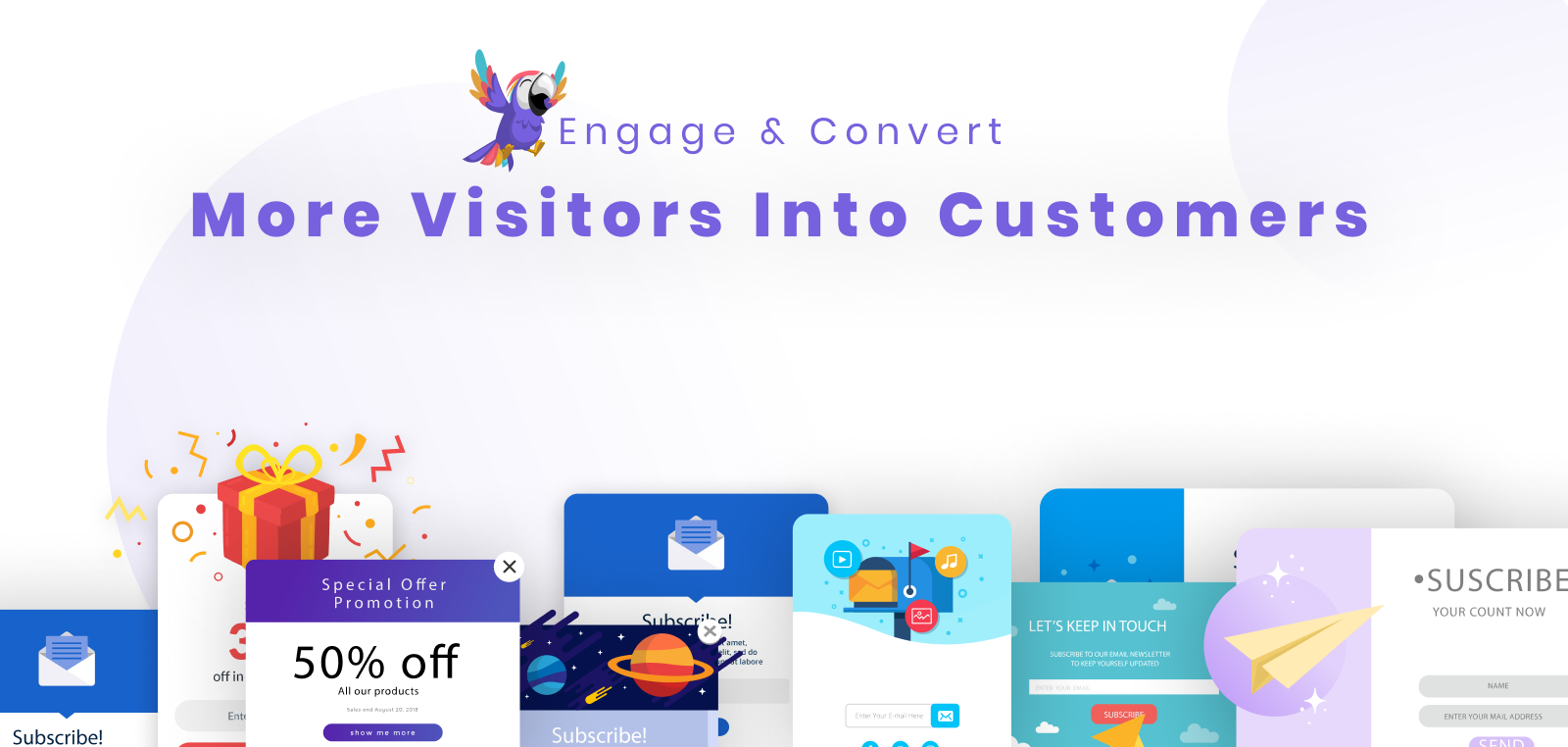 Poptin is a no-code pop up builder that gives you access to beautiful pop ups and embedded forms you can create in minutes. It even has a collection of highly responsive templates that you can customize using Poptin's drag and drop interface.
By utilizing Poptin's advanced conversion optimization features, you can significantly reduce cart abandonment (with exit-intent technology), drive more email signups, get more qualified leads, and boost website engagement.
Key Features
Reduce cart abandonment by up to 50% with efficient exit-intent technology
Create awesome pop up and form designs, such as lightboxes, overlays, slide-ins, bars, countdown popup, video popup, mobile pop up, etc.
40+ customizable premade templates
Convert the right audience at the right time with smart triggers and targeting rules
50+ native CRM and email integrations
A/B testing and built-in analytics
BFCM Offer: 35% OFF on Poptin Annual Plans
Link: Poptin
Discount code: BFPOPTIN21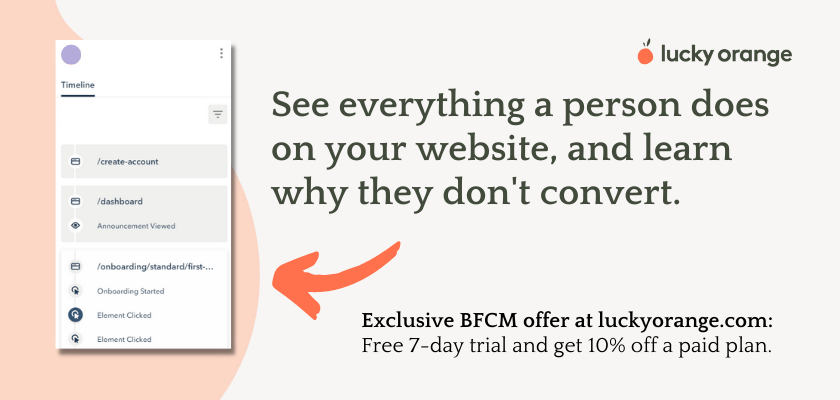 Lucky Orange, a Shopify Plus Certified App, gives people the confidence to grow their business by allowing them to spend less time sifting through data and more time engaging with their customers.
Lucky Orange is an all-in-one conversion rate optimization suite that includes dynamic heatmaps, session replays, live views, visitor profiles from analytics, surveys, announcements, live chat, insights, and conversion funnels.
BFCM Offer: 10% OFF on All Paid Plans
Link: Lucky Orange
Discount code: identixweb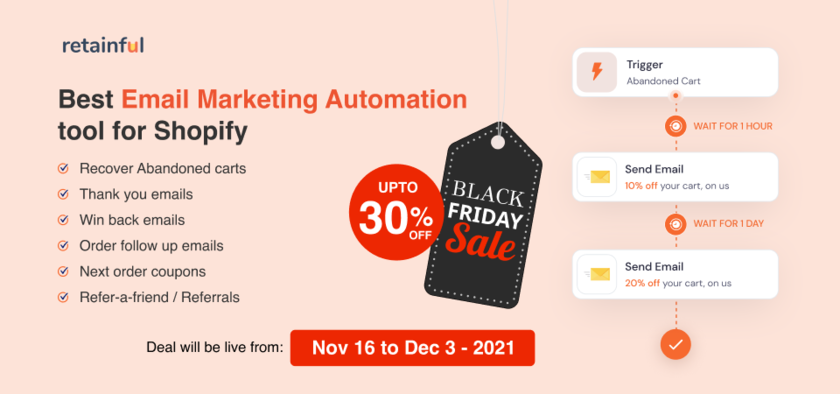 Retainful is an all-in-one Email Marketing Automation & Conversion app for Shopify stores. Automate all your email marketing needs – recover abandoned carts, send thank you emails, win back inactive customers, launch refer-a-friend campaigns, and more.
Limited time offer! This Black Friday 2021, save 30% on Retainful. Purchase Now!
BFCM Offer: 30% OFF on All Paid Plans
Link: Retainful
Discount code: BFCM30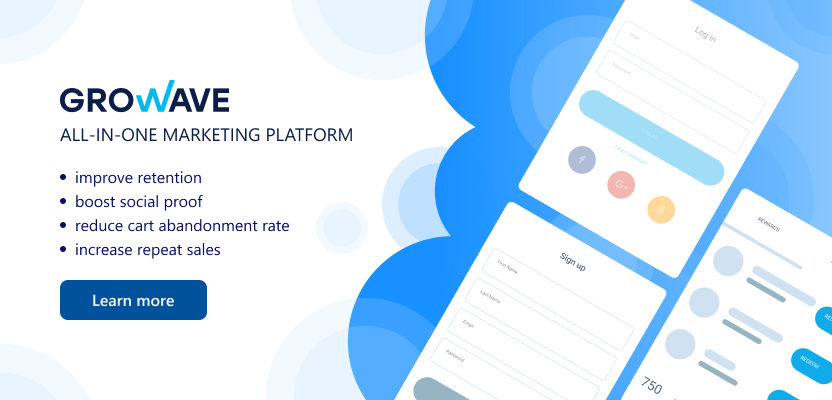 Growave Loyalty, Wishlist, and Reviews is an all-in-one marketing platform. It can help your Shopify store to reach, engage and convert its audience.
One of the most vital points of this app is that it has a great variety of tools. More than a Wishlists app, it also comes with Rewards and Loyalty programs, Reviews, Q& features, etc. All of those features are saving time and money, clients don't have to install a bunch of different apps and pay for each of them.
It also can send targeted emails to customers with personalized wishlist emails and discount codes to reduce shopping cart abandonment. Growave also easily integrates with other popular apps
The best thing is, with that fantastic package, its price is really affordable. It's suitable for small and medium-sized Shopify stores and a good customer support system can help at a moment's notice.
BFCM Offer: 60 Days Free Trial
Link: Growave Loyalty, Wishlist, Reviews, UGC
Discount code: Automatically applied when using the link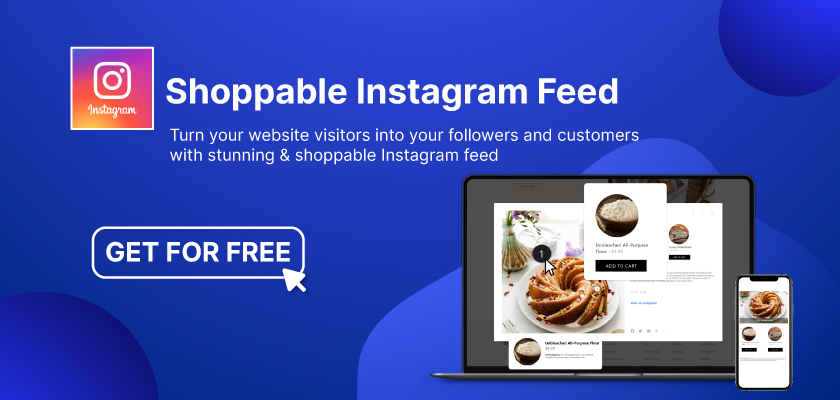 With Shoppable Instagram Feed, you can easily customize and display your stunning Instagram feed on any store page. Wanna get more sales? The product tags feature lets your customers add items to the cart via content popups and shop directly on the feed.
Plus, you can track Instagram feed performance and gain many valuable insights. Rest assured that your Instagram feed will be automatically updated every 24 hours and look fresh as always.
Key Features
Free plan available
Easy to set up, dedicated customer support
Display Instagram feed everywhere in your store
Customize the feed with various design options
Generate more sales with the products tag feature
Automatically update the feed every 24 hour
Track Instagram feed performance
Show responsively on any devices
BFCM Offer: 14 Days Free Trial on Professional Plan
Link: Shoppable Instagram Feed
Discount code: Automatically applied when using the link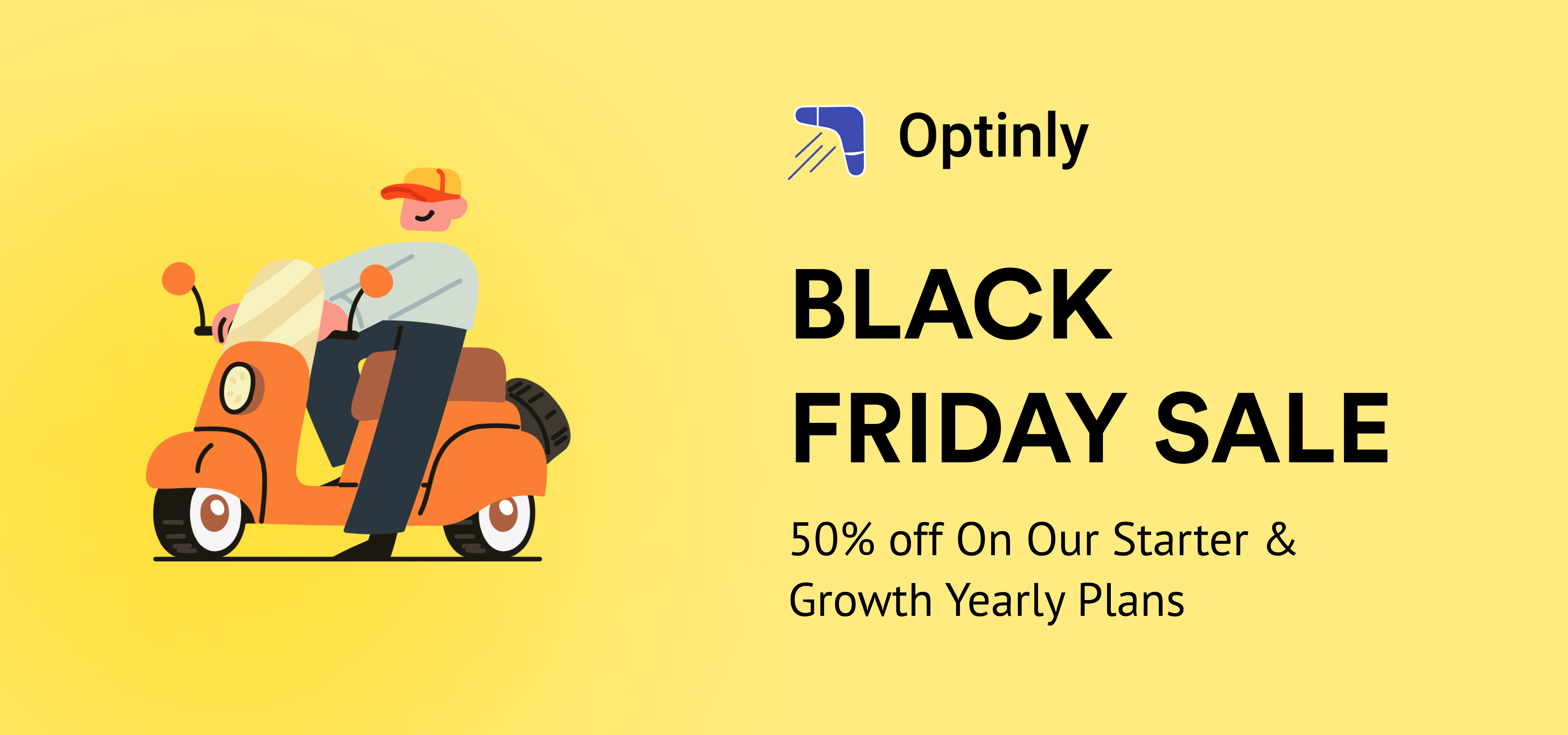 Optinly is a no-code, goal-based popup plugin for WordPress. It has high conversion popups like Spin the Wheel, floating sidebars among 100+ readymade templates that are also customizable, and a dashboard for detailed analysis of your campaigns.
BFCM Offer: 50% OFF on Starter and Growth Annual Plans
Offer Validity: From 10-11-2021 To 31-12-2021
Link: Optinly
Discount code: OPTIN50
Wrapping Up!
Awesome deals, right? Now, without wasting time add the Shopify apps to your store and gear it up for the biggest Black Friday Cyber Monday deals & sales in eCommerce history!