Shopify is only the ultimate retail platform on which you can create your store. But most of you will have doubts about their pricing plans and how to choose the best for your business, right? Don't worry, this blog describes you a detailed description of the pricing plans of Shopify and which plan will be the perfect one for your online store.
Basically, Shopify provides 3 plans:
Basic Shopify– $29 per month.
Shopify– $79 per month.
Advanced Shopify– $299 per month.
You might be thinking that is Shopify the cheapest platform in the market to start an eCommerce business? No, but it is the best and every year it is improving itself with new updates.
Basic Shopify will let you sell products unlimitedly. I think this pricing plan will be the cheapest for those who have a vast product range. Shopify does not have any file storage or any number of products. This plan does not gift cards or professional reports. The best part of this plan is that it contains telephone support.
Talking about the next plan, i.e. Shopify offers additional features, but it is expensive for more than $50. This plan will offer you a professional report which will help you in the analysis of your store easily. In the previous plan, there were no gift cards, but this plan contains gift cards.
Advanced Shopify plan is the most expensive plan out of all. This plan offers shipping conditions for the US. If you want real-time carrier shipping, then this plan is the best option for you. Because the charge is automatically calculated by the third party.
Shopify Plus is an eCommerce plan for enterprise-level users targeting big businesses. If you own a big business and your business generates 6 to 7 figures in sales per year then yes this plan is the right one that will help you for growing more sales.
No other option is better than Shopify Lite for people who have their own fully functioning website or blog and just need to add products for sale on those sites or are ready to accept online transactions. Shopify Lite can also be helpful to you even though you don't have a website. Shopify Lite is the perfect option for those people who have their website and are ready to integrate sales on the platform, or for those who have small businesses having a website or blog and are willing to start an E-commerce business on social media.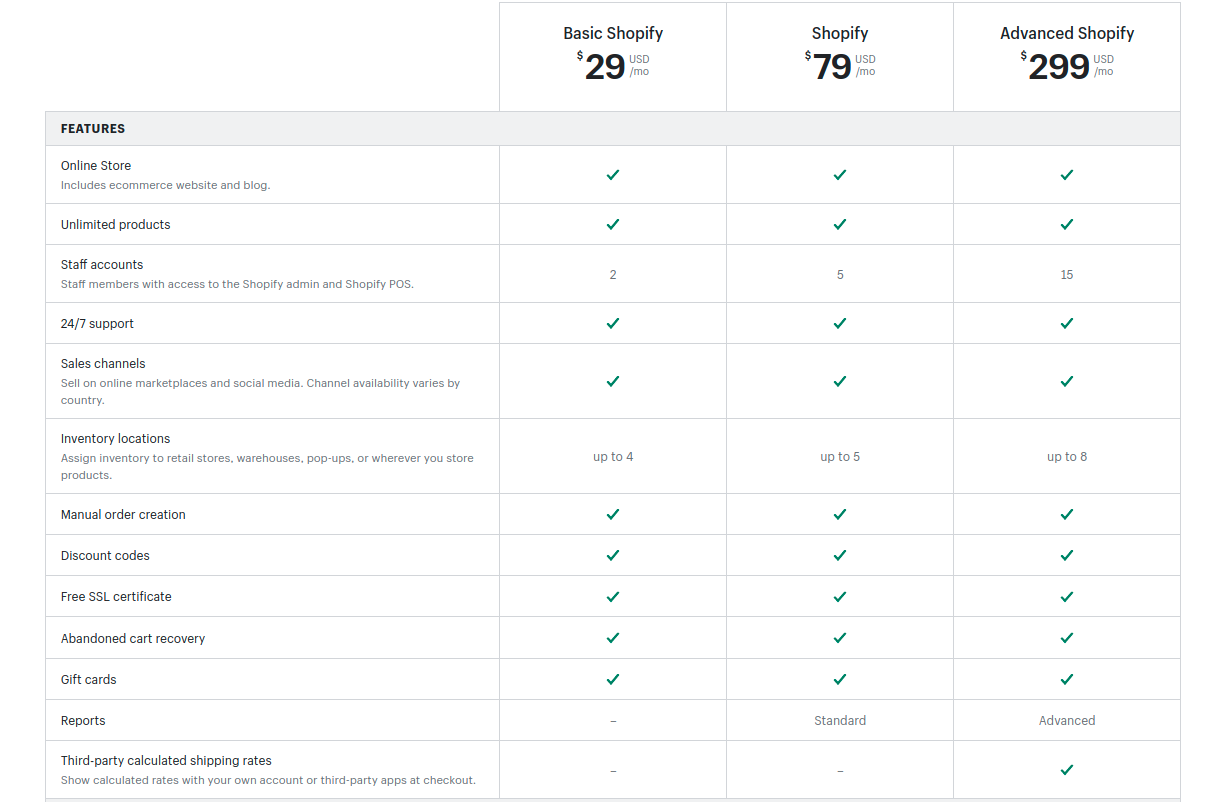 Different plans have different abilities, so it's up to you which plan you will choose based on your business requirements. As per Shopify's annual report, it has been found that users have opted for the month-to-month pricing plans rather than 1-year or 2-year plans.
To see Shopify's annual report, check on https://investors.shopify.com/stock-information/default.aspx#section
Shopify Credit Card Rates
As shown in the image above, the credit card rates are those rates that are charged by Shopify if you use their payments to handle your payment processing. You might be knowing that when you do any online or offline purchasing using a credit card a fee is charged that needs to be paid which is known as the payment processing fee.
For example, when you go to a bakery for purchasing items with a credit card, the shopkeeper pays a processing fee to their payment processor to collect payment from your bank and deposit it to their bank. The same process is there in E-commerce also.

Below are the credit card rates for online transactions:
Basic Shopify plan – 2.9% + 30¢
Shopify plan – 2.6% + 30¢
Advanced Shopify – 2.4% + 30¢
Remember these fees are per transaction not on per item sold basis.
Shopify's Transaction Fees
Two different transaction fees are there: one is the fees which are charged by Shopify on your turnover and the other one is the payment charges. The only way to remove all the transaction fees is by using Shopify Payments. So to avoid the transaction fees, try to use Shopify payments every time.
Shopify Point of Sale (POS)
The combination of hardware and software provided to users for their ease of running their multichannel, online/offline retail business is known as Shopify POS.

Other Shopify Costs
There are some additional Shopify costs one is Shopify does not offer you a free domain and to register your register, Shopify charges $9 per year. But there are many third-party registrars like GoDaddy or Namecheap. Apart from this, the option of sending mail from your custom domain is not offered by Shopify. So if you want to send an email from your domain.com, then you need to sign up for an email provider like Zoho Mail or G-Suite.
Conclusion
Anyhow, Shopify pricing plans will be quite confusing for those who are using it for the first time. But yes I am sure that this blog might have helped you to erase your confusion and select the right plan for your store based on your requirements.