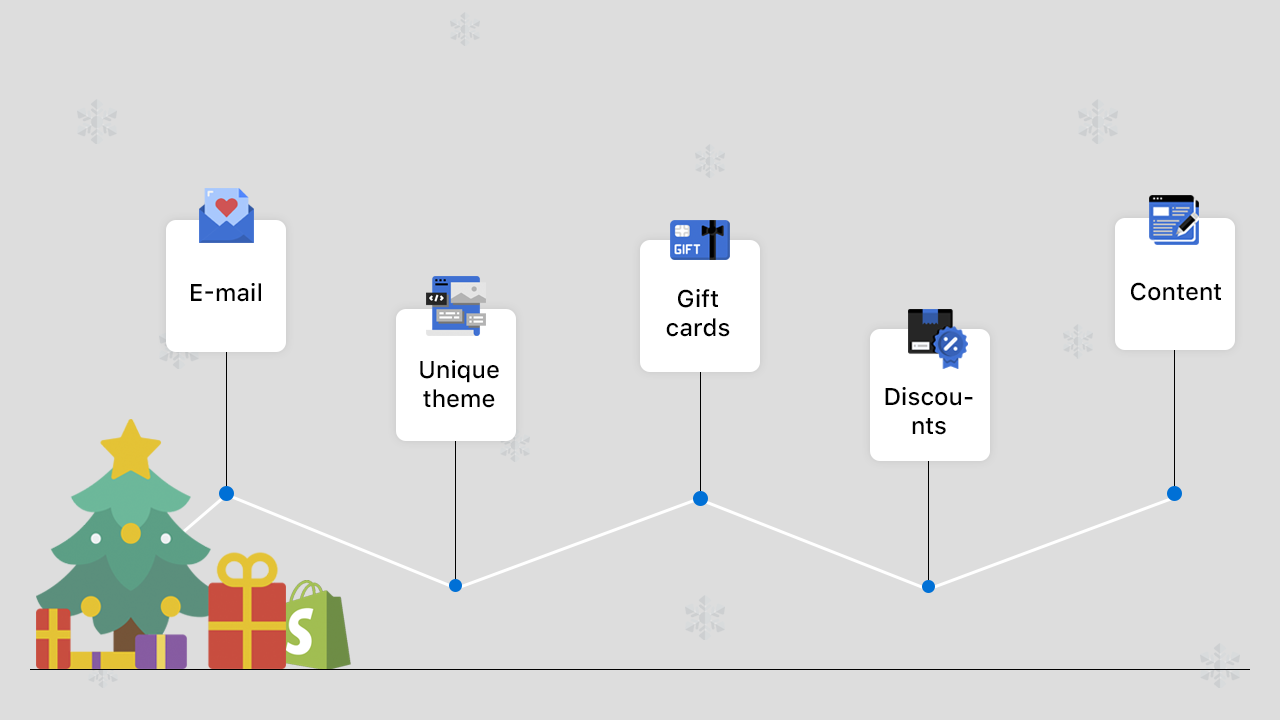 After Black Friday now we are heading to the most beautiful and biggest sales of the year: Christmas. This is the best time for E-commerce stores to increase sales and earn more profit. Christmas is the month for sharing and loving everyone by doing good deeds, so let's do something best for our customers too. This blog will explain the promotional ways of making our online store ready for Christmas.
Promotion through Email
One of the creative ways to draw customers' attention is through sending emails. There is a quote: "A sale is not something you pursue; it's what happens to you while you are immersed in serving your customer." As competition in E-commerce is increasing day-by-day you need to change the marketing strategy to attract new customers into your store.
Before sending the email you need to find out or target your customers for whom you need to send emails. After targeting the customers start sending promotional emails with exciting Christmas offers and discounts which will tend them for shopping. If you haven't prepared an email then just prepare a lovely email that will draw the attention of both new customers and regular customers.
Make your store ready with a unique theme
Prepare your store well before Christmas to make it easy for customers and make it catchy. As we all decorate our houses for Christmas, in the same way, we should also decorate our Shopify stores ready for Christmas. You can do it by making general categories for your products. By doing this it will wash away the confusion of the customers. Or you can set your store's theme related to Christmas.
For example Under Construction app provides festival themes that make your store attractive and let customers do more shopping. Give shoppers a warm Christmas feeling as they arrive at your store.
The idea of keeping gift cards
Who doesn't love to receive gifts? Christmas is the festival of giving and receiving gifts, so nothing makes perfect than this time for offering something special for your customers. I will recommend sending some gifts for your regular customers which will be the best way to build a good relationship with your customers.
If your competitors are using the same strategy and sending the gifts then choose other products for gifts. If you are not ready to go with this option then alternatively you can do something which will be equal to money. You can offer them gift cards which will contain some amount using which they can shop from your E-commerce store.
Discounts for products
The best way to get more customers to your store is by giving some discounts or offers on your products. This is known as smart marketing. For example, if a customer purchases a pair of shoes then give some amount of discount for that product or with the related products.
This will tend them to buy the products and refer to others also. Remember the discount you are keeping for the second product must also be relevant, which means it should be similar to the first product. For example shoes and shoelaces.
Promotion through content
Try to make engaging content relate to Christmas. Share new ideas in your content. Add unique and attractive images with a Christmas feeling. Try to share some videos announcing your offers and discounts that you are planning to give your customers at Christmas.
Remember your content should be not boring instead keep some content related to Christmas. It must be informative and attractive which makes customers engaged.
Conclusion
So why wait now? A few more days to go for Christmas. Get your store ready by using the best promotion ideas and breaking the record of your sales until now.