If you are looking for a complete guide that walks you through how to get started with the Under Construction Coming Soon app, you are absolutely in the right place. This guide will help you with step by step instructions that make it easy to install the app and customize your landing page with the Under Construction Coming Soon app. So stay tuned till the end of this guide.
Installing Under Construction Coming Soon app in your store
Step 1: Go to the Shopify app store and browse the name of the app. After opening the app page you can find a button called "Add app" as shown in the screenshot below. Click on it.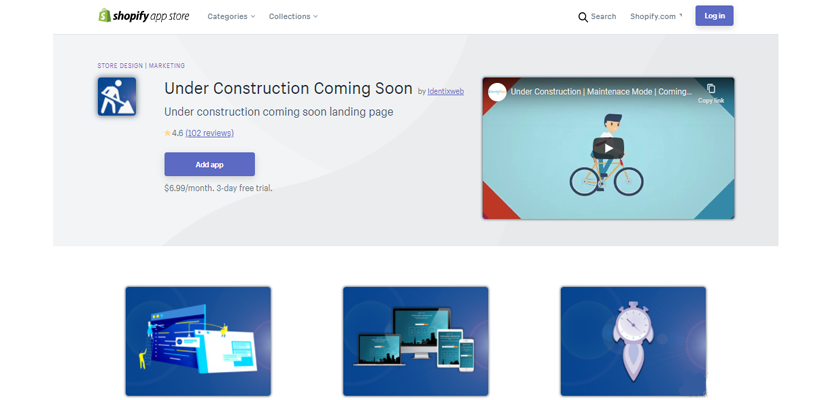 Step 2: After the above step, you will get a popup textbox to enter your store URL in which you want to install the app. Enter your store URL and you will be redirected to a page as shown in the screenshot below. Read the lines detailing the access you will grant from the Under Construction Coming Soon app. After reading the details click on the "Install app" button.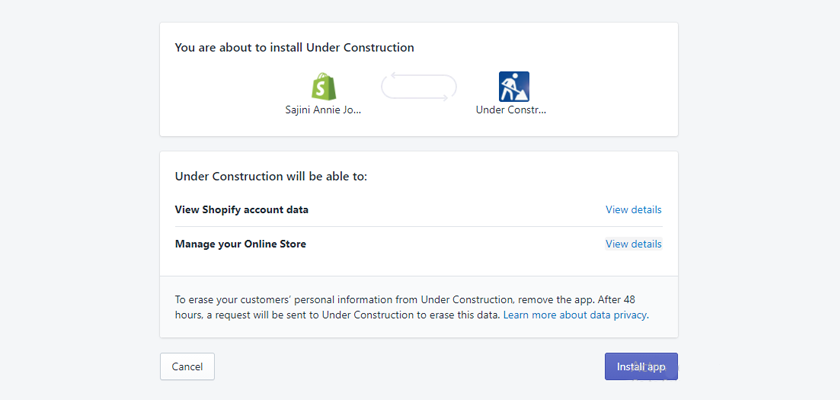 Step 3: Now you can start your free trial by clicking on the "Start free trial" button.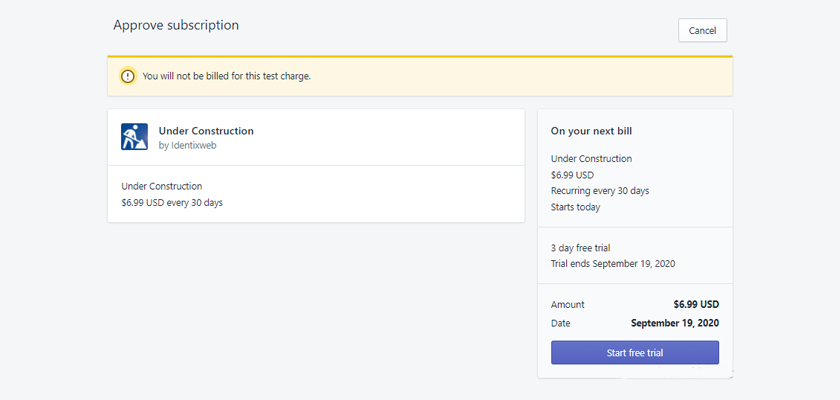 Step 4: Now you can start your free trial by clicking on the "Start free trial" button. After this step, to make the Under construction app active on your store click the "Enable Under Construction" button as shown below.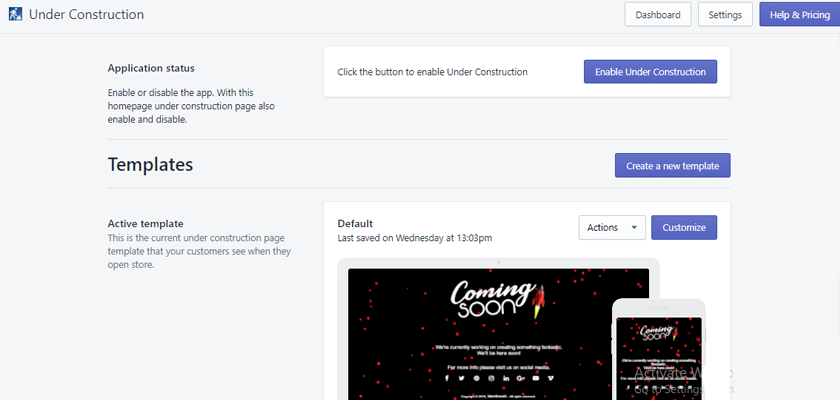 So congratulations you have successfully installed the Under Construction Coming Soon app in your store.
Now you can play with templates. Yes, it's time for customization. You will get a page as shown in the screenshot below from where you can create a new template or use the free templates and start customization.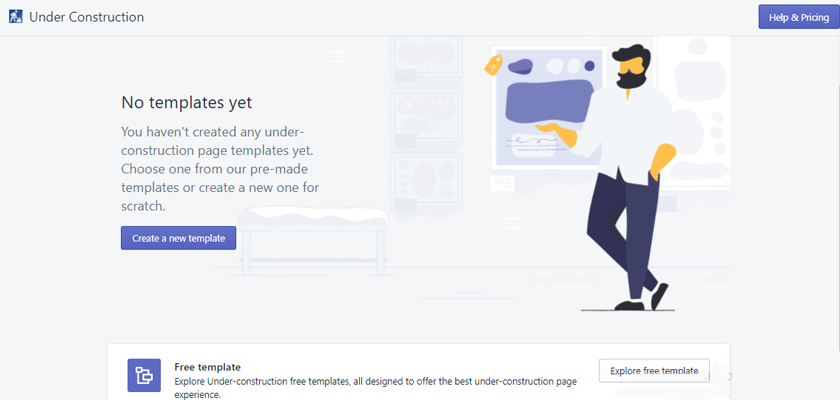 So if you are clicking on "Explore free template" you can explore free templates that you can use in your store or can customize according to your need. By selecting on any of the templates you can see the details of the template. After selecting the template click on "Add".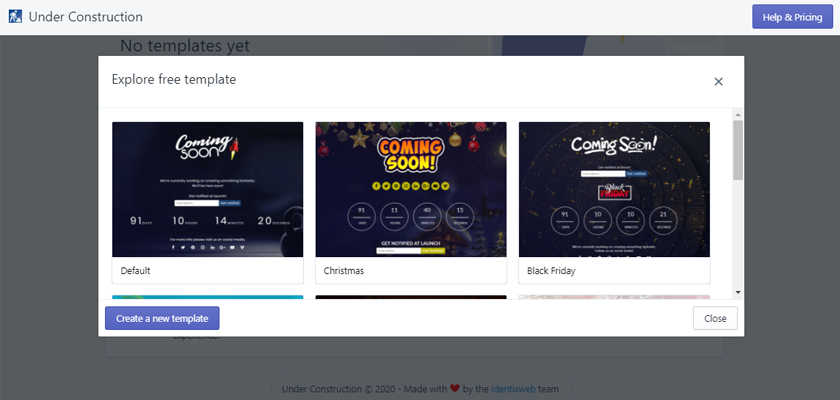 Now you will get a page of the selected template from where you can customize it as shown in the screenshot below.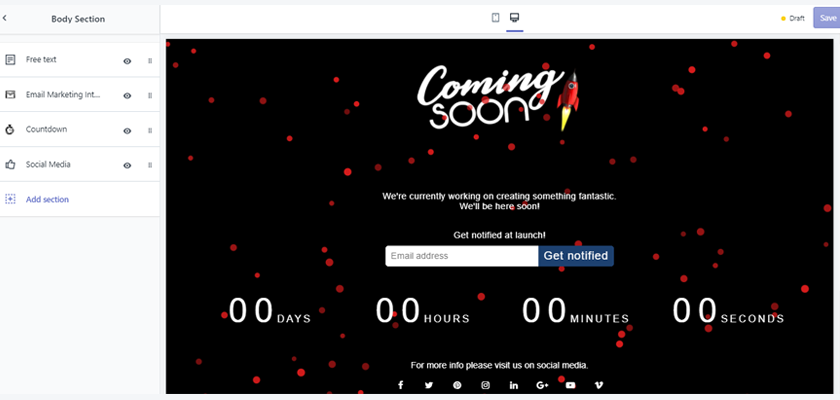 As seen in the screenshot above you can customize the template with the help of given widgets. There are 2 main options that are settings and general settings. Each of these options may contain several sub options.
While clicking on Sections you will get 3 options. Let's see one by one.
1. Header
With this option, you can customize the header section like you can change or delete the logo image of the business, change the logo alignment, and edit the logo text.
2. Body Section
The body section contains a group of editable contents like:
Free text: Here you can write and edit free text in the body section and if not needed you can delete this text section too.
Email Marketing Integration: Here you can edit the email address related section like the title, button, and email message settings.
Countdown: You can edit the countdown portion like the countdown type, text color, etc.
Social Media: In this section, you can edit the social media section like adding the social media links, icon style, free text.
3. Copyright
Copyright is default which cannot be edited. You can only show/hide by clicking on the EYE icon.
Now next is the general settings in which there are again 3 sections i.e general, password, favicon icon, and search engine.
1. General
This option contains sections like font family, desktop background image/color, video background, mobile background image/color, snow effect settings, preloader settings, and additional CSS.
Font family: You will get a dropdown list of the font family that you can select for the Under Construction content.
Desktop background: You can select the background, image, and color that you want to show fyour Under Construction page in the desktop view.
Mobile background: You can add custom background image or add background color which you want to show in the mobile view for your Under Construction page.
Snow effect settings: With this option, you can set the snow effect.
Preloader settings: Here you can change the preloader color and can select the preloader that you want.
Additional CSS: Here you can add a custom CSS code for style and text or section.
 2. Password
This section contains the below things:
Settings: This option contains popup box background, popup button background, and popup button text color.
Show password field link text: Button/link to open password field.
Title: You can add a title above the password field from here.
Whitelist pages URL (Like "/cart"): You can add page titles here for access directly without Under Construction.
Password: Password to access the website.
3. Favicon and Search Engine
This option contains favicon image, search engine title, keywords, meta description, Google analytics settings, Google Analytics tracking code, Facebook pixel.
Apart from the above options, you may find settings in which you will get the following options:
Third party integration
From this option, you can connect your website with MailChimp and Klaviyo email marketing to collect user's email and send them some updates about the website news. Select email marketing platform from the settings and collect users over the website, email marketing platform either MailChimp or Klaviyo.
Auto schedule under construction page
You can set manually under construction, enable/disable, and automatic setup based on your date and time schedule. Also, you can select the timezone and mode i.e manually or auto.
I hope this guide might have helped you. For more detailed information and app functionality related queries you can refer to the FAQ of the app.