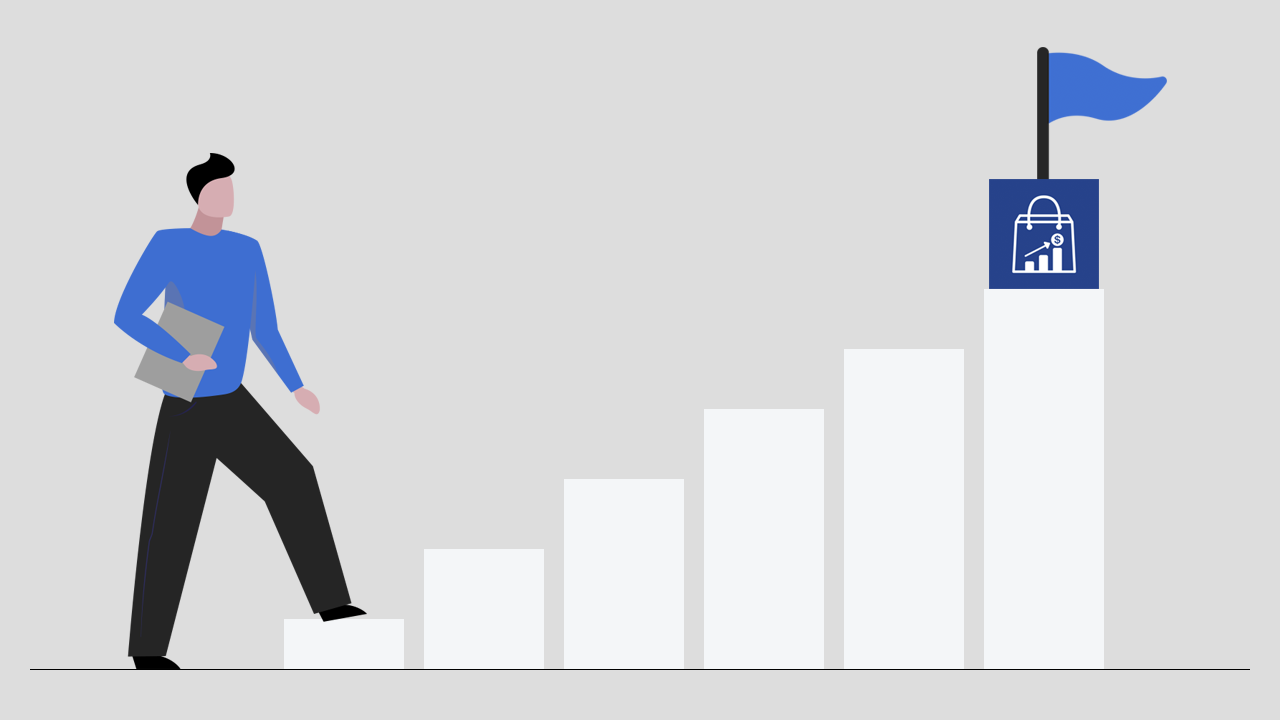 Welcome to iCart!
So finally, you have taken the decision to install the iCart Cart Drawer Cart Upsell, right? That's great! So stay with us throughout the end of our guide in order to get a clear-cut picture of iCart.
This guide is for you. It will contain detailed instructions on the onboarding process and customization. Before jumping to the topic let's get a brief overview of iCart.
Overview of iCart Cart Drawer Cart Upsell
iCart is the perfect app to boost AOV. iCart makes it easier for your customers to complete their buying process simpler by showing upsells and cross-sells. Yes, iCart is an all-in-one app for cart customization and conversion optimization.
With iCart, you can easily design your cart drawer and full cart page with its drag and drop interface. You can show upsells, product recommendations, product bundles, discounts, etc in your full cart page and cart drawer. You can increase your sales and revenue with iCart easily.
Highlighted features of iCart
Product Upsell
Product recommendations (cross-sell)
Product Bundles
Custom HTML
Side cart drawer & full cart page
Order addons – Giftwrap (Gift wrap) / warranty/custom
Cart countdown – urgency timer – persistent cart
How to install iCart on your Shopify store
Step 1: Go to the Shopify app store and browse the app. From the app detail page click on the "Add app" button as shown below.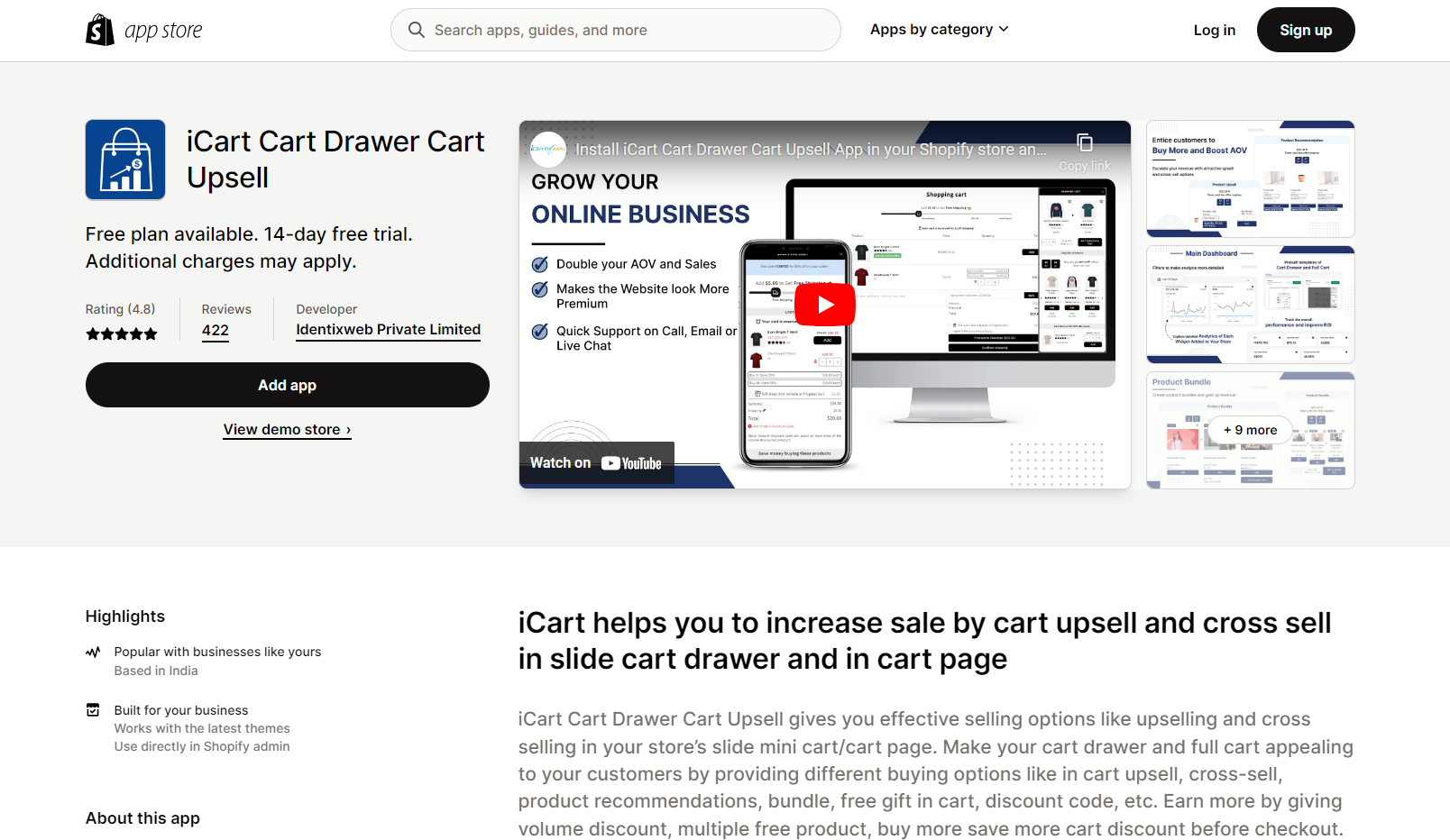 Step 2: If you are not logged in to your store then you may get a popup to log in by adding your store URL.
Step 3: Here in this step iCart asks access for a few things from you. Read the lines and click on the "Install app" button.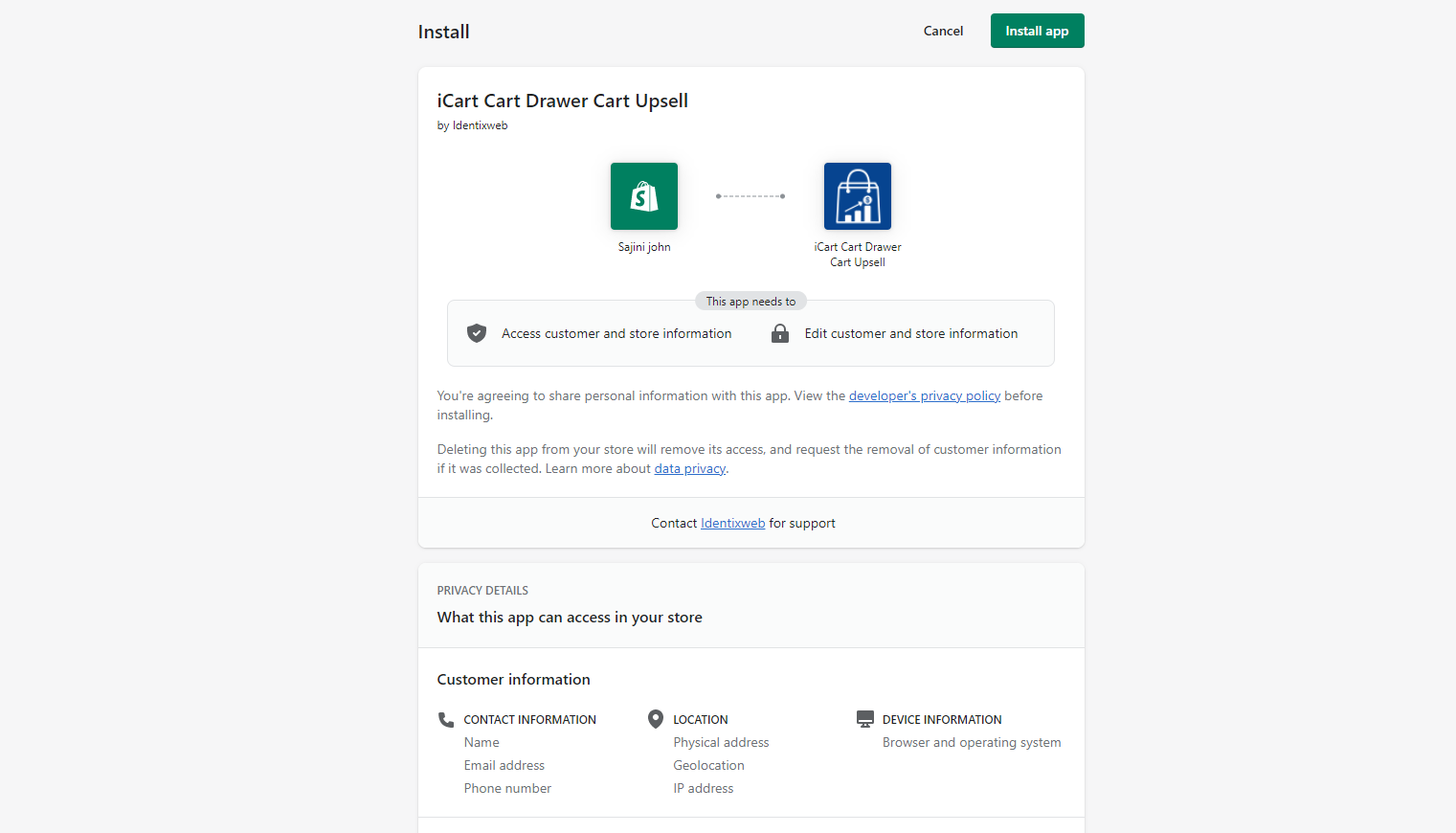 Step 4: In this stage, you will be able to see the pricing chart. After reading the pricing chart click on the "Let's go" button. Read this guide to study how iCart's pricing plan works.
Step 5: Now on the next page you will find charge approval. By clicking on the "approve" button, your free trial will get started.
Step 6: Setup icart in your store based on your needs.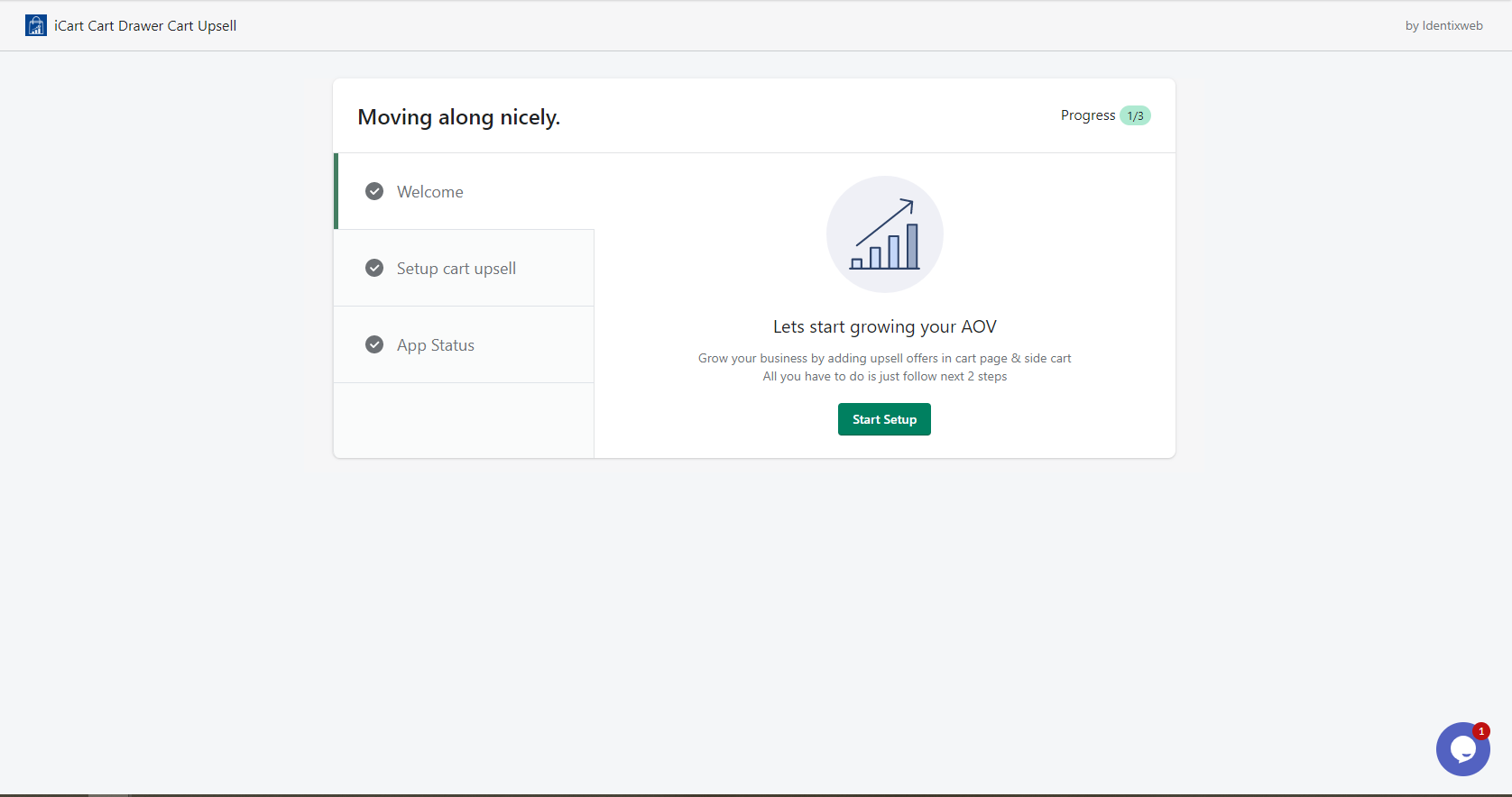 Step 7: Choose the design and add the required widgets.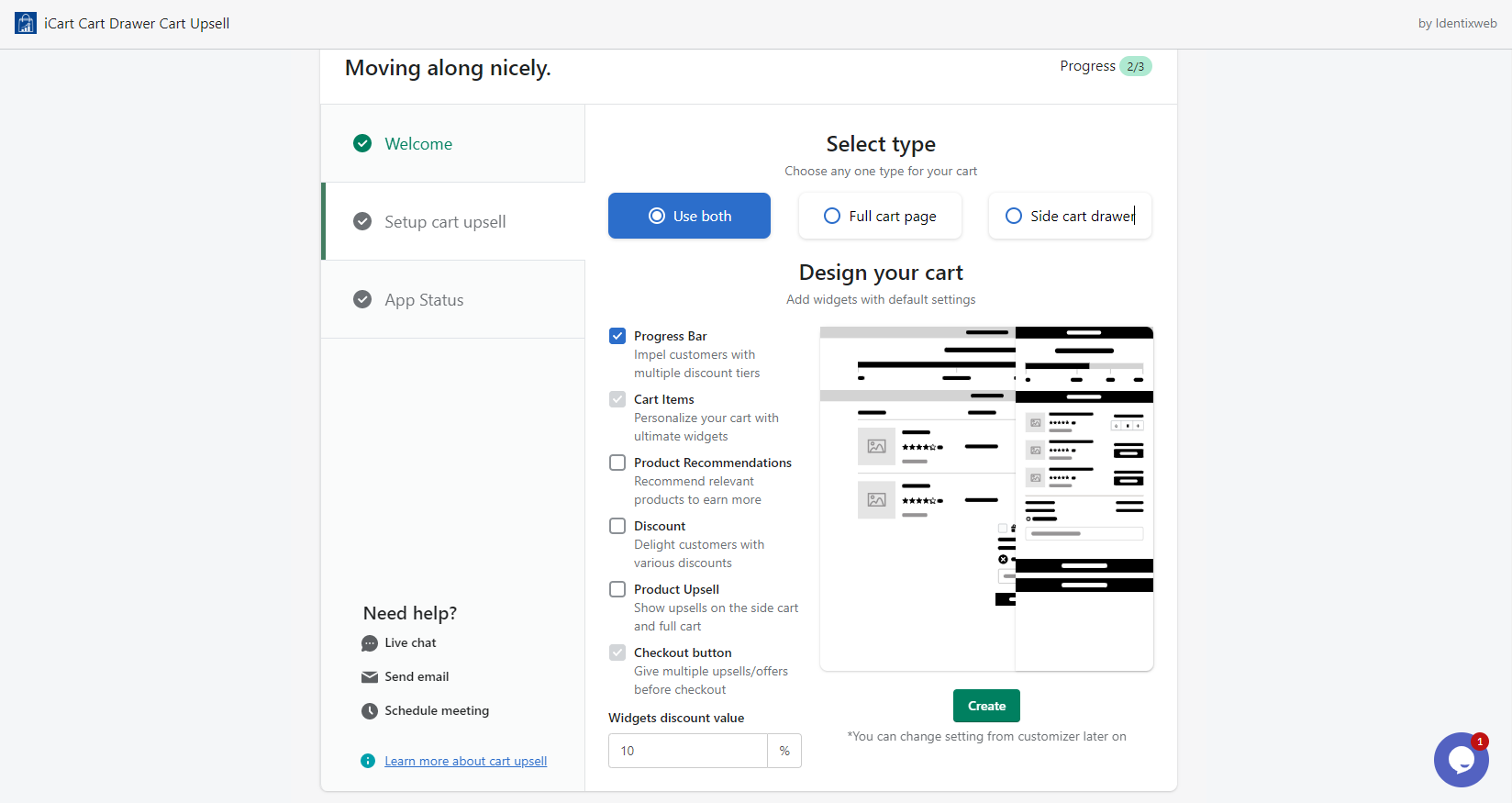 Step 6: Congratulations, iCart is installed in your store! But the app is not active in your store. To enable iCart in your store, click on the Enable iCart button as shown below.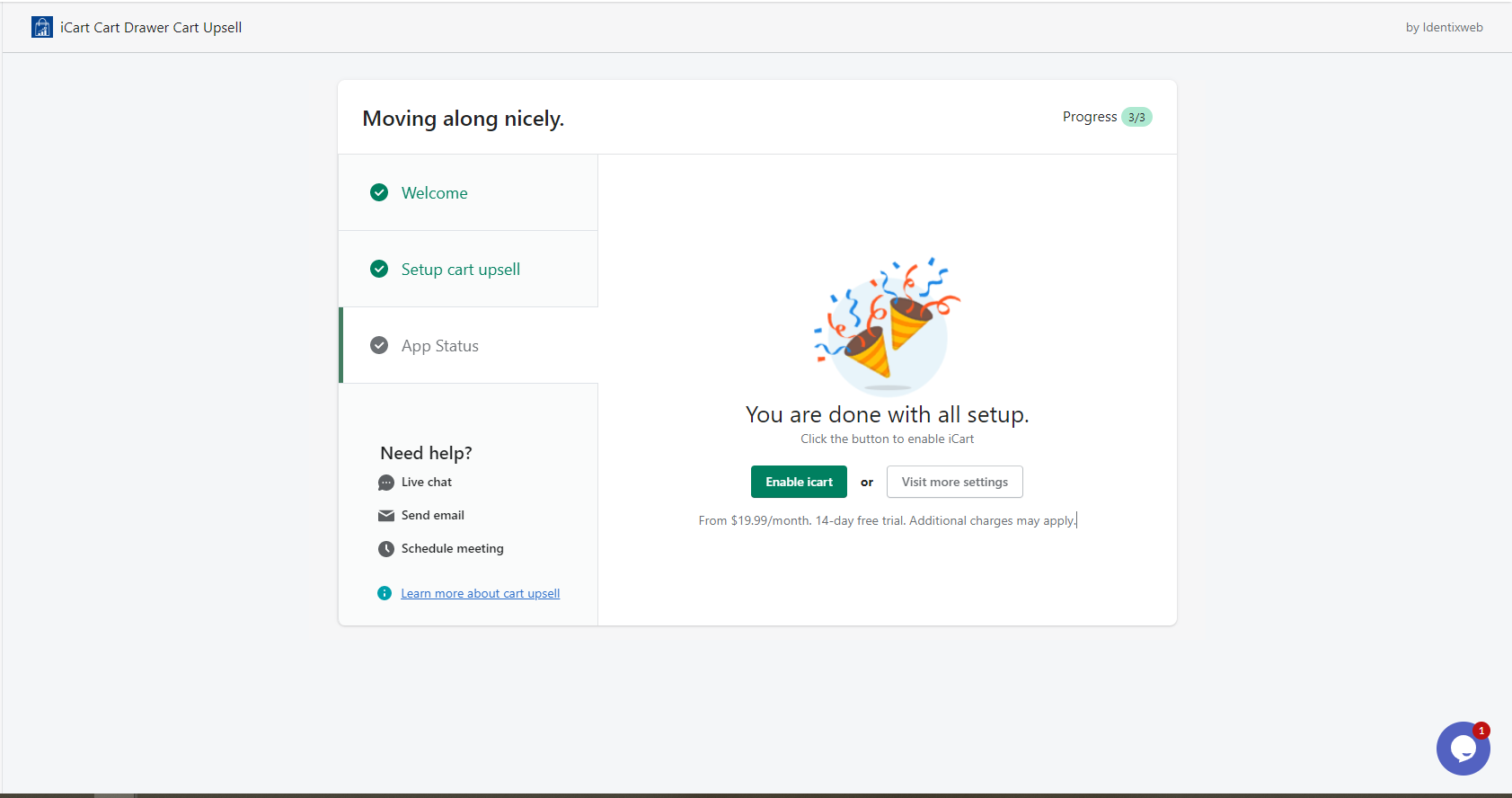 So now you are on board that is the dashboard. On this dashboard's top of the page, you will get 2 templates i.e Full Cart and Side Cart. You can customize it and start making sales using iCart's amazing widgets. Check it out in our detailed guide.