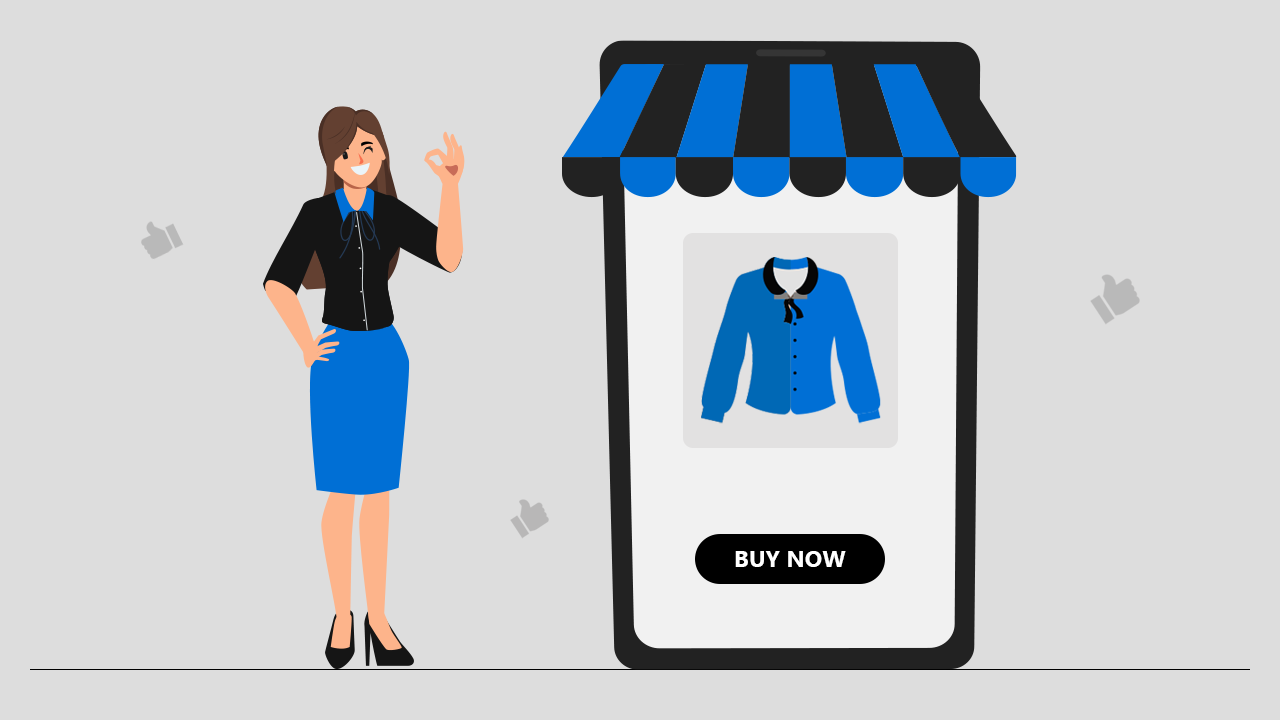 Customized products never leave the trend. It's a great idea to have a section for personalized products where customers can personalize your product before placing their order. Well, Shopify merchants have this opportunity. You can create an interactive area in your store for your shoppers using a Shopify product customizer app.
What is Product Customization?
Product customization is an advanced feature offered to the shoppers that involve personalizing the product, i.e, customizing the color, image, text, etc. on the product. In short, the customer gets a designing platform on the online store where they can change the product design as per their need.
Offering product customization lets your customer meet their needs that indirectly help your business grow faster.
Shopify Product Customization
Worried, if Shopify offers product customization? Well, yes! With Shopify, store owners can offer product customization to their online customers. It means your store visitors can personalize your products, and make purchases with you.
Do you have a Shopify store offering Print On Demand (POD)? By adding the best Shopify product customizer app, you can easily enable product customization in your store for your customers. Let's check out the best Shopify apps for product personalization in the next section.
Best Shopify Product Customizer apps
Excited to add product customization to your Shopify store? Continuing the read will help you find out the best Shopify product customizer apps for your e-commerce store.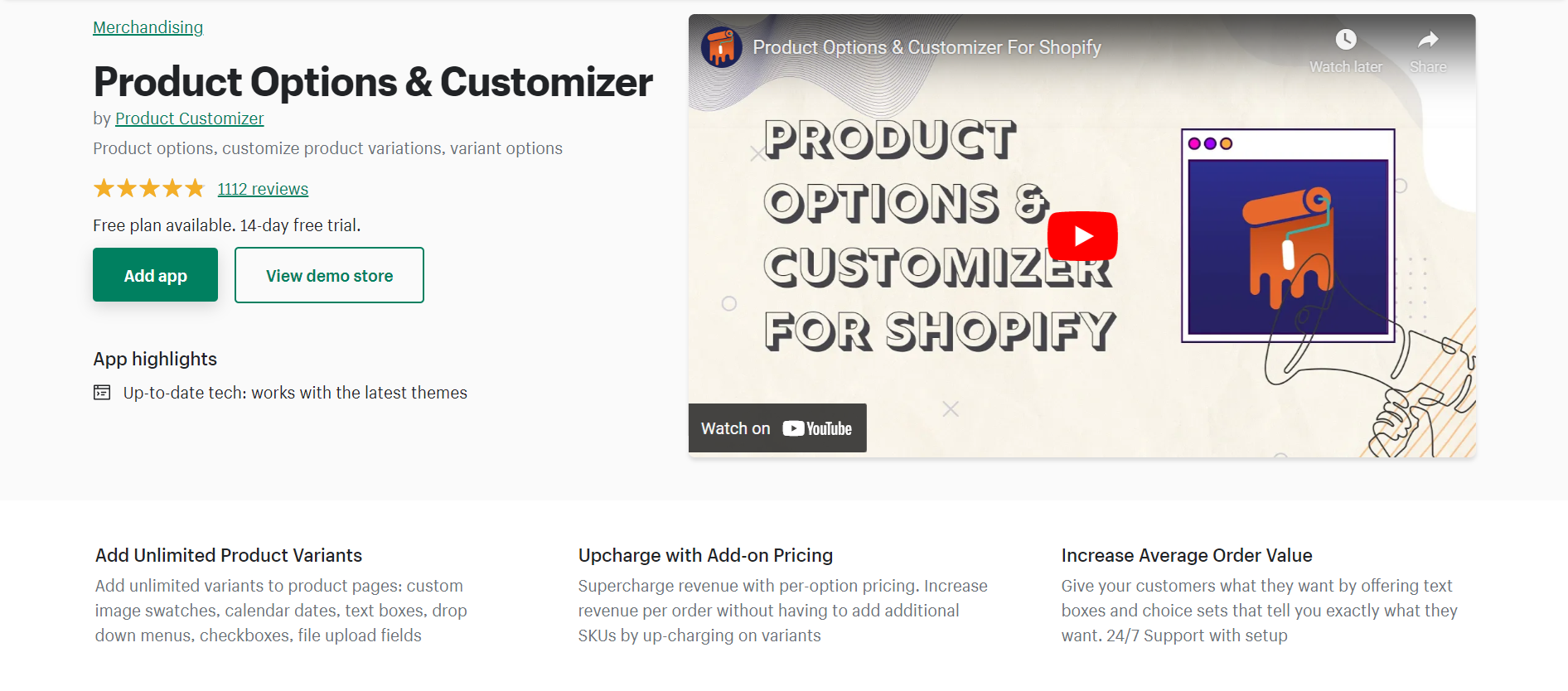 Product Options & Customizer allows you to add unlimited product options to unlimited products on your store, by using technology to show or hide options on product pages and upsell with add-on pricing to the product variants of your choosing.
Personalize your products with the right customizations to give your customers exactly what they want to reduce returns and increase repeat purchasers.
Overcome Shopify's 100-variant limit with robust features, including:
Image swatches
Color swatches
Calendar date selector
File Uploads
Google fonts picker
Custom file uploads
Drop-down menus
Text inputs
Radio buttons
Checkboxes
Per-option up-charge pricing (PREMIUM plans only)
Conditional logic to show/hide options (PREMIUM plans only)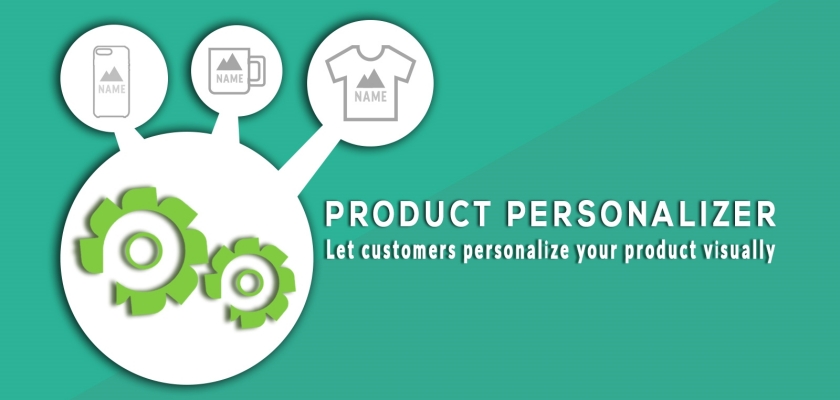 Zepto Product Personalizer is one of the best Shopify Product Customization apps that provides real-time previews with product customization. It provides the merchants the power to entice the customers by showing the beauty of their product even before they produce it.
On the contrary, customers get the best buying experience as they can be assured about how their product will look once it reaches their grasp. Shopify Variants can be used in a conditional logic set to choose which customization fields should be shown or hidden for the selection of that Variant. The variant images can also be used as a background for customization through the app.
Who Can Customize the Products?
Key Features:
Multiple styling can be chosen to present the personalization.
Personalization fields can be shown as Plain, Scrollable or Collapsible and can be organized in tabs to make the view more compact.
The view is responsive for Mobiles, Tabs and Personal Computers.
Several predefined styling options are available to choose from. Moreover, using CSS the style can be made more eye-catching.
There is a wide variety of field types available for configuration. Text Field with Neon, Emboss, Stroke, and Monogram effects, Color/Image swatches, Dropdown and Buttons, Image Upload are some of them.
Personalization options can be linked with existing Shopify Variants, in order to track inventory.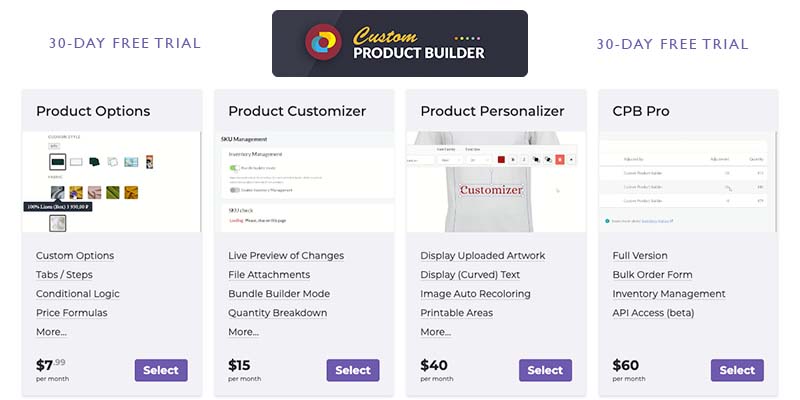 If you are a manufacturer, artisan, jeweler, run an embroidery, laser-cut, or print shop and have been looking for an affordable, yet effective personalization & customization software for your products online or in-store – look no further! You can display as many product options on your product page and thus customize your product page for custom products.
Custom Product Builder app is super easy to set up and is applicable to any product type. You can enable personalization and customization for furniture, accessories, gifts & promotional products, pet toys, bags, clothes, sports accessories & trophies, wheeled devices, accessories for mobile devices, print-on-demand products, neon signs, dimensions based & weight priced products.
Who Can Customize the Products?
Key Features:
Live Product Image Preview
Live Preview of Customer Uploaded Photos/Artwork/Logos/Monograms/Text
Image Recoloring On The Fly
Complex Conditional Logic
Image/Color Thumbnails, Inputs, Dropdowns, Multiple Choices, etc.
Bundle Builder Mode
Price Calculation Based on Dimensions
Quantity Breakdown
Wholesale Order
Interactive Printable Areas
Inventory Management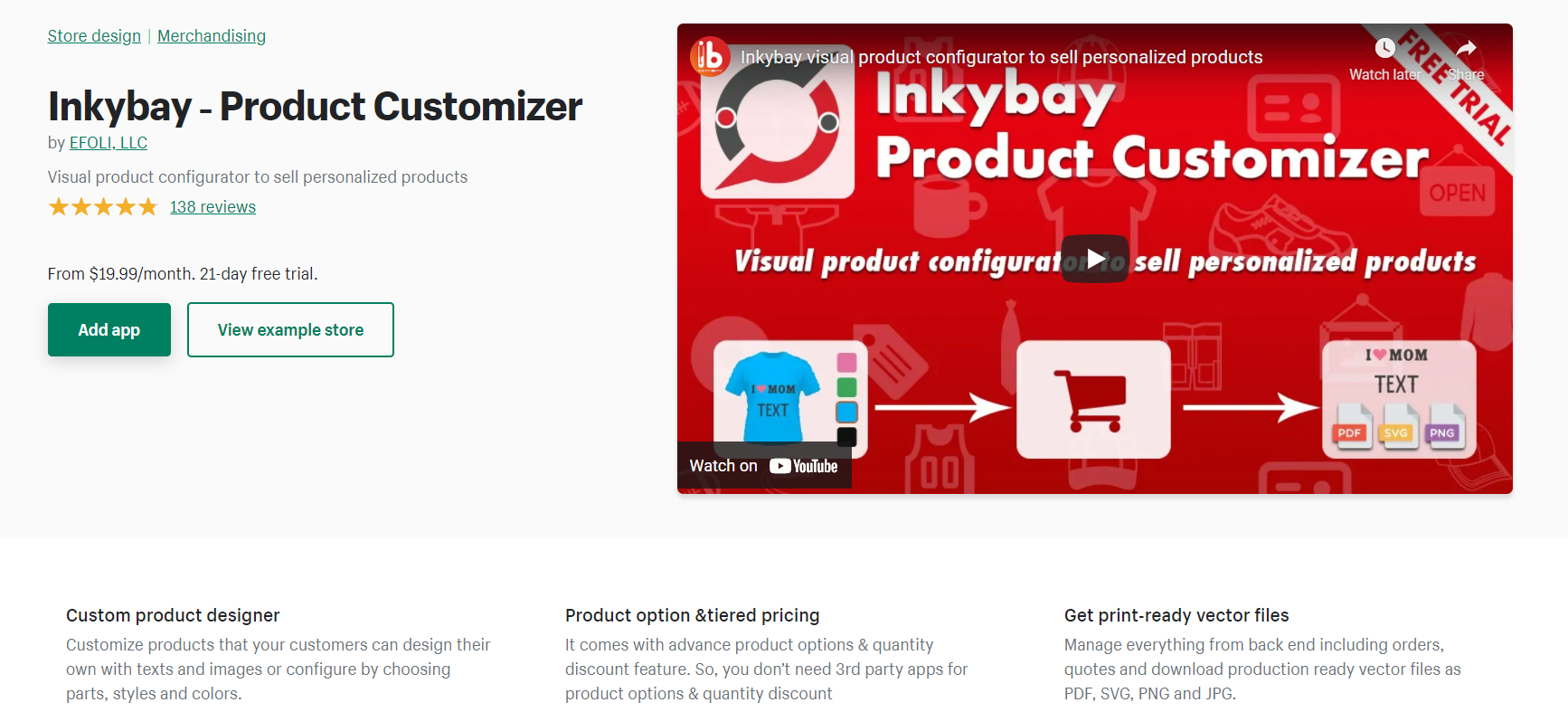 Product Customizer by Inkybay is a fantastic tool that allows your customers to creatively design the products they are going to purchase. This not only ensures that customers get the products they want, but it also saves you time in the production process.
This app provides real-time product visibility for your customers, making it easier to personalize. In other words, people will be aware of what they are customizing and what they will receive. They can also depend on the product base given by Inkybay.
Who Can Customize the Products?
Key Features:
Allow customers to create their own personalized products.
Customers should be able to see the product in real-time.
Regardless of the type of thing, work efficiently.
Get print-ready vector files with design and setup details.
Customers can choose from a clipart and font library.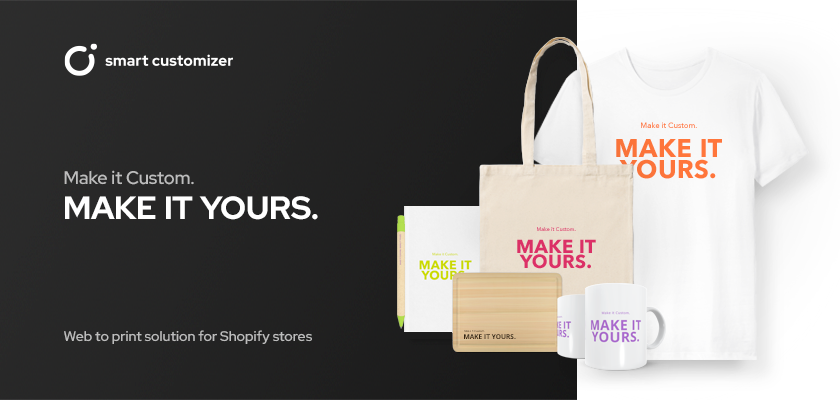 SC Product customizer is the ultimate web to print solution for Shopify stores that enables customers to personalize products, see their visual preview, and place a high-resolution print-ready order directly on your store.
Whether we're talking about customizable T-shirts, marketing resources, furniture, bags, cups, even bikes or cars, you can add your product models and create an in-store experience for clients browsing your website without any code. Just add your model and let customers edit text, fonts, colors, size, position, create patterns, upload their own graphics, and much more.
The unique part about this app is that it's created by people with a lot of knowledge and experience in design, so it really helps to solve all the complicated parts of meeting customer expectations in reality. You can set the rules of the what and how can be customized, it allows multiple print areas, 2D and 3D preview from multiple angles, and gives you instant color conversion to CMYK so after order, it's absolutely print-ready.
As a seller, you will have an internal view of the tool where you can set up your custom products, create and upload templates, graphic assets as well manage all the orders that come in.
Who Can Customize the Products?
Key features:
Premade product and design templates for a fast start. Mug, Business card, T-shirt, Pillow, hoodie, and more.
Create your customizable product models whatever they may be.
3D and 2D preview to show the best quality end result pre-purchase.
Create your own design templates, make your design collections, etc.
Library of graphic assets vector and bitmap(raster). You can install from our library or upload yours, to give a wide selection for customers.
Use multiple print areas
Color conversion simulation from RGB → to CMYK so the design would look as realistic as possible.
Print-ready design files as an output. PDF (cmyk), PNG (RGB), and SVG (RGB) for your choice.
Control tools, colors that can be used by the customer (end-user).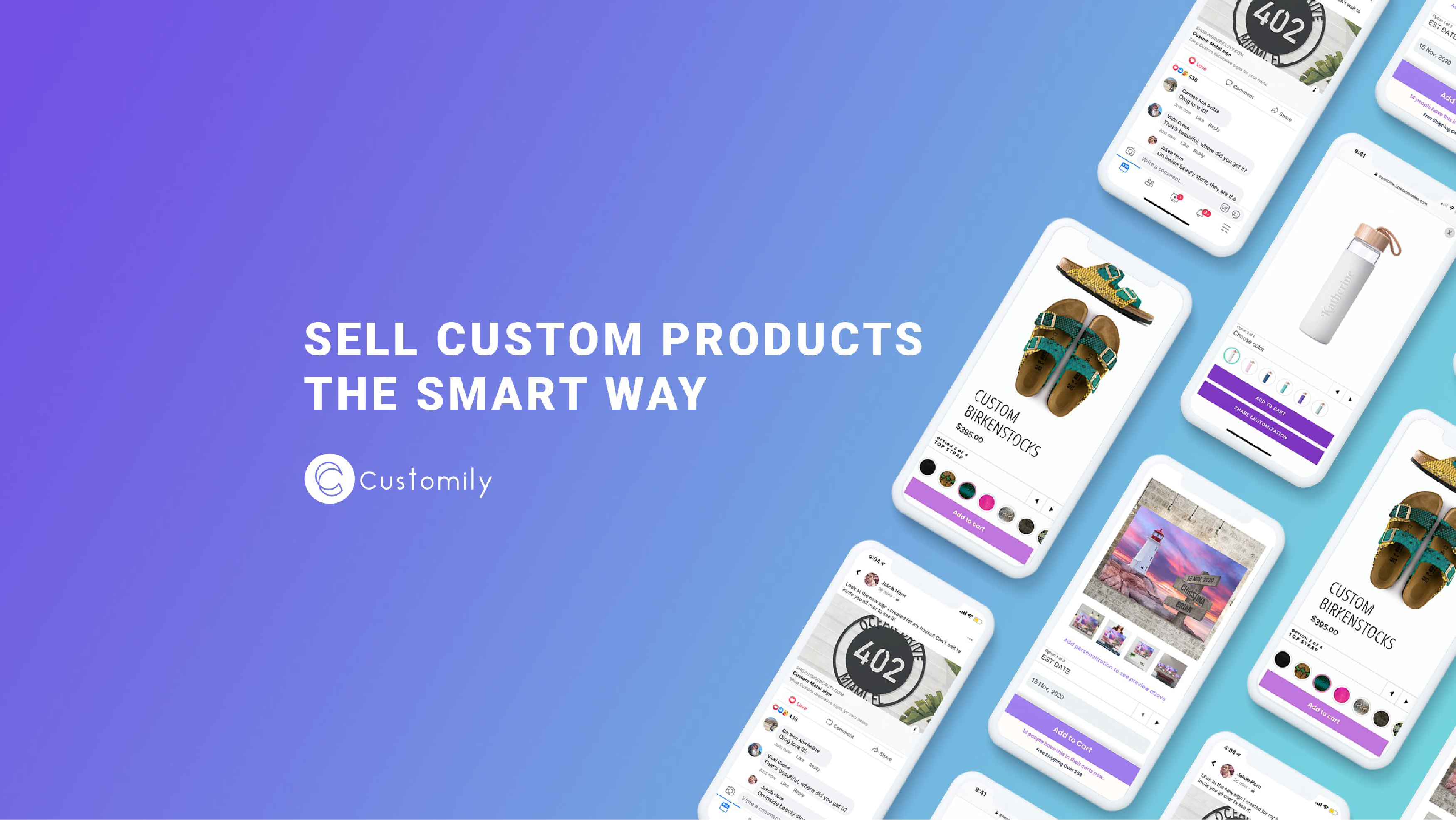 Customily is the most complete solution for product personalization. It has unlimited customization options, such as adding texts, uploading images, choosing fonts and colors, monograms, clip art, and much more!
With this app, your customers will be able to create their own products while seeing a live preview of it. But not only that! After a purchase is done, you can download a ready-to-print file to fulfill the order, or send it directly to your POD supplier.
Who Can Customize the Products?
Key Features:
Unlimited personalization options
Styling options to match the feel and look of your store
Realistic live preview
Ready to print, engrave or laser cut files in different formats
Connects with POD services like Printful, Printify, and CustomCat
Dedicated Customer Support that will assist you with the configuration of your products
Fully responsive, it adapts to any device
Social media sharing
Integrates with any e-commerce platform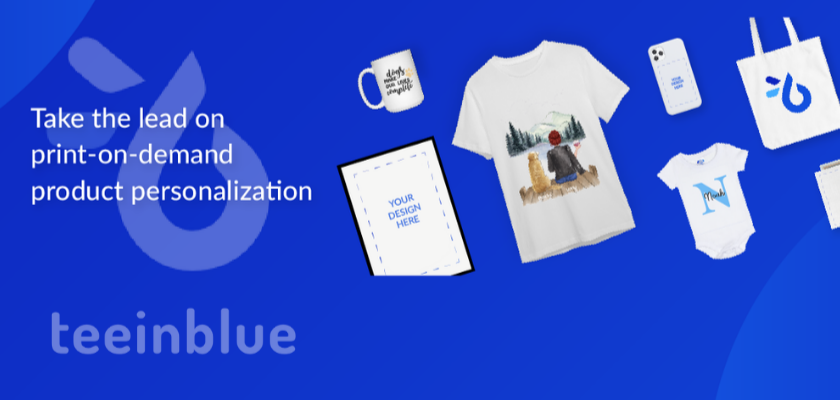 Teeinblue is built to support merchants worldwide in offering highly converted PERSONALIZED PRODUCTS with real-time previews and automating the product personalization business.
Key Features:
Powerful Personalization Options such as photo uploading, custom text, clip art personalization, custom maps and many more.
Add Print-On-Demand Products, where you can freely add your own products & create campaigns to launch on the storefront with no limitation.
Order Process Control: Using our smart Order Dashboard you are able to keep track of your daily orders more easily and controllably. Orders from integrated providers can be sent directly from Teeinblue through an API connection.
Wrapping Up!
The Shopify customizer apps allow merchants to sell customizable products in their e-commerce store. Hope this article helped you get the best Shopify app for product personalization. For more helpful articles, explore our blog section.
Need help with some other topics? Please mention them in the comment box. I would love to find solutions and update you on upcoming articles.