If you're selling on Shopify, you'll want to be aware of the potential for fraudulent orders. As a store owner, you know that dealing with fraudulent orders is just a part of the game. However, that doesn't mean you have to accept high-risk orders without putting up a fight. Shopify's fraud analysis tool can help weed out fake orders before they cost you time and money.
In this blog post, we'll discuss the fraud analysis tool, and go over some tips on how to deal with high-risk orders on Shopify. Let's get started!
Shopify Fraud Protection
Shopify has a built-in fraud analysis tool that can help you identify high risk orders. This tool is designed to help you avoid potential chargebacks.
When an order looks suspicious, it goes through a fraud analysis to determine if it is likely to be fraudulent. This helps protect both you and your customers from potential scams and chargebacks.
Fulfilling Shopify high-risk orders can result in a higher number of chargebacks, which can lead to the disablement of payment processing and removal from Shopify Payments.
What is a high risk order?
An order is considered high risk if it meets any of the following criteria:
The billing and shipping addresses are different
The order is for a high-value item
There is a history of fraudulent orders from the customer or their IP address
The customer's credit card has been flagged as stolen
If you receive an order that meets any of the criteria above, we recommend that you take a closer look at the order before fulfilling it. For example, you could contact the customer to confirm their shipping address or ask them for more information about the order.
How to identify a high risk order?
Shopify offers several features to help you identify high-risk orders. The first step is to review your store orders. On the order detail page, you'll find Shopify's Fraud analysis section that shows a list of indicators. These indicators highlight different behavior based on different colored icons: green, red, or grey icons.
Green – indicates the order information is correct.
Red – indicates that the order information is usually noticed on fraudulent orders.
Grey – It provides you with more information about the order, which might be useful.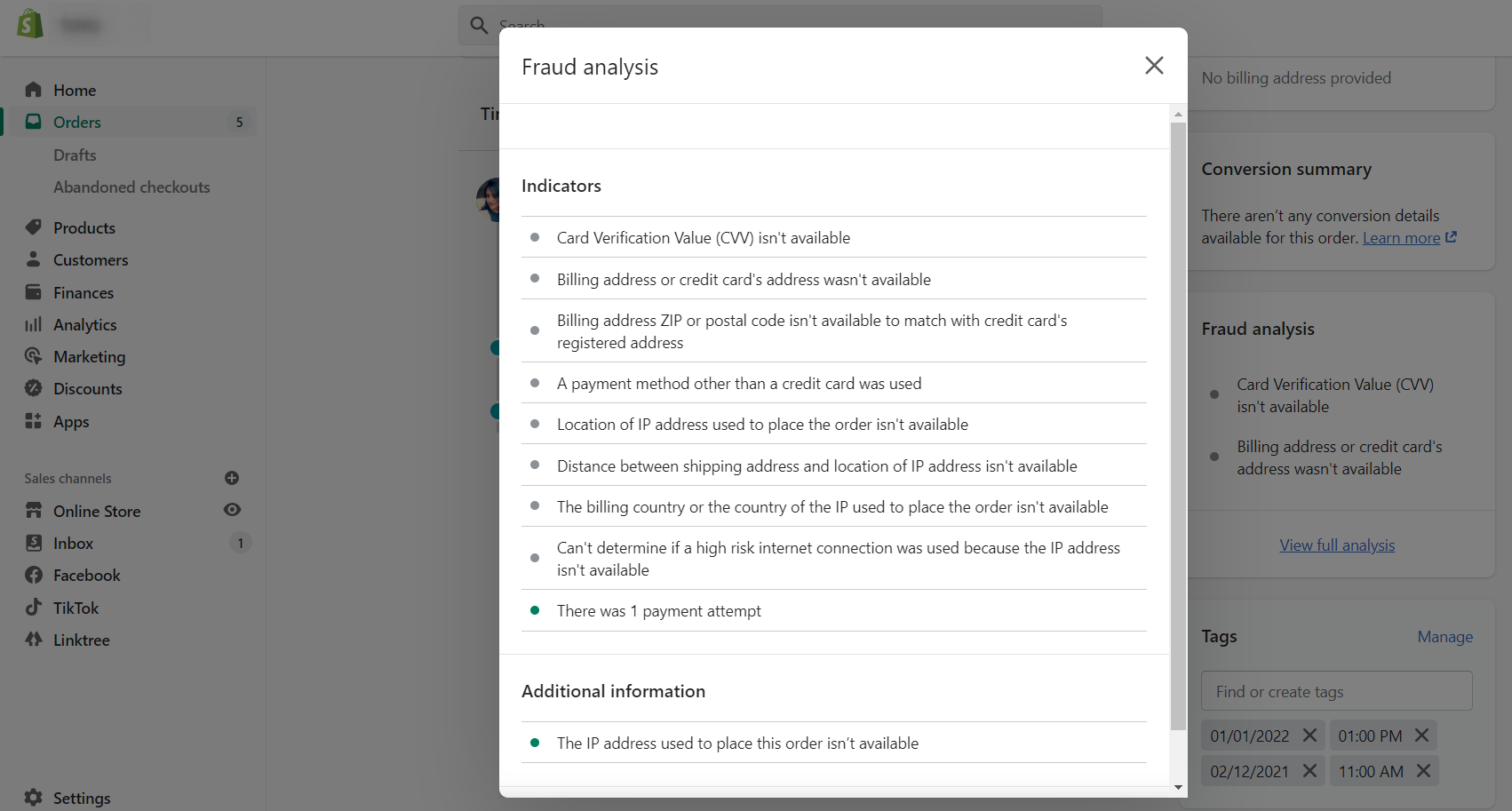 What if I fulfill a high risk order?
If you fulfill an order that turns out to be fraudulent, the credit card company may reverse the charges. This is called a chargeback. If you receive a chargeback, Shopify will attempt to gather evidence on your behalf and submit it to the credit card company. However, the decision to reverse the charges is ultimately up to the credit card company. Shopify does not cover chargebacks from banks.
If you think an order may be fraudulent, you can cancel it in your Shopify admin. If you've already fulfilled the order, you can reach out to the customer and ask them to return the item.
Why are some orders considered high risk?
There are a few different reasons why an order might be considered high risk. One reason is if the billing and shipping addresses don't match. This could mean that the cardholder isn't actually the one placing the order.
Another reason an order might be considered high risk is if the order is being shipped to a high-risk country. Some credit card companies are more likely to reverse funds for orders placed in certain countries.
Shopify also looks at the overall order value and the history of the customer's orders. If an order seems suspicious, Shopify will flag it as high risk.
What should you do if you receive a high risk order?
If you see an order that you think might be fraudulent, take the following steps:
Review the order details: Make sure that you review all the order details before deciding whether to decline the order. The order details will give you information about the customer and the items they have ordered.
Contact the customer: If you have any questions about the order, contact the customer.
Request additional information: If you still have questions about the order, you can request additional information from the customer.
Decline the order: If you decide that the order is fraudulent, you can cancel the order.
If you are not sure whether an order is fraudulent, you can place it on hold. If you decide to place an order on hold, be sure to:
Notify the customer: The customer should be notified that their order has been placed on hold.
Review the order regularly: You should review orders that are on hold regularly. This will help you to make sure that you don't miss an order that should be fulfilled.
Fulfill the order: If you decide that the order is not fraudulent, you can fulfill it.
Cancel the order: If you decide that the order is fraudulent, you can cancel it and refund your customer immediately.
Taking these steps will help you to avoid chargebacks and keep your shop running smoothly. Let's know more about chargebacks!
Shopify Chargeback Protection
What is a chargeback?
A chargeback is a reversal of funds that are charged to your customer's credit card. This can happen if the order is fraudulent, or if the customer disputes a charge.
Shopify helps you to gather evidence for any disputed charges. However, the decision to reverse funds is made by the bank that issued the credit card, not by Shopify.
Why do chargebacks happen?
A chargeback happens when a credit card company reverses the funds from a purchase that has already been fulfilled. This can happen if the bank that issued the credit card decides that the order was fraudulent.
One of the main reasons for chargebacks is fraudulent orders. Fraudulent orders can be caused by stolen credit cards, fake identities, or other scams. When an order is flagged as high risk, it's because there's a higher chance that it could be fraudulent.
How to prevent chargebacks?
If you received an order that is flagged as high risk by Shopify's fraud analysis, then you should review it carefully. You can ask for more information from the customer, such as their billing address or a phone number. If you're still not sure, you can cancel the order and refund the customer.
You can also rely on the chargeback prevention Shopify offers to their merchants. Shopify also offers a number of the best apps to help keep your business safe from fraudulent orders, so you can focus on what really matters – running your store and making sales!
Best Fraud Protection Apps in Shopify
If you are looking for an alternative to Shopify chargeback protection or need some extra layer of security to protect your business from fraudulent activities, please refer to the list of the best Shopify apps for fraud protection given below.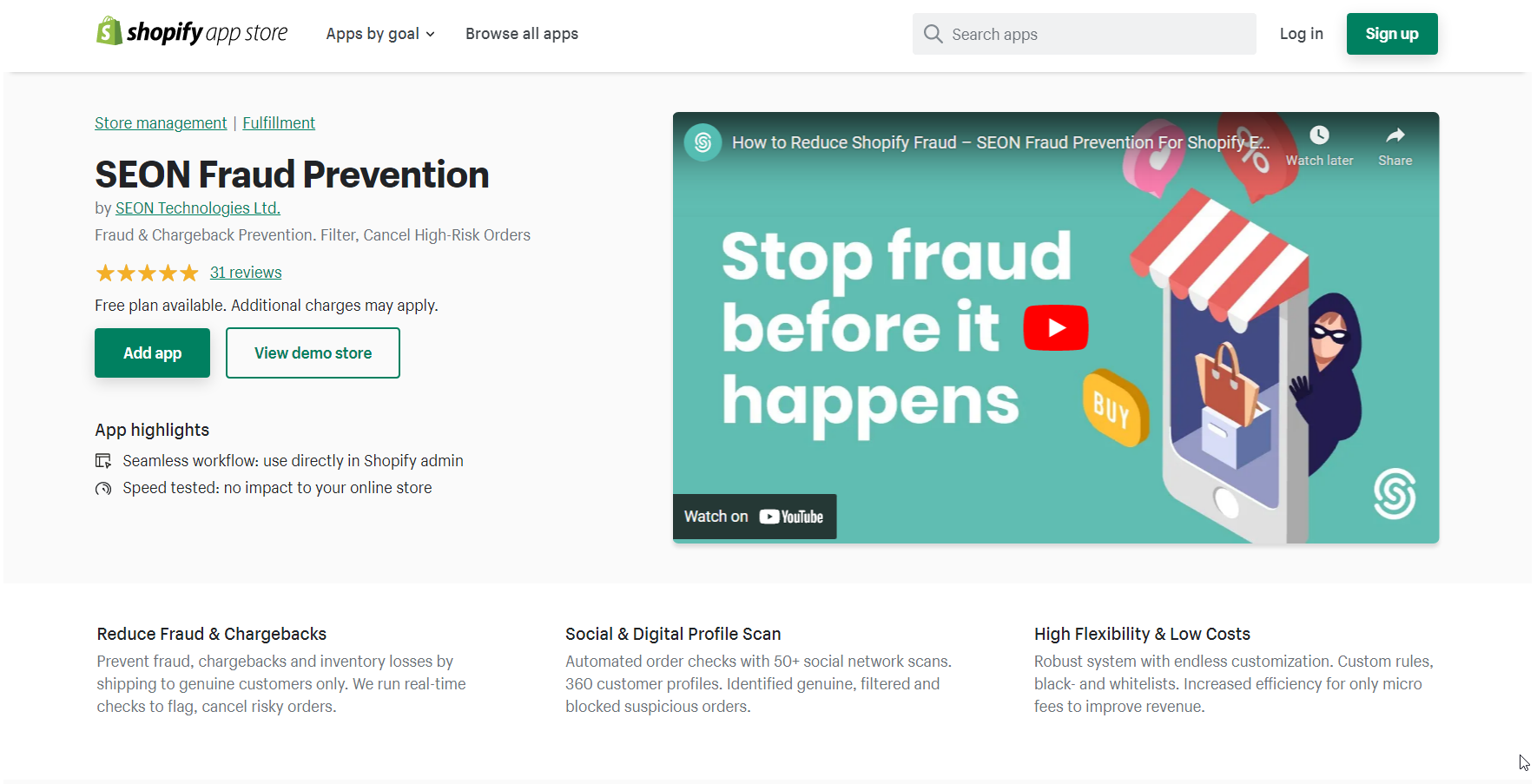 SEON. Fraud Prevention offers an automated, easy-to-use, real-time check on orders and customers with no disruptions to checkouts. By checking thousands of data points, like online identities, and leveraging machine learning, SEON helps businesses in detecting fraud and prevent chargebacks. It's plug-and-play and offers protection within seconds while also being highly flexible and customizable to fit every custom business need. Merchants will ship to genuine customers only and increase revenue.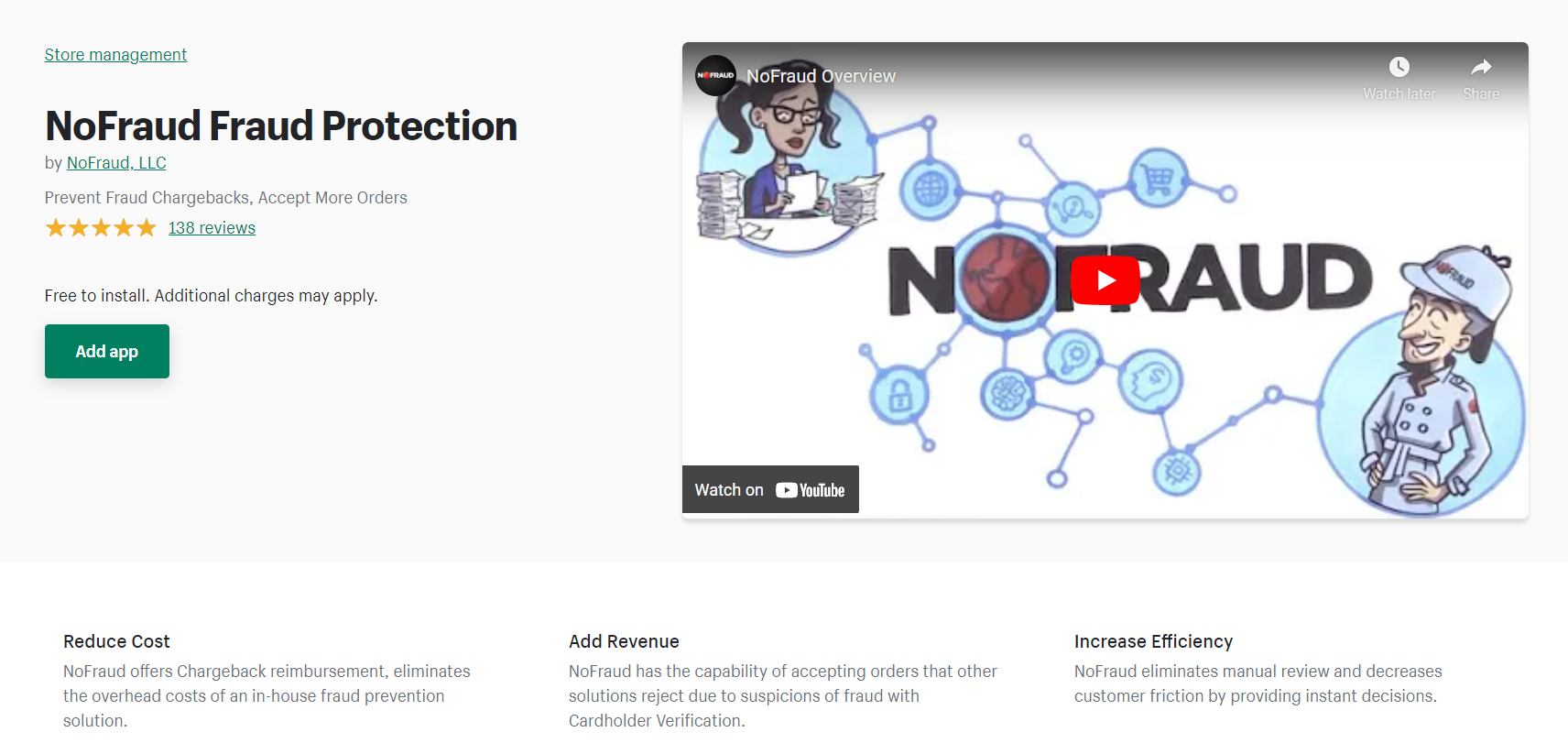 NoFraud is one of the most popular fraud protection apps in Shopify. NoFraud offers fraud prevention through real-time verification of people's identities. The app uses thousands of data points and a variety of fraud detection parameters to decide if a person is allowed to make a purchase. NoFraud is fully automated and managed by in-house experts, so merchants don't need to do anything.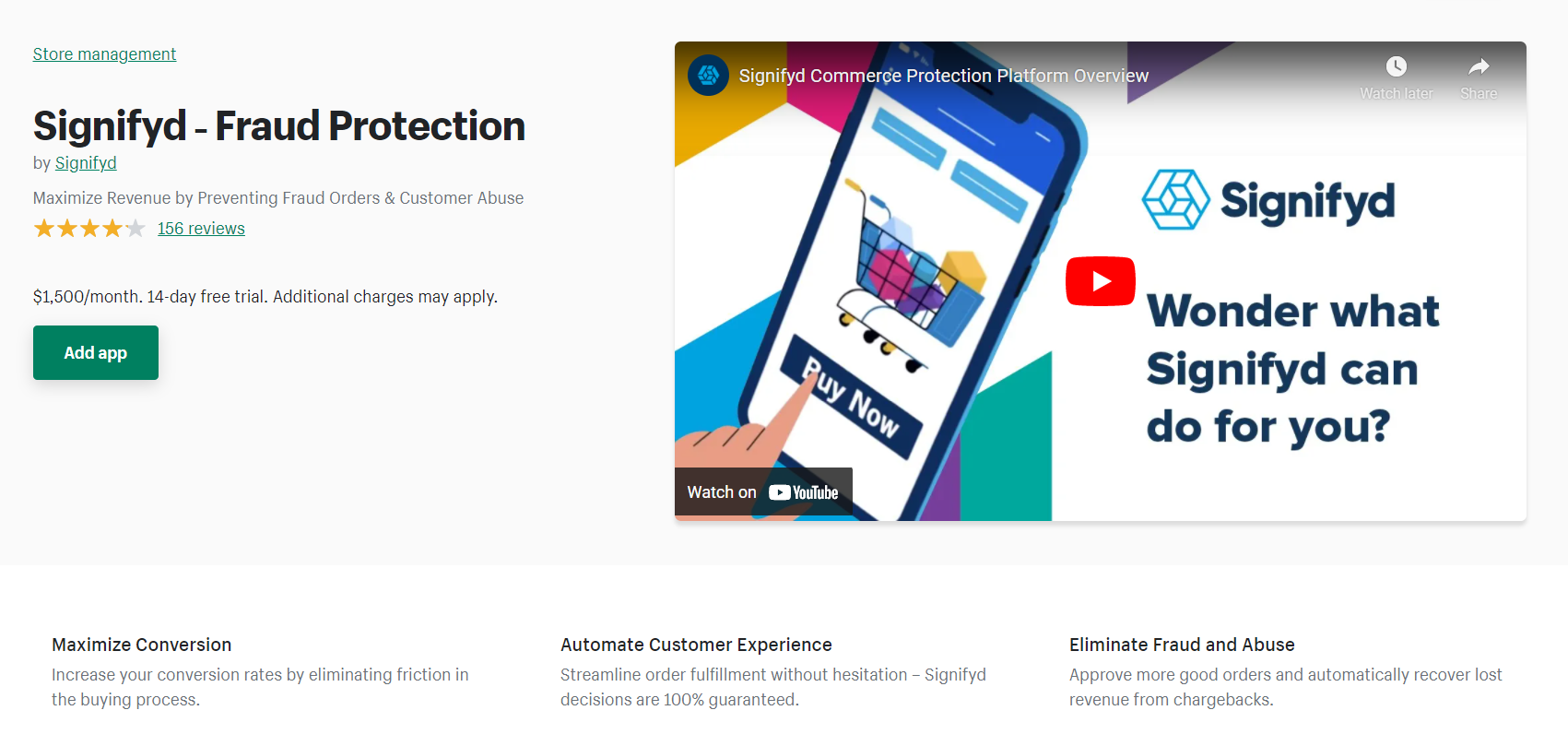 Signifyd is a fraud protection app that's available in the Shopify app store. Signifyd offers a platform that protects your Shopify stores from fraud and customer abuse. It uses its Commerce Network to help you convert more customers and automate their experience. That means you can rest easy knowing that your store is protected against fraudsters.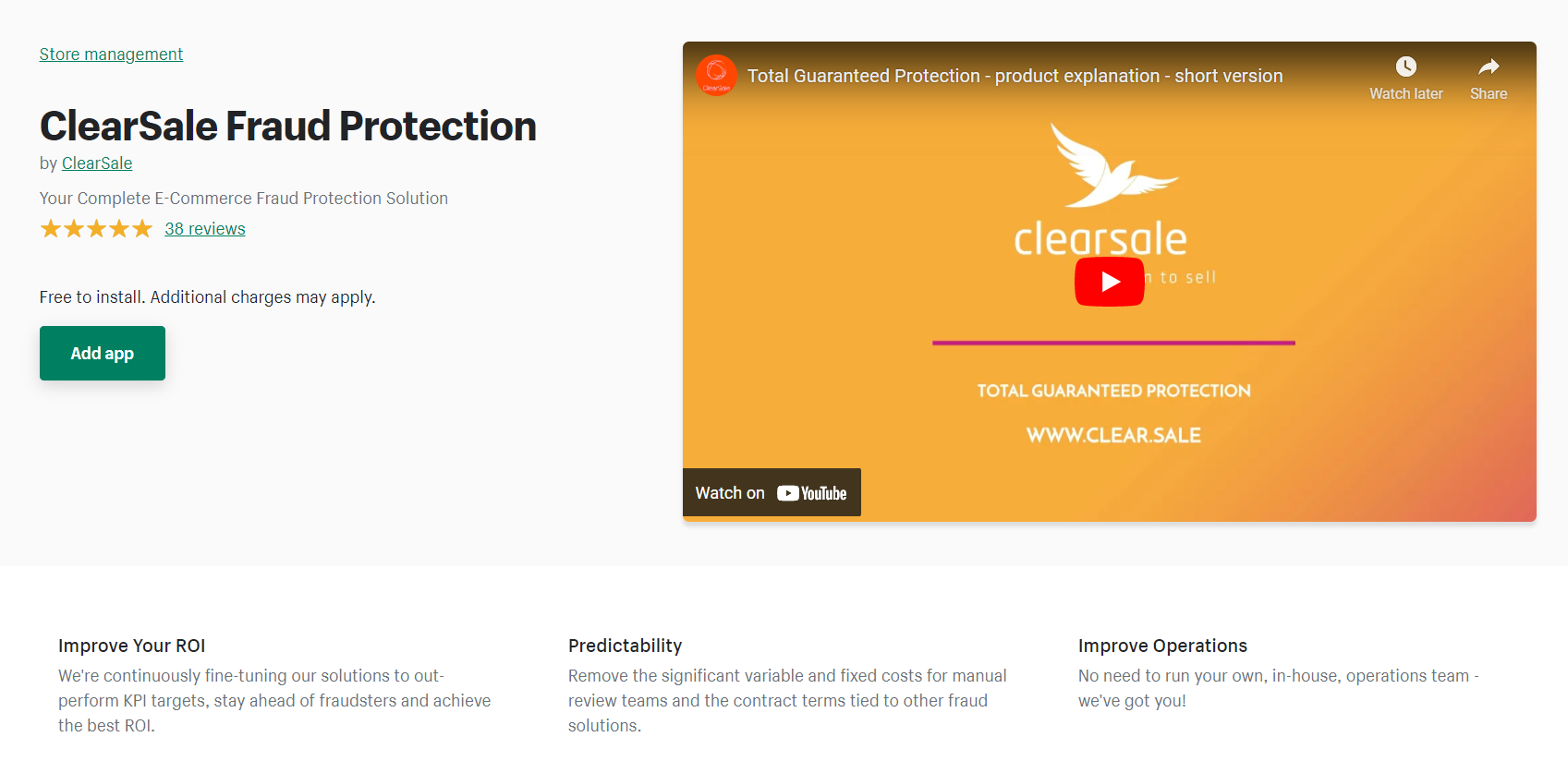 ClearSale is another popular fraud protection app in Shopify. ClearSale offers a complete solution that helps you to identify, manage and prevent fraud. The app uses machine learning and advanced data analysis to protect your store from fraudulent activities.
ClearSale is fully automated and offers a robust fraud management solution, so you can focus on running your business without any fraud-related worries.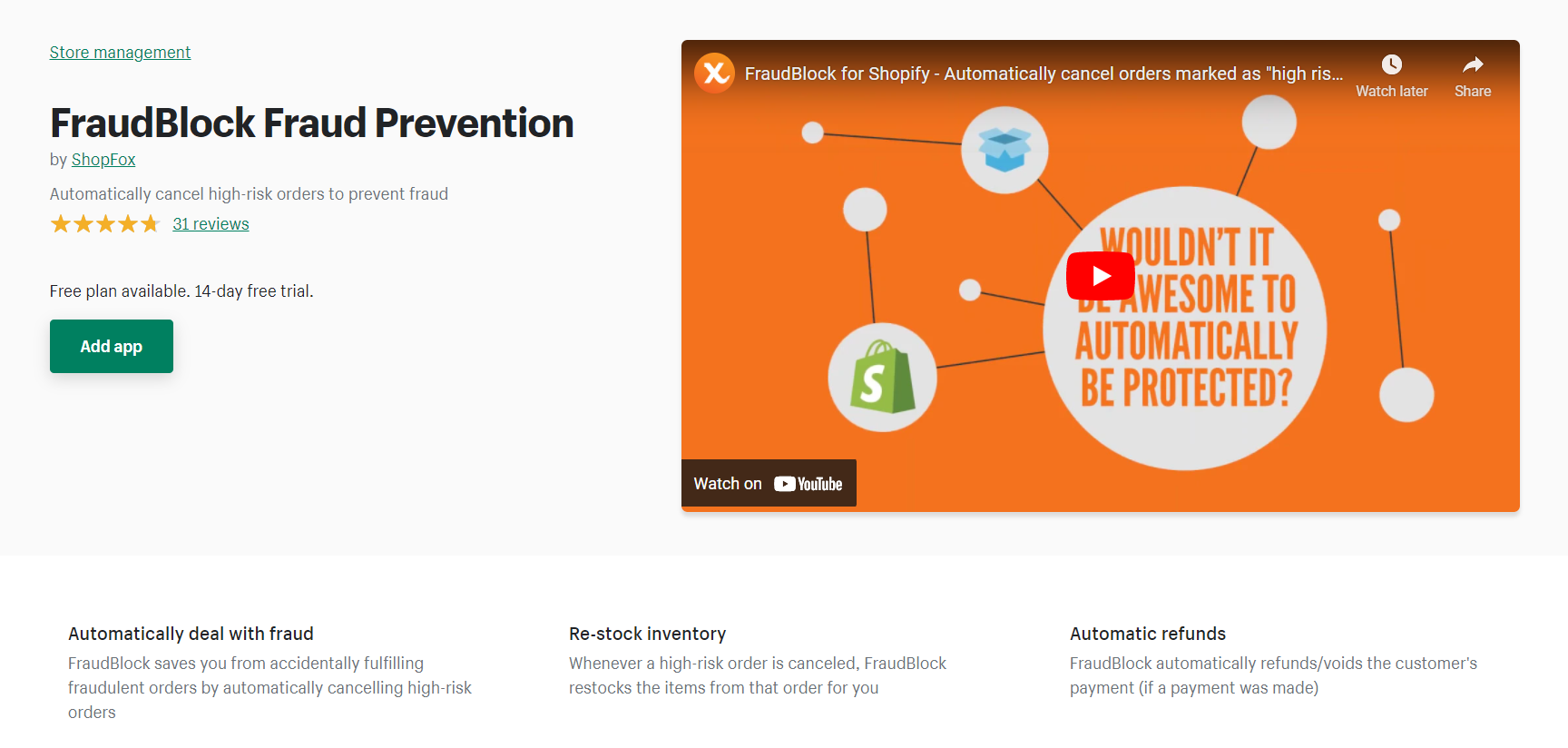 If you're looking for an app to help with fraud prevention, FraudBlock is a great option to protect your business from fraudulent orders and chargebacks. It uses machine learning to analyze your data and identify potential fraud.
Once it identifies a suspicious order, it will block the order and notify you, so you can take action. FraudBlock is available for free on the Shopify App Store.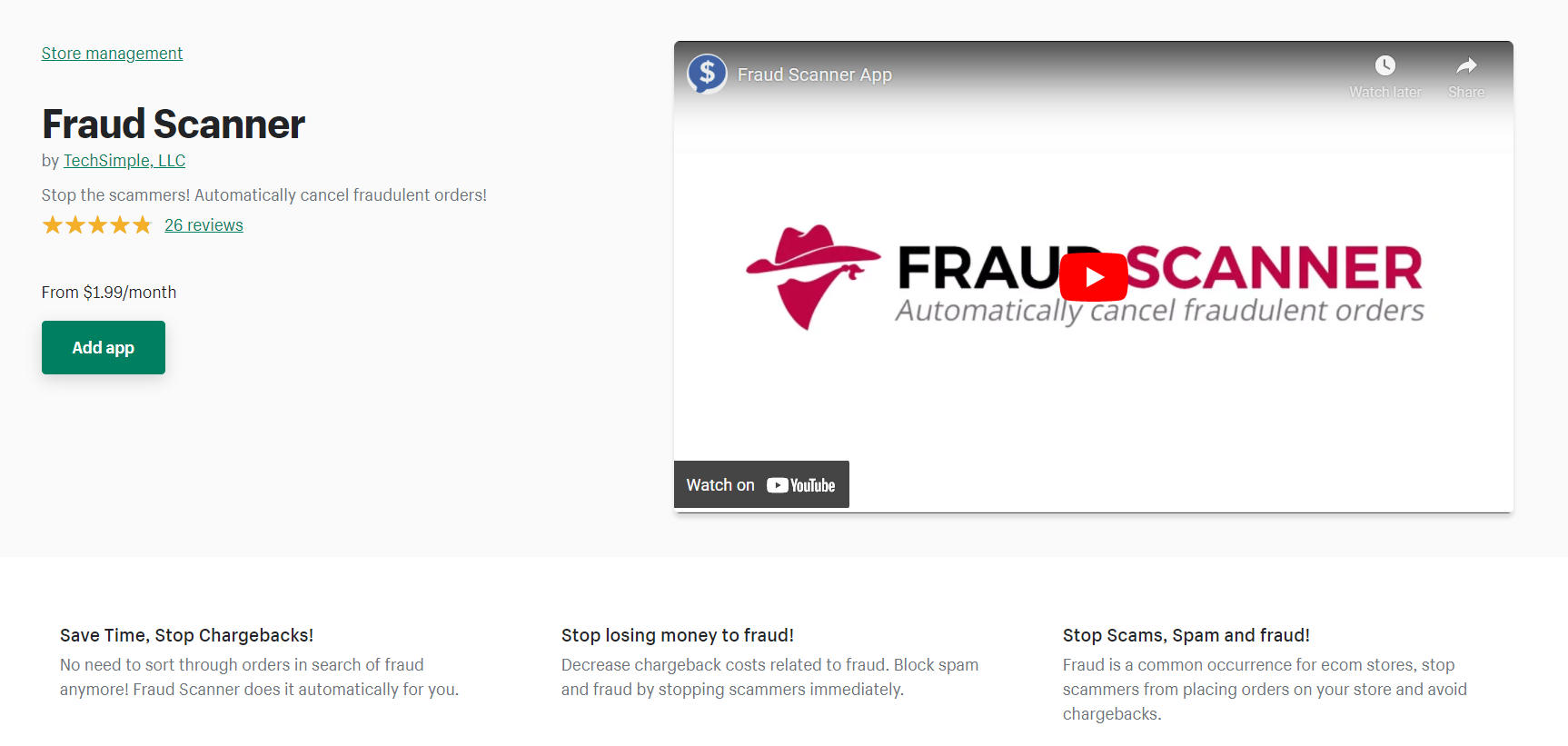 Shopify merchants can consider this great fraud prevention app called Fraud Scanner to help protect their online stores from fraudulent orders. The app works by checking the order against a list of known fraudsters and order details that have been previously flagged as suspicious. Then you can either hold or cancel the orders that failed the verification process.
Wrapping Up!
When you run an eCommerce store, you need to be aware of the potential for fraud. Shopify has a built-in tool to help you identify orders that could be fraudulent, and they offer some tips on how to deal with them. However, if you're looking for more comprehensive protection, you should check out some best Shopify apps to prevent your online store from fraud activities.