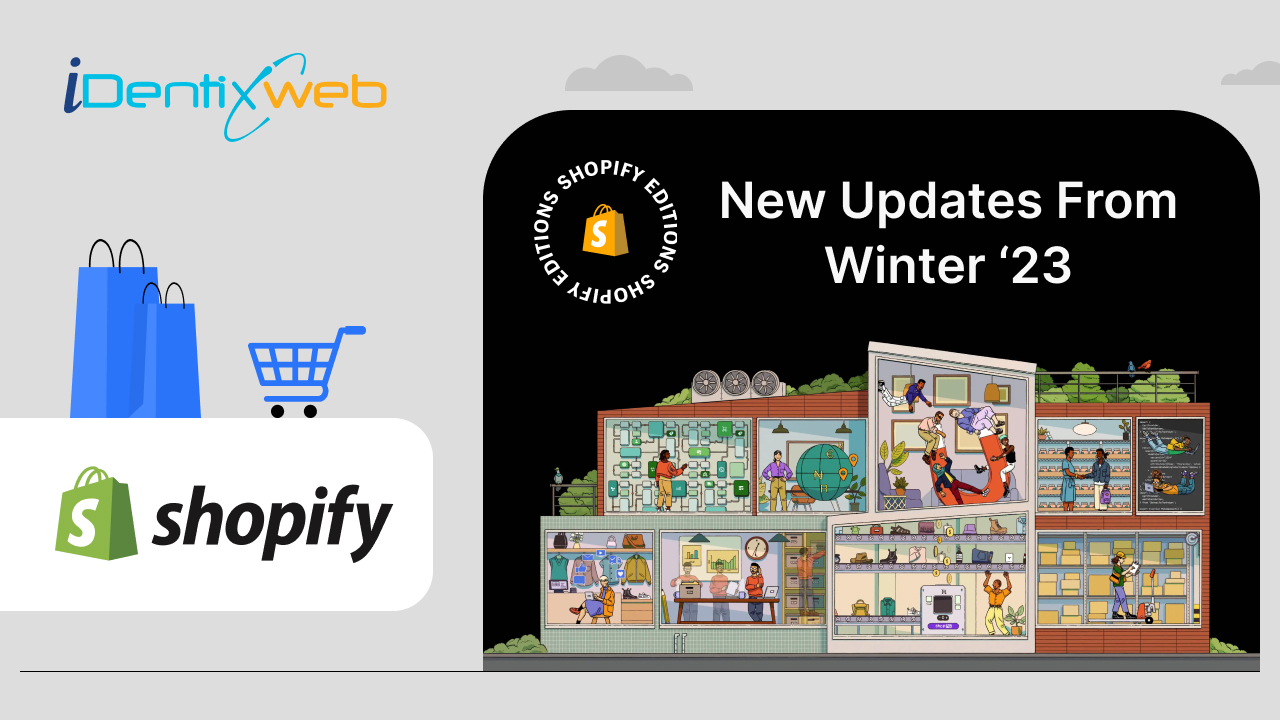 Selling online and in-person always requires a lot of effective ways to get the best profit in return. That's why Shopify Editions come into play. But brands are still facing challenges due to the lack of good tools to manage their store effectively. Because of this they often use multiple tools to get the best features they want to run their store successfully. As a solution to all these challenges, Shopify Winter '23 Edition came up with solutions to help all sizes of Shopify merchants easily manage their stores and do more with Shopify POS.
In this blog, we'll take you through the updates announced in Shopify editions 2023.
1. Boost conversion
From a smooth storefront to streamlined checkout, Shopify has made it easier to convert more customers and improve conversion.
Lightning-fast page loads, everywhere
Now you can give an incredibly fast shopping experience for your customers with Shopify's newly expanded global infrastructure. With 270 points of global presence, businesses are seeing their sites respond twice as fast.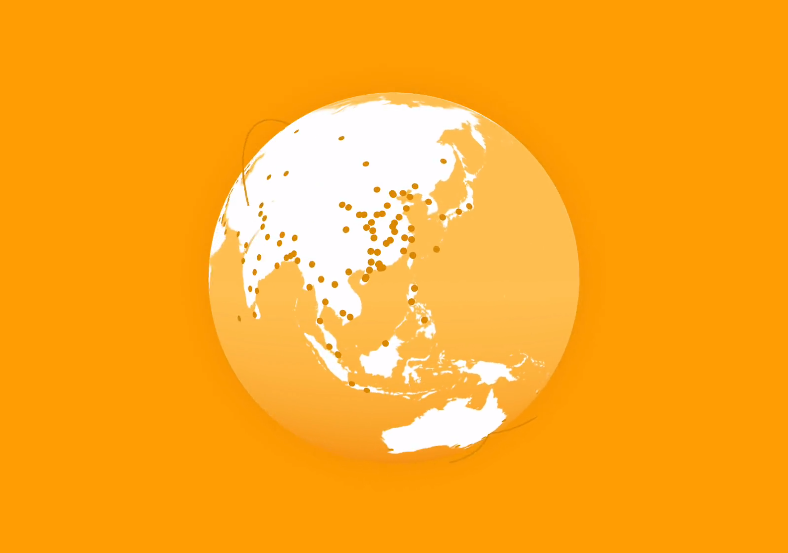 source: Shopify
One-page checkout
This year the checkout page has come with an amazing one-page checkout. This is what really the customer expects and is faster and higher-converting.
source: Shopify
Drag-and-drop checkout editor
With the new checkout editor you can now change the look of your checkout and give your customers a great shopping experience. This checkout editor integrates with Shop Pay.
Build trust with Shop Promise
Gain trust from your customers through fast delivery by installing the Shop channel and adding the Shop Promise badge and displaying delivery rates to your store.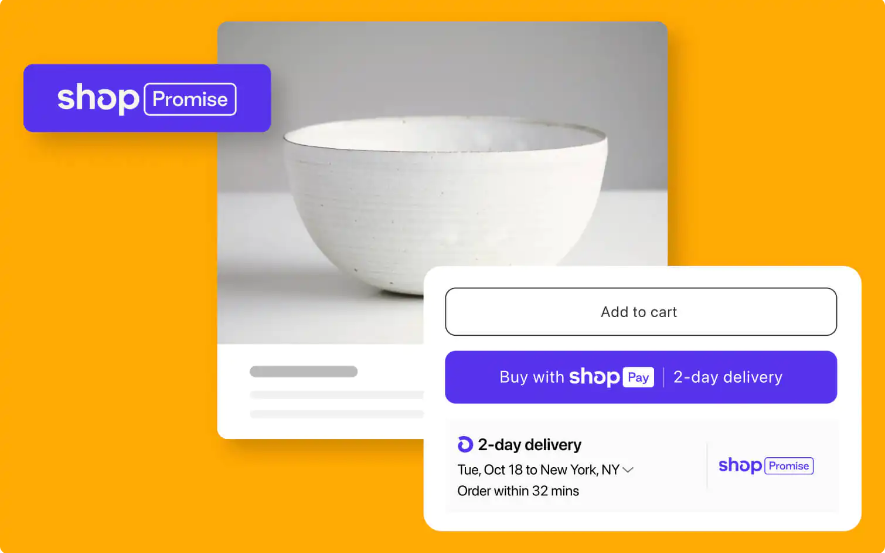 source: Shopify
Signed-in shopping with Shop
Decrease bounce rate and increase conversion by avoiding high-intent users through identify and sign-in option before checkout.
Customize your store with metaobjects
Metaobjects allow you to customize your store such as creating reusable content like a shoppable gallery, product highlights, cart upsells, and more.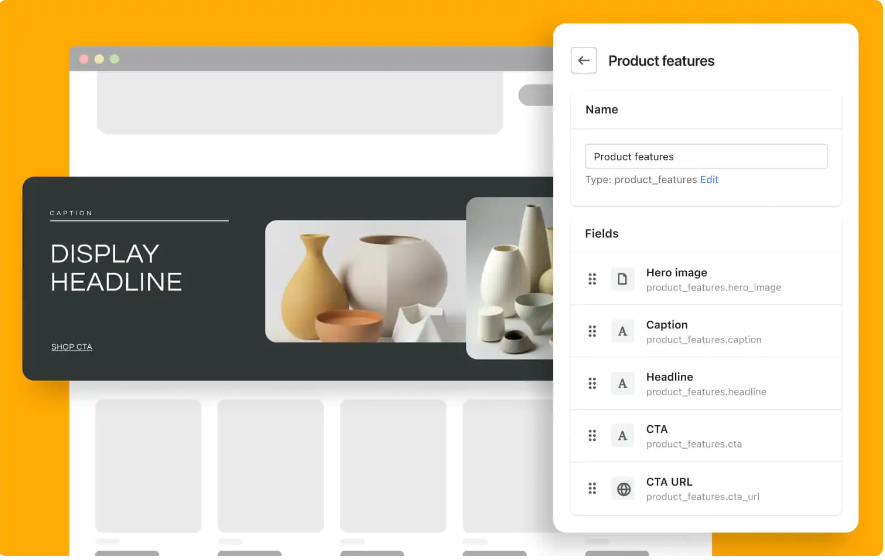 source: Shopify
2. Sell across channels
Sell in person, on social media, or online with sales channels and manage your customers easily even though they may be in several locations.
POS Go: all-in-one mobile selling hardware
With the new mobile point of sale (POS) in-person sellers can stay on top of business.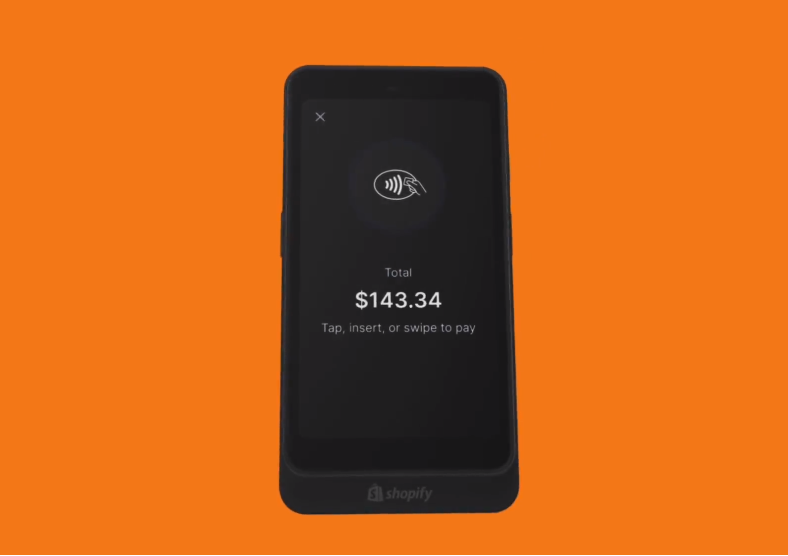 source: Shopify
More Shop app customization
Add new experiences to your store by customizing your product collections, descriptions, best sellers, and branding on your Shop store.
Sync and sell on YouTube
Sync YouTube with your store and start selling your products on it.
3. Go global
With updates to Shopify Markets and the introduction of full stack solution Markets Pro, it's possible to sell internationally.
Translate & Adapt app
Engage more customers by translating customer language and adapt your store content for any market.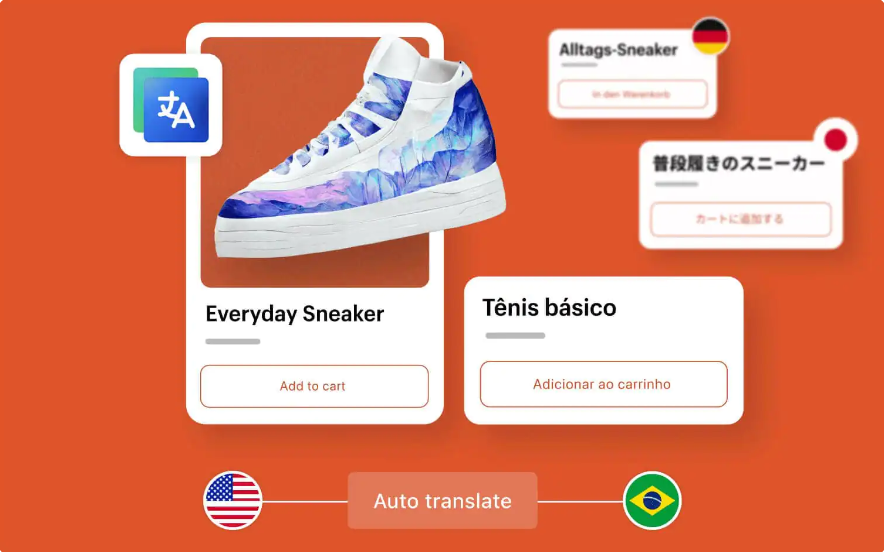 source: Shopify
Introducing Markets Pro
Markets Pro is a complete solution to grow your business globally by offering end-to-end liability management, cost-effective cross-border shipping and fulfillment, and localization tools.
4. Expand with B2B
With dozens of enhancements in B2B on Shopify you can make your business-to-business selling better.
Quantity rules
Set different quantity rules for products and variants for different customers.
Checkout to draft
Increase efficiency by automatically approving customer orders, and streamline your payment processes.
New B2B APIs and compatible apps
B2B APIs allow you to create custom solutions for your wholesale business needs or customize your experience with B2B compatible apps.
5. Find & engage customers
Get the right marketing tools to target, reach and re-engage your valuable customers.
Leverage creator partnerships with Shopify Collabs
Shopify collabs allow you to build authentic relationships with creators, recruit creators and promote your products through them.
Marketing automations for re-engagement
Setup and add new marketing automations to email your customers who have abandoned cart or checkout without buying anything from your store.
6. Fulfill & deliver
Shopify has come up with easy and affordable logistics solutions for your business need.
Logistics that drive conversion
Give faster delivery for your customers and get up to 25% sales.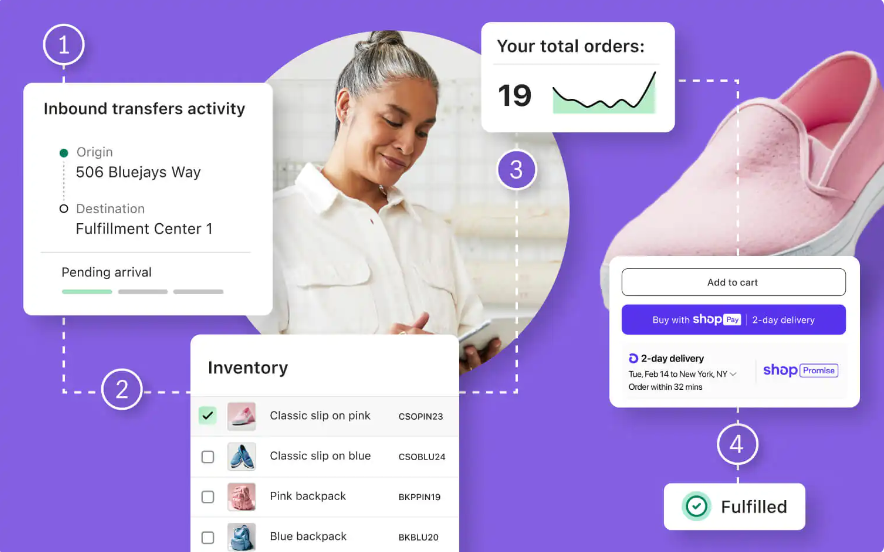 source: Shopify
Smart order routing
You can reduce shipping costs and ship faster by routing orders if you are managing your own locations or partially outsourcing fulfillment.
Enhanced inventory tracking
Improved inventory management by which you can get real-time, accurate view of in-hand and out-of-stock inventory across your locations within Shopify.
Shipping insurance is included
Shipping insurance is available for up to $200 so that you can protect your shipments from damage and loss.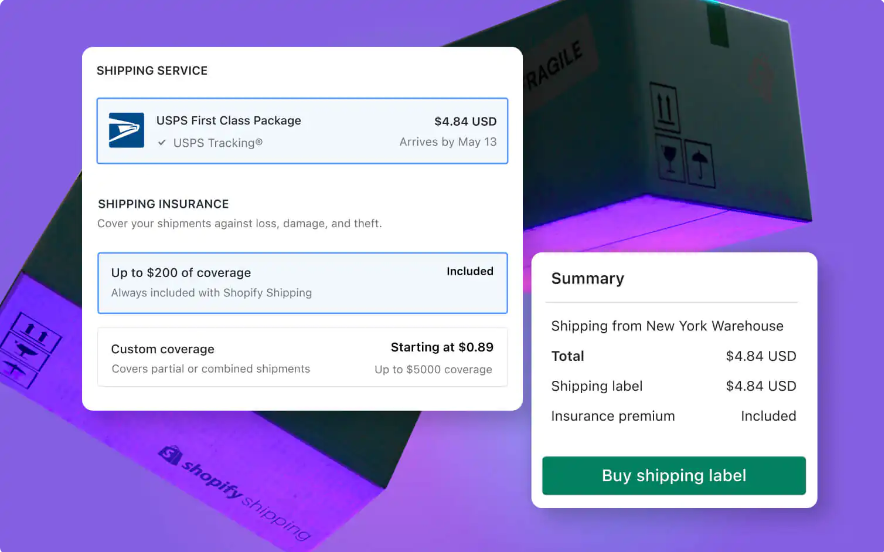 source: Shopify
7. Run your business
With new powerful management tools provided by Shopify you can easily manage your business.
Granular permissions
Shopify introduced 10 new granular permissions, including view-only permissions, so store owners have better control over staff access to products.
ShopifyQL Notebooks
With ShopifyQL Notebooks you can analyze your data and make better business decisions.
Improved reporting for better insights
With the help of new cohort analysis, you can find your most loyal customers and improve customer retention over time.
Shopify Tax
Shopify Tax will help you to stay on top of tax obligations with a state-by-state overview so you can apply the right tax rates at the right time.
8. Build with us
Shopify will allow you to build businesses of all sizes and give you more options to customize commerce.
Hydrogen 2: built on Remix
Hydrogen features allows you to build dynamic and unique storefronts that are faster.
Globally deployed Shopify Cart
Shopify Cart is globally deployed to the edge for faster response times.
Build for millions of buyers with Shop Minis
With Shopify's React Native SDK you can directly build and integrate your experiences into the Shop app.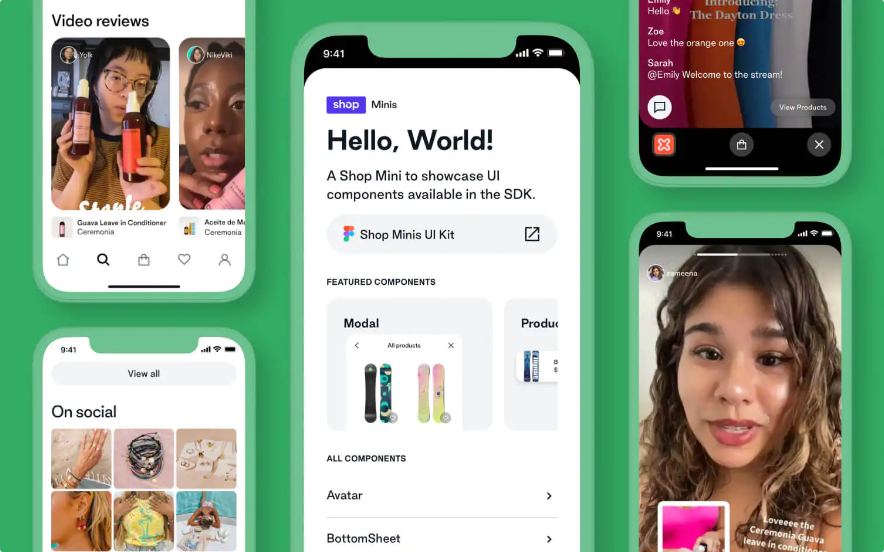 source: Shopify
Extend your checkout
With Shopify Functions and checkout UI extensions, you can change the look and feel of your checkout experience and provide delivery and payment options you need.
Increased API rate limits
Shopify is providing API calls so as to grow the businesses and increase standard Admin API rate limits by 10x for Shopify Plus.
source: Shopify
Make your app shine
With the Built for Shopify program you can grow your app's visibility and improve the growth by satisfying high-quality standards.
source: Shopify
9. Choose your components
Shopify has made the components available to the world's largest retailers.
Introducing Commerce Components
Shopify's Commerce Components allow you to build and integrate your commerce stack, your way.
Wrap up!
These were just the highlights or you can say the preview of new updates, features, and products announced at Shopify Editions, Winter '23. To more in detail visit here.