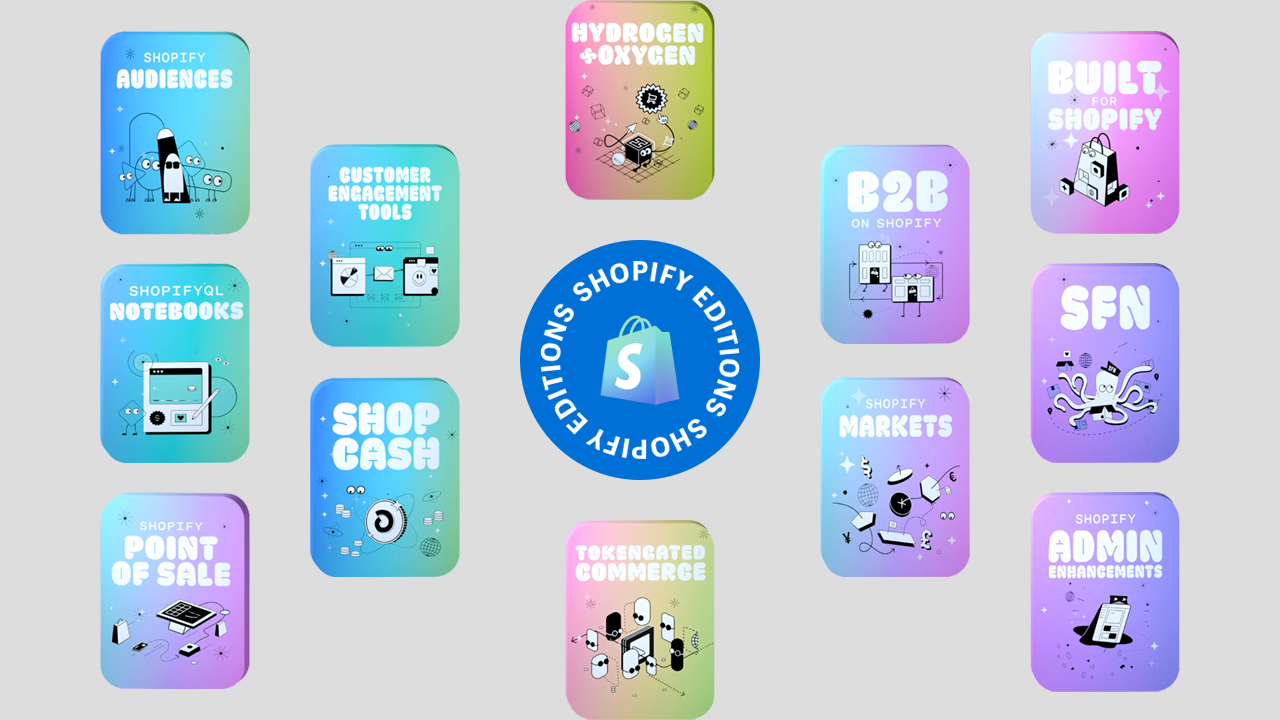 Every year Shopify brings dozens of updates. So this year also Shopify Editions has released a wide range of products and updates for merchants and developers. The Summer 22 release is mainly focused on "Connect To Consumer" or C2C. Let's see the main highlights introduced in the Summer Editions
Find Customers
Shopify has brought many ways to connect with high-value buyers and getting them into your sales funnel.
Shopify Audiences is a new app by Shopify that helps you to find your next best customers who are looking for your products.
For buyers, Shopify will offer millions of dollars in Shop Cash for their Shop Pay purchases. And they can spend that Shop Cash anywhere in the shop.
Twitter's new Shopify app will allow you to sell your products directly on your Twitter profile.
Dovetale is an all-in-one tool for Shopify merchants to gear up your affiliate program and build valuable relationships with creators.
Linkpop is a tool that allows you to create shoppable landing pages on social media. Your customers will be able to see your profile and seamlessly access information from the links as well as buy products using the link they find most interesting.
With Marketplace Kit you can connect your platform to millions of merchants and brands.
Convert Shoppers
Convert visitors into customers by offering converting options everywhere using the world's most trusted checkout.
With B2B on Shopify, you can directly sell to your direct and wholesale customers. You can harness the power of the Shopify platform to run your entire business.
Sell anywhere across different countries where people shop – in person or across any device online.
Shopify Markets simplifies international selling by helping you reach new geographic regions and optimizing your business to drive sales all from one place in your Shopify admin.
With Shop Pay you can give your customers a 4x faster checkout experience.
All Shopify Plus merchants can now customize their checkout by adding loyalty programs, recommended products and many more.
Shop Pay provides flexible built-in buy now pay later options and includes fraud protection in payments.
You can combine different discounts on the same order to win more customers and increase conversions.
Shopify now offers more pre-order options that your buyers will love and drive conversions.
Create Your Story
Create your brand and share your story online with everyone with the new updates.
Built fast, headless storefronts with a React-based framework built by Shopify, for Shopify. Hydrogen gives you the tooling you need to accelerate development. Then deploy with one click on Oxygen.
With Tokengated Commerce, your fans can connect their crypto wallets to your store and unlock personalized benefits with their NFTs.
Online Store: Editor and Theme Updates
Shopify released 8 new free themes and 10 new premium themes providing new and powerful ways to customize and drive conversions.
More powerful metafield types like customers and orders that work across the core aspects of your business.
Easily find customers with customizable search, filters and product recommendations to make your customers find more products.
Build Relationships
Know your best customers and convert them into lifelong customers with outstanding tools.
With ShopifyQL Notebooks you will get easier and faster access to business data. This allows you to write your own story and discover new business opportunities.
Customer Engagement Tools
You can easily build beautiful brand campaigns with Email customization tools. Automate emails and increase customers by creating strong relationships with them.
With Shop's free engagement tools like post purchase offers, personalized product recommendations, and prioritized search you can turn visitors into your long-term customers.
Shopping Made Better on Shop
Build brand loyalty and strengthen customer relationships with the app built for shopping.
Run Your Business
Gain logistics superpowers – discover the hundreds of ways Shopify makes it easier to manage your back office.
Shopify has brought dozens of improvements that enhance how you upload, edit, organize, and set up in Shopify.
Shopify Fulfillment Network
Shopify Fulfillment network helps you to grow your business with its verified 2-day delivery to convert more buyers.
Shop Promise badge allows you to grow your sales showing your commitment to fast and hassle-free returns.
Order and Inventory Management
With Shopify's fulfillment and inventory solutions you can get accurate inventory tracking.
Shopify Shipping Goes Global
As Shopify shipping goes global, merchants in France and the UK can now use Shopify shipping to save time and money on shipping labels.
Supplier to Buyer Logistics
With Flexport, Shopify is building faster delivery, smarter inventory and pre-fulfillment logistics support.
Shopify Flow is an excellent tool for automation, allowing you to create and customize workflows that automate behind the scenes tasks.
Scale and Build
Build on the platform defining the future of commerce.
Built for Shopify is a new program that provides the tooling, functionality, and documentation to build an app that looks and performs like it's part of Shopify.
Shopify functions let developers build apps that customize discounts, shipping, and payment settings and then configure them in the Shopify admin.
You can securely share personal data only when necessary to run your business.
Shopify Balance is an all-in-one money management account that allows you to manage your store's payment transactions in one place.
With Shopify Capital, Shopify merchants can now do quick and hassle-free funding.
Planet – An app from Shopify
Using this app you can make all your deliveries carbon neutral and connect it with your customers.