URL Shortener ‑ SnipIt
Generate short URL with URL Shortener ‑ SnipIt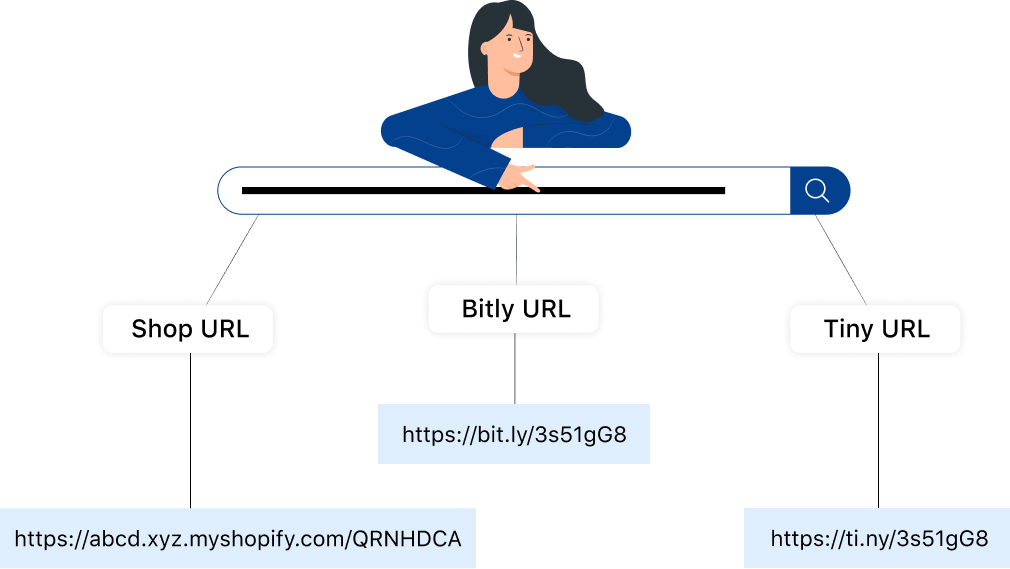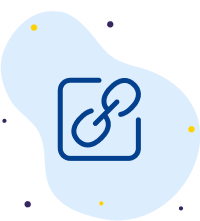 About URL Shortener ‑ SnipIt App
URL Shortener is a perfect app if you are looking to shorten your long URL. Using this Shopify app, you can convert long boring URLs into short cute URLs that you can share on social media or verbally easily. URL Shortener ‑ SnipIt app is helpful for webmasters who are looking to leverage social media. Because this app will help to create a short version of long links.
Apart from this, you can create custom url & short links like shop url, bitly url, tiny url and analytics of each links created by the app.
URL Short Link
Benefits of using URL Shortener ‑ SnipIt App in your store
Easy to use, and results generated within a few seconds
No custom configuration required
Many short link generators in one place like tiny link and bitly link with analysis results
Order and visitor analytics available for result tracking
Live support available after app installation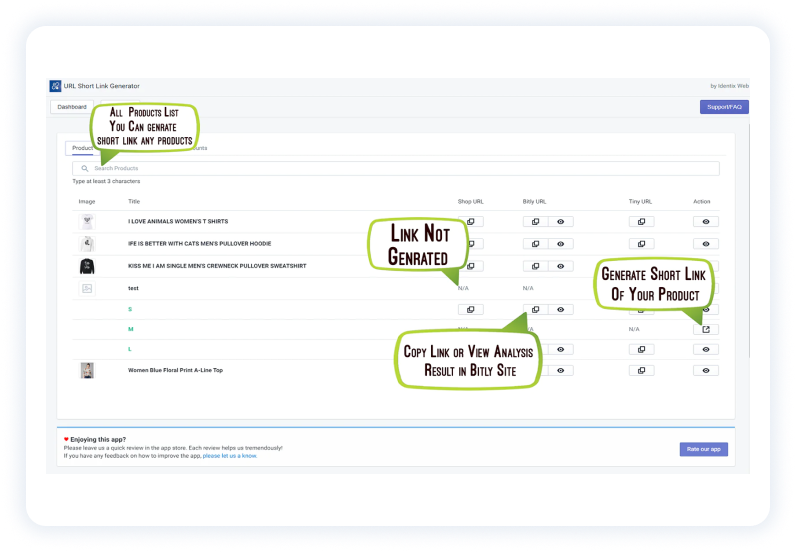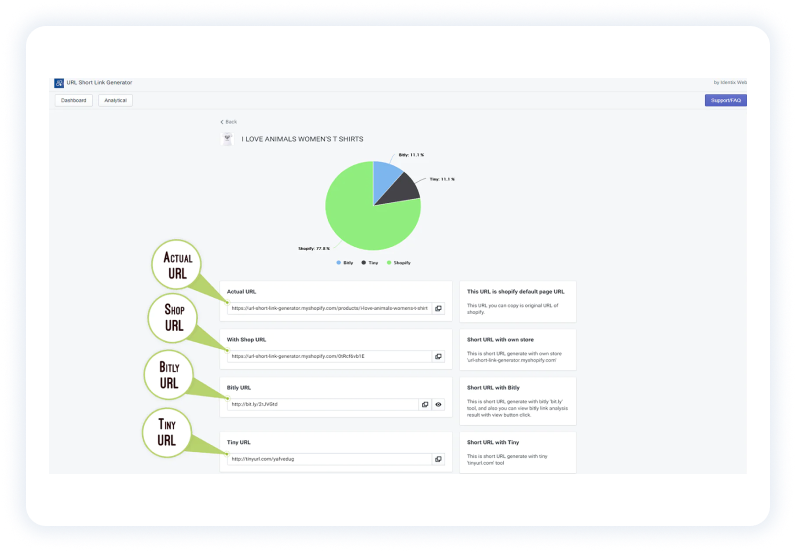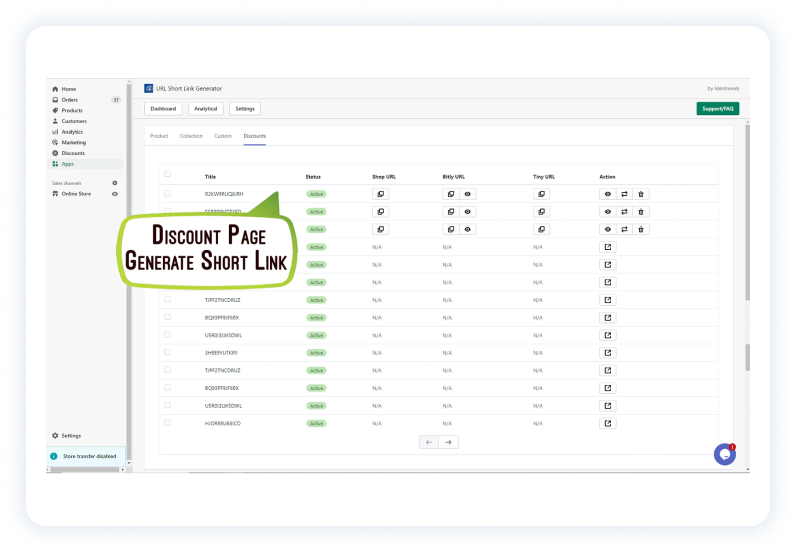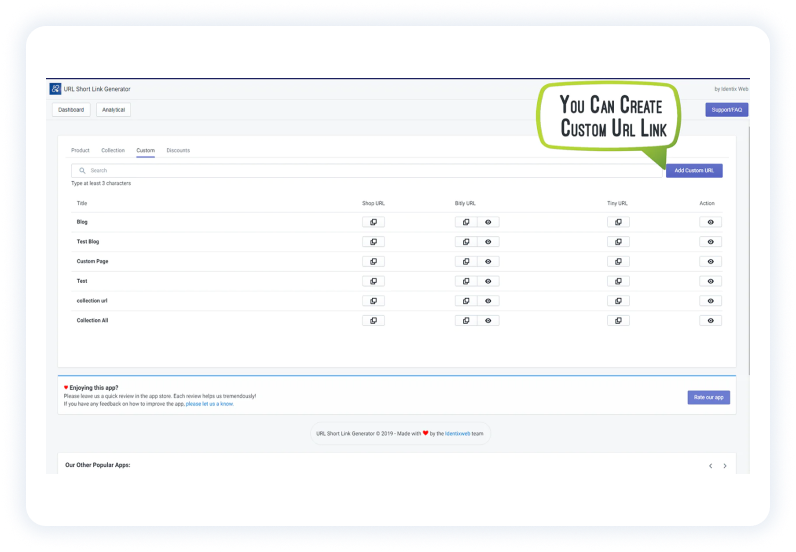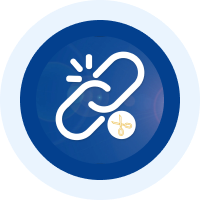 Main features of the app
Create custom URLs so that users can identify your store and redirect them.
Analyze daily reports of the short links that you have generated.
URL Shortener is faster than other shorteners because it is ads-free.
You can change the short URLs with products, product variants, and collections.
Keep all your short links in one place so that you can easily sort them.
Explore our helpdesk to know how the URL Shortener works in detail.
Pricing
BASIC PLAN
Free
Unlimited link generate
Short link with Bitly & Tiny
PREMIUM PLAN
$1.99/month
All Basic Plan Features
Generate link with Own store URL
Analytics in Details
You will get all new updates automatic
All charges are billed in USD. Recurring and usage-based charges are billed every 30 days.
Reviews from Shopify Merchants
The feedback we get from our merchant that makes us more inspired to move forward and offer them the best featured apps.
Chaina
Nice, this is the app I have looked for. It can save me much money every month. very good…………
– JC Design
Cyprus
Great app, is easy once I spoke to support, it was very easy… easy to use and a very helpful app
– BIO Sculpture Cyprus Online Store
India
Support is good and got my doubts cleared in minutes. Do use it if need a short link also Shopify support recommended it.
– The Chi Kart
China
5 star review, this app is awesome, from now on my link is no longer too long
– CherTon Jewellery
United States
I received personalized attention and help in order to learn how to use the app properly. I very much recommend this product!
– VeggyDog