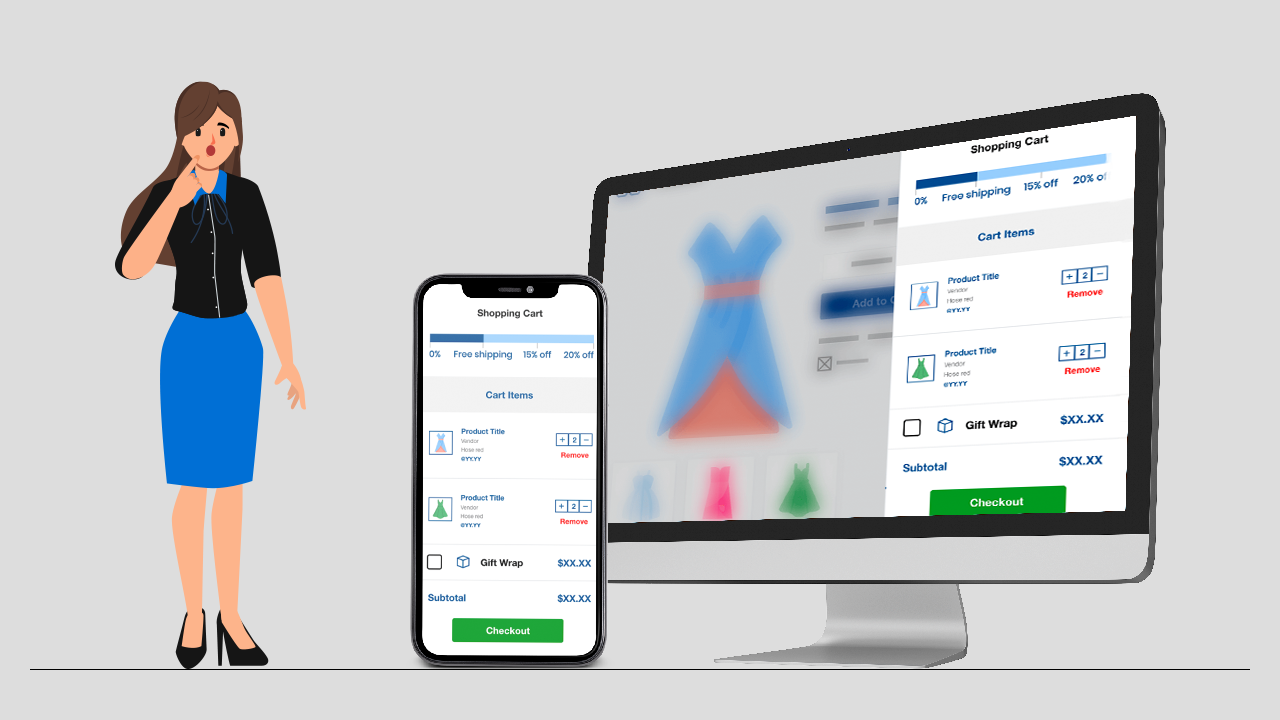 A higher conversion rate in e-commerce is directly linked to a smooth check-out experience. The easier you make the check-out process for customers, the more ROI you begin to see from your store. In this billion-dollar-a-year industry, you do not want your website to have a tedious and long check-out process and lose out on potential revenue. This is where a tool called 'Sticky Cart' or 'Cart Drawer' helps you out by which you can offer quick and smooth checkout for your customers.
What is a sticky cart/cart drawer?
A sticky cart is also known as the floating cart will be always visible on the top of the page. Even when you scroll down the page the sticky add to cart will be there which makes it easy for a customer to quickly add a product to the cart and have a direct checkout. Store owners can enable or disable the sticky side cart feature at any time and place it where they want.
A cart drawer or a side cart is a good replacement for your cart page because every time customers don't need to go on the cart page to see all the details of the cart. A side cart makes it easier for your customers to complete the purchase with one click instant checkout which will automatically increase the conversion rate of your store. By giving an enhanced customer experience you can reduce the cart abandonment rate of your store.
Benefits of using a sticky side cart or cart drawer in your store
Cart will be always visible
When you add a sticky cart to your store then it will be always visible on the page even when your customers scroll down the page by which they can easily access the cart instead of scrolling back up every time.
Display brief product details
Having a sticky add to cart button on your store will help you to display brief product details like name, price, image, quantity, etc. So that your customers can see all the important details from the sticky side cart itself. This can actually make it easy for your customers and give them a speedy checkout.
Reduce cart abandonment
There are many reasons behind cart abandonment and one of them is the lack of a sticky add to cart. Having a sticky add to cart on your store will attract customers to your store and make their purchases from your store.
Yes, so if you want to stand out from your competitors your store must be perfect than them and it should be enhancing the customer experience too. So to make your store stand out from the crowd here are 2 Shopify apps for you called iCart Cart Drawer Cart Upsell and Order Delivery Date.
Half of you might be already users of this app. So as per many of your suggestions we have integrated iCart and Order Delivery Date.
So now Order Delivery Date and iCart is integrated which you can see from the screenshot below. Go to your installed Order Delivery Date app from your store and click on the integration button then you can see the page like below.
If you have installed both apps then you can use iCart's side cart and upsell options with Order Delivery Date's order management system that allows your customers to choose the delivery date and time.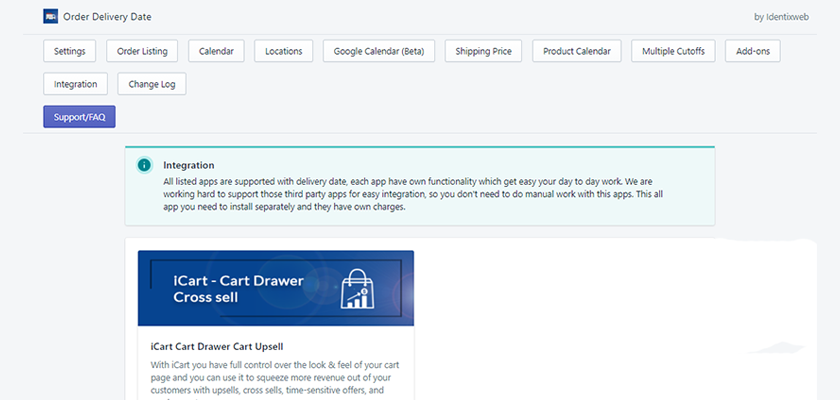 If you have already installed iCart in your store then you can view the demo as shown in the screenshot below.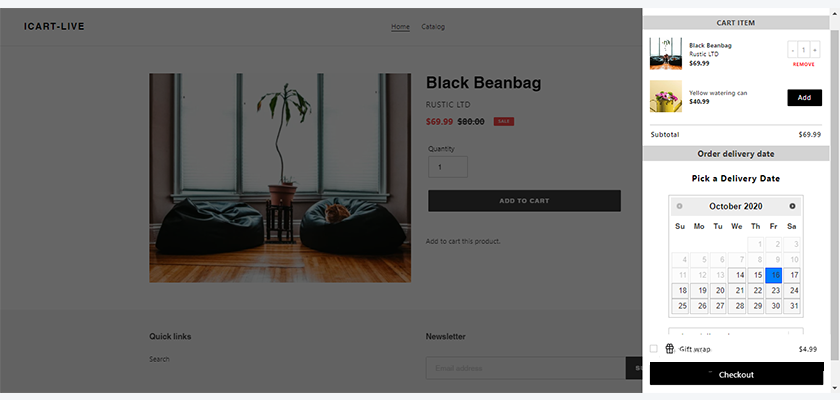 As shown above, your customers can choose the desired date and time on which they get their orders delivered from the side cart. This integration can double up your sales now more than ever as both the best and outstanding features are together used in store.
And if you want to add the Order Delivery section or delete it from the side cart then follow the below instructions:
From your store open your installed iCart app and click on the Customize button. After clicking under the widgets you can see the "Add section" option as shown in the screenshot below.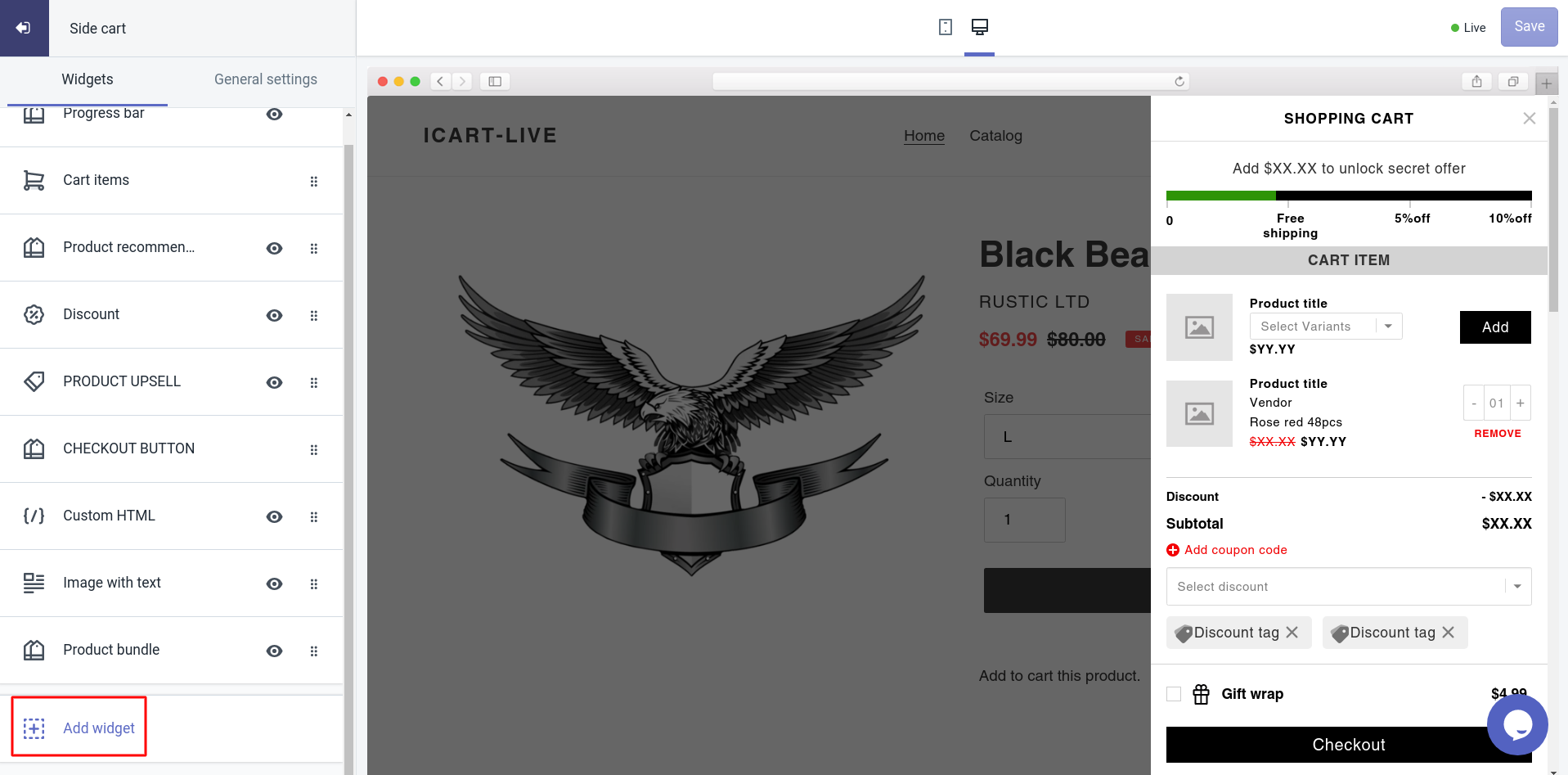 Click on the "Add" button to add the Order Delivery Date in the side cart.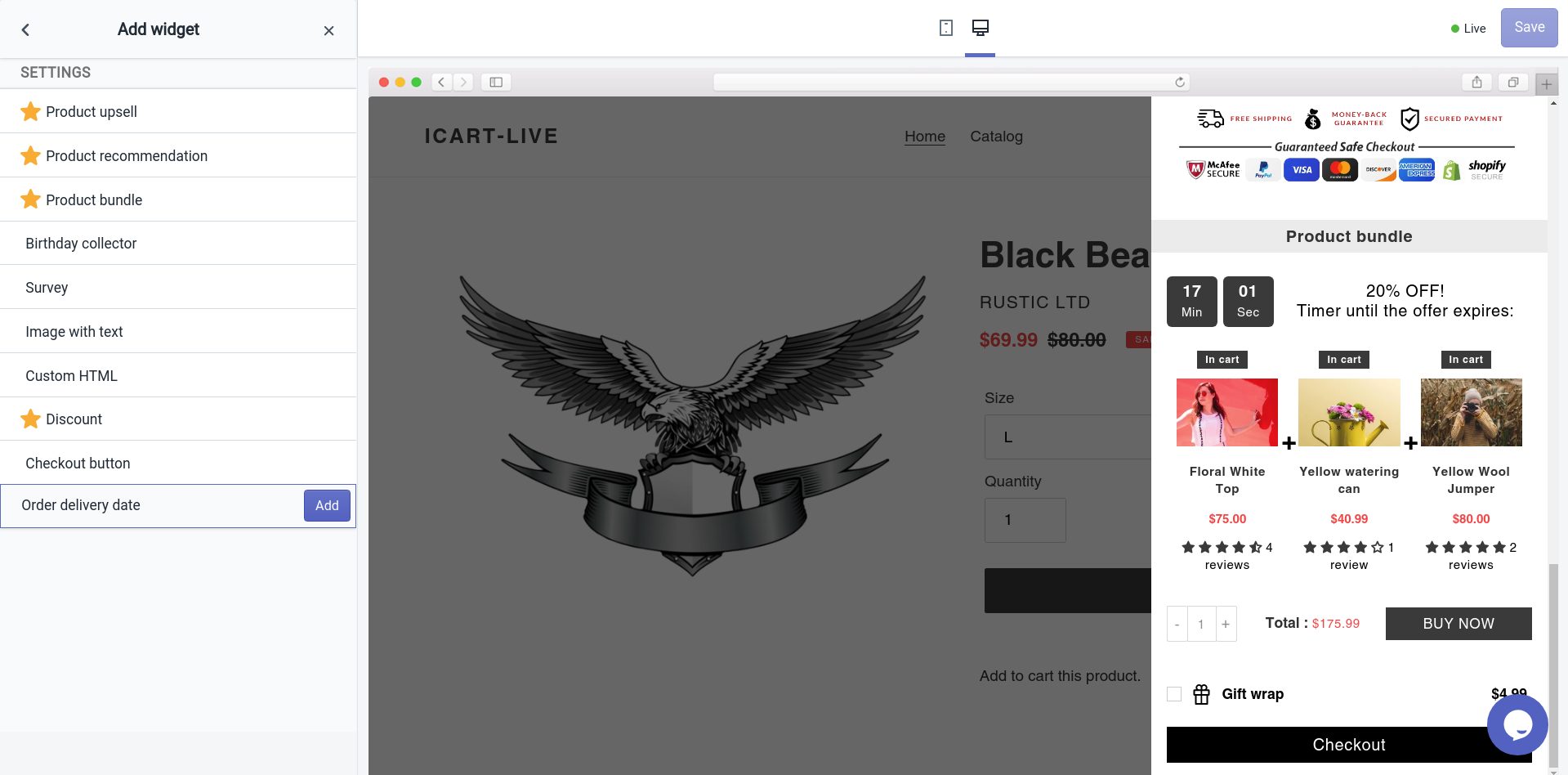 So now your customers can access the order delivery date and time from the side cart and they can choose the delivery date and time. And if you want to delete the section of order delivery date and time then you can do it by clicking on the delete section button as shown in the screenshot below.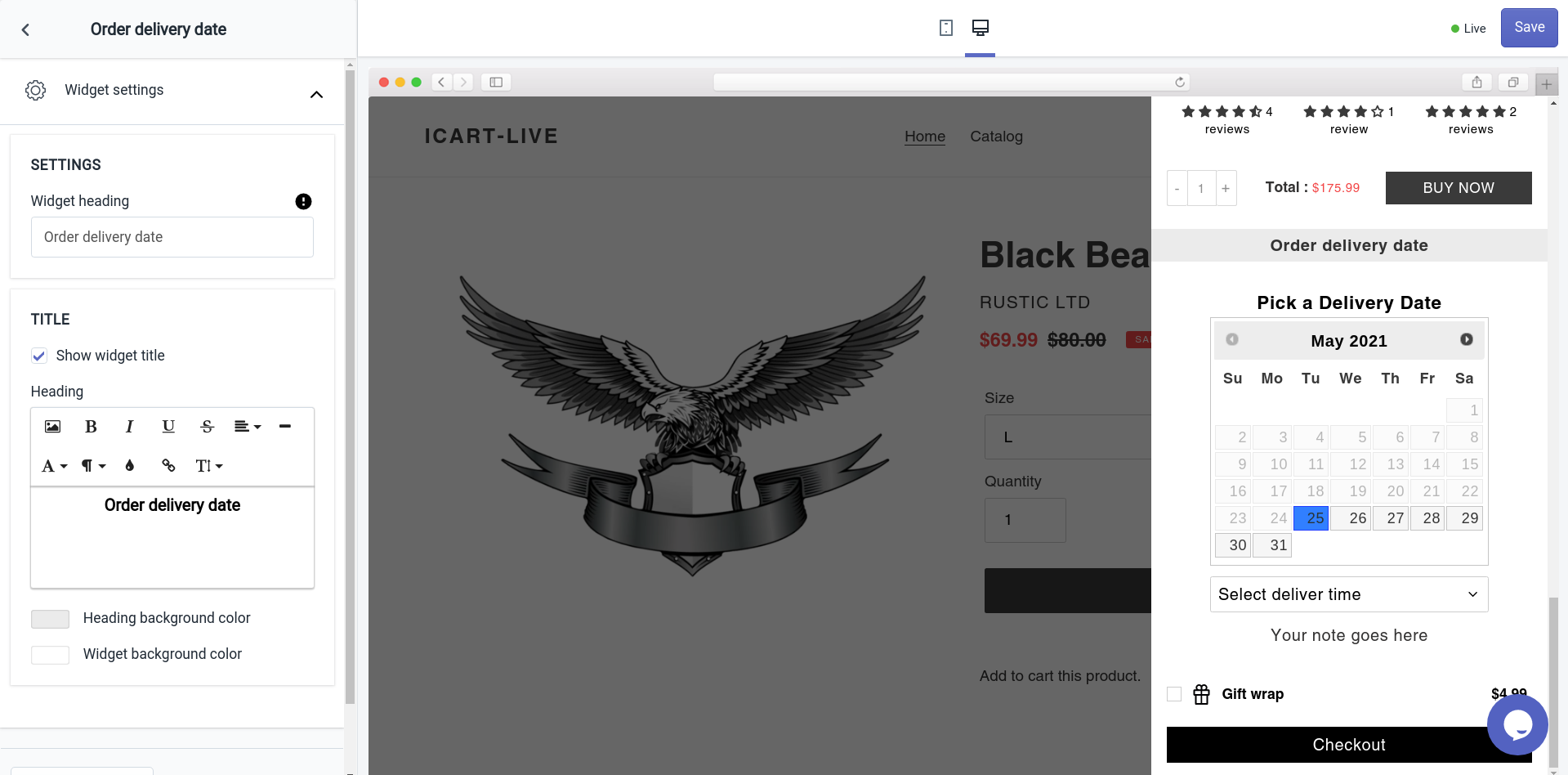 So if you want to boost your sales and reduce the cart abandonment of your store then implement the sticky cart in your store and enhance the customer's shopping experience by giving them a simple and rapid checkout.