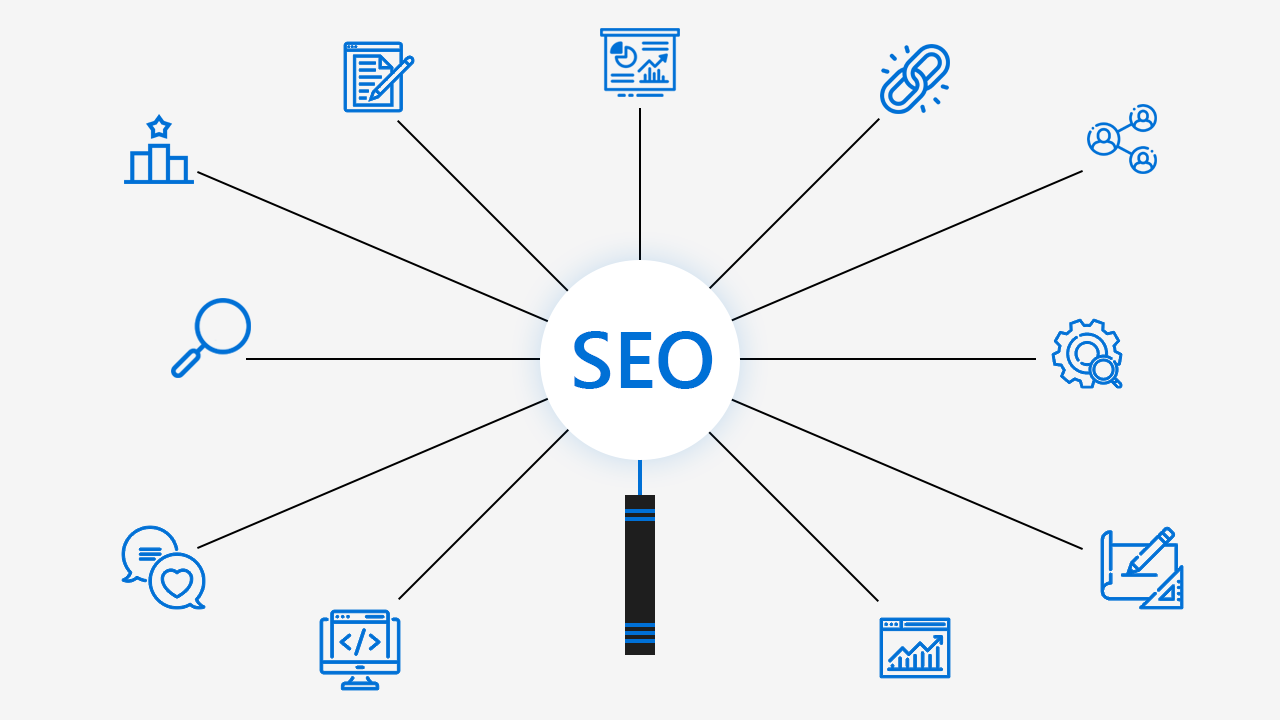 The ultimate goal of any website owner is to have organic traffic on their website. But when you have an e-commerce website, you need traffic that converts into your customers. The only way is to make sure whether your website is SEO optimized so that your audience can find you in their search results. In this article, you will learn how to improve SEO in your Shopify store manually and by using the best apps in Shopify for SEO.
Shopify For SEO
Merchants usually prefer organic visitors to their online store because they are more likely to purchase with you. Therefore, Shopify offers many built-in features for SEO optimization in the Shopify stores. Using these SEO tools you can increase your Shopify store ranking in the search engine results, and gain more organic traffic.
Let's see the best SEO techniques to improve website ranking:
Keyword Focused Titles and Content
Engaging and Relevant Meta Description
Alt Tags for Images
Well-Structured Site
Writing Blog Posts
Creating Backlinks
Usage of Headings
Rich Snippets
Improve Shopify Website SEO Without Using Apps
Here we will discuss how Shopify merchants can increase their store ranking using the built-in SEO features in Shopify. Let's improve the SEO manually from the Shopify Store Admin.
Using Right Keywords to Title and Description
Right keywords in the product title and description can help your potential customers find your products easily on the Google search results. Therefore, you should research the best keywords for your product and add them to the title and description of the products, collections, and other pages.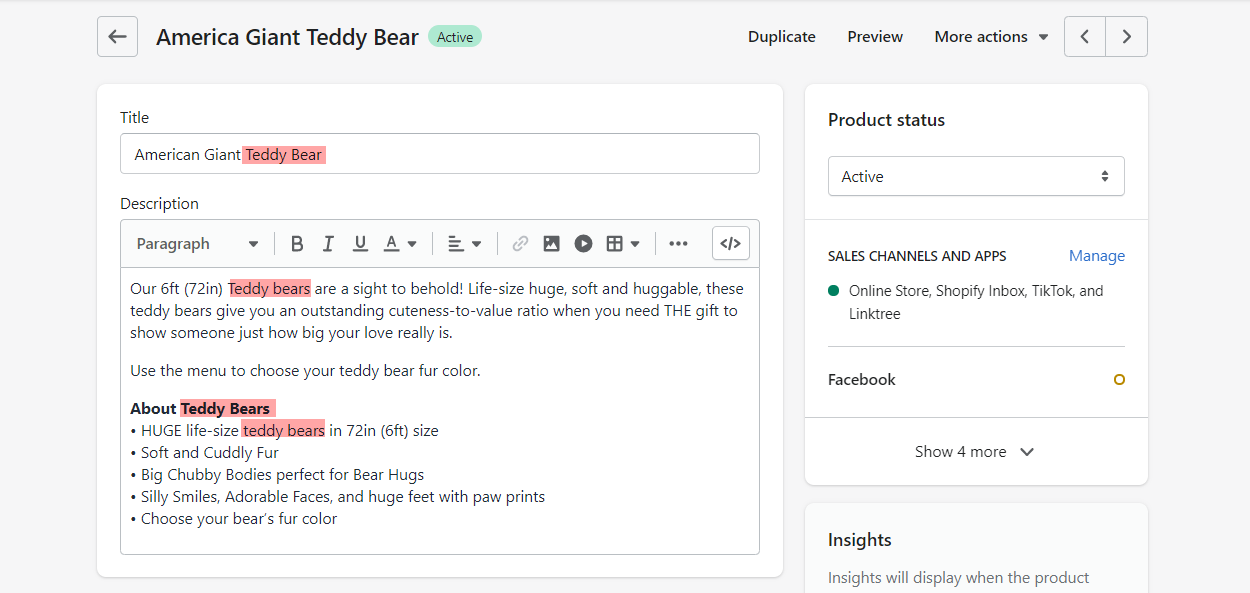 Adding Meta Description to All The Pages
Have you noticed the small descriptions under the webpage titles in the Google search results? It's known as Meta Description. It generally tells about your page content and helps the users to find the best result.
When then the meta description is not specified on the page, Google auto-generates it from your page content. But, by adding an engaging and relevant meta description of your own you can invite the users by showing what they are searching for.
Thus, you should take the benefits adding of meta descriptions in the product page, collections, blog posts, and wherever you find this option shown below: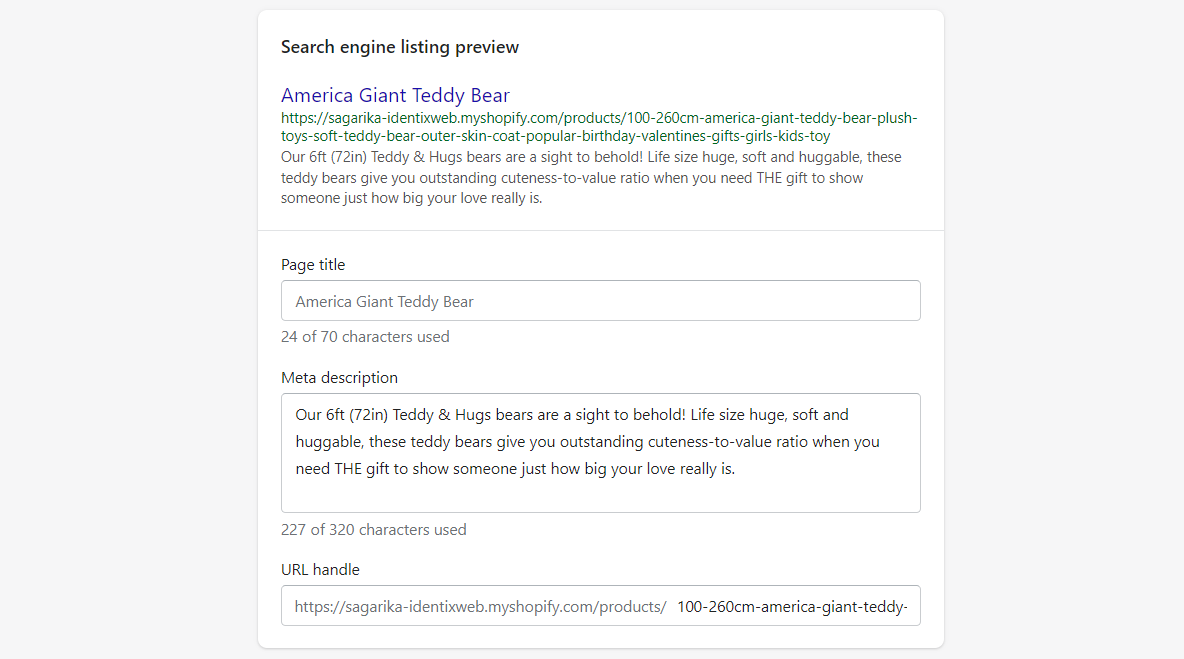 Adding Alternate Text to Every Image
The image alternate (alt) text helps Google to understand the image and what the webpage is about. Therefore, make sure you add alt text to all the images you are using in your Shopify store for products, collections, banners, etc.
To find all the images in one place, go to Settings > Files. Then, choose the file type as 'Image'. Here you can add alt text by simply clicking on the image.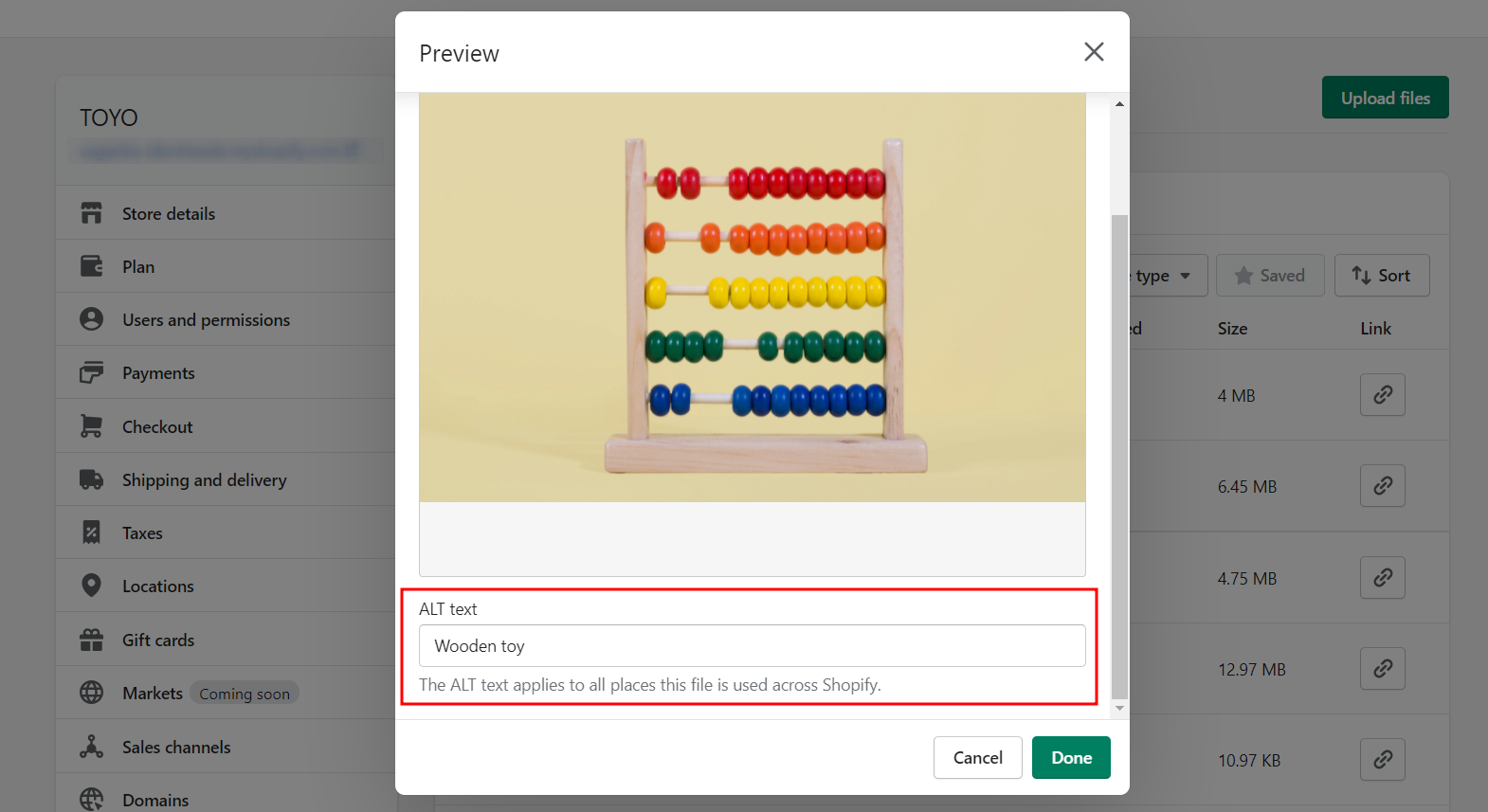 Optimizing your Site Structure
Google considers the website to be good which is easy to navigate. Therefore, you need to improve your store structure for the search engines. And in Shopify, you can do it by:
Optimizing your Shopify store navigation
Using descriptive image file names
Using descriptive text for internal links
Adding Blog Posts to your Store
More content, more traffic! Quality content in your website enhances the overall site ranking and takes the audience to your store. And by adding blogs to your Shopify store you can add lots of quality content to your store.
This is how you can perform e-commerce SEO manually. If you want to add advanced SEO features to your store, you can take the help of the Shopify SEO Apps listed below.
Best Shopify Apps For SEO in 2023
Here are some of the best Shopify SEO apps you can add to your online store and make your website SEO-ready.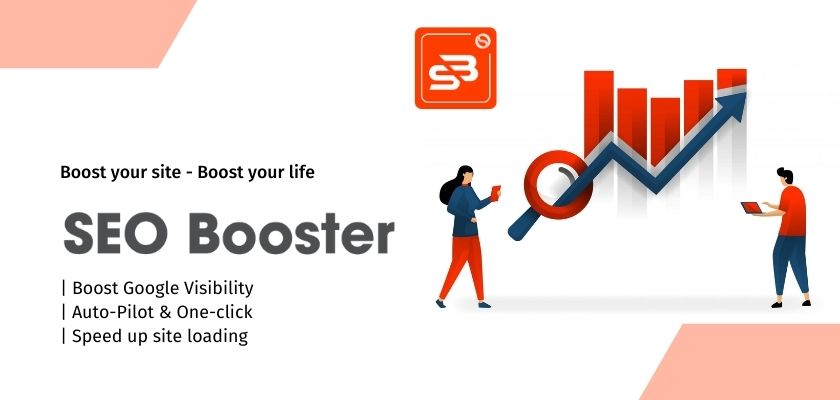 SEO Booster – SEO Marketing is a one-size-fits-all SEO app – A must-have app for quickly preparing your site for Google SEO. SEO is a dependable, now and tomorrow marketing solution for all businesses, but it is especially important for every Shopify store.
All of your competitors are SEO-ready to make it easy for their customers to find them on Google search. Don't let yourself fall behind in the Google SEO ranking race! Allow SEO Booster to assist your website in being found on Google, increasing its visibility on a daily basis, and gaining more organic customer traffic.
All SEO features, from beginner to advanced, are frequently updated at no extra cost. There is no need for SEO technical knowledge, and no personal information is gathered. Let's see the awesome features of SEO Booster:
1. Increase your website's visibility on Google.
Enhance the meta titles and descriptions that appear on Google Search pages.
Increase the visibility of your product images on Google Image Search.
With JSON-LD, you can have your product rating, price, and stock amount displayed directly on Google Search.
Auto-remove SEO negative factors such as broken links, long URLs, and duplicate content…
Verify and have Google index your website store so that it appears on search result pages.
Master your SEO keywords with suggestions based on the most recent data.
With AMP, you can be prioritized to rank higher in Google bots and improve your customers' mobile experience.
2. Complete SEO tasks more quickly and efficiently.
Have an easy-to-use app interface with a comprehensive guide.
Ignore SEO jargon because everything is crystal clear.
With Auto features, you can automatically resolve SEO and Google issues.
Via the live chat channel, you can get quick and friendly assistance.
Enjoy having all SEO customization requests handled by an experienced expert team, giving you more SEO power in a seamless and effortless manner.
3. Determine your website's SEO health.
Integrate genuine Google Tools to track your website on a daily basis.
With Website Diagnosis, you can learn about the SEO status of your own site as well as the sites of your competitors.
Extensive SEO reports provide you with up-to-date information about the health of your website.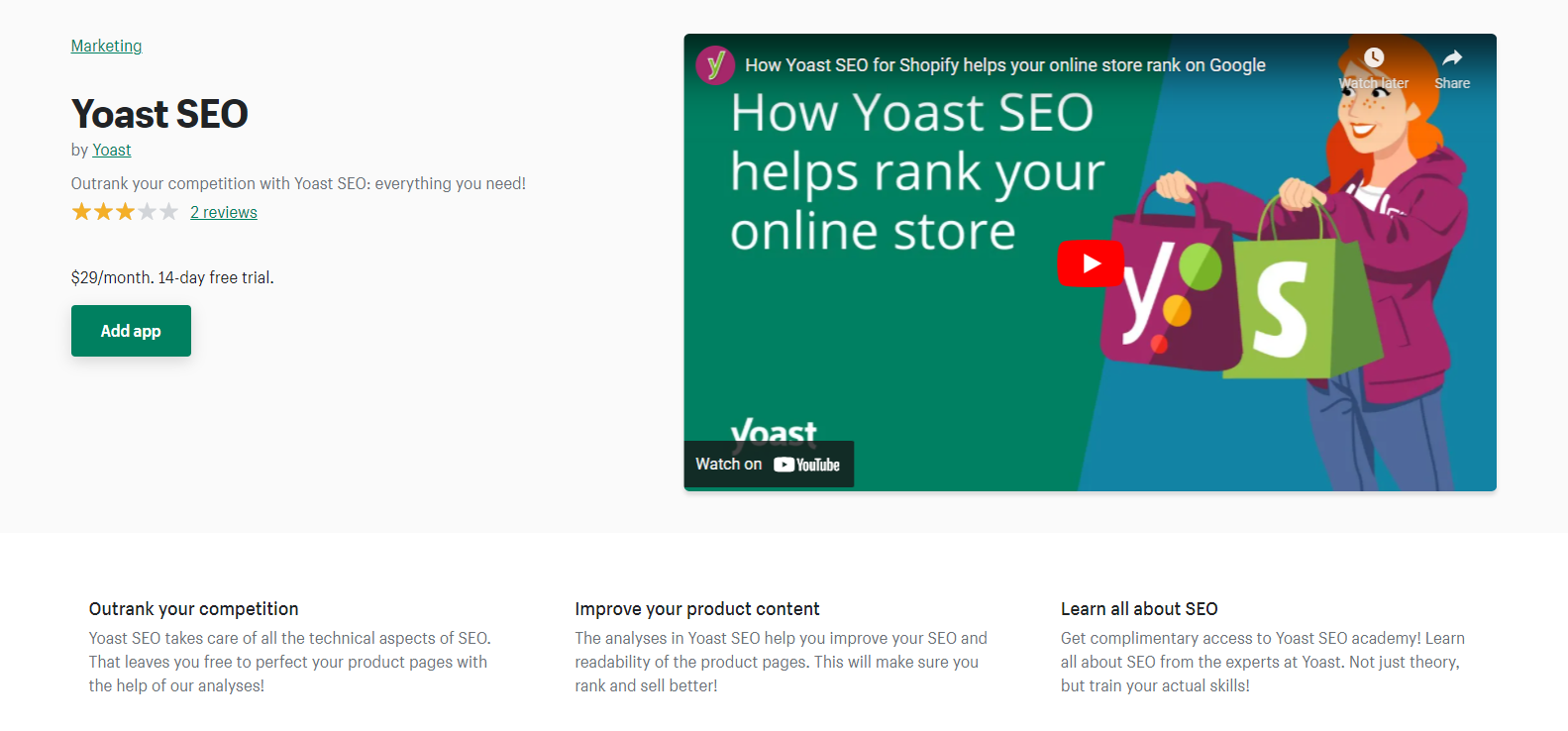 Recently add to Shopify App Store, Yoast SEO is one of the popular tools for improving website SEO. When you install this Shopify SEO app in your store, it automatically adds structured data to your site, which helps Google to understand your store. With Yoast SEO, you can make your product pages look great in the search results.
The Yoast SEO Shopify app also helps you optimize your content for search engines with readability analysis and SEO analysis of your store content.
Key Features:
Edit your SEO title, slug, and meta description.
Get real-time feedback.
Set defaults for your search results appearance.
Get indication for SEO optimization.
Optimize your content for search engines.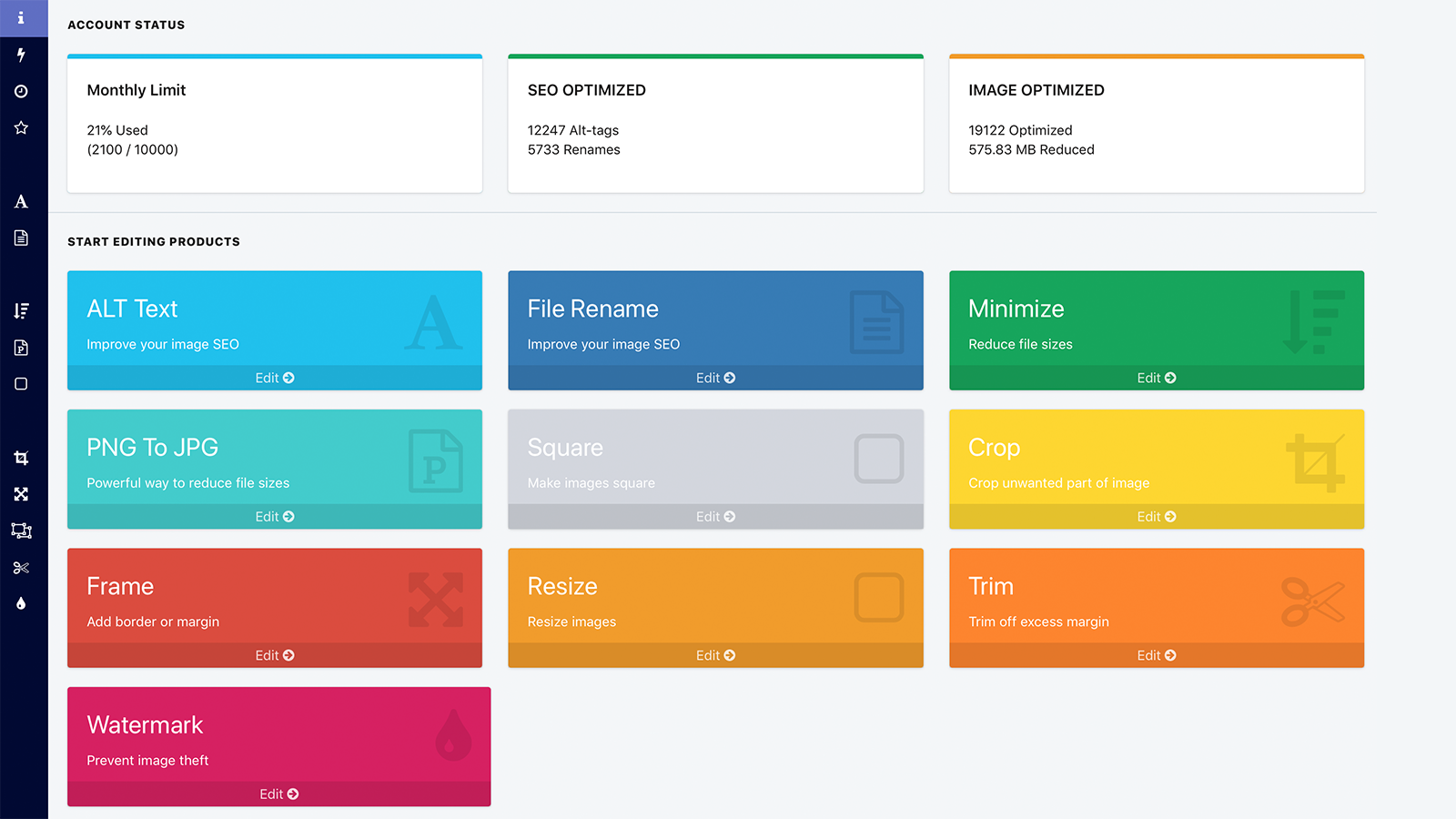 The Bulk Image Edit app helps you improve your store ranking by optimizing images, alt text, and file names. Bulk Image Edit not only optimizes SEO, but also makes your products look professional, and generate more sales.
Bulky images can be responsible for the slow loading speed of your website. Therefore, you can use this Shopify SEO app that offers bulk square, resize, or crop images to fit any platform.
Key Features:
Bulk image alt text and file name update with customizable templates.
Set and forget, automatically update all newly added images.
Minimize Product or Theme Asset image file sizes without image quality loss.
Resize all product images to square shape, the most popular image shape.
Add text or image-based watermarks to protect your product images from being stolen by competitors.
Preview the products that will be edited before creating a task.
Review the images that have been edited with our well-structured logs.
Option to revert/undo any changes that have been made.
AVADA SEO is a comprehensive tool that helps with SEO optimization that you can mostly do without much technical expertise. This app helps you with images optimization, website verifications, Google structured data requirement, and many more.
Key Features:
Improve website loading speed, store ranking, and conversion
Faster Google index of websites images, content
Google structured data
Standardized meta tags
Integrate with Google Search Console
Plug In SEO is a simple and easy-to-use app that will help you identify any SEO problems on your Shopify store. With this Shopify SEO app, you can also testify to it being a user-friendly app.
It's a set of SEO enhancements out-of-the-box and tools for you to manage your SEO effectively.
Key Features:
Works with built-in Shopify SEO features.
SEO check and instructions for products, collections, pages, blogs.
Keywords check and instructions for products, collections, pages, blogs.
Latest JSON-LD structured data added automatically.
Respects the SEO already set up in your Shopify admin.
Powerful title and meta description templating.
Title and meta description editing for every page on your store.
Compatible with all of your apps or we'll fix it for no charge.
Image ALT text template set up.
Broken links checker and fix directions.
Wrapping Up!
Hope this guide helped you know how to improve your store ranking.
Making your Shopify store SEO-ready is very essential to generate high revenue. I would love to know how are you doing it. Please share the SEO techniques that helped your store.