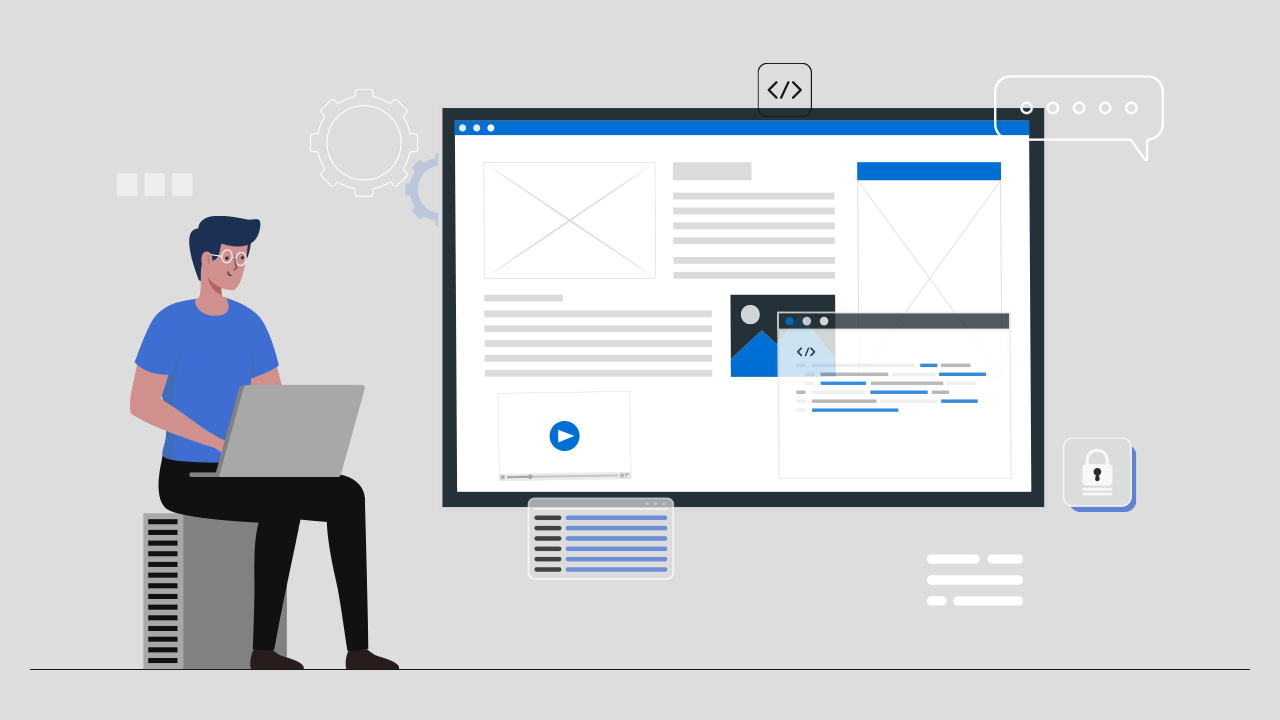 Are you struggling to line up your website posts in perfect stacks?
The fact is, if you have a regular publishing blog, it can be really difficult to display the posts in the right way. But, we know how crucial it is to have well-organized and convenient navigation of website posts to ensure a seamless user experience and delight your visitors.
And, when it comes to customizing your website's post grid plugin works best to make your posts look elegant as well as professional.
That is exactly why we have come up with our handpicked list of best post grid plugin wordpress. These plugins will help you add stunning post grid layouts to your website without any sort of hassle.
So, without any further ado, let's dive into it.
10 Best Post Grid Plugin WordPress
A post grid is simply a layout template that helps you organize your posts into rows and columns.
While rows can be used to display content in descending order, columns can be used to display content in ascending order. This allows you to easily display all of your posts beautifully at once without requiring your users to scroll through them one by one.
Now that we've explained what a post grid is, let's take a look at some of the best post grid plugin wordpress available.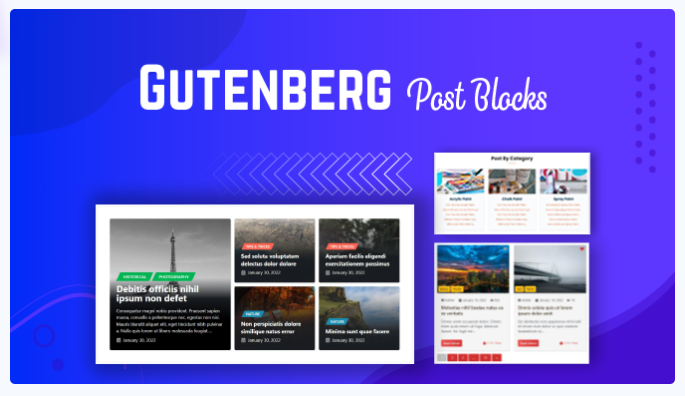 If you are looking for a post grid plugin that is both powerful and easy to use, then the FancyPost Gutenberg block plugin is the right option for you. This versatile plugin offers greater customization options, more advanced features, and the ability to create custom post types as well.
Whether you are looking for creating a blog listing, post group, post trisect, slider, or carousel, the FancyPost Gutenberg block plugin has got you covered.
What's more?
You'll be able to choose from 5 different types of blocks that come with many pre-made dynamic content views on each one.

The ease of creating a wide range of post grids on your website is one of the main reasons why you should use FancyPost. Every grid of this plugin is highly optimized and mobile responsive, so it looks just as stunning on any mobile screen as it does on the big screens.
There is no more pain in creating beautiful WordPress post grids when you have the FancyPost plugin. No coding is required, simply a few mouse clicks to customize the settings, and your post grids will be ready to display.
Features Of FancyPost
● Beautifully crafted ready-made 6 grid layouts (list, slider up, overlay, etc.) for posts and pages.
● Each grid layout is responsive to both desktop and mobile devices.
● Add pagination with on-page loading.
● Allows show/hide content visibilities like thumbnail, title, author name, date, taxonomy, excerpt, button of posts, etc.
● Select Ascending or descending post order.
The best part is that this fully functional plugin has both free and paid versions.
Fortunately, currently, they are offering a 50% discount on all their paid packages. However, the paid version of FancyPost is now available at the following prices-
➔ Personal (1 Site) – $19.99
➔ Business (5 Site) – $74.99
➔ Agency (Unlimited Site) – $149.99
If you want, you can see the live demo here.
2. PostX Gutenberg Post Blocks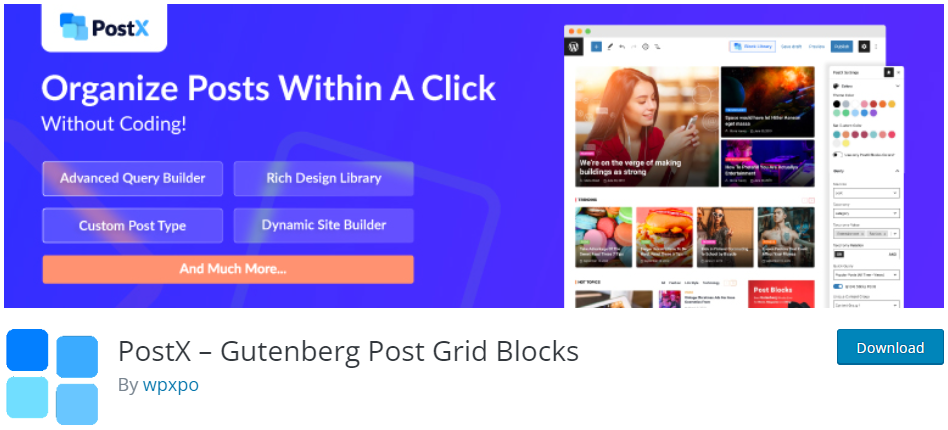 A lot of people don't like to put the time and effort into making a grid layout on their website. PostX takes that pain away by providing users with a range of configurations that provide the ability to layout their content elegantly.
This highly advanced plugin enables website owners to display stunning and completely personalized post blocks in minutes. With this plugin, you can create fully customized post layouts for your news, reviews, travel sites, fashion and recipe websites, and personal blogs.
Every post grid block of this plugin comes in an array of customization and styling options, from changing the grid style to columns, font style, and many more. And the best part is that each of its settings is visually editable, which makes customizing and building post layouts more flexible and easy.
Features Of PostX
● 19 customizable blocks to organize website posts.
● 100+ ready-made block designs.
● Custom queries to display posts in different criteria.
● AJAX pagination and filters option.
● Each block includes a custom CSS option.
● Google fonts for section design.
● Post slider with animation feature.
This plugin is free of cost. But to get the additional advanced features like archive builder, quick query options, progress bar, and more, you need to get the paid version that starts at $49.
3. Display Post Types
Display Post Types is a simple WordPress plugin that helps you to create a flexible post display grid. If you are looking to add post grids or sliders using blocks or widgets to your website without coding, the Display Post Types plugin is an efficient way.
Website owners can get the most out of their website in terms of visitor conversion rate by creating a beautiful list, slider, and obviously grid post layout. You can fetch the selected posts, queue the posts for another styling and display them in seconds.
It's quick and easy to use, supports multi-posts, and gives your post a perfect look you want for your site.
Features Of Display Post Types
● No HTML knowledge is required!
● Choose the number of items to show.
● Grid blocks support pagination.
● Allows adding custom CSS.
● Supports selecting the post order to show.
Display Post Types plug is 100% free to use.
4. Post Grid Combo By PickPlugins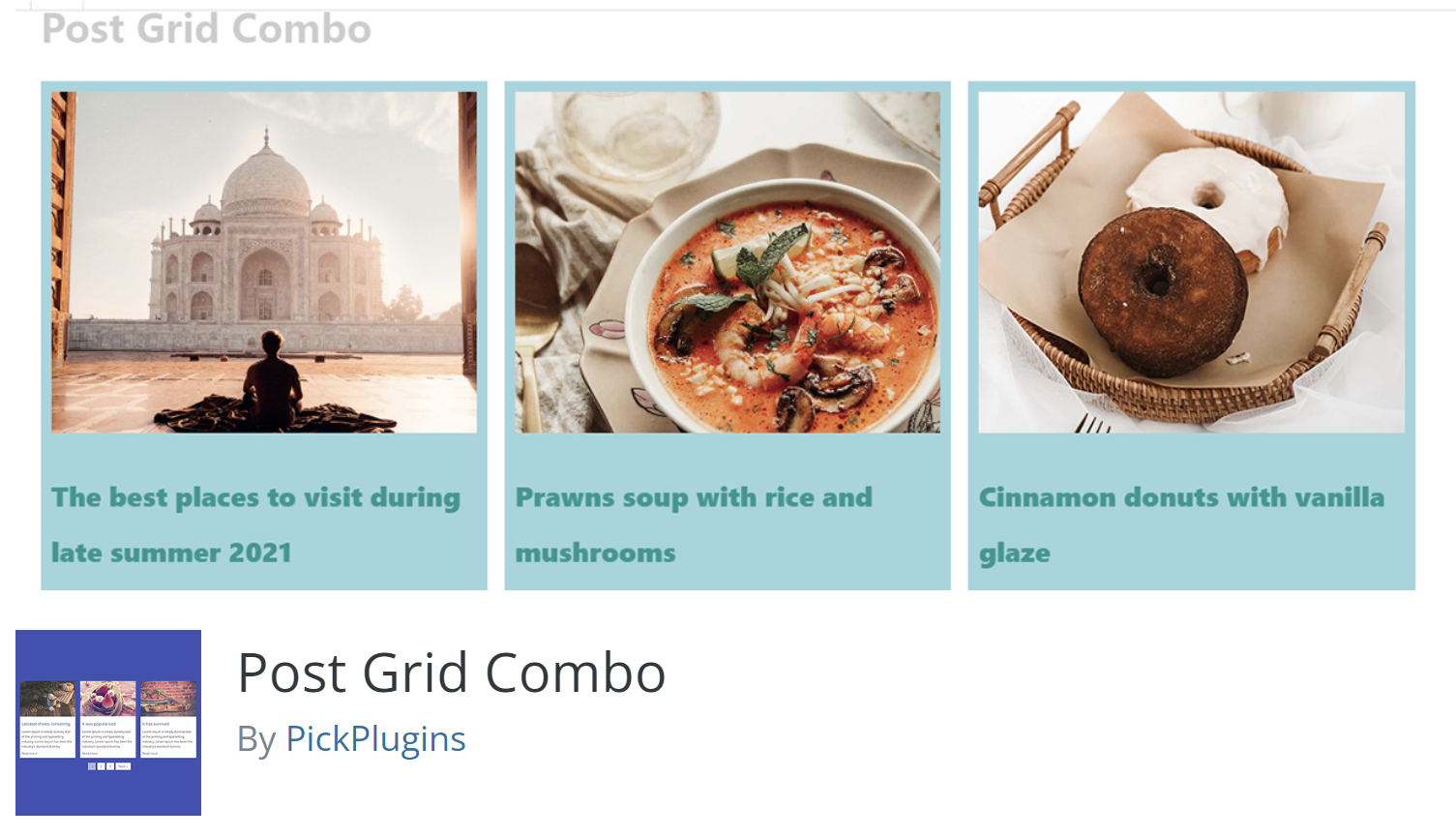 As the name suggests, with this easy-to-use and fully responsive plugin, you can create beautiful and elegant post grids with a few clicks. Get beautiful grid layouts to design your own post grid based on your taste and needs, or use one of many existing layouts to get started quicker.
Post Grid is built to help website owners who just want a good-looking grid on their website sidebar and need simple post-management. From your blog posts to products, team members, portfolios, galleries, archived posts, category posts, and tags, you can display everything on your website with this plugin's post grid.
However, with basic CSS knowledge, you can even build query posts from your custom post types and create beautiful grids. The best part of Post Grid is that it is fully mobile-friendly, supports WooCommerce, and Easy Digital Download.
Features Of Post Grid
Allows to create unlimited post grids.
Gutenberg block support
25+ advanced blocks added with responsive support.
Advanced query builder added for Post Grid block.
Layout library added for post grid loop items layout.
A complex grid layout builder was added which supports true Grid CSS.
Style & Layout Customization
Set custom column numbers on mobile devices.
Display the search input field at the top of grids.
Includes masonry grids.
Post grid for Archives (pro).
Advance query, pagination, media sources, and filterable features (pro).
This plugin has both free and paid versions. The pro plan includes yearly and lifetime packages that start at $19.00 for a single site.
5. The Post Grid By RadiusTheme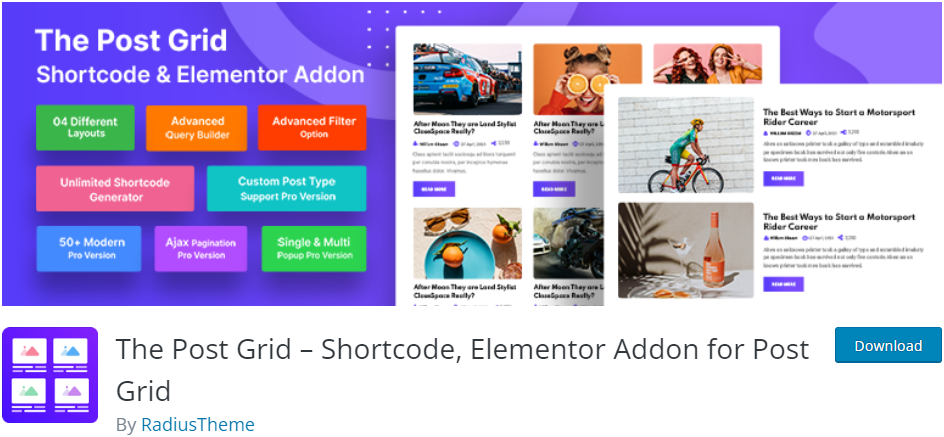 If you are an Elementor user and looking for addons for the post grid, this plugin can be the most suitable one for your website.
This highly customizable, responsive, finely crafted shortcode and the power of custom post-type elements with Post Grid Elementor Addon lets you create elegant grids and add sidebar widgets for your website to ensure a smoother user experience.
It has never been easier or more professional than with the Post Grid Shortcode, which allows websites to have a variety of layouts with just one click. You can conveniently generate grids from your admin panel, insert them into any of your posts and pages and display not only blogs but also menu items and all the things that you want to display on your website.
Features Of The Post Grid
● Includes 8 fully responsive and mobile-friendly layouts.
● It has 3 Elementor widgets and 9 Elementor layouts.
● Controls over image size, overlay, and title and button color.
● Social share on grid view.
● Enable/Disable Pagination.
● Live and layout preview in Elementor widget.
Using this plugin is free. But you must upgrade to the pro package for $21/year to unlock more templates and get greater control over how your grids look.
6. WP Ultimate Post Grid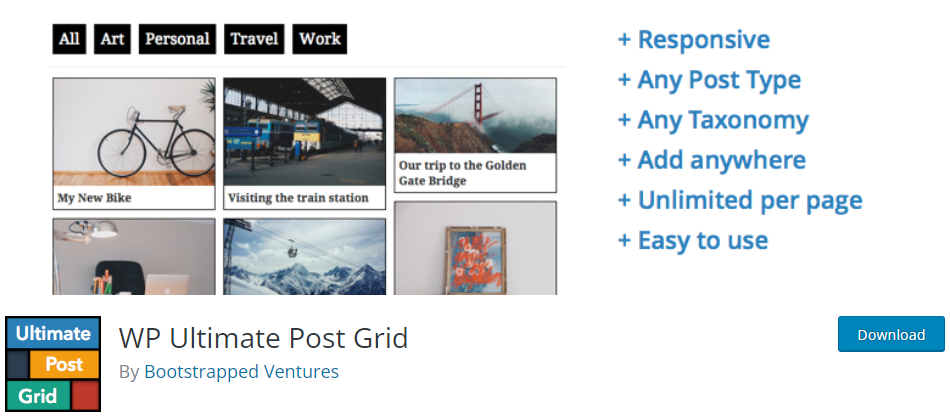 Another plugin in our list is the WP Ultimate post grid plugin to create responsive grids for your website's posts, pages, or any custom post type. One thing that makes this plugin different from others is that it features an isotope filter to theme the grid for any taxonomy or custom field.
You will find the WP Ultimate Post Grid plugin really easy to integrate and takes just minutes to get started and create some responsive and professional-looking grids for your website.
Its live preview feature makes it quick and easy to create multiple grids and configure the rows and columns for the sidebar, category, or any other post type. Every grid in this plugin is responsive, which means it will provide a great user experience to users of devices of all sizes.
Features Of WP Ultimate Post Grid
● Grids can be added via shortcodes.
● Allows seating the order by option.
● Define custom links and custom images for posts.
● Includes multiple templates for grids.
● Integrated with WP Recipe maker plugin for recipe grid.
● Add pagination to your grid (pro).
The packages of this plugin are really straightforward. You can choose between two versions, the free one or the premium one that comes at $39.
7. Essential Grid
One of the most popular premium plugins is the Essential Grid Gallery WordPress Plugin. It is an all-purpose plugin that comes in so many attractive and useful features that allow you to build great-looking posts, custom posts, pages, and galleries.
Thanks to its dedicated video tutorials, even new WordPress users can start working with grids and galleries in a more creative way without any hassle. You can even use this plugin to display your WooCommerce products as more sophisticated and beautiful.
Along with having built-in support for photos, video, audio, and galleries, it also connects to big social media streams. Furthermore, your galleries will not require any programming knowledge. So, you can create beautiful grids on the fly.
Features Of Essential Grid
● 50+ grid template library.
● Choose from boxed, full-width, full-screen layouts.
● Dozens of skin examples for grid display.
● Custom post-based skin modification.
● 100% responsible and mobile-friendly.
● Adjustable and customizable rows and columns.
You can get this plugin at $69 per year.
8. Content Views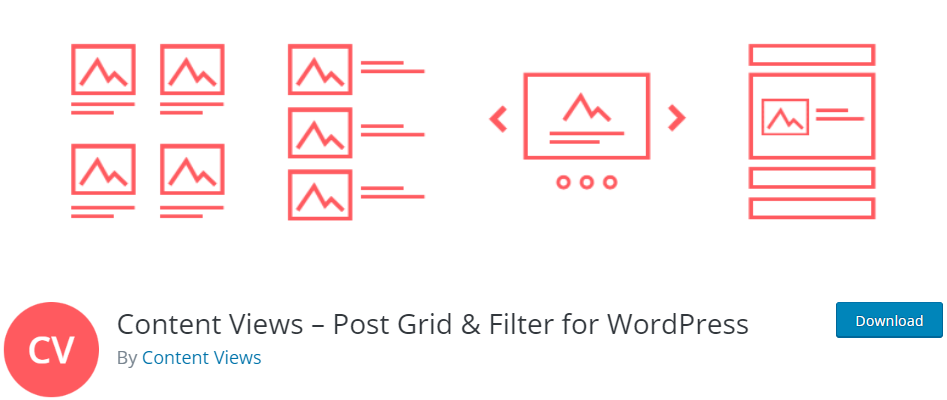 Want to add a responsive grid and filter without requiring coding to your website to make your site stand out and keep the users engaged?
Content Views is one of the best plugins on our list that can help you to create a beautiful post grid and filter very easily and beautifully. Built on top of a fully responsive design that always looks great on mobile, tablet, and desktop devices.
This plugin works great for most websites when it comes to displaying recent posts, posts by category, tag, or author. This user-friendly plugin is highly optimized for performance and powers up the site with beautiful posts without causing any bloat.
Features Of Content Views
● Live preview panel to see the post grid instantly.
● Supports pagination.
● Well organized and clear description.
● Show posts in a collapsible list, scrollable list, slider of posts, or FAQ page.
● Support custom post types, custom taxonomy, and custom fields (pro).
● Show social sharing buttons (pro).
● Drag and drop customization (pro).
It's a free-of-cost plugin. However, to access the advanced functionalities, you need to get the premium version which starts at $39 per year.
9. Post Grid and Filter Ultimate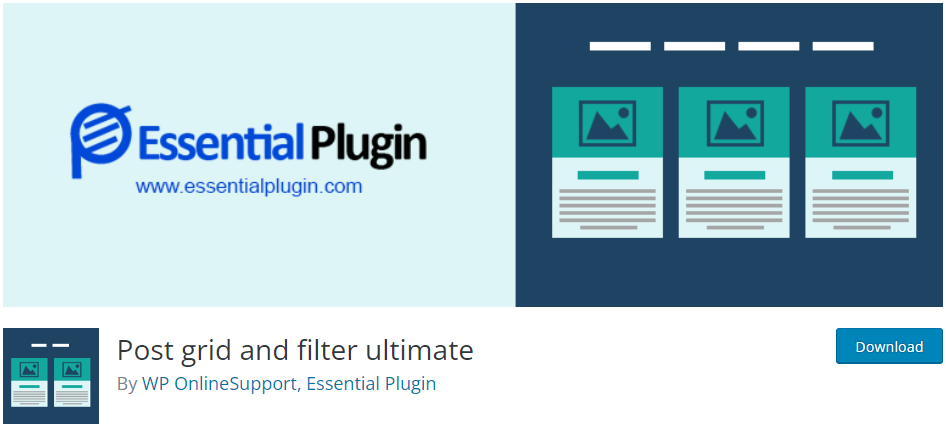 Up next, we have the Post grid and filter ultimate plugin for the WordPress website owner who experiences difficulty with coding when it comes to displaying posts in grids.
If you are looking for a really simple-to-use plugin with minimal styling settings, then this plugin can help you with its basic customization options. This can be a perfect option for beginners who don't want to juggle too much styling and customization for post grid.
Post grid and filter ultimate allows you to display WordPress posts in any grid view and post grid with filters showing features such as pagination, filtering, and many more simply via shortcode.
It includes several configuration options that give you control over how they are displayed. With this plugin, all the information that your site visitor needs is always visible at a glance, so they don't have to squint or scroll.
Features Of Post Grid and Filter Ultimate
● 2 post grid and 2 post grid filter designs.
● Display recent posts in seconds on pages, sidebar widgets, and theme files.
● Allows sorting posts by title, date, and ID.
● Supports enabling and disabling pagination.
● Allows displaying featured images in thumbnail, medium, large or full sizes.
Post grid and filter ultimate plugin has both free and paid versions. Its pro version offers two plans starting at $99 per year.
10. Ultimate Blocks – Gutenberg Blocks Plugin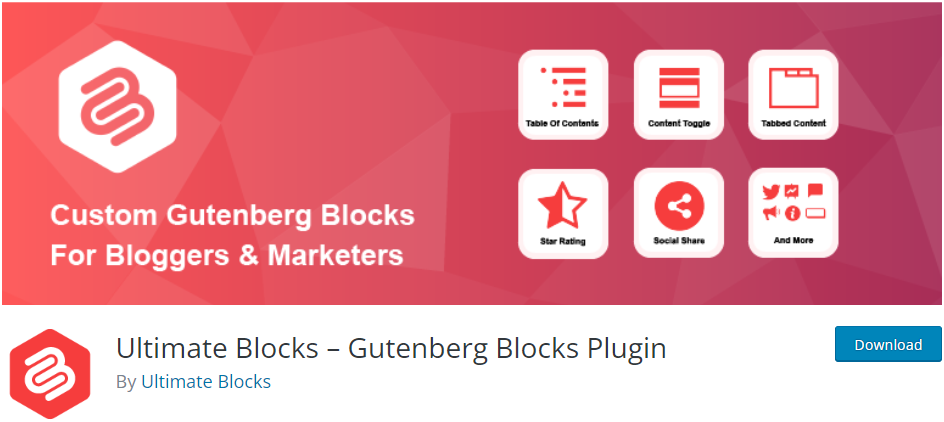 And the last one on our list is the Ultimate Blocks plugin is the perfect solution for bloggers and marketers for almost all content creation needs.
With this plugin, now, you can build even more engaging posts with Gutenberg blocks. It allows you to build pages with custom post grid block collections and create attractive posts and pages in seconds.
It's also amazing for people who don't have much CSS knowledge, as this plugin will help you to style your own grids using its layout. If you have any custom post types to display, you can do this using this plugin.
Features Of Ultimate Blocks
● 20 blocks, including post grids with 3 different layouts.
● Optimized coding and responsive to all devices.
● Support for pagination, taxonomy, and terms.
● Allows choosing multiple terms for query posts.
● Choose the post category, and post order to display.
● Allows displaying the featured image, excerpt, and more with the post grid.
You can make the most out of this Ultimate blocks plugin absolutely free of cost.
Wrapping Up
So, this is our handpicked list of best post grid plugin WordPress for you.
All these plugins are tested and proven, and we are pretty confident that, with this list, you will be able to get the perfect plugin for your website to display your posts exactly the way you want.
So, which plugin are you going to use? Share your thoughts with us.