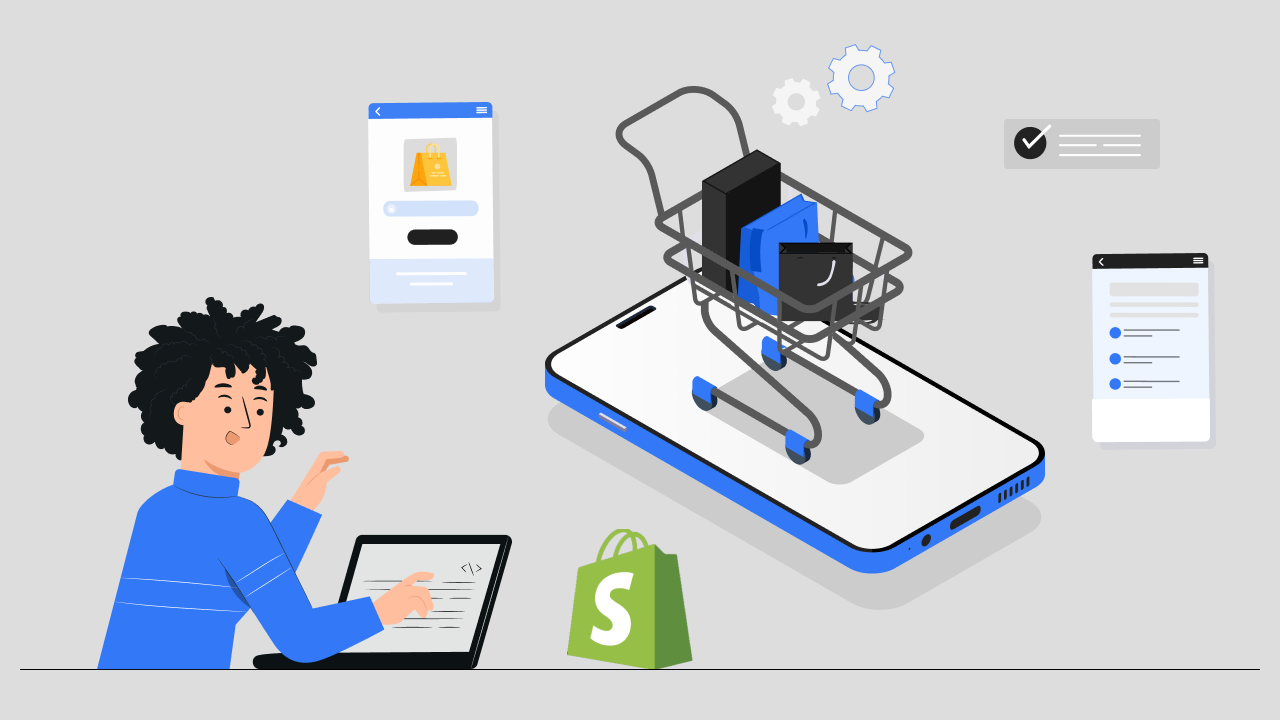 The eCommerce industry is booming in the USA. Since the surge of the pandemic, more and more people prefer online shopping. In 2022 the revenue of e-commerce industries stands at 905 billion dollars, by the year 2027 it is expected to rise to 1.7 trillion dollars. Thus, the sky's the limit for the eCommerce industry. If you already own online store and are looking forward to expanding your business, don't hesitate, now is the best time to invest and scale up your business.
If you want to harness this opportunity to grow your online business exponentially you should be able to cater to a larger audience. Having an e-commerce website is fine but it would be more profitable to have a Shopify mobile app. Moreover, in a recent survey by Statista, 65% of respondents said that they use smartphones to make online purchases.
Thus, in this blog, you will find genuine reasons to have a Shopify mobile app for your eCommerce business and will know the best Shopify development service.
Reasons To Develop A Shopify App For Your eCommerce Website
#1 Go With The Trend
M-Commerce aka Mobile Commerce is the future of the eCommerce industry. Owing to wider penetration, smartphones will dominate the purchases from online store.
Also, our phones are at arm's length, almost all the time, which makes it more convenient than hopping on a desktop or laptop for online shopping.
Also, there are some serious limitations of these devices, like you cannot browse through a catalog while walking down the street with a laptop. In the case of mobile, it's possible!
Moreover, the use of smartphones to place orders from shopify e-commerce store is on the rise. So buckle up your seatbelts and get ready for lift-off.
#2 Build Your Brand Image
Branding is all about promoting your products so as to make customers love your products. This is how one can differentiate from their competitors in the market and increase sales.
If the brand positioning is done well, you can drive mobile app installation. Once they install your eCommerce app, sooner or later they will make a purchase. Also, if you could provide some rewards for app installation then the customers can't resist placing an order.
In short, branding gets more effective with native ecommerce apps and one can carry out promotions with the help of the latest marketing tool in a persuasive way. Besides, you get higher conversions and can keep your customers engaged.
#3 Gain A Competitive Edge
You might think that a mobile site is enough to drive sales from mobile users rather than a separate e-commerce mobile app. You may also argue that your biggest rival doesn't even have a mobile app but you cannot deny that you are competing with Amazon, directly or indirectly. And your customers want to have an amazon-like buying experience.
If you want to replicate the same experience you need a Shopify eCommerce app. It is in your best interest if you get it developed as soon as possible because that is how you will gain an early mover advantage.
#4 Better Conversion Rates
At the end of the day, everything you do is to drive sales and earn more, right? So, let's talk about it.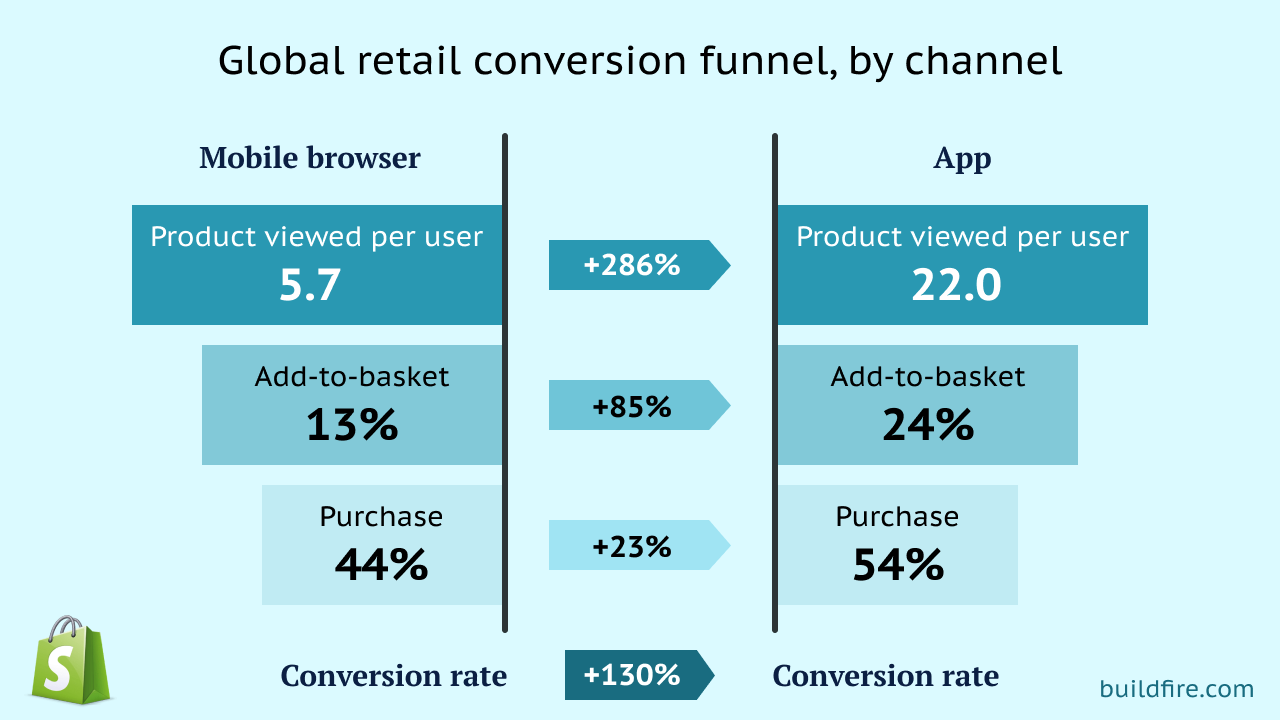 Source – Buildfire.com
Looking at the above graphics, the data shows online shoppers viewed 286% more products, and 85% more products are added to the cart with a mobile application.
Isn't it fantastic? The higher the exposure the better will be conversion, it is as simple as that.
Higher exposure and products viewed are secondary, what matters for you is conversion, right?
So, let's come to the conversion comparison.
The mobile app converts 130% more compared to the mobile website conversion. More conversion means more dollars, now imagine how much more money you can earn with e-commerce mobile apps.
And still, we haven't talked about how many new customers you will gain.
#5 Enables Personalized Shopping Experience
E-commerce personalization improves sales by a whopping 20%. Many of you might be using this strategy in email marketing as well as with the Shopify eCommerce website.
Shopify eCommerce app takes this strategy to the next level. You can track customers' browsing and purchase history. Though it is possible with websites also but the data is more reliable with m-commerce apps.
Apart from that, you can send targeted push notifications to users based on their preferences which are not possible with e-commerce websites.
You can pair push notification campaigns with a personalized experience to more drive conversions.
#6 Increase Average Order Value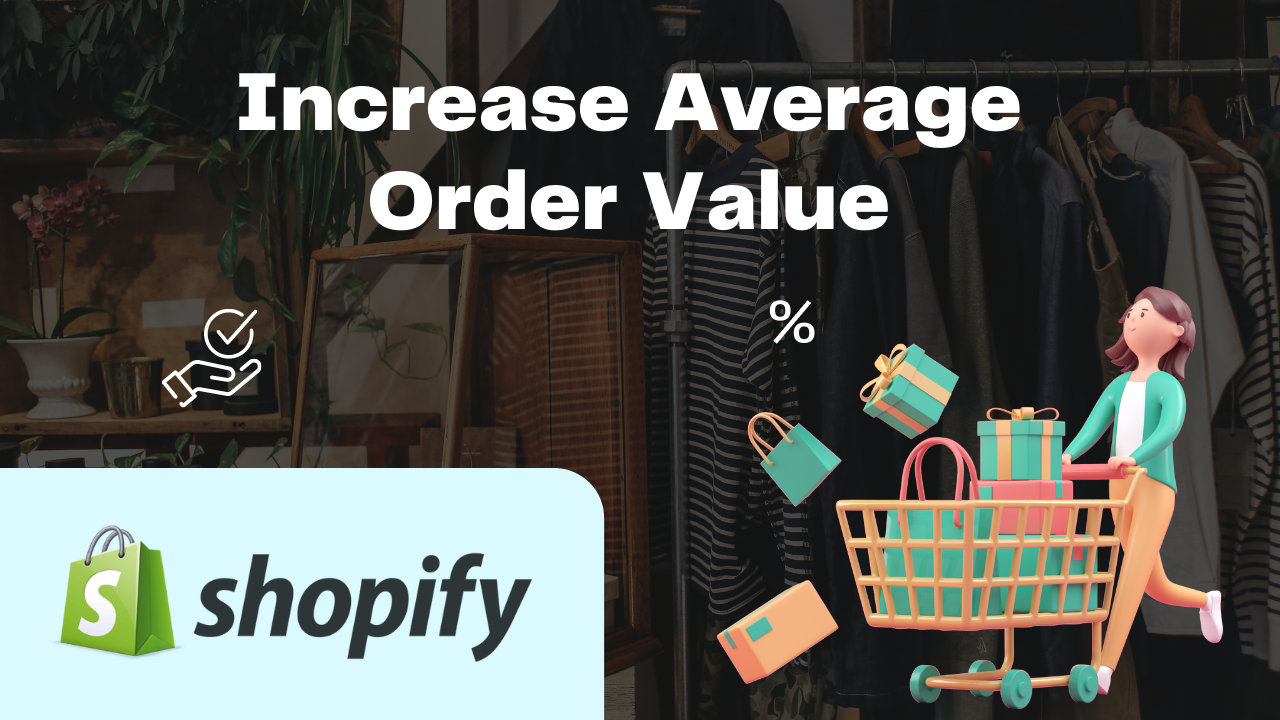 According to a study, the average order value from apps is 10% higher than from mobile websites. If you think in absolute terms, it is a big number.
Suppose AOV improves by $5 and you drive 1000 conversions per month, so per year you will be making $60,000 more.
That's a significant rise.
Moreover, we aren't taking into account additional orders you will be receiving. Developing a Shopify eCommerce mobile app for your online stores would be in your best interest.
#7 Decrease Cart Abandonment Rates
The most prominent factor that drags the performance of ecommerce store is cart abandonment. In terms of KPI, a low abandonment rate will be better for the business.
With Shopify mobile app, customers don't have to fill up their details every time they make a purchase. This reduces the friction during the checkout process thereby reducing the chances of cart abandonment.
Besides, in mobile apps, it gets easier for customers to make payments from Google Pay, Paytm, or UPI.
#8 Elevate Retention Rates
According to Harvard Business Review, the customer acquisition cost is 25X more than the cost incurred in retaining customers. With the Shopify eCommerce app, customer retention improves considerably as the app is installed on their smartphones hence they keep coming back. And even if they don't show up, you can attract them with a targeted notification campaign.
Summing Up!
So these are the benefits of developing an eCommerce Shopify mobile app. We hope after reading this article you will seriously consider developing an eCommerce mobile app for your Shopify website. And in case you want to know more about Shopify apps then you can contact us. We are the best Shopify app development company with 7+ years of experience. Don't hesitate to contact us.