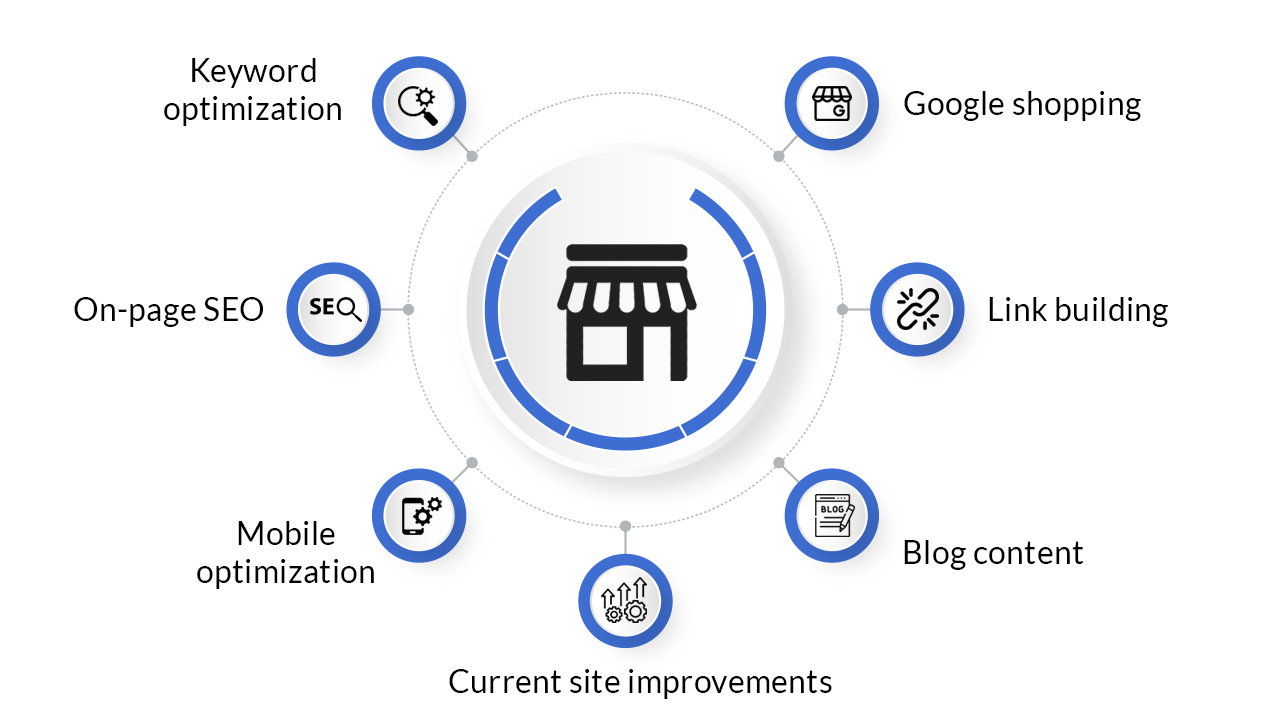 A watch, t-shirt, and an earphone sound somewhat similar right? Yes, these three are products which I ordered yesterday.
Like most people, I also start searching on Google to start shopping or to order something online.
To be honest I don't have the patience to view the past pages or similar orders so I jump to Google for searching from the start.
If you aren't showing up in potential buyers search results then don't worry optimize your E-commerce website for more traffic which will lead to high search results. This whole thing is covered with a 3 letter word called SEO.
Do you want to know more tips about SEO and how to get your website in front of an organic search? Read till the end to become an SEO savvy business owner.
Keyword optimization
Every business starts with an aim to rank top in the search result. If you want your customers to find your store through an organic search then you have to select the relevant keywords that match your business and need to apply it on your pages so that it will reflect in SEO.
Conduct Keyword Research
The starting point is from keyword research that is you need to find out the relevant keywords you want to rank on your main page, product pages and blogs.
While choosing keywords look alternatively at relevancy, search volume, and ranking difficulty.

Before starting you should have a deep understanding of your buyer's persona to see what they are interested in or what are their basic questions related to products.
You can research on Reddit and Quora to see the latest topics and questions related to your products. After doing this the next step is to find out the keywords that your customers will be using in the search result. You should also look for the body and long-tail keywords. They are best than single phrase keywords.
Long keywords are long phrases containing 4+ words. You can use them but it does not get high search volume. After combining it together they make up the majority of online searches.
I hope you have selected your keywords. Now filter the list of keywords using Google Keyword Planner. Google Keyword Planner allows you to search the keywords you want with a list showing its trends, search volume, and competition.
Spy on Your Competitors
If you need to know the reason how your competitors rank on search results then, first of all, you need to identify the keywords of them that they are ranking for. You can check the Page Authority (PA) and Domain Authority (DA) of your competitors. In this case, if their DA and PA are higher than yours then competing them is a tough task. You can go to the next keyword which will rank top.
Determine a Keyword for Each Page
After identifying the keywords the next step is to assign them for each page. Before setting those to different pages order them by creating a proper list to make sure they don't compete with each other.
On-page SEO
On-page helps you to gain more traffic. To improve on-page SEO you need to focus on these things:
Page title
Headers
Subheaders
Paragraphs
Product description
Image file names
Image alt tags
Meta title and description
URLs
Site Architecture
A well-structured site will help you to rank better. Apart from that Google can also easily understand your site in those cases where your site has more product pages. Don't forget to create a sitemap to get crawled and indexed on Google.
Internal links
Internal linking is best which can improve SEO. Internal linking means providing a link to any line or word which will redirect to any page on your website only. Make sure you are not overstuffing too many internal links.
Nowadays people are more engaged in Social media. So no other platform is better to promote your products than any other platform. A strong social presence will help to gain more visitors.
To make more interesting you can add social share buttons to all your product pages, blogs, and homepage.
Mobile optimization
Google's algorithm now offers a higher ranking to mobile-friendly websites. On the off chance that your online store isn't advanced for a quick and consistent versatile client experience, not exclusively will you be punished by Google however you'll likewise miss out on different components that could help SEO.
Page speed
Page speed is the main thing to be noted from the customer point of view. Because nobody has the patience to wait until the pages load. It has been noted that 74% will leave the page after waiting for 5 seconds. Remember if your page speed is low then most of the visitors will leave the page which will impact your search engine ranking.
Site design
Website design matters in SEO ranking. Try not using Flash. Instead use HTML5 for special effects.
Current site improvements
You don't have to change everything on your website. You just need to fix some of the current issues on your website.
Page Load Speed
As discussed earlier users will leave due to issues in loading the page. This will increase the bounce rate of your website – and all these can affect your search engine ranking.
You can increase your page load speed by doing the following things:
Streamlining elements and minimizing HTTP requests
Reducing server response time
Enabling compression and browser caching
Minimizing resources.
Prioritizing above-the-fold content for loading
Reducing the number of plug-ins and redirects.
Site Errors
Broken links bring about a poor client experience, yet they additionally hurt your positioning since web crawlers think of them as an indication of an old and disregarded website. To limit the odds that your guests will keep running into a 404 mistake and leave your online store, you have to check every one of your links intermittently.
Other than 404, there are other site blunders that can affect your SEO:
1. 500 inside server blunder codes and 403 prohibited reaction codes demonstrate that web indexes can't creep that page.
2. On the off chance that these blunders continue, Google is probably going to de-list the page altogether.
Blog content
Google likes new content because it is a sign that your website is active and applicable. Publishing a blog post sometimes helps you stay on search engines' radars. It provides customers more approaches to discover you and purpose to come back to your website.
When your blog/articles are beneficial to your visitors, they will invest more time on your website. This is a sign to search engines that your content is relevant. Additionally, blogging is a great plan for catching search traffic with long-tail keywords, which records for 70% of every single online search. Long-tail keywords are quite certain, and you will be unable to utilize each one of them on your product pages. Blog article enables you to focus on each point at a time and make the most of the effectiveness of long-tail keywords that you can't address in your website pages. Each blog post on your website gives you a search result to rank for.
As this world is full of technology people more focus on social media, where social media play an important role in everyone's life. You can also share your blogs/ articles on social media which in turn will gain more traffic on the SEO basis.
While publishing a blog post to your online store, you should:
Optimize each post for one or a few keywords, particularly those that are not utilized for your main pages
~ Ensure its high quality and easy to read
~ Avoid keyword stuffing, which is penalized by Google
~ Make it easy for visitors to share your post with social sharing buttons
~ Add internal links to grow ranking power around your website and make it simple for search engine and index your site.
~ Think about utilizing content upgrade to capture leads
Link building
What is link building?
Link building is a procedure in which you receive links on different websites that point to your own. Everyone uses different tactics of link building but no one can decide which is best.
Link building improves SEO by indicating search engines that your content is relevant.
Types of link building:
Inbound linking
Outbound linking
Inbound linking:
Inbound linking is a link that comes from another website to your site. Inbound is commonly used by the person receiving the link.
High-quality inbound links come from:
The websites that have high power
Use relevant anchor text.
Read some ideas to build a quality inbound link:
– Share links on social media sites
– Avoid utilizing same anchor link to the same page
– Contact influencer and ask them to publish your content on social media
– Submit blog/articles or co-writer content on authority sites
Outbound link:
An outbound link is a link it takes to the other websites. This has positive effects on SEO by giving Google contextual signs to determine the pertinence of your pages. They make your content increasingly significant by linking to helpful resources so that your readers can get in-depth and valuable information.
If you link to websites that are related to the topic of your content that points to your products, then outbound links are helpful for SEO.
Google shopping
Google Shopping is a service provided by Google. It enables clients to search for view and compare products.
These products are shown when customers use Google to search for the product. They can arise in the main search engine results page or under the shopping tab.
Conclusion
As search engines based on great ease of use SEO will be positioned on top. To enhance your search positioning and drive natural traffic, design your website and optimize your content for your potential client's.
Streamlining your online store for natural traffic is a continuous exertion. You need to always react to changes in the market scene and web crawler calculations. Make it a propensity to approve your catchphrases occasionally and watch out for your measurements to tweak your SEO procedures.
What's your best procedure for drawing in natural rush hour gridlock to your online business site?