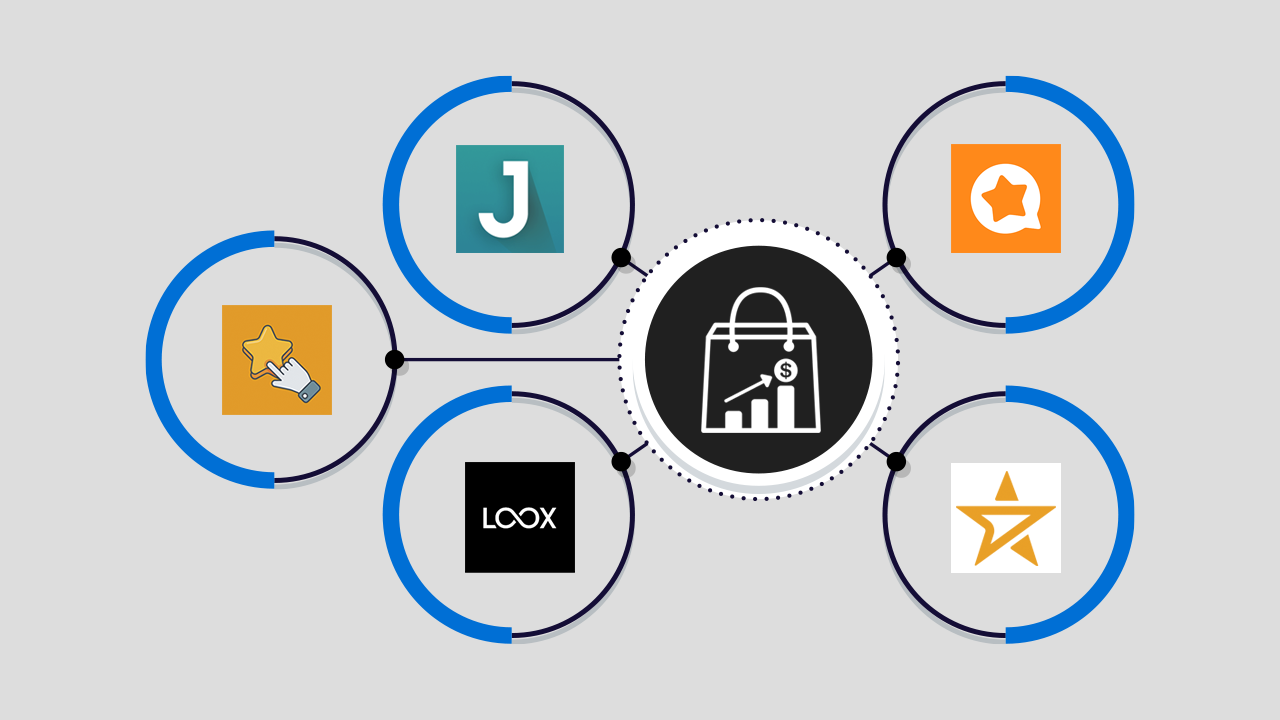 Finally, the wait is over! We have integrated the 5 best Shopify review apps with iCart Cart Drawer Cart Upsell to display star ratings on the product recommendations and product upsell widgets. Judge.me, Loox, Rivyo, Stamped.io, and Ali reviews are the apps that have been integrated with iCart. Now you can build trust in your customers and impress them by showing star reviews with your products in your Shopify store.
How does the integration of these apps with iCart works?
Below are the steps that will help you to enable and display star ratings with your products in your cart by selecting your desired review apps.
Log in to your store and open iCart. Now go to Settings > General Settings. On this page, you can see the "Select third party review app" option from which you can choose the review app which is used by your Shopify store. Remember the review app that you are going to select must be installed on your store. If you don't have the app installed in your store, star reviews will not be displayed. Once you have selected the app click on the "Save" button. After clicking on the Save button your star review settings will be stored successfully.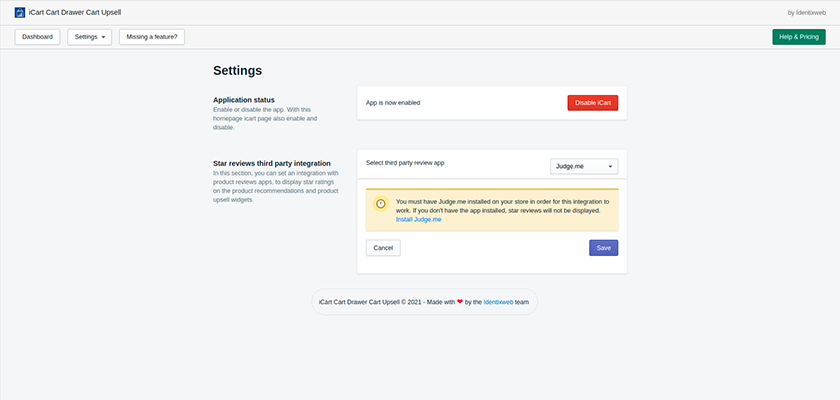 Which review apps have been integrated with iCart?
Judge.me Product Reviews
Judge.me helps you collect and display star ratings and reviews about your products and Shopify store. Social proof from reviews and other user-generated content like photos and videos increases your conversion rate, organic traffic, and buyer engagement.
NOTE: To enjoy 45 days of free trial click this link: Judge free trial URL For iCart
Loox Product Reviews Referrals
Loox is a fully-featured product review app that enables small and large brands to automatically collect customer reviews with photos and beautifully display happy customer content. Loox-verified reviews and photo reviews are your greatest assets for increasing brand awareness and improving conversion rates.
NOTE: To get an extended free trial of 30 days click this link: Loox Free Trial For Loox Product Reviews & Photos
Rivyo Product Reviews
Rivyo app is built up with amazing features to boost sales of the store and make online shop worthy. Rivyo allows you to display reviews with many product reviews & customer images. An app is also allowing a customer to ask any pre-sale questions about any products.
Stamped.io Product Reviews UGC
Stamped.io is a highly-rated customer marketing platform with all the tools you need to capture and showcase high-impact Customer content throughout your buying journey. Stamped.io builds trust with social proof by collecting and using multiple User-Generated Content that matters most to your customers.
Ali Reviews – Product Reviews
Ali Reviews empowers 40,000 + Shopify stores (varies from dropshipping, print on demand… to e-commerce) to build social proof and maximize conversion rates by displaying reviews throughout the buyer's journey. With AliExpress product reviews you can gain customer trust & skyrocket dropshipping sales.
Now to show the star reviews in your cart go to the product upsell or product recommendations widget and select the "Display star reviews" checkbox. After selecting it you can see the star rating reviews as shown in the screenshot below: