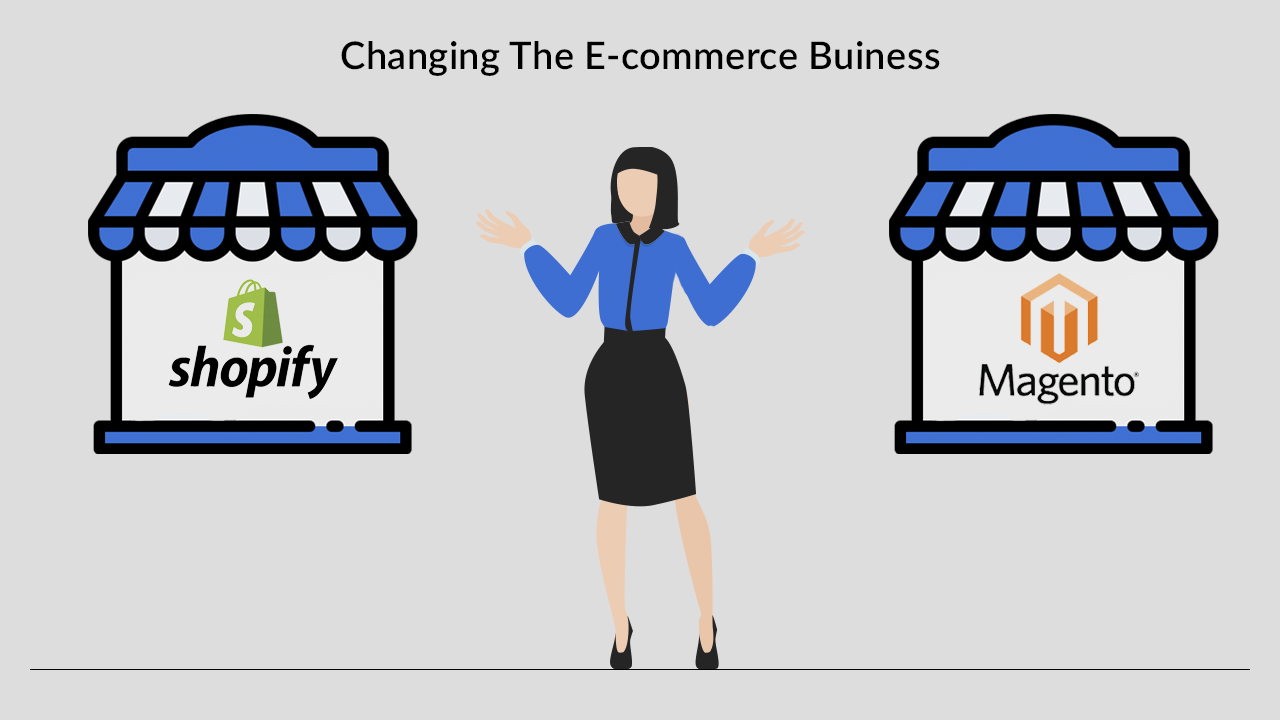 As the E-commerce business is at its peak in Singapore people over there are starting more business in this field. Even small Singapore business has the ability to make changes briskly. And obviously, this increases your business power which helps in growing small businesses to large businesses. E-commerce is tremendously changing in Singapore.
World Bank has declared Singapore to be the second easiest place to start an E-commerce business. Singapore is the first place that serves better for huge business, brick and mortar retail. With all the E-commerce platforms we can sometimes confuse ourselves with choosing the best one that fits our business.
Shopify and Magento
But Singaporeans have no confusion on that. They are using the best two platforms i.e. Shopify and Magento as both are strong players in the E-commerce business. Most of the online stores built in Singapore are Shopify store and Magento store.
This blog contains about how Magento and Shopify both changed the E-commerce business in Singapore.
First of all, let's see how Magento is used by most Singaporeans also how Magento is changing the E-commerce business over there. With a massive number of businesses in Magento comes in position 2 when it comes to the best platform used by E-commerce businesses in Singapore. It has around 200,000 worldwide online businesses using this platform. Pretty cool.
Why Use Magento
I think the reason why Singaporeans use Magento is due to its security element. This is a massive bonus to the buyers also. The question will be why Magento is classed among one of the top E-commerce platforms. Now it is already used by most of the huge companies like Skln INC in Singapore because of its beautiful features.
Every E-commerce wishes to keep its website safe. One of the best examples is Abbot Store Singapore uses Magento 2 to keep its E-commerce safe and secure. Another platform is Shopify. Around 1600 businesses in Singapore uses Shopify also considered as their preferred E-commerce solution.
Why Use Shopify
You will be thinking that why this, right? Because it comes with full functionalities. In Singapore E-commerce enterprises like WatchSpree use Shopify for their business growth.
I would personally recommend you to use Shopify. The reason behind why this platform is so useful to E-commerce businesses in Singapore is because of its accessibility to both small and large businesses. The revenue earned by these stores itself illustrates the success of Shopify stores.
For each market the Shopify pricing plan is different. So in those cases, if you plan to open a Shopify store in Singapore, please do pay attention to the credit card rates. Because there are different rates between Singapore and International cards. Many entrepreneurs who want to start an online business have a doubt of the right platform or the perfect choice regarding the store to build on. For them the answer is Shopify.
So I hope this blog was helpful to you. Those are an entrepreneur and planning to start an E-commerce business for them this information would be helpful.