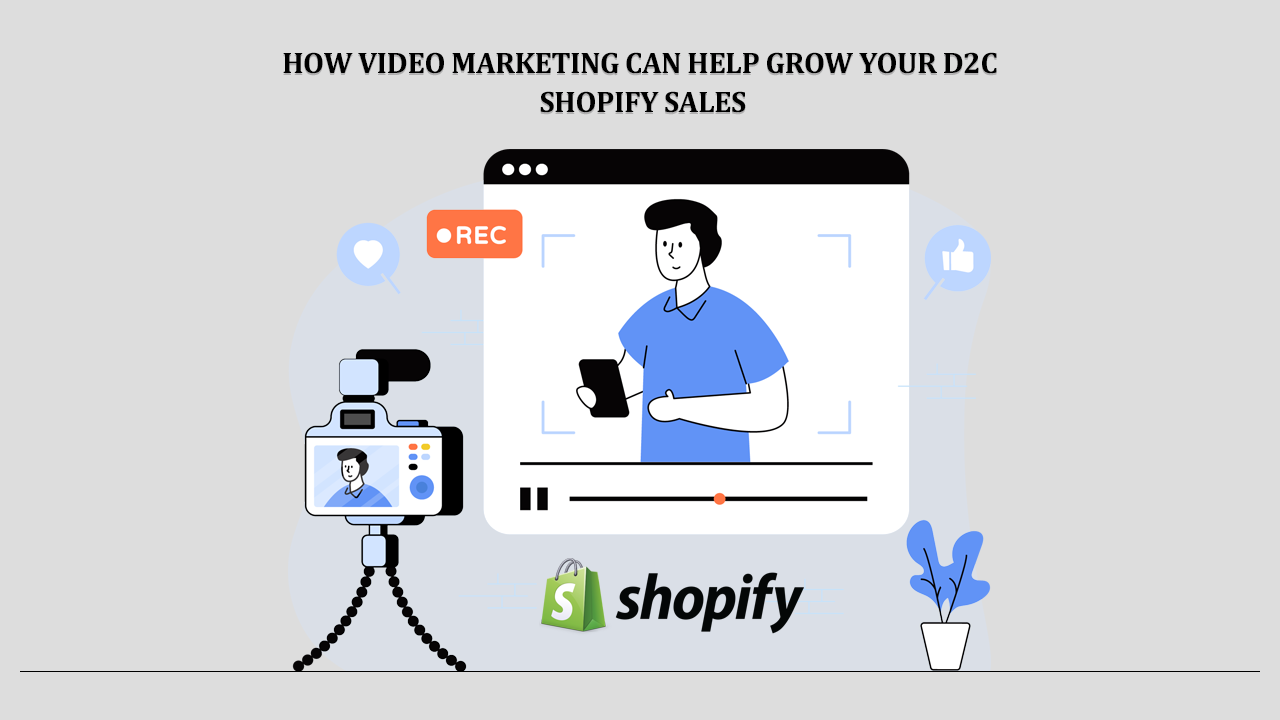 As video marketing quickly becomes a popular tool in various industries, more and more companies use videos to promote their brands and services. People are more likely to share a WooCommerce product video than a blog post or product page, which means that creating the right content in the right way can significantly expand your online reach.
As a beginner, you should listen to how popular brands delivered their messages, addressed pain points, called to action, and finally, how viewers felt. You'll better understand how to create an effective video marketing strategy to drive D2C Shopify sales by learning about video marketing, video style, and your audience.
What is Video Marketing?
Video marketing uses traditional audio and visual marketing, using video to promote brands and products rather than, say, print. Moving away from conventional marketing methods like billboards or direct mail and towards more digital methods like pop-ups, banners, and photo ads raises the bar for quality and uniqueness.
Video marketing can offer content with a unique, immersive feel – like someone talking to you in your living room. This marketing method makes viewers feel like they are part of the experience, not just making a purchase.
Video marketing uses videos to increase engagement and help you guide customers through their buying journey. Brands use video to reach customers at every stage of the buying process. Video tutorials help customers start while information, examples, and feedback are provided. Take customers from the evaluation stage to the conversion stage.
Video marketing can be integrated with your existing marketing strategies, such as social media or email, to improve results and conversions.
Why video marketing is a powerful tool for conversions
Video marketing is a form of content marketing. Video tries to answer essential questions throughout the buyer's journey, from introduction to evaluation and decision.
This is called inbound marketing, and it tries to bring customers into nature by providing information that can help them know what they need, why they need it, and what product is best for them.
How Video Marketing Boost Shopify Sales
Now that we've covered the main idea of ​​using videos for eCommerce, it's time to talk about the benefits you can get from them. Let's move on to these blessings:
1. Video is more sharable & clickable
Studies show that people are twice as likely to share videos as pages of text. Also, people are more likely to click on a video than one that does not contain visual or multimedia content.
While the best length of your videos depends on your business, experimenting with short- and long-term content can help you find your sweet spot. According to recent research, video lengths between 2 to 10 minutes are the right starting point.
2. Video helps build trust
Brands that use videos in their Shopify stores will appreciate brands that show that the store is confident and confident in its products. Using real people's opinions and responses, your customers will get an idea of ​​what to expect from your brand.
This increases your customers' trust in your store and creates an image of loyalty. The videos show the products exactly as they look and are an excellent marketing tool to increase sales.
Brand trust concerns Shopify stores because they don't have a brand or buyer protection like Amazon or eBay. Therefore, making sure your store is reliable and trustworthy is more challenging.
3. Video is an impactful storytelling
Storytelling is integral to why video marketing is such a reliable conversion engine. Popular forms of commercial art, such as traditional art or whitewashed entertainment, are built on the idea of ​​telling your audience motivational stories that inform and motivate them to make decisions.
The story can be set based on the purpose of your video, and it's up to you and your audience to find what works best for viewers. The story can be a boon for creating content for your company's social media.
Social media users don't handle wordy content well, but an impressive start with a compelling story is sure to keep their attention long enough to get your message across.
4. Video gives better SEO ranking
Videos designed for eCommerce marketing will help you increase your visitors' time on your website. As a result, wider exposure increases trust and signals search engines to consider your content. In addition, since Google owns YouTube, the traffic generated is also determined by Google. If you have a high YouTube ranking, your Google ranking will also improve.
In addition, you should optimize your YouTube videos for SEO by adding a title and description. Backlinks can be added to your landing page, product page, and other pages to encourage customers to take action and drive traffic to your site.
5. Video captivates
The time users spend watching the internet continues to grow, with an average of 18 hours of online viewing per week. Since many users use social media on mobile devices, the video is exciting because of the ease of access when viewed on the phone.
Short clips of your product or brand can capture your audience's attention and give you a better chance of being shared among your network of viewers.
6. Video increased conversion rate
One of the best things about videos is that they give viewers a sense of trust. Suppose your product pages have a video or a short description. This increases the chance that an accidental visitor will turn into a purchase after watching your videos.
Because consumers cannot physically touch or explore a product, visual entertainment, such as videos, plays an essential role in buying results. While high-quality images can help in some ways, videos provide a better experience. Simply put, customers will be less resistant when they see your product's demo videos.
Social media is no longer seen as a trivial symbol used to associate. We have come to terms with the importance of brand name and the benefits of developing a customer relationship.
Thus, we cannot talk about the benefits of video marketing without touching on the close relationship between social media and video. Many online stores have started using platforms like TikTok and Instagram videos to showcase their brands.
This includes posting thumbnails, filming to highlight product features, or educating employees about current trends. Instagram and TikTok reels use unique algorithms to prioritize specific content rather than the first ranking on the platform, so you don't need thousands of followers to publish a video.
Conclusion
Done right, video marketing can help you grow your Shopify store by creating an interactive and engaging experience for your customers. You can meet their needs at every step of the customer journey and help them move with them.
If you are going to invest in video marketing, it is essential to think long-term. Plan your strategy about strategies that will allow you to own your audience and reduce the dependence on external media such as TikTok or YouTube. Give customers the best experience in your territory.