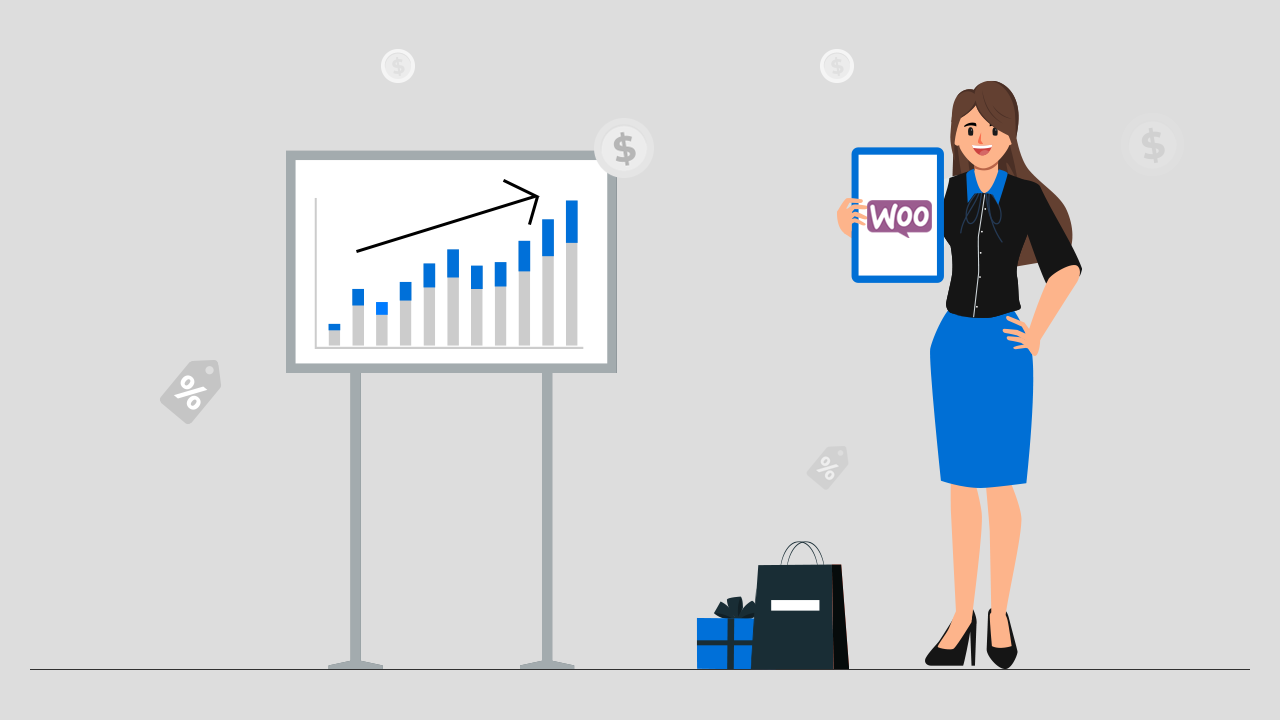 'Upselling' – I know how crucial this word is for you! For the people who belong to eCommerce, upselling is the bloodline of their online stores. If you are a new WooCommerce store owner, here you can understand the importance of upselling and best free WooCommerce upsell and cross-sell plugins to skyrocket your sales.
What is Upselling?
Upselling is a 'sales strategy' in which the seller offers additional benefits to the customers on their sale to encourage them to buy more products or services.
Why is Upselling so Important?
Day by day customers is becoming smarter. Therefore, you also need smarter techniques to persuade them to purchase more with you. And upselling or cross-selling can be the best fit for your need.
With upsell and cross-sell, you can give offers or incentives to convince your shoppers to spend more on their purchases. Thus, it helps you to increase the Average Order Value (AOV) of your store. Here are some more benefits of using upselling or cross-selling.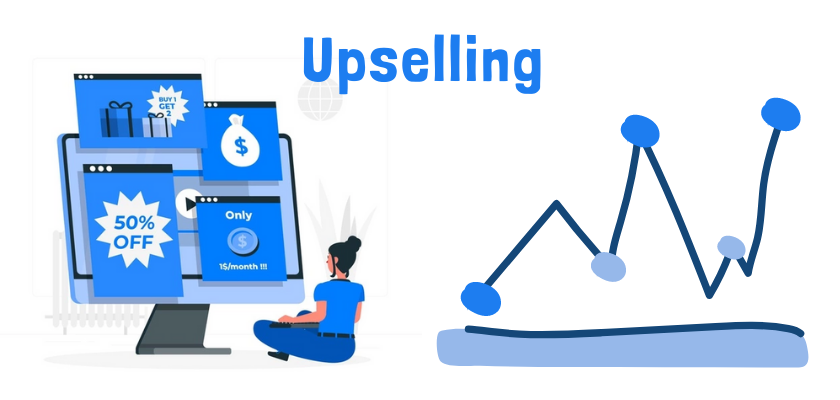 Benefits of Upsell or Cross-sell
Helps in clearing dead or slow-moving product/stock
Increases conversion rates
Boosts your store revenue
Optimizes the value of every sale
Strengthens customer relationships
Secures customer loyalty
Promotes your new product or services
Do you want to add upsell or cross-sell to your WordPress eCommerce website? Explore the 5 best free WooCommerce upsell plugins in the next section.
Best Free WooCommerce Upsell Plugins
Here are the best WooCommerce upsell plugins you can add to your store freely and test your strategies.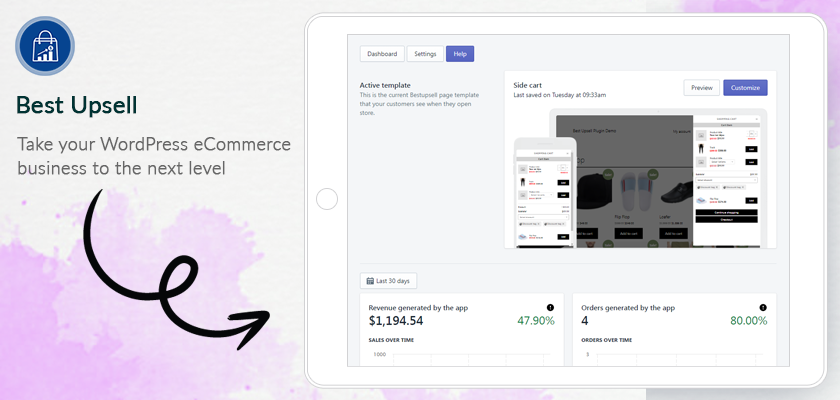 Best Upsell is the replica of the iCart Cart Drawer Cart Upsell Shopify app developed by Identixweb. With Best Upsell for WooCommerce, you can provide the best product for upselling to your customer, based on the items they have in their cart.
Highlighting Features
Add multiple product upsells in Cart Items & Checkout widgets
Place multiple Checkout buttons with product upsells
Allow customers to apply coupon/discount codes in their shopping cart
Add the "Continue Shopping" button to the cart
Offer different discount offers in their shopping cart
Customize the text size, color, background color, icon color, etc.
Track the performance of the plugin and its widgets
Add a sticky cart bubble to your WooCommerce store
Save time and effort by using a ready-made cart template
Create mobile-friendly templates for your shopping cart
What's included in Free Version?
Unlimited Store Orders
Cart Items Widget
Checkout Button Widget
Advanced Analytics
Inbuilt Cart template
Support And Updates
Visual theme builder
YayPricing – WooCommerce Dynamic Pricing & Discounts

YayPricing is an all-purpose pricing and discounts plugin for your WooCommerce store. It helps you create promotional campaigns based on different conditions. Some upselling scenarios that you can create with YayPricing include buy X get Y, tiered pricing, bundled products, free shipping, and even WooCommerce first order discount.
Additionally, you will be able to create discounts based on the cart's minimum spend. It is a bit like a WooCommerce order discount, which you can define discounts based on the amount of the specified cart items. Say, if a customer spends at least $100 on t-shirts, they will get 50% off, applied only to those t-shirts or to the entire order, according to your settings.
YayPricing – WooCommerce Dynamic Pricing & Discounts comes with many shortcodes to display the on-sale products as well as all types of upsell promotions on WordPress pages in your WooCommerce store. This way, your customers will have the opportunity to check the availability and the next offer they could get.
Not only discounts, YayPricing also helps you add the handling fees, insurance, and weight-based shipping fees to your needs in no time.
Features
Multiple Discount Types
Customize Discount Messages
Scheduled Pricing and Discounts
Drag and Drop Interface
Dynamically Apply Rules
Multiple Conditions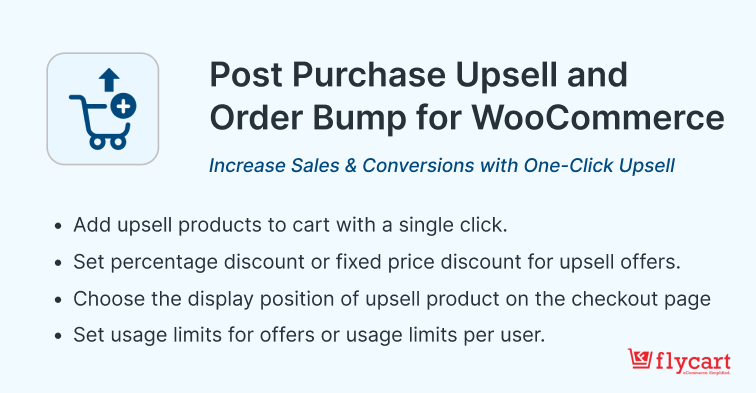 Post Purchase Upsell and Order Bump for WooCommerce is a must-have upsell plugin that lets your customer select the upsell product with a single click on the checkout page without any redirection. With this plugin, you can create tailor-made offers and increase the average order value of the customer's purchase.
Features
Customers can add upsell products to the cart with a single click.
Set percentage or fixed price discount for Upsell products.
Choose the display position of upsell product on the checkout page.
Set usage limits for offers or usage limits per user.
Customize page content, text, and images.
Set restrictions for offers based on product, category, cart subtotal, or cart items in orders.
Track the Upsell campaign with reports and analytics.
Set priority for upsell offers.
Ready-made and customizable Upsell templates.
Set schedule campaigns.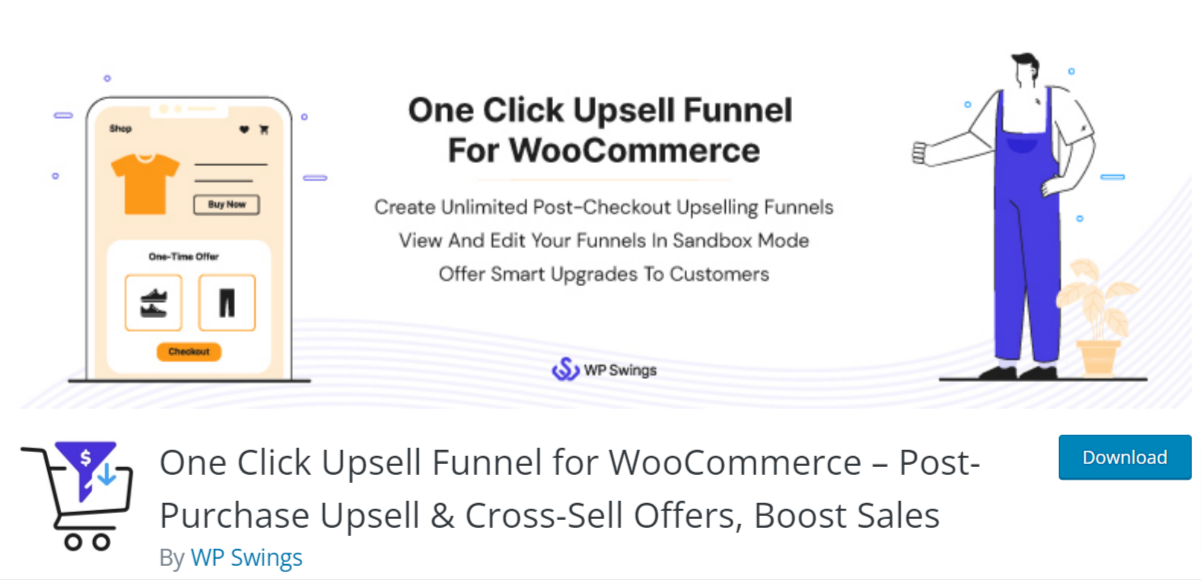 One Click Upsell Funnel for WooCommerce plugin allows the merchants to create post-purchase upsell and cross-sell offers. Customers can add these upsell products in just one click to their cart with no hassle of re-entering the payment details.
Highlighting features
Unlimited Post-Purchase Funnels
Control Customer Behaviour using Additional Offers
Smart Offer Upgrades
Create Global Funnels
Pre-built Mobile Responsive/Optimized Templates
Smart Skip Offer
Multiple Payment Gateways
Exclusive One Time Offer
Short codes for Upsell Offer
Funnel Sandbox mode
Integration With Google Analytics & Facebook Pixel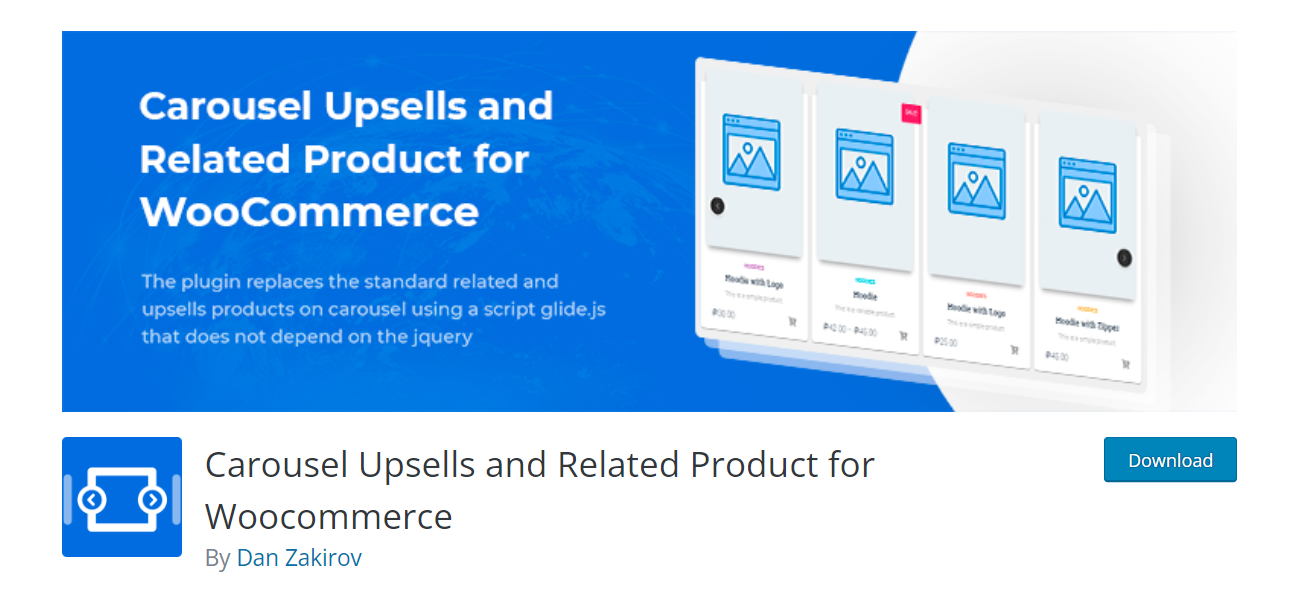 This WooCommerce upsell plugin gives you the power to upgrade your e-commerce store for a great customer experience. It offers a quick and super easy setup to add a carousel of related products to your store.
Highlighting Features
Replaces the standard output of recommended products with a carousel
Loading is very fast
Change the titles of the standard sections
Enable or disable autoplay
Set the time interval for scrolling the carousel
Specify the number of products on the carousel
Adjust the number of visible products (specify the grid)
Specify the number of visible products on mobile and tablets
This plugin is completely free to use.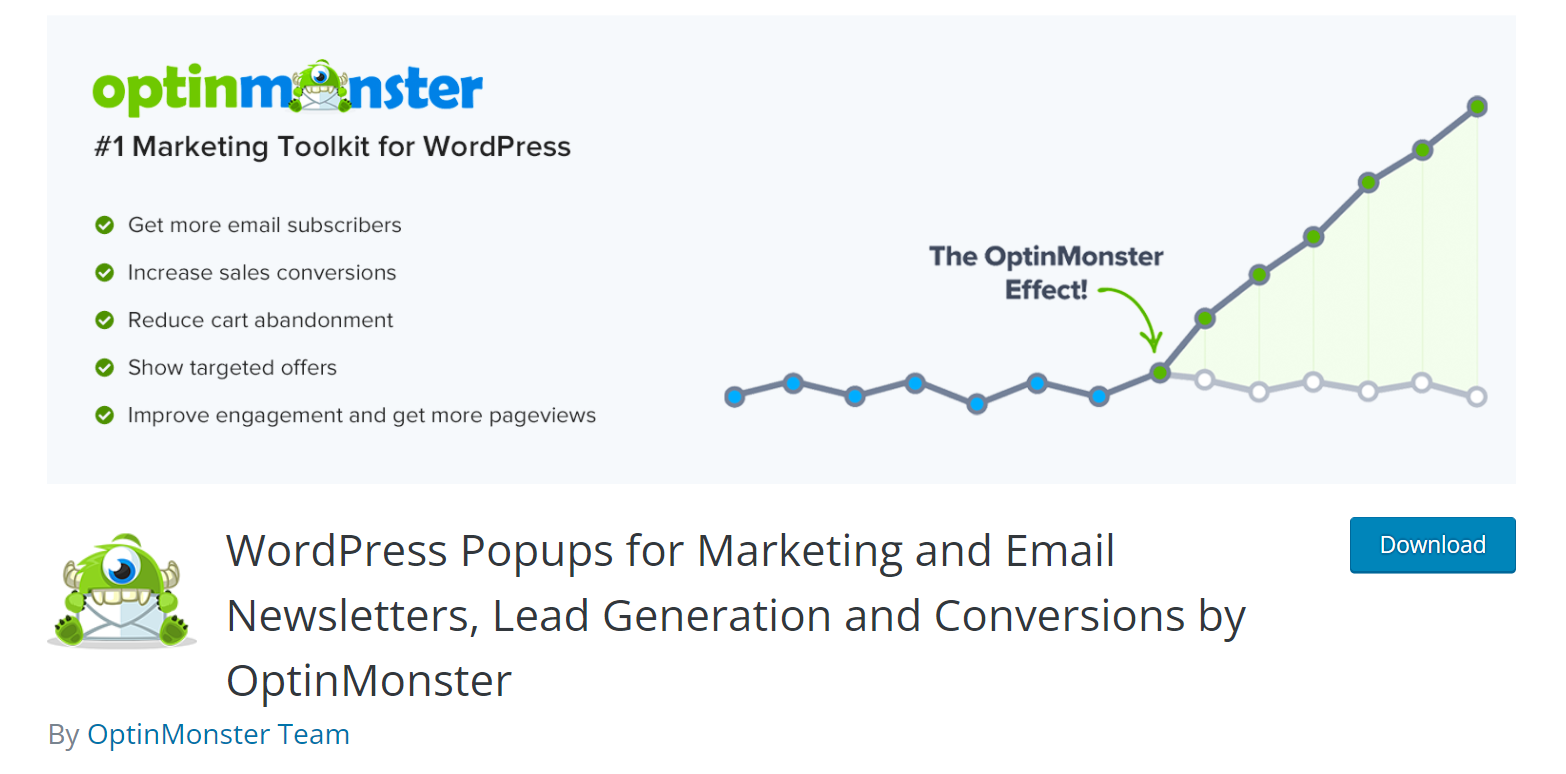 OptinMonster offers you the best popup builder and marketing plugin to help you get more sales and email subscribers to grow your business. With OptinMonster you can create great upsell popups to convert abandoning visitors into your subscribers and customers.
Highlighting Features
Easily create custom popups
Create sticky header bars
Use smart triggers to always display the right campaign to the right person
Use precision targeting to create campaigns
Add animation & sound effects to capture users' attention
A/B test popup ideas to increase conversions
Get the stats you need to improve your lead generation strategy
Create shareable campaign links for social media using MonsterLinks
What's included in Free Version?
2 Campaigns
Up to 500 campaign impressions in a month
Page Level Targeting
List Segmentation
Subscriber Recognition
Success Messages
Basic Integrations
Simple Reporting
OptinMonster University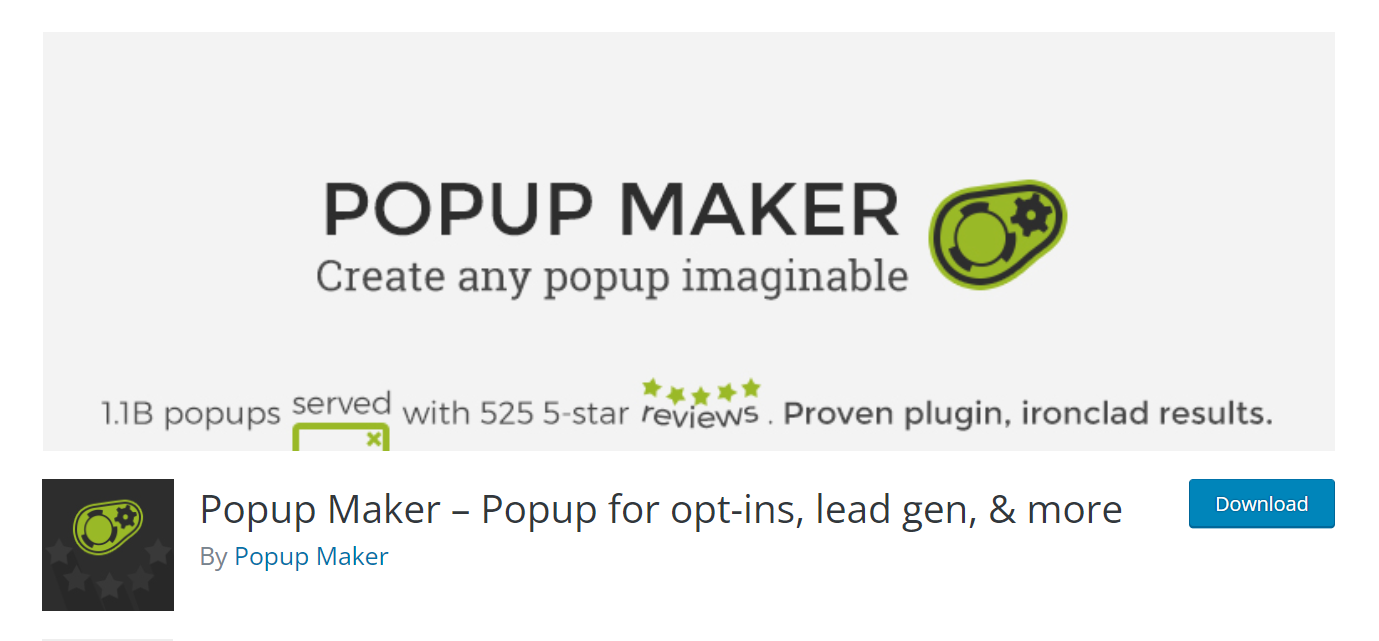 As the plugin name suggests, Popup Maker helps you create many different popups including upselling and cross-selling popups. With this plugin, you can generate sales and also increase your email list for further use.
Highlighting Features
Precision user targeting
Visual theme builder
Customizable animations
Click open popup triggers
Enable or disable for Mobile Devices
Control popup position & sizing
What's included in Free Version?
Popup Maker comes with a free plan for WooCommerce merchants, where they can create popups and access a limited version of our feature set.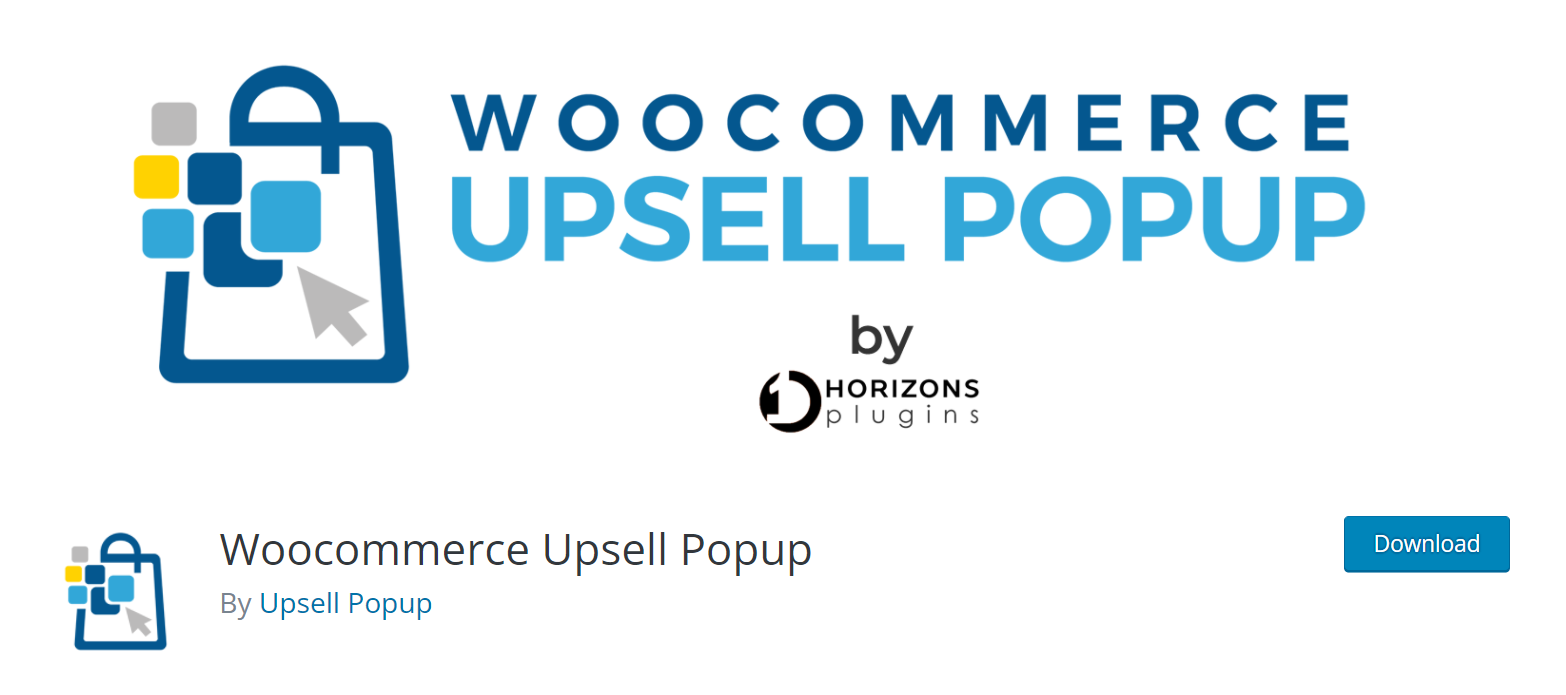 WooCommerce Upsell Popup is a simple and lightweight plugin that helps you create product upsells and cross-sells in your store. It simply allows you to offer product recommendations or show related products to your customers.
Highlighting Features
Create Yes/No popup to show complementary product
Use pre-made popup templates or customize and create your own
AJAX button
Use popup triggers
What's included in Free Version?
WooCommerce Upsell Popup comes with a free version for WooCommerce merchants, where they can create popups and access a limited version of our feature set.
Wrapping Up!
So, ready to extend your store for 10x sales?
At the initial stage of your online store, it's not recommended to add premium plugins and sit back expecting higher results. In the beginning, you need to test what's actually working for your store and your customers. So, by using free plugins you can save your money from getting wasted in try and error!