Landing on dashboard
Missing a feature?
After installing the app you will be redirected to the dashboard which may look like as shown below.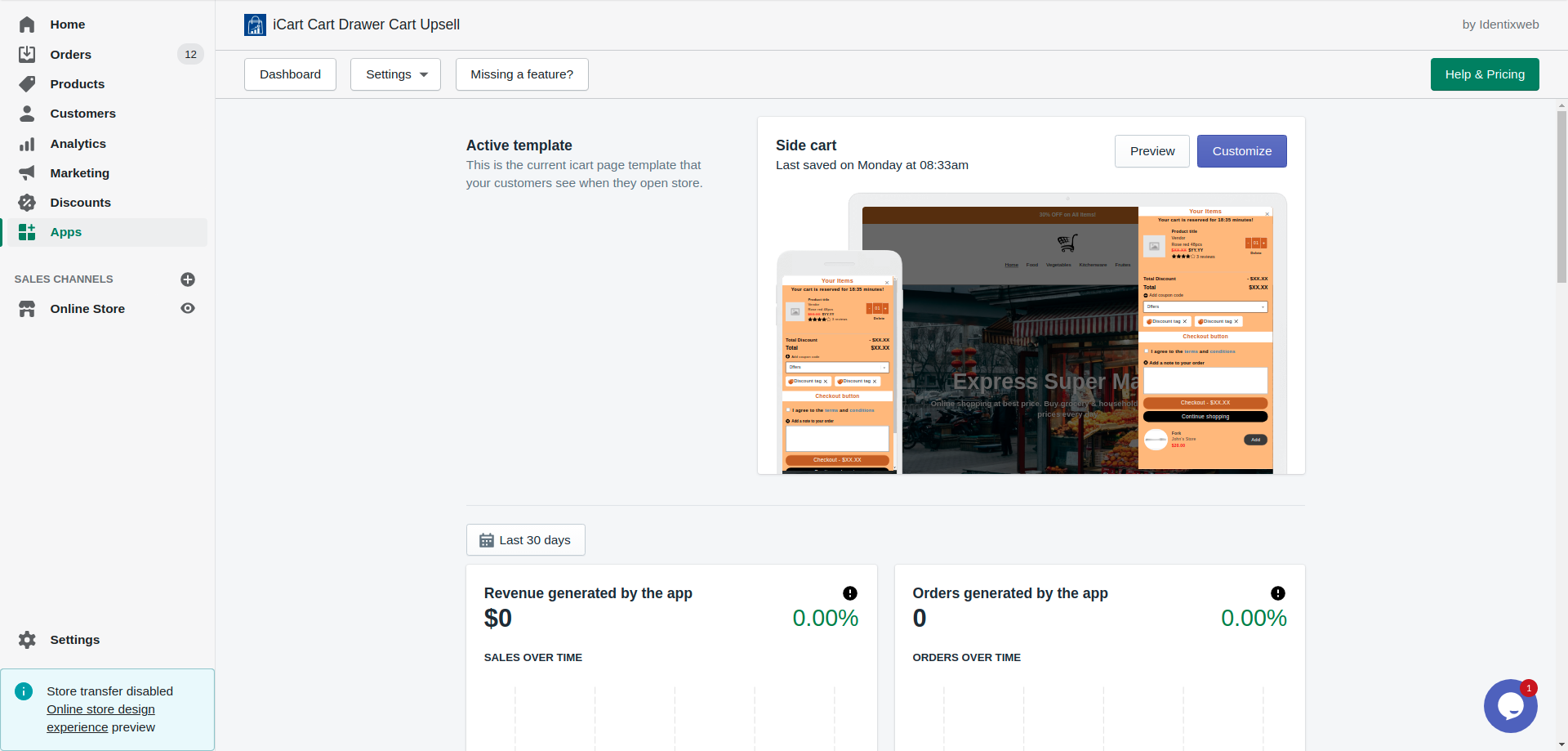 Exploring dashboard options
On the dashboard firstly you can see an iCart page template which is provided by default. It has 2 options Preview and Customize. By clicking on the preview button you can see the template how it looks. While clicking the Customize button you can customize the side cart based on your needs.
Now moving on the downside of the dashboard page you can see the analytics of iCart. With the help of the calendar icon, you can filter and see the performance analytics of iCart. The analytics summary includes:
Revenue generated by the app: It shows the revenue generated on your store through iCart.
Orders generated by the app: Here you can view the number of orders generated through iCart.
ROI: It shows the return on investment generated by iCart on your store.
App orders AOV: This gives you the summary of the average order value of your store through iCart.
iCart conversion rate: This summary will give you the total conversion rate made by iCart on your store.
iCart impressions: This summary gives you the total impressions generated by iCart on your store.
iCart abandonment rate: This summary shows you the total abandonment rate on your store made through iCart.
Under all these summaries you can see the list of deleted widgets and undeleted widgets with their performance made on your store.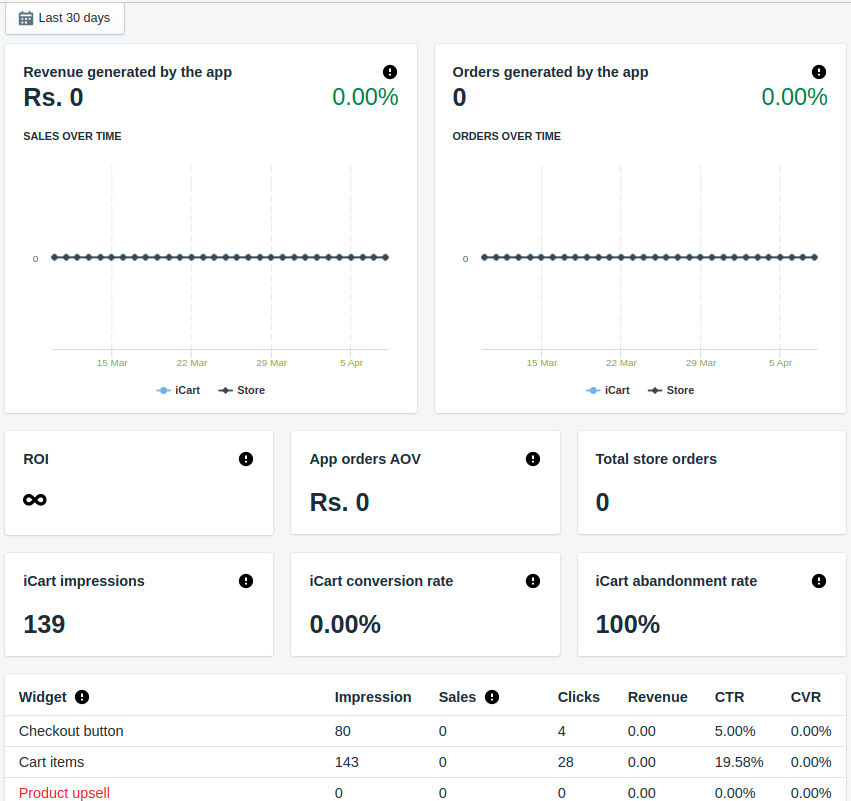 Settings
Under the Settings button, you will get options like general settings, referral program, birthdays, and surveys.
General settings
Application status: This option allows you to enable the iCart in your store.
Star reviews third party integration: This option allows you to set integration with product review apps installed on your store to display star ratings on the product recommendations and product upsell widget.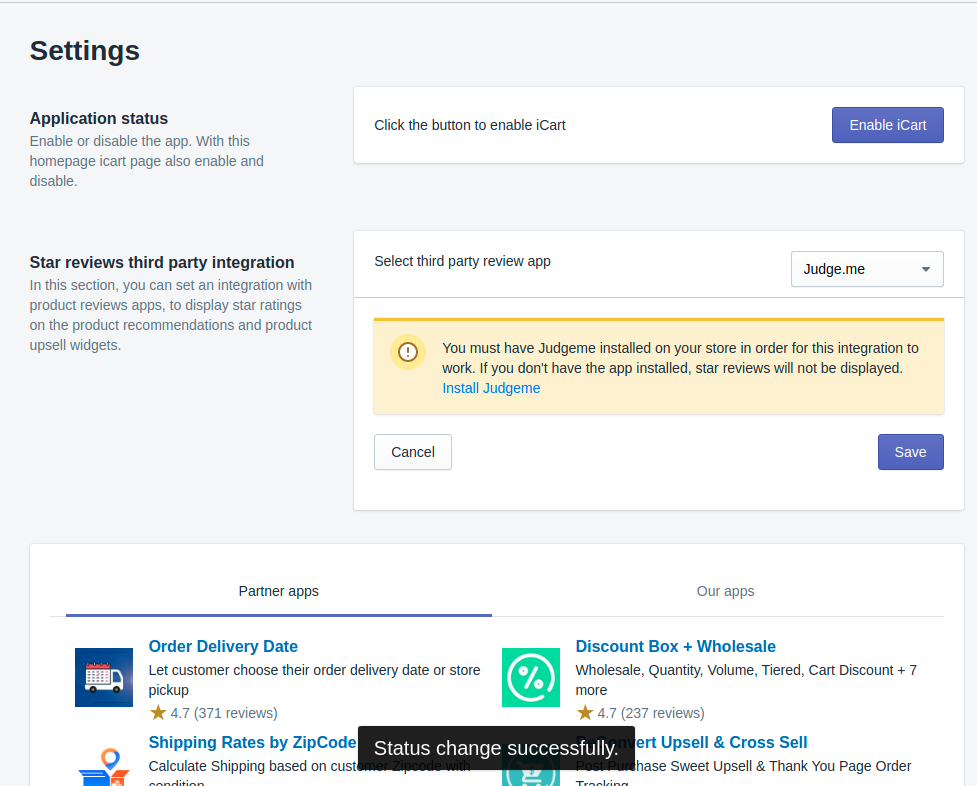 Referral program
This is where you can share iCart with other friendly stores and earn some money in the process. You will get a 20% commission for life on whatever the stores referred by you will pay. To know more about how this referral program works check out this guide: A quick guide to do effective referral program with iCart.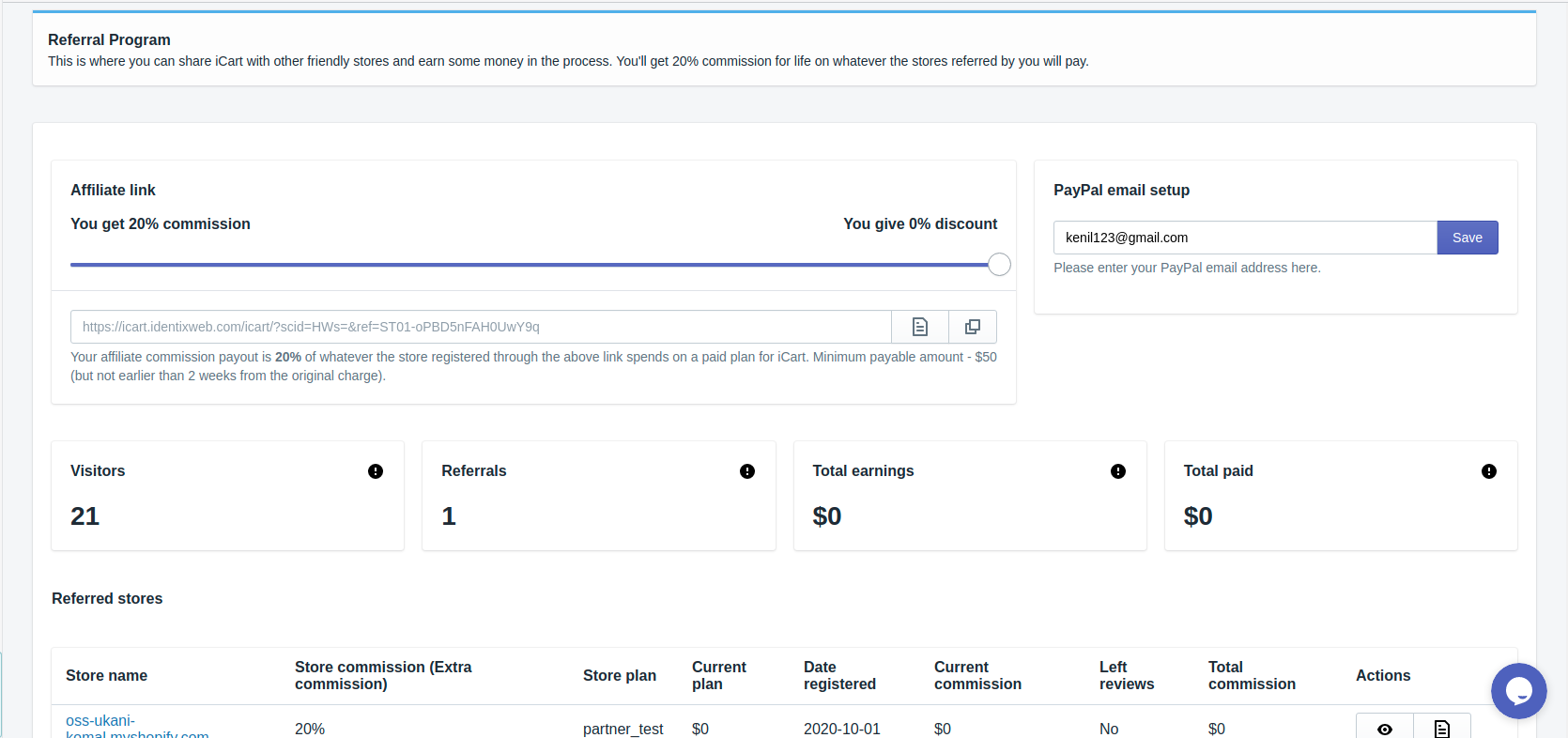 Birthdays
This option allows you to export the birthday information of your customers so that you can offer them special discounts on their purchases.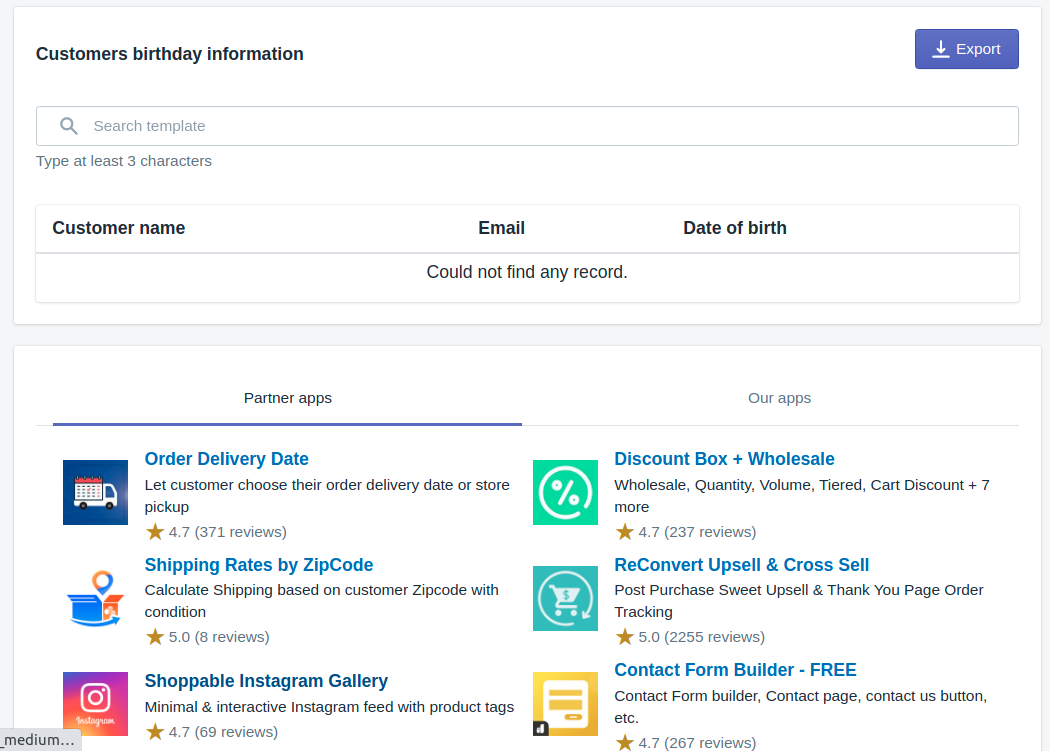 Surveys
This option allows you to create a survey form for your customers so that you can get their feedback on using iCart in their store.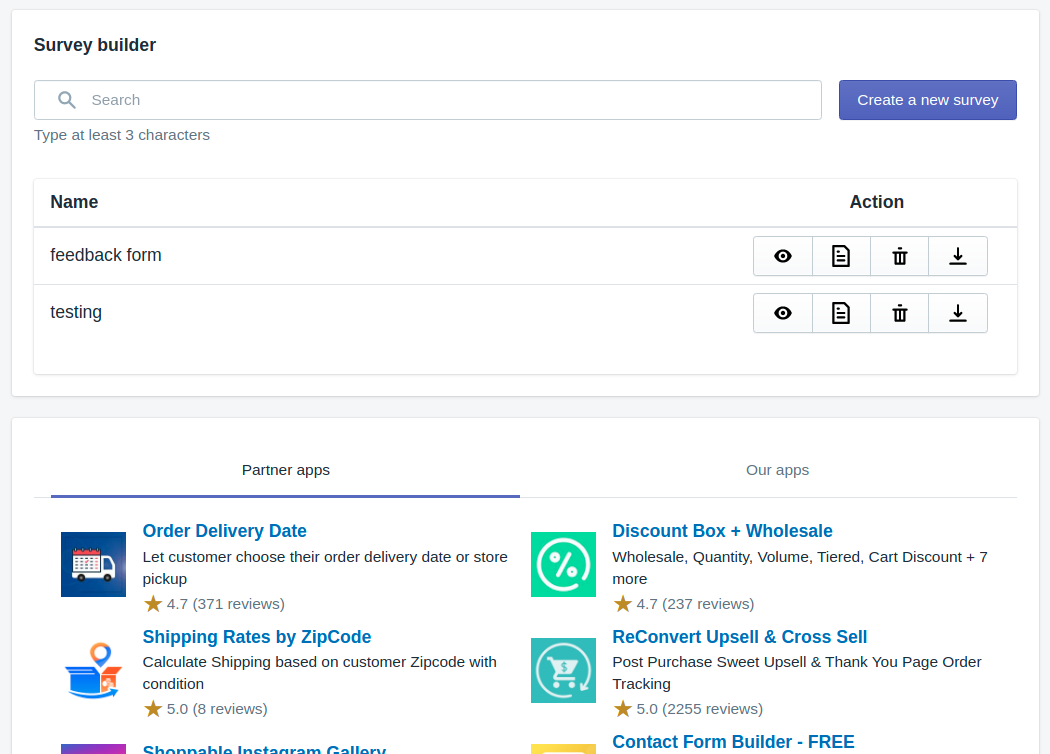 Missing a feature?
This option allows you to contribute your thoughtful suggestions for our app.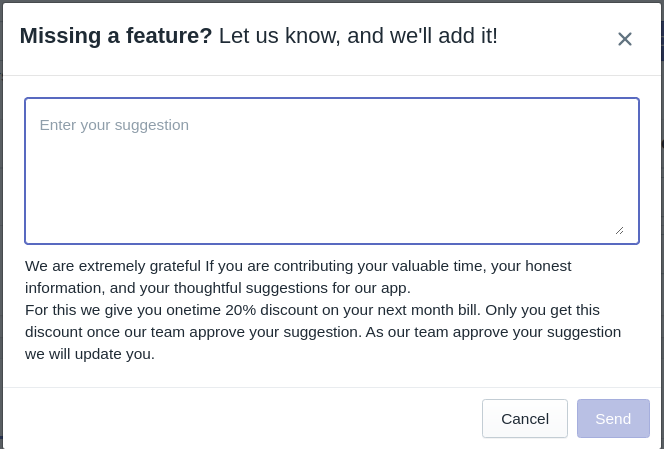 Active template
You can Customize the Activated Template by clicking on the Customize button.

Note: There is only one template available so you can't change/add the template but can customize it a number of times you want.
Want to know how customization is done in iCart? Then here is the complete guide for you.
Please refer to the below on-boarding video tutorial to get detailed information.