The most awaited biggest week of the shopping festival is on its edge to arrive soon. Both customers and store owners would be eagerly waiting for this event to get the maximum benefits. Every customer will avail all the benefits through BFCM deals and discounts at the same time would it be awesome if store owners will also get BFCM Shopify app deals? It would be great, right? So yes for you we have listed the 17 best useful Shopify apps with amazing offers for Black Friday 2020 which will make your BFCM 2020 more special by making out the best sales of the year.
1. iCart Cart Drawer Cart Upsell
While preparing for the Black Friday sales if your store is missing a sticky side cart then it's time to set up in your store so that no customers step back from completing the purchase which you can accomplish through iCart.
iCart allows you to design your side cart and show upsells and cross-sells in the side cart/cart drawer with time-sensitive offers, progress bar, product collection recommendation, discounts, warranties, gift wrapping, order noted, images, text, and much more.
Offer: Lifetime 20% OFF on monthly bill
Discount code: Automatically applied when using the link

2. Order Delivery Date
Order Delivery Date will allow your customers to choose the order delivery date & time to get their orders delivered resulting in a better conversion rate and much better customer experience.
The order delivery date might reduce cart abandonment by up to 50%!
With the Order Delivery Date app, you can make the package pickup experience comfortable and easy for your customers by letting them schedule specific gift deliveries. Plan for delivery rush times and group packages together. Delivery dates will let you identify when your customers are buying specific items, and remarket accordingly.
Offer: Extended 60 days trial (instead of 7)
Discount code:
Automatically applied when using the link
3. Under Construction Coming Soon
For the beginners among you, Under construction is a powerful page builder app with its drag-and-drop interface with advanced customization options.
This is a great opportunity for you to let your customers know when you're launching your store and build up the excitement through attractive landing pages. If you want to make the process easier then go for the readymade templates which is already provided by the app so that you can save your time. 
Offer:  Extended 60 days free trial (instead of 3)
Discount code:
Automatically applied with link

4. Advanced Reorder – Repeat Order
Advanced reorder making it super easy for customers to order again and improve your retention rates. You can let customers reorder previous orders through the account page or the order status page. During Black Friday sales your customers may love your products on which discounts or offers are provided and they would like to reorder the same product or would like to buy it for their dear ones as they might have suggested to them. They can just directly go through the re-order tab and hit Bingo to place an order again with the Advance Reorder Shopify app which is great, right?
This app is built-in with advanced customization capabilities and advanced analytics, you can't go wrong with this app.
Offer: Extended 60 days free trial (instead of 7)
Discount code:
Automatically applied with link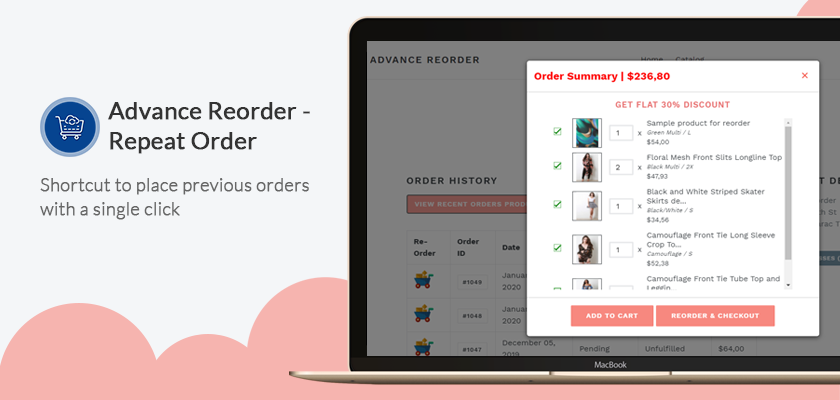 5. Translate & Currency Converter Pro
Translate & Currency Converter Pro brings you unlimited Translation & Currency Converter to reach a wider audience for the holiday season. Talk to your customers in their language and currency and to close more sales.
Features:
Free or paid plan

Unlimited translation and currency converter

103 languages & 164 currencies

Auto-detection customer location

Featured languages

Customize font, size, color to look better on your store

Too many features to list, see our listing for more.
You can get more sales by adding a translator & currency converter, when a visitor comes to your store they will automatically see their own language and currency.
This will help you increase visitors to buyers on your store as the majority of people speak a different language and are custom to their local currency.  You can try for 15 days and see results for yourself.
Offer: Up to 30% off a month forever & free setup to optimize for your store
Discount code: Automatically applied via link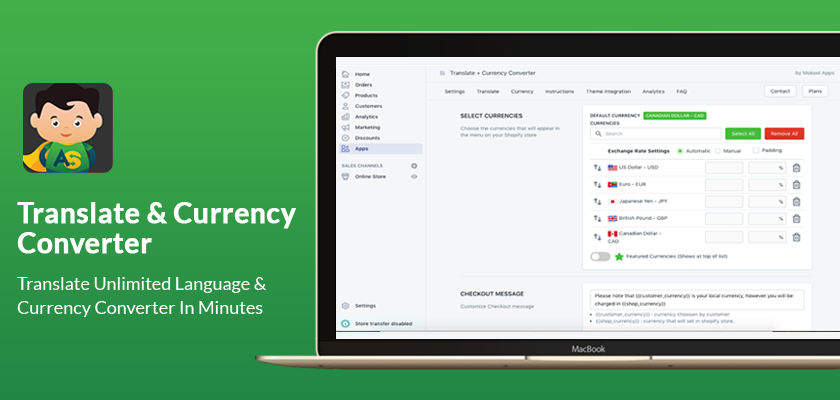 6. ReConvert Post Purchase Upsell
ReConvert is a page builder for your thank you page- allowing you to not only create a beautiful, branded thank you page but also upsell post-purchase and increase your AOV on autopilot.
Getting new customers is great, but a good eCommerce store knows how to turn as many customers as possible to repeat ones.
With the app, you can also collect customers' birthdays, product post-purchase surveys, display videos, add a tracking widget to the order status page, and more.
Trusted by over 8,000 Shopify stores, including +700 Shopify Plus stores

Average 1,000%-8,000% ROI

5/5 on the app store with over 1,900 reviews

24\7 live support via chat, phone & email

Advanced analytics and integrations
Offer: Super extended 90-days free trial for new stores (instead of 30)
Discount code: Applied automatically when using the link.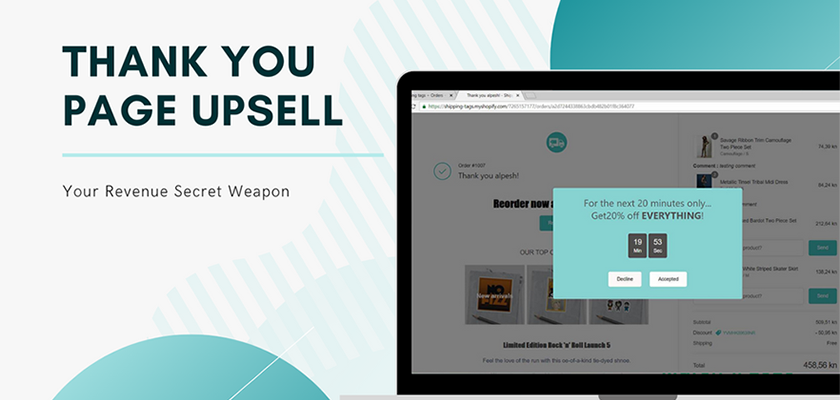 7. EasyCall
Does your business have a phone number? If not, there's a high chance that you're losing sales from customers who want to speak with you.
EasyCall is the fastest, easiest, and most reliable way to create a virtual call center and take your customer experience to new heights. The handy click to call widget empowers your team to provide instant voice support to shoppers from anywhere in the world.
But it doesn't stop there – EasyCall also lets you connect multiple devices and phone numbers, add business hours, record calls, and more. Plus, with powerful analytics, you can dial-in your customer service like never before.
With 86% of customers saying they'd pay up to 25% more to get a better customer support experience, can you really afford to not install EasyCall today?
Offer: 20% off lifetime for plan monthly fees!
Discount code: Automatically applied via link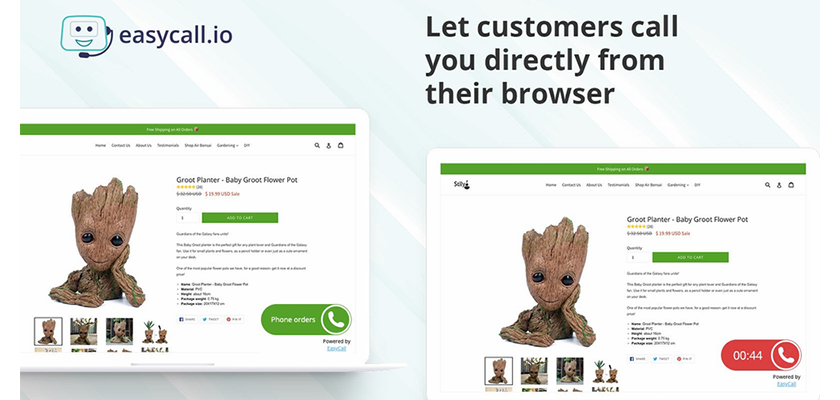 8. Order Merger
Order Merger, as the name implies, allows you to automatically or manually merge orders based on conditions of your choosing. Merging orders help you reduce shipping costs and improve your customers' experience.
Offer: 20% off lifetime for plan monthly fees!
Discount code: Automatically applied via link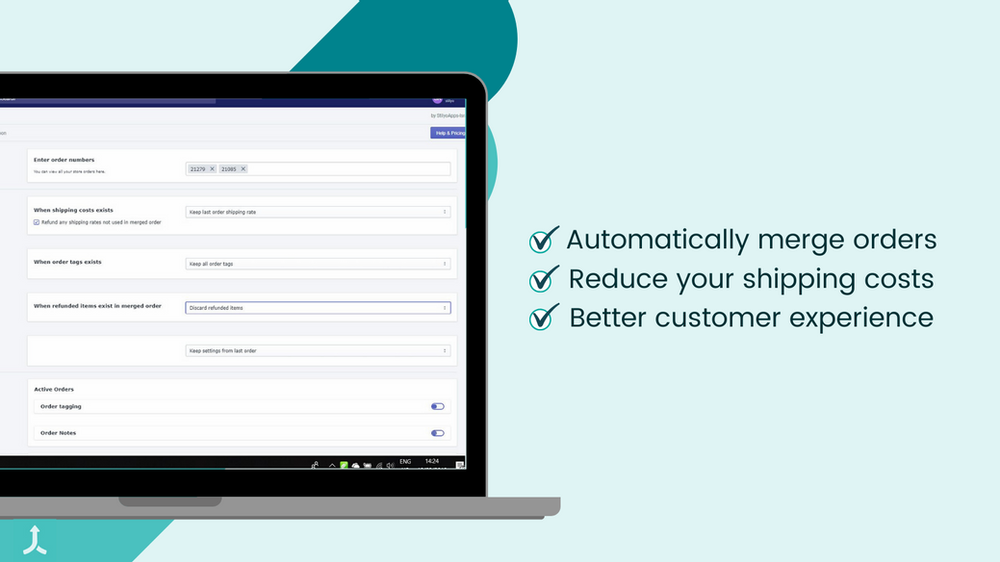 9. Growave
Growave is the all-in-one marketing platform for small and medium-sized Shopify brands to help them reach their audience, engage users, and increase conversions with ease. Growave can easily replace 4-7 different apps in your store. Growave's key features include Loyalty and Rewards, Wishlists, Reviews, Instagram, Social Login, and Q&A. With Growave, you can increase sales, retain customers, and grow your loyal customer base. Growave helps you create brand awareness by encouraging users to share your brand on social media and email and increase conversion rates using customer reviews and user-generated content.
During BFCM, features such as Wishlist, Loyalty and Rewards, Referrals, and Instagram are incredibly essential to engage your customers and boost sales. For instance, Wishlist can help you monitor your out-of-stock items and notify your customers with an automated email about their favorite item being on sale. Loyalty and Rewards program can help you launch referral campaigns to increase traffic to your website and engage your current customers. Shoppable Instagram galleries let your customers shop directly from posts, which is essential during BFCM as more customers will spend their time online before the holidays. Growave's features can help you establish a successful BFCM campaign to improve your revenue and grow a loyal customer base.
Offer: Extended 60-day free trial for new users!
Discount code: Automatically applied when using the link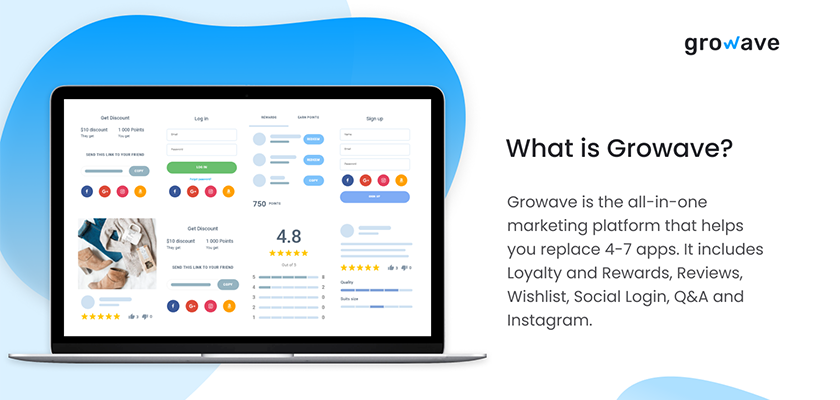 10. Hulk Mobile App Builder
This amazing Shopify app will let you create powerful native mobile apps for your online Shopify store. You can easily customize a mobile app and engage your customers with best class designs that will increase your sales and ROI. With the Hulk Mobile App Builder Shopify app you can increase organic installs, engage customers, and provide data-driven insights which will help in increasing ROI exponentially. Also, you can send push notifications to your customers to retain their attention and create new sales opportunities.
Offer: 25% off until 30th Nov
Discount code:
Automatically applied with link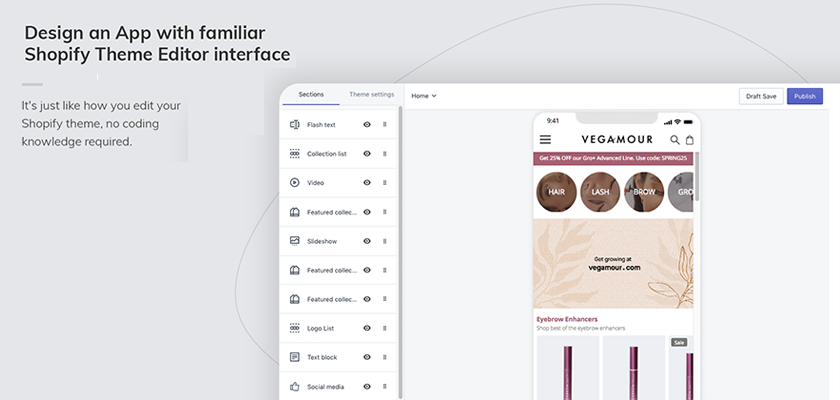 11. Order Status Tracker
Order Status Tracker will allow your customers to track their order status just by entering their order number and email address. You customers can gain insights of the products included in their order, the real-time status of their package i.e. Shipped, out for delivery, etc., where their order is at any given point in time, and many more. It can optimize the shopping experience of your customers at the same time boost their loyalty. As it is very to install and use, any person from a non-technical background can handle this app easily. 
Offer: 25% off until 30th Nov
Discount code:
Automatically applied with link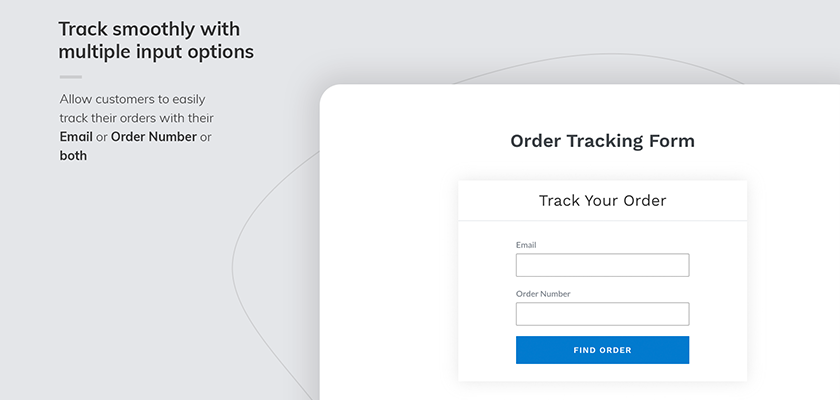 12. Loox
Showcase product reviews from happy customers in beautiful galleries of photo reviews & social proof reviews popups and build strong trust. Join many Shopify & Shopify Plus merchants that use Loox to easily collect beautiful reviews with photos and boost conversion with social proof that looks great!
Loox helps 100,000+ Shopify merchants collect product reviews with photos and use them to increase sales and strengthen their brand.
Offer:
Lifetime 20% OFF for Advanced plan and up
Discount code:
Automatically applied with link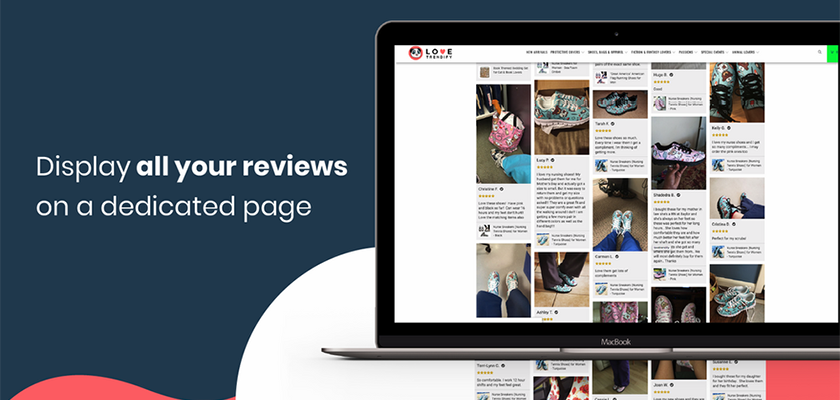 13. FirePush
The all-in-one marketing automation app. Drive more sales with integrated SMS, push notifications and email campaigns, & automations.
Offer:
20% OFF for BASIC & PRO plans!
Discount code:
Automatically applied via link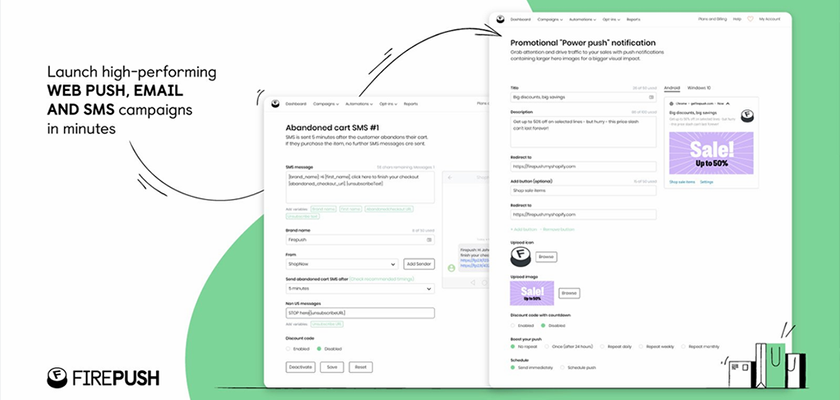 14. Colorful Scroll To Top Button
With this Shopify app, you can enhance your customer's shopping experience by adding a colorful scroll to top button which will allow them to easily navigate back to top through. It is very easy to customize in which you can change the button's color, shape, size, hover color, position on the page, horizontal and vertical distances, animation, and whether it will be shown in the entire store or just on the homepage.
Offer:
Free until the BFCM holiday period
Discount code:
Automatically applied via link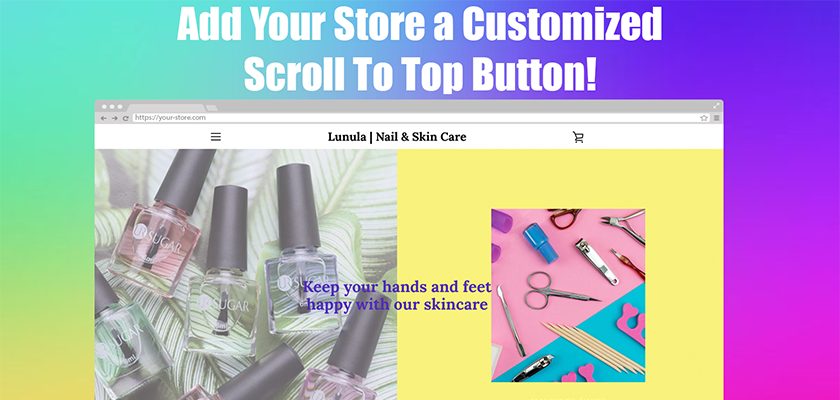 15. Waze & Google Maps Navigation
If your store has a physical address then this Shopify app is the best companion for you. This app adds a sticky icon or footer to the bottom of your store. When clicked, a navigation app of your choice will be launched, pointing to your store's physical address. You can customize in your own way like you can select the navigation app to be used – Waze/Google Maps, where the app should work, on which devices the app should app, add custom text, and many more. This app is super easy to use and top of that it supports all kinds of stores and Shopify themes. 
Offer:
Free until the BFCM holiday period
Discount code:
Automatically applied via link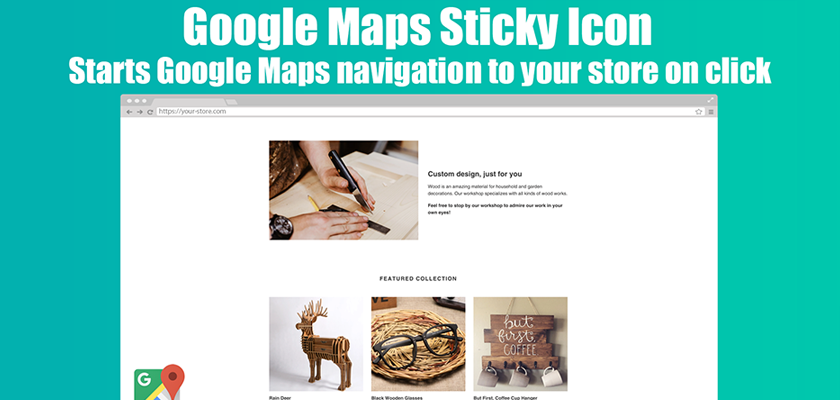 16. Auto Price Update Pop Up
This app automatically detects inactivity on your store's page and refreshes them in order to display the most recent prices and information. You can also display a message before refreshing the page for your customers. Also, you can schedule intervals to refresh your store automatically when a user's inactivity is detected. 
Offer:
Free until the BFCM holiday period
Discount code:
Automatically applied via link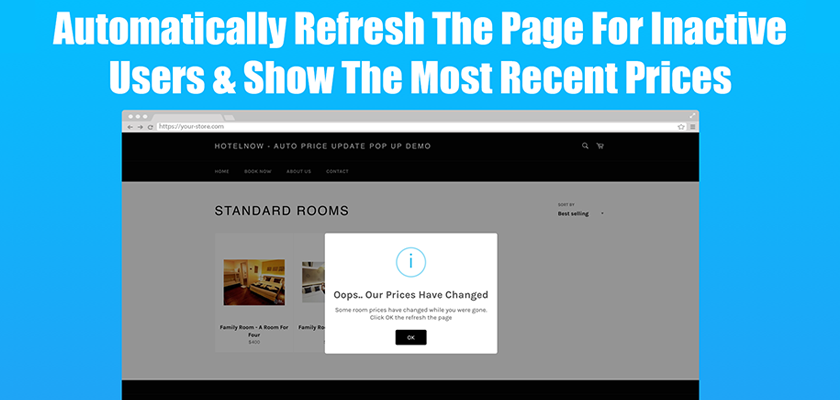 17. Magical Browser Tab Animations
If your store is facing the cart abandonment issue then this app can solve that problem and convert inactive users to sales with a unique Favicon and text animation that will encourage users to come back to your store. 
Offer:
Free until BFCM holiday period
Discount code:
Automatically applied via link