Great news! Today, we are excited to announce that AllFetch has become our partner! Sharing the common mission of helping our customers grow their business every day, we believe that this partnership will be the chance for both sides to provide useful apps to more online merchants.
Get to know AllFetch
Founded in Mid 2020, AllFetch is one of the fastest-growing Shopify app developers in the APAC region. AllFetch provides essential Shopify apps at a competitive cost to help online merchants start easier, sell smarter, and operate smoother.
They concentrate on providing friendly, easy-to-use, and effective apps with live chat support to bring customers the best satisfaction. Currently, there are 9 apps listed on the Shopify app store with an average 4.9/5 rating. Also, new exciting apps are coming soon!
Outstanding Shopify apps by AllFetch
AllFetch offers a wide range of great Shopify apps in different categories to help Shopify merchants grow and expand their businesses:
– Shoppble Instagram Gallery
– Drag & Drop PDF Invoice
– AllFetch Google Shopping Feed
– Xero Integration by AllFetch
Explore more useful AllFetch apps here
<h2id="partnership">What is this partnership for?
Collaborating with AllFetch, we want to provide customers with innovative Shopify apps to take their e-commerce stores to the next level. This collaboration is a great opportunity for both sides to expand and spread winning solutions to worldwide online merchants.
Try Shoppable Instagram Gallery app now
Being featured as a trending global app and listed on the top places of the Growing Your Business category on the Shopify app store, Shoppable Instagram Gallery app is worth trying!
With this app, you can easily create a perfect Instagram feed on your online store, even if you are non-technical. By showing an amazing Instagram gallery on the homepage & product page, you can turn your website visitors into your followers and customers.
The good news is that now you can easily get this app right from our app dashboard, under our partner app section!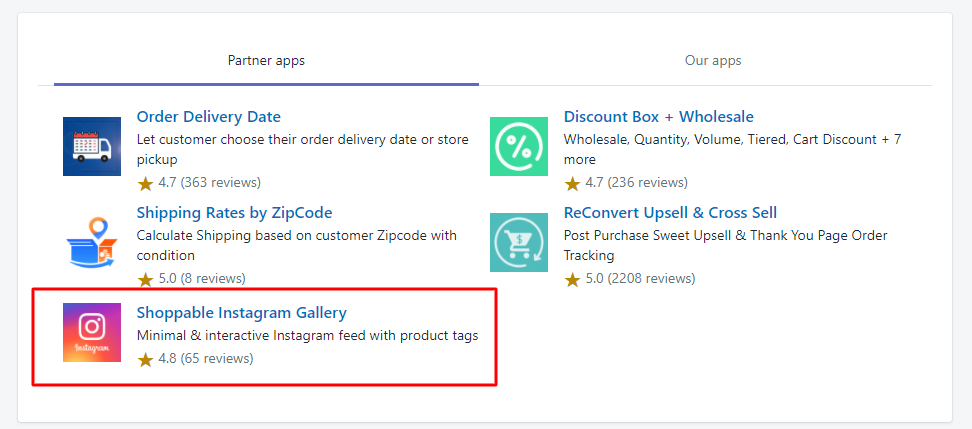 Rest assured that the Shoppable Instagram Gallery app offers a 14-day free trial with a free plan available, so you can play around and grab the app's features fully.
Install Shoppable Instagram Gallery app now!
Wrap up!
Through this exciting partnership, we promise to provide valuable Shopify apps to more customers. Following the common mission, we are trying our best to help our customers grow their businesses every day.
Stay tuned and look forward to our further partnership activities!